A recent trend among manufacturers is "nearshoring" — relocating overseas production facilities to countries closer to their markets. In the 1990s, many U.S. companies hopped on the offshoring trend to reduce costs; now, they are bringing some operations back to North America (specifically Mexico) to minimize the effects of supply chain disruptions while keeping costs in check.
Part and parcel to the nearshoring trend is a greater demand for intermodal shipping across the U.S./Mexico border. If your cross-border shipping strategy could improve or your company wants to create a more efficient supply chain to support your nearshoring strategy, follow these best practices.
Best Practices for Intermodal Shipping to and from Mexico
As manufacturers establish new supply chains for products funneling into and out of new facilities in Mexico, intermodal shipping offers a cost-effective, reliable and sustainable alternative to long-distance trucking.
The transportation landscape includes several intermodal providers to choose from. When assessing your options, follow these best practices.
Find the shortest distance: Different intermodal providers offer different routes in and out of Mexico. Finding a provider whose network offers the shortest distance between the origin and destination of your shipment will help your shipments arrive faster and could translate to lower transportation costs.
Look for the fastest: Different routes offer different transit times. Distance is one factor that affects transit time, but you'll also want a provider that helps minimize the time it takes to clear Customs and has relationships with other railroads for seamless border crossing.
Seek reliable service: You'll want to ask how often the railroad provides service as well as how many gateways they serve. Railroads that pick up and deliver six or seven days a week offer greater reliability. Likewise, the more gateways a railroad serves the more flexibility they have to reroute if an access point is congested or temporarily blocked.
Consider ease of use: Making changes to your shipping mix can be a difficult process at times. Will the railroad offer a team to assist with your shipments and make the process easier for you?
Ensure security: Your cargo is precious and often expensive. You'll want to make sure your intermodal provider has a security team dedicated to keeping containers safe from theft as well as monitored storage for high-value freight. Tip: Learn more about how railroads keep cross-border shipments safe.
Which Is the Best Intermodal Shipping Provider?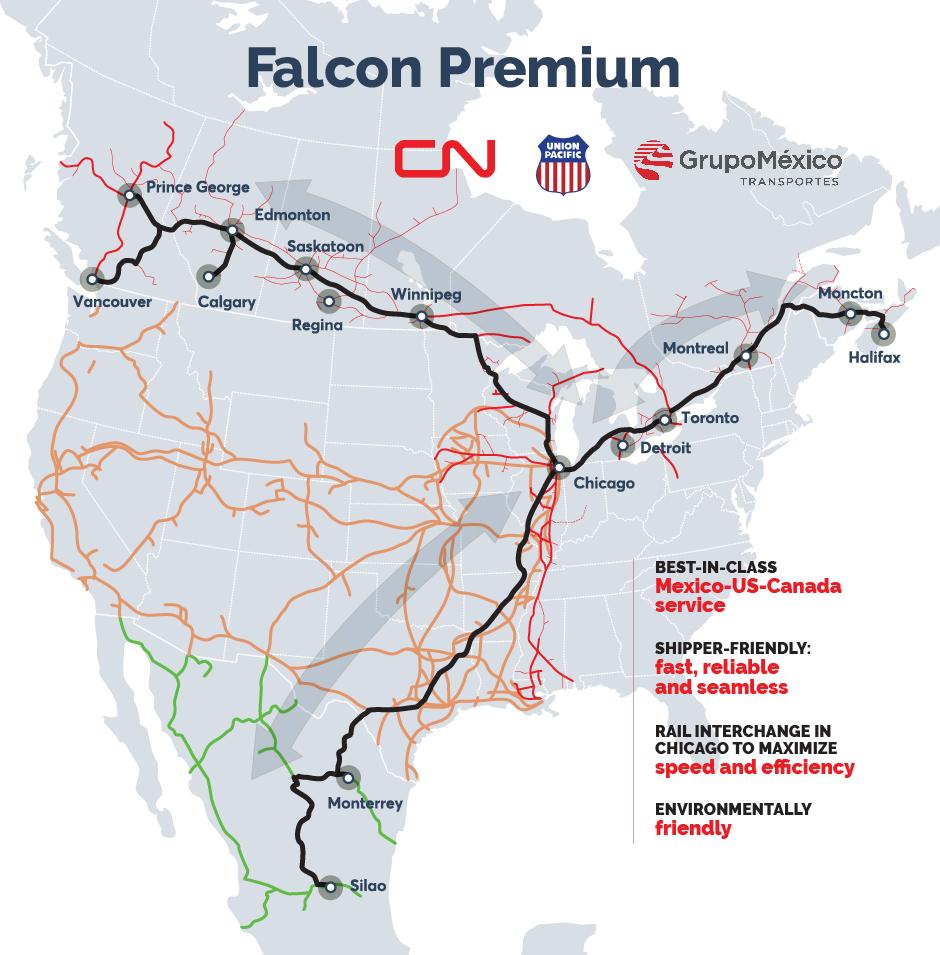 The right intermodal provider will depend on the nature of your shipments. However, a few examples of best-in-class intermodal services across the border by rail include Union Pacific's Eagle Premium and Falcon Premium services.
Eagle Premium
Union Pacific's Eagle Premium service is an all-rail, seamless service that bypasses congested border crossings, which helps shipments arrive on time. Working with Grupo México Transportes (GMXT), Eagle Premium service includes:
Service between Monterrey and Chicago Yard Center, and Detroit
Service from Monterrey to Lathrop, California, Los Angeles, and Seattle
Service from Silao, Mexico, to Chicago and Memphis
Interline service to Canada and the eastern United States through Chicago
Eagle Premium features seamless Intermodal service six days per week between Chicago and Monterrey, Mexico, with expanded service from Monterrey to Los Angeles, Lathrop and Seattle.

Falcon Premium
Falcon Premium is the fastest, most reliable intermodal rail service between Canada and Mexico. Three railroads, Canadian National, Union Pacific, and GMXT, connect to each other to offer this service, which runs between Mexico and Canada through Chicago and the Eagle Pass gateway.
Falcon Premium directly benefits intermodal customers shipping automotive parts, food, FAK (freight all kinds), home appliances, and temperature-controlled products.
Intermodal Shipping Service Advantages
Union Pacific offers the most reliable, proven network connecting Mexico to the U.S. and Canada, thanks to strong relationships with partner railroads and the company's 30-year history in Mexico.
Compared to other solutions, Union Pacific's route from Mexico to Chicago, eastern U.S. cities and Canada saves hundreds of miles on cross-border intermodal shipments, resulting in the shortest route, most efficient delivery time, dependability, and cost savings.
Both Eagle Premium and Falcon Premium take advantage of Union Pacific's route between Texas and Chicago. The services provide customers an environmentally responsible alternative to truck along a critical trade corridor, just in time to serve companies that have relocated to Mexico recently. Union Pacific removed a full day of transit time for customers shipping on Eagle Premium and Falcon Premium, putting delivery times in direct competition with long-haul trucking.
On top of providing the fastest, most reliable service into and out of Mexico, Union Pacific has a dedicated security staff to protect intermodal shipments and regularly inspects trains carrying high-value freight. Likewise, Union Pacific customers have access to a team solely dedicated to helping domestic and international shippers and intermediaries use Union Pacific Intermodal as quickly and easily as possible.
What Are the Benefits of Cross-Border Intermodal Shipping?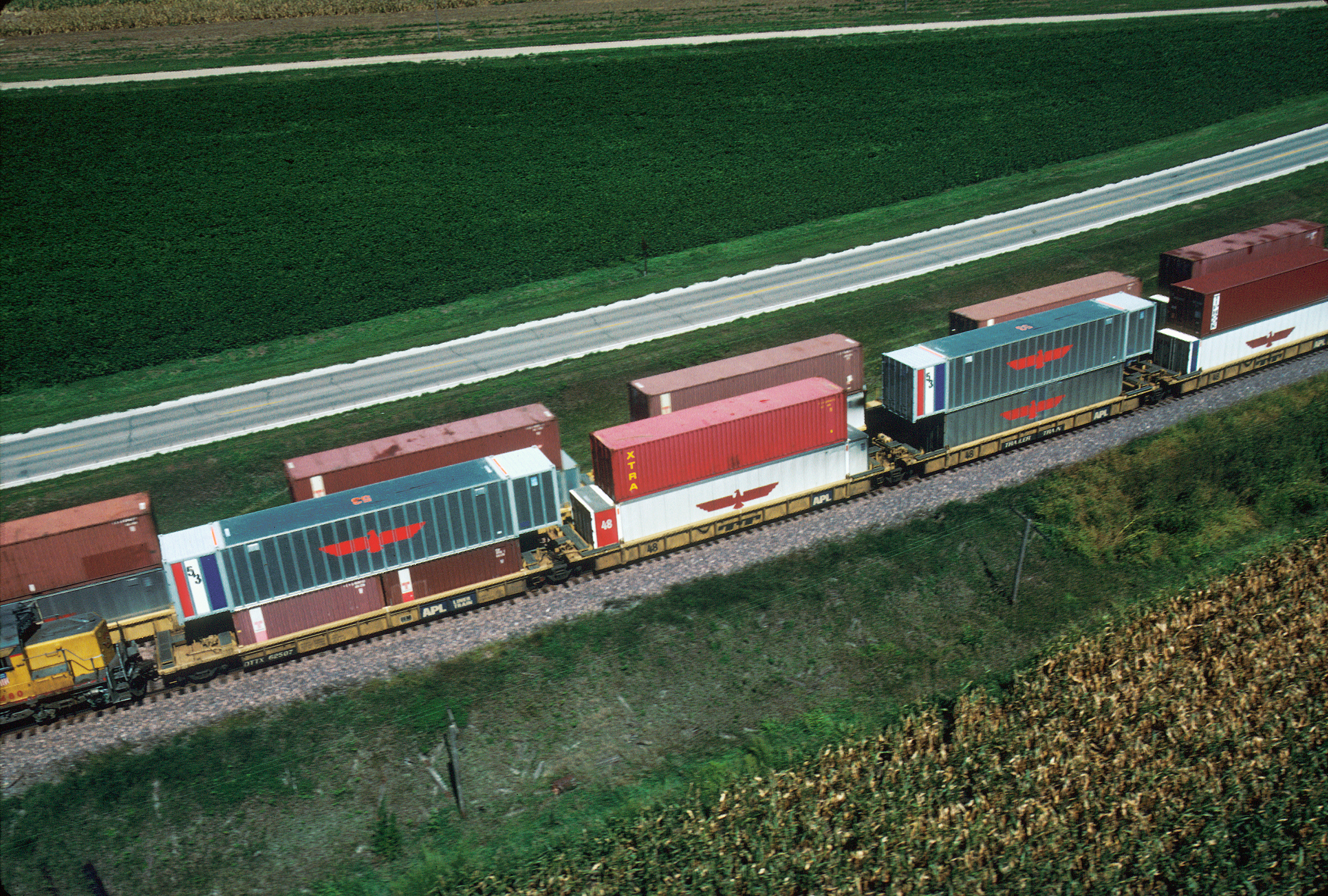 Intermodal shipping across the border combines the economic, capacity, and sustainability benefits of trains with the flexibility of trucks to give shippers the best of both worlds. Intermodal shipping gives companies access to rail even when their facility or their customer's facility doesn't have tracks at their door, allowing them to reap the benefits of rail without any capital investment.
Cross-border intermodal shipping is:
Cost effective: Intermodal shipping typically costs less per ton mile than using trucks for the entire shipment.
Lower carbon footprint compared trucks: Rail shipping is the most environmentally responsible way to ship freight over land, so incorporating rail into your supply chain results in fewer emissions than shipping by truck alone. On average, U.S freight railroads can move one ton of freight nearly 500 miles on a single gallon of diesel fuel, generating a carbon footprint that is 75% less than trucks.
Available capacity: Because railroads provide intermodal containers, capacity is almost always available. For instance, Union Pacific has access to the largest dedicated fleet of rail-provided containers, totaling more than 80,000.
Consistent, reliable service: When you use Union Pacific's intermodal shipping services, you'll get the most reliable, proven network connecting Mexico to the U.S. (and Canada). Union Pacific remains the only railroad to serve all six of Mexico's major gateways.
No more confusion about the customs process: Union Pacific uses its established relationships with U.S. freight forwarders and Mexican and U.S. Customs brokers to make the customs process seamless.
How to Get Started with Mexico Intermodal Shipping
To learn more about intermodal shipping to and from Mexico or beyond, answer a few questions about your freight shipment(s) and an expert will be in touch. Or reach out directly to the Union Pacific Mexico team to talk about cross-border shipping.
Related Articles