Union Pacific's 3-D Printing Revolutionizes Railroading
Omaha, Neb., June 7, 2017
While NASA is finding ways to use 3-D printing technology to provide necessities for colonizing Mars, Union Pacific is applying the same technology to make locomotive operations safer and more efficient. The railroad's efforts and early successes with 3-D printing are outlined in a new Inside Track story published today on the company's website.
The article includes perspectives from several employees intimately involved with 3-D printing, including System Engineer Royce Connerley, who explain how the technology enhances turnaround time for models and prototypes.
"Printing 3-D prototypes in-house accelerates our rate of change," Connerley said. "We can make modifications during multiple iterations without waiting for each version to be returned from an external vendor."

The feature-length article and photos of materials created with Union Pacific's in-house 3-D printer are available at https://www.up.com/aboutup/community/inside_track/3d-printing-at-union-pacific-06-07-2017.
ABOUT UNION PACIFIC
Union Pacific Railroad is the principal operating company of Union Pacific Corporation (NYSE: UNP). One of America's most recognized companies, Union Pacific Railroad connects 23 states in the western two-thirds of the country by rail, providing a critical link in the global supply chain. In the last 10 years, 2007-2016, Union Pacific invested approximately $34 billion in its network and operations to support America's transportation infrastructure. The railroad's diversified business mix includes Agricultural Products, Automotive, Chemicals, Coal, Industrial Products and Intermodal. Union Pacific serves many of the fastest-growing U.S. population centers, operates from all major West Coast and Gulf Coast ports to eastern gateways, connects with Canada's rail systems and is the only railroad serving all six major Mexico gateways. Union Pacific provides value to its roughly 10,000 customers by delivering products in a safe, reliable, fuel-efficient and environmentally responsible manner.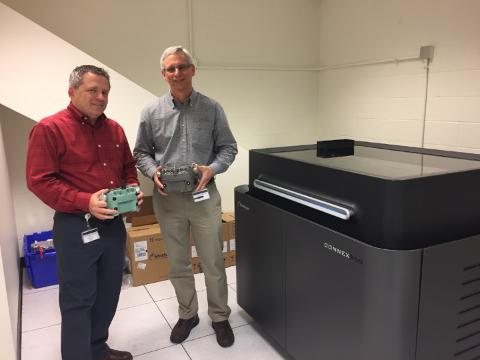 Royce Connerley, senior system engineer-IT, left, and Chuck Karbowski, senior manager-IT, hold 3-D printed remote-control device prototypes next to UP's 3-D printer.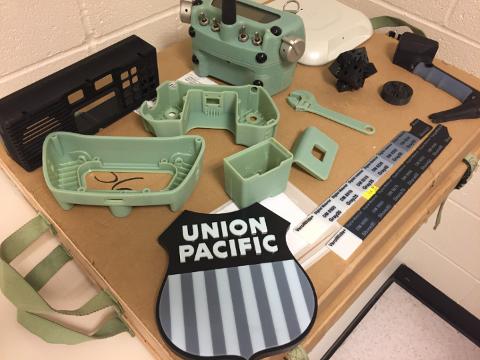 All items pictured were 3-D printed by UP, including the black panel in the upper left-hand corner, which is now used to house the in-cab locomotive radio system.
Inside Track