Union Pacific Uses New Tech to Harness Steel Vibrations
Omaha, Neb., June 28, 2017
What do rock 'n' roll and bridge inspectors have in common? Just as the strings' vibrations tell a guitarist his instrument is properly tuned, the same kind of vibration or movement can give an engineer insight into a bridge's durability. It's called "smart monitoring." How this technology could revolutionize bridge inspections is detailed in a new Inside Track story published Wednesday on Union Pacific's website.
"Picture a paperclip," said Union Pacific's Director of Bridge Maintenance Todd Martindale. "If you repeatedly bend it, it wears out and breaks. Steel components, depending on where they're located in the bridge, can develop fatigue cracks in a similar manner."
The article highlights three partners working with Union Pacific to develop smart monitoring technology that identifies potential bridge defects: the University of Nebraska-Lincoln, University of Michigan and SENSR Monitoring Technologies.
The feature-length article, including insight from researchers, is available at https://www.up.com/aboutup/community/inside_track/bridge-monitoring-06-28-2017.
ABOUT UNION PACIFIC
Union Pacific Railroad is the principal operating company of Union Pacific Corporation (NYSE: UNP). One of America's most recognized companies, Union Pacific Railroad connects 23 states in the western two-thirds of the country by rail, providing a critical link in the global supply chain. In the last 10 years, 2007-2016, Union Pacific invested approximately $34 billion in its network and operations to support America's transportation infrastructure. The railroad's diversified business mix includes Agricultural Products, Automotive, Chemicals, Coal, Industrial Products and Intermodal. Union Pacific serves many of the fastest-growing U.S. population centers, operates from all major West Coast and Gulf Coast ports to eastern gateways, connects with Canada's rail systems and is the only railroad serving all six major Mexico gateways. Union Pacific provides value to its roughly 10,000 customers by delivering products in a safe, reliable, fuel-efficient and environmentally responsible manner.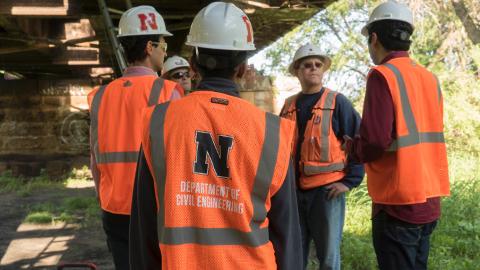 Union Pacific is adding smart monitoring technology to its bridge inspection toolbox.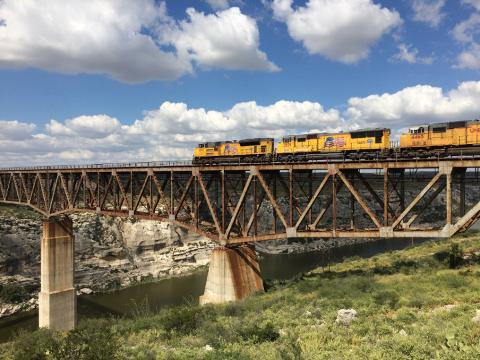 A Union Pacific train crosses the Pecos River Bridge in Langtry, Texas.