The keen eyes and commitment to safety of one Union Pacific train crew – and a bit of serendipity – all added up to a motorist stranded in icy water ultimately going home safely to his loved ones.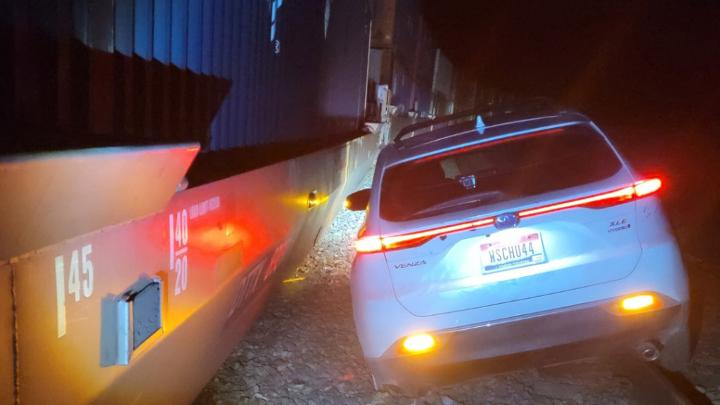 Locomotive Engineer Justin Stewart and Conductor Caleb Ferguson recently were traveling on a mail train near McCammon, Idaho, around 1 a.m. when they spotted up ahead a vehicle stuck between the main lines.
"We put the train into emergency right away," Ferguson said. "Although it turned out to be parallel to us, we missed it by inches."
The crew reported the incident to Union Pacific's Response Management Communications Center (RMCC) and local authorities. Train Dispatcher Ashton Dreyer took the call and immediately halted the area's rail traffic.
"It was freezing, dark and we were in the middle of nowhere," Stewart said. "Water surrounded us on both sides of the tracks."
Subscribe to
Inside Track
While investigating the scene to determine if a motorist needed aid, Ferguson discovered a man far into one of the nearby icy ponds, unable to move. He radioed Stewart he was going in to rescue the man.
"Instinct took over," Ferguson said. "I knew I had to get him to safety. The water was a little more than waist-deep with about two inches of ice. When I finally reached him and started guiding him out, he lost consciousness and collapsed on top of me. I had to hold him up out of the water."
"Caleb started hollering on the radio that he needed help," Stewart said. "After hightailing it over there and taking a few steps into the freezing water, I knew it was bad."
That's when, seemingly out of nowhere, Section Foreperson Daniel Mumme and a sheriff's deputy arrived via a Union Pacific hyrail vehicle after receiving the RMCC report.
"This vehicle was stuck more than three miles from the closest crossing," Mumme said. "With water surrounding the tracks, I don't think there was a place even a helicopter could have landed. The hyrail was the only way to get them help."
While the deputy helped pull the man from the water, Mumme brought EMTs to the scene. He then safely transported the first responders and patient back to the crossing to a waiting medical helicopter.
"I'm thankful we were in the right place at the right time," Ferguson said. "I don't think he would have survived otherwise."
The man's family later reached out to the train crew, sharing their gratitude and the good news he would make a full recovery.