Union Pacific Railroad isn't sitting on its training laurels in Louisiana.
Subscribe to
Inside Track
After hosting the largest-ever hazardous materials (hazmat) emergency response class of its kind last year in central Louisiana, Union Pacific held another three-day exercise in the Bayou State for about 100 first responders.
Fourteen fire departments and other first responder groups gathered in Addis, Louisiana, for the "Railroading 101" hazmat training course hosted by the railroad's local service unit and coordinated by Union Pacific's Hazardous Materials team, which handled the logistics of moving training cars and staging them in areas to train the first responders.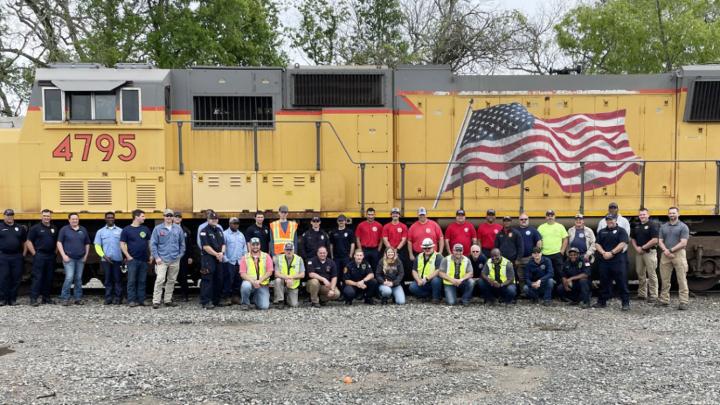 Lee Litton, a brakeperson for Union Pacific and a volunteer Total Safety Culture coordinator, was pleased with the local interest and participation.
"We received a lot of positive feedback," he said. "It was a great success, and I thank the Gulf Coast Service Unit management team and Union Pacific's Safety and Hazmat teams for the support."
This year's event included participants from several Louisiana locations, including Baton Rouge, Lafayette, Livingston Parish, Mansura, Plaquemines Parish, Pointe Coupee Parish and Port Allen fire departments, as well as responders from Dow Chemical and the Louisiana Department of Environmental Quality.
Attendees learned about Union Pacific's system, railroad equipment, best practices when maneuvering on or near rail, and how to interpret markings and shipping papers, as well as important emergency contacts and resources.
Union Pacific trains approximately 5,000 first responders each year on hazmat response in partnership with TRANSCAER, an outreach program supporting Transportation Community Awareness Emergency Response.