Gulf Region Rail Operations Update
Announcement Number: CN2017-72
Categories: General Announcements
Posted Date: September 6, 2017
To Our Customers,
We continue to make great strides restoring our Gulf Coast operations impacted by the aftermath of Tropical Storm Harvey. Where repairs have been completed we are, or will soon be, operating trains.
Following are updates since our last notice:
Overnight, we opened the Houston and Lafayette Subdivisions, allowing traffic to move between Houston to just past Lake Charles, Louisiana, and onward to locations including Livonia and Alexandria, Louisiana.
We plan to open the Beaumont Subdivision this afternoon, allowing us to run eastbound traffic on one subdivision and westbound traffic on the other, reduce train meets and improve transit times.
The Texas City Industrial Lead is back in service.
A complete list of active Union Pacific embargoes can be viewed on our embargo page. The embargoes are for all rail traffic, including automotive shipments.
We will continue to do everything we can to restore service as your facilities come back on line and your teams return to work, but we ask for your patience as the safety and well-being of our employees and their families is our top priority. As work continues, we remain committed to providing the most up-to-date feedback to allow your teams to make effective decisions for your operations.
If you have questions regarding the movement of specific rail equipment, please continue to input Service Issues via our secure customer website, MyUPRR.com (User ID and password required). Our Hurricane Hotline is 800-365-6963 and should be used by our customers to report any damage to facilities that would impact our ability to provide service once operations resume. This information should include damage or tracks out of service and estimated facility repair time. The hotline number should also be used to let us know when your facility is back in service.
This map is for illustrative purposes only. The map is not inclusive of all industrial leads, branch lines or yards. Please refer to the embargo page for a complete list of active embargoes and rail station listings.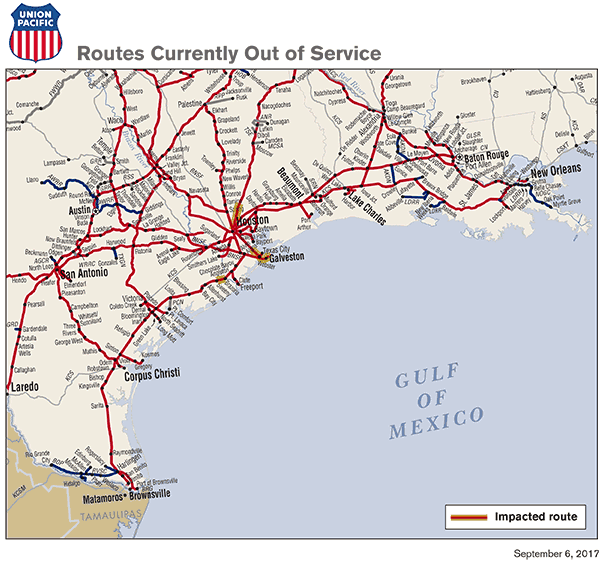 Please contact the National Customer Service Center or your Union Pacific representative with any questions.