Update: Tropical Storm Hilary Impacting Operations
Announcement Number: CN2023-43
Categories: General Announcements
Posted Date: August 21, 2023
To Our Customers,
Tropical Storm Hilary has moved out of Southern California, but conditions remain tenuous due to heavy mountain runoff, washouts, and mud covering roadways and interstates.
Travel in these areas remains limited, but available teams are working to repair track and structures in impacted areas.
Mojave Subdivision
The Mojave Subdivision remains closed, but recovery crews are working to remove debris and restore service by tomorrow.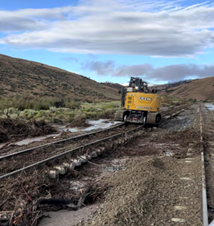 Yuma Subdivision
The Yuma Subdivision continues to be out of service as debris, water, and mud are covering the tracks. As water levels recede, our teams will begin assessing the damage and determining the degree to which repairs are needed. Additional resources are being deployed to assist with the recovery effort.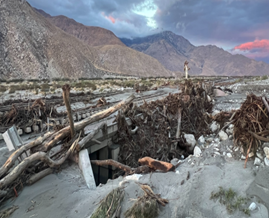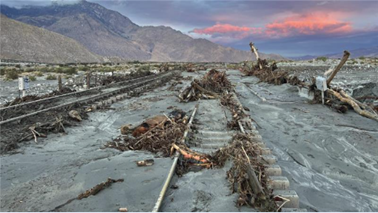 Thank You for Your Patience
Thank you for your patience as we work to restore service to these areas quickly and safely. Our thoughts are with all of our customers and communities impacted by Tropical Storm Hilary.
Please visit our Hurricane Planning and Recovery page to see best practices to follow during the hurricane season.
If you have any questions, please contact Customer Care & Support at 800-272-8777 or your Union Pacific representative.