Waste and recycling are often thought to exist on opposite ends of the environmental spectrum. At one end materials are discarded, and at the other they are reused, each representing diametrically opposed approaches to the way we handle materials at their end of life.
For WM, North America's leading provider of comprehensive environmental services, it's less of a spectrum and more like two sides of a scale. Today, WM manages waste in the traditional sense while also focusing on improving recycling and creating renewable energy from the material that does go to landfills, coinciding with the company's sustainability targets. Put these efforts together and WM is clearly leading efforts to tip the scales in favor of sustainability.
Supporting the Circular Economy
As more companies work toward creating a circular economy, where the linear take-make-waste model is replaced with one that keeps products and materials in use, recycling is an important piece of the puzzle.
Over the last 3 years WM has invested in-excess of $100M each year in recycling infrastructure and is on track to put an additional $200M toward recycling investments in 2022. Those investments have gone toward technologies that include:
Building six new recycling facilities
Adding new technology at material recovery facilities (MRFs), such as robotics and optical sorters, that can sort up to 600 items per minute, and ballistic sorters that separate material by weight
Placing cameras at MRFs to identify contamination in loads as they are being emptied on to the tipping floor
One of these investments is WM's "MRF of the Future," a state-of-the-art materials recycling facility near Chicago. The facility earned its moniker for a very good reason: A traditional MRF may have one or two optical sorters, but the MRF of the Future has 17. "These sorters interact with conveyor motors and other equipment to help improve material quality and eliminate downtime," said Rob Jones, Director of Transportation & Recycling Operations, Waste Management. "The MRF began operating in October 2019, and when at full capacity, can process upwards of 1,000 tons of material per day."
More recycling advancements are on the way, with the Chicago MRF's intelligent sorting capabilities serving as a blueprint for future investments at other WM facilities.
Mitigating Climate Change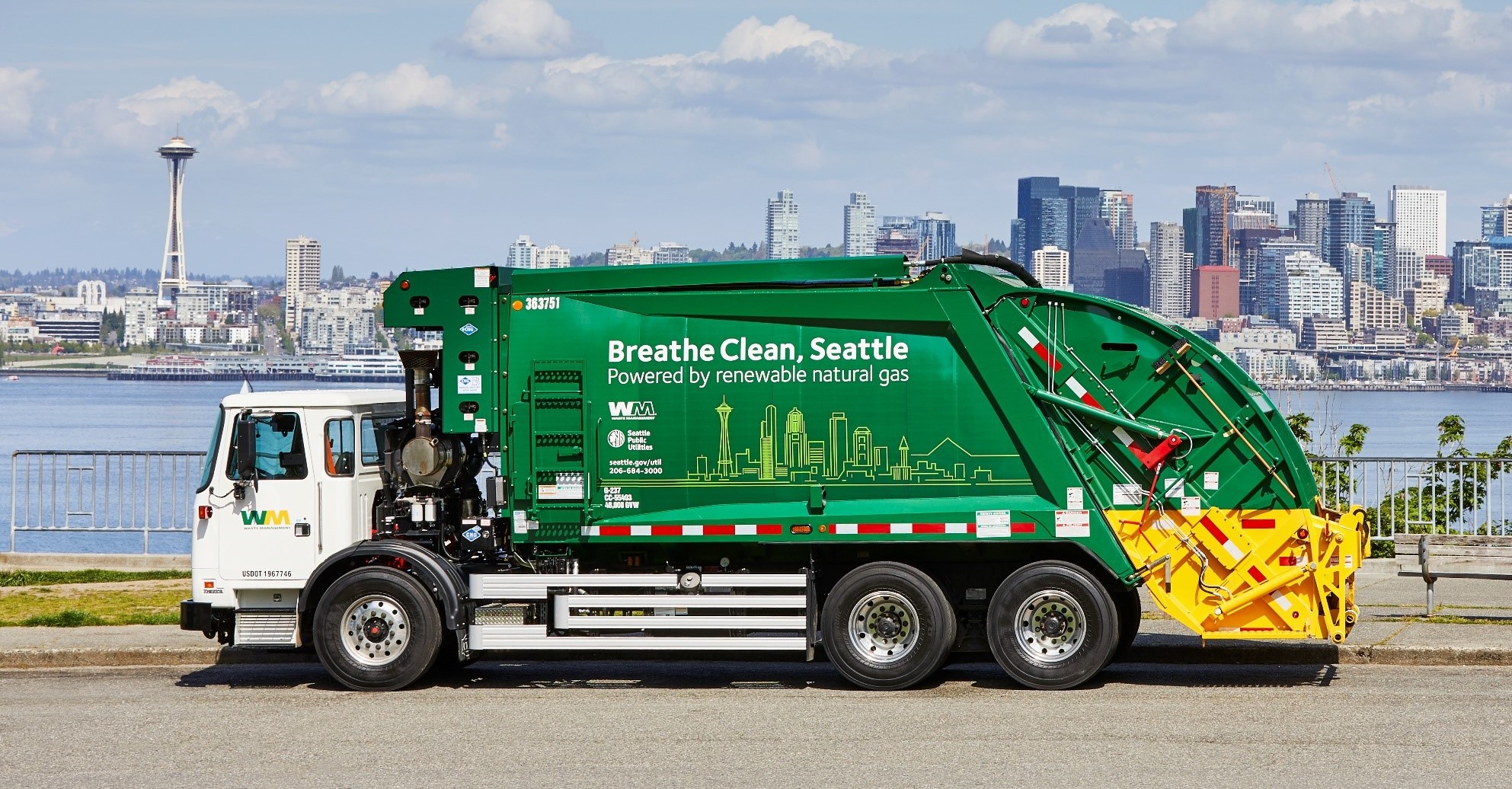 While WM is working to improve recycling services for its customers, the company is also working to mitigate climate change by setting environmental standards for its own operations.
"WM has two overarching sustainability goals — to reduce greenhouse gas (GHG) emissions and to help make our communities safe, resilient and sustainable," Jones said. "Achieving these goals involves growing our sustainability-focused services while aggressively reducing our own carbon emissions."

WM set six targets to achieve by 2025 to ensure they make progress toward their larger goals:
Transition to 70% of the company's collection fleet to be comprised of alternative fuel vehicles (53% in 2020)
Operate 50% of WM's alternate fuel vehicles on renewable natural gas (55% in 2020)
Use 100% renewable energy at WM controlled sites
Reduce inbound recycling contamination at MRFs to 10% (16% in 2020)
Invest in technology to improve landfill emissions measurement systems
Pay 100% of WM employees a Living Wage (100% in 2020)
"Recycling and composting play an important role in sustainability, but generating less waste offers the greatest environmental benefit of all," Jones said. "WM regularly works with customers and communities to help them find ways to reduce waste at the source. We achieve this through extensive public outreach and educational services."
WM also connects communities with environmentally responsible transportation options. For instance, by shipping waste to landfills by trains instead of trucks, communities in Western Washington are reducing their carbon footprint, improving safety and reducing roadway congestion by taking trucks off the highway. On average, railroads are three to four times more fuel efficient than trucks on a ton-mile basis and can move one ton of freight more than 480 miles on a single gallon of fuel. Railroads typically generate a carbon footprint up to 75% less than trucks, making trains a more environmentally responsible shipping mode.
In 2020 alone, Union Pacific shipped more than 2 million tons of waste from the greater Puget Sound area to the Columbia Ridge Landfill for WM customers — the equivalent of removing 75,000 trucks from the state's roadways and reducing greenhouse gas emissions by 11,000 tons each year.
Taking Bold Steps for the Future
Moving forward, WM plans to continue taking bold steps to solve environmental problems. These include developing new technologies, reducing emissions from its own operations, engaging in policy discussions, supporting strategies to reduce emissions in the waste and recycling industry, taking action to mitigate risk, actively engaging in education and outreach efforts and managing material responsibly. "WM is always working for a sustainable tomorrow," Jones said.
Learn More
To learn more about how WM can assist your community, visit wm.com. Or, to learn more about shipping by rail, answer a few questions and we'll put you in touch with an expert.
Related Articles