Whether we consciously realize it or not, plastics are an inextricable part of our daily lives. Stop for a moment to think of some of the common items you use every day that are made of plastic: a water bottle, a grocery bag, the container you store leftovers in. And then there are the less obvious but still common uses, like parts for computers and cars and hospital equipment, or your glasses, your cell phone and even your clothing. While it's clear plastics play an important role in our everyday lives, what people might not know is that plastics actually play a role in improving sustainability — as do the companies that produce them. To demonstrate how, two plastics producers, Dow and Braskem, share how they're envisioning — and creating — a more sustainable future for the planet.
The Role of Plastics in Sustainability
How do plastics play a role in creating a greener world? Geoffrey Inch, Circular Economy & Sustainability Director, North America for Braskem, the largest petrochemical company in the Americas and the world's leading biopolymer producer, explains it as such: "Innovations in plastics are essential for enabling society to raise living standards and to advance sustainability through products that avoid waste and increase efficiency. For this reason, plastics are widely recognized as playing a crucial role in delivering a more sustainable future," he said. "Along with innovation, our Circular Economy Strategy will continue to aggressively progress projects in mechanical and advanced molecular recycling, and we are working with our recycling partners to address the issue of plastic waste."
Jacqueline Faseler, Global Director Supply Chain Sustainability and Compliance at materials science company Dow, one of the three largest materials science companies in the world, says there is a careful balance between using plastic to make the world a better place and keeping a close eye on harmful plastic waste.
"We strongly believe that plastic is an indispensable material for the world's consumers and a vital part of our journey toward a low-carbon future. Lightweight plastic provides growing populations around the world with greater access to fresh foods, safe drinking water and medicines. It dramatically reduces food spoilage and waste while also providing hygienic materials for the health care industry. That translates directly into approximately four times lower environmental cost in the supply chain plus a better, more affordable, and healthier quality of life for billions of people," she said. "At the same time, we are facing an unacceptable consequence: Too much plastic is lost to waste and is entering our oceans, clogging up our rivers, and polluting our natural environment. This cannot continue. At Dow, we're working with our partners to eliminate this plastic waste."
Setting Sustainability Goals
While Dow and Braskem are creating innovative materials that promote sustainability, they have also set some ambitious sustainability goals, and are making solid strides toward accomplishing them.
For both companies, sustainability goals fall under three overarching categories: reducing emissions and working toward carbon neutrality, reducing plastic waste and creating a circular economy.
At Dow, setting sustainability goals isn't new. The company launched its first set of decade-long, sustainability-related goals in 1995, and the second followed in 2005. Together, these first two generations of goals delivered $6 billion in combined economic savings. In April of 2015 the company launched the third era of sustainability goals, which they aim to achieve by 2025. These include:
"At Dow, we have long been — and remain — committed to applying science expertise to create sustainable solutions to some of the world's greatest challenges. We have made significant advancements since launching our first set of decade-long, sustainability-related goals in 1995," Faseler said. "Dow's seven 2025 Sustainability Goals seek to advance the well-being of humanity by helping lead the transition to a sustainable planet and society — maximizing economic, environmental and societal value."
On top of the seven sustainability goals, in June 2020 Dow announced new, long-term targets that are intended to help the company lead its industry toward carbon neutrality and a world without plastic waste. These include:
Protect the Climate: By 2030, Dow will reduce its net annual carbon emissions by 5 million metric tons, or 15% from the 2020 baseline.
Stop the Waste: By 2030, Dow will enable 1 million metric tons of plastic to be collected, reused or recycled through direct actions and partnerships.
Close the Loop: By 2035, Dow will enable 100% of Dow products sold into packaging applications will be reusable or recyclable.
"Climate change and plastic waste are among the greatest technical, social and economic issues the world has ever faced. Dow products and technology are critical to addressing both," Faseler said. "We recognize the goals we've laid out are ambitious. Our efforts start and end with our people. Cross-functional, cross-geography and cross-business teams are working on our sustainability goals and targets. We leverage our unique technology capabilities and expertise, innovation mindset and commitment to building a sustainable planet and society — then apply the passion of our employees — to help promote relevant, long-term change for communities and address global challenges."
Braskem has also set impactful sustainability goals. In 2009, the company launched its long-term sustainability goals for 2020, which emphasized Braskem's commitment to providing solutions that address climate change. The following year, Braskem introduced its portfolio of I'm greenTM products, which are sourced from renewable sources and recycled content. Because these products are made from renewable resources, the production process captures carbon dioxide, helping to reduce greenhouse gas emissions. During that same period, the company reduced the intensity of carbon emissions from its operations by 20 percent.
In 2018, Braskem further committed to 100% of plastic packaging being reused, recycled or recovered by 2040 and in 2020 Braskem announced additional commitments to mitigate climate change, eliminate plastic waste and provide solutions for recycled products in its markets. These goals include:
By 2025, expand the I'm green TM portfolio to include sales of 300,000 tons of recycled content products per year.
By 2030, continue to expand the I'm green TM portfolio to include sales of 1 million tons of recycled content products per year
By 2030, work to divert 1.5 million tons of plastic waste away from incineration, landfill or the environment.
By 2030, deliver a 15 percent reduction in carbon emissions from Braskem operations.
By 2050, achieve carbon neutrality for Braskem's global operations.
"Sustainability has been part of Braskem's DNA since its inception in 2002," Inch said. "Braskem has always been committed to the betterment of the world around us and we are dedicated to finding industry leading solutions that drive us towards a more sustainable future."
Taking Action
It's one thing to set goals, but without action, those targets don't mean much. Dow and Braskem aren't just talking the talk — they are blazing a trail toward being more environmentally responsible companies.
Specific actions Dow is taking to address climate protection include:
Taking a comprehensive approach. "One way we do this is by building on the progress we've made to date by optimizing current manufacturing assets," Faseler explained.
Increasing renewables in the company's purchased power mix. Doing so has already contributed to reducing greenhouse gas emissions by 15 percent in the past 15 years. Dow is also the leading purchaser of renewable energy in its industry and is in the top 15 among global companies.
Implementing transitional technologies, like the installation of FCDh to produce on-purpose propylene. "This technology is reducing energy use and greenhouse gas emissions by up to 20% in a mixed-feed cracker in Louisiana," Faseler said.
Dow is also taking steps to keep plastic out of the environment, including:
Investing in key technologies. Faseler said this includes advanced recycling technologies that will help the world recycle far more than we do today and to use more recycled materials. "We are participating in infrastructure projects that enable global plastic recycling, such as working with partners to construct polymer-modified asphalt roads with post-consumer recycled plastic," Faseler said. "This includes actions such as our partnership with Mura Technology to scale new advanced recycling technologies, in which we expect will add an additional 1 million metric tonnes of recycling capacity by 2025. Additionally, we are investing in mechanical recycling and offering recycled plastics as part of our product portfolio globally."
Focusing on creating a circular world. Dow is working with customers and partners to demonstrate that a circular world is not that far out of reach. Using its RecycleReady materials and expertise, Dow has helped brands like Kellogg's Kashi Bear Naked Granola transform the packaging of their products to make them fully recyclable.
Global collaboration. Dow brings together customers, brand owners, governments, waste management companies and environmental organizations to collaborate on solutions to keep plastic out of the environment. For instance, Dow is a founding member of the Alliance to End Plastic Waste (as is Braskem), a partnership that, in only two years, has already committed to more than 20 infrastructure, innovation and clean-up projects in 13 countries across the regions of Asia, Africa and Latin America.
Faseler said continuing to effect change will require a collaborative, forward-thinking approach. "To achieve carbon neutrality, we'll also need solutions that haven't been designed yet. We need not just step-change technology — we need step-change thinking," she said. "It will take all of us coming to the table with an open mind to find the solutions we need to address a complex value chain. However, creating solutions to navigate these generational challenges is what Dow does best."
Braskem's strategy for achieving carbon neutrality focuses on three pillars:
Reducing emissions. Braskem's efforts to reduce emissions concentrate on improving energy efficiency in the company's existing operations as well as the increased use of low-carbon and renewable energy in its current operations. Braskem is also placing a continued focus on exploring and investing in new, low-carbon intensity process technologies.
Offsetting emissions. In the area of offsetting emissions, Braskem plans to focus on accelerating the company's investments in renewable chemicals and polymers.
Capturing emissions. Braskem's efforts to capture emissions are being supported through the research and development of opportunities in using CO2 emissions as feedstock for conversion to value-added chemicals.
Like Dow, Braskem is also placing a focus on transitioning to a circular economy. The company's Circular Economy Strategy will continue to aggressively progress projects in mechanical and advanced molecular recycling. Braskem also plans to continue leveraging its market leadership, polymer expertise and strong track record of growth in sustainability to develop a robust portfolio of recycled products for its clients.
Inch agrees with Faseler that changing the plastics recycling landscape requires teamwork. "In order to transform the recycling system, Braskem is working collaboratively with others to increase recycling access, develop innovative technologies and scale the recycling infrastructure needed to increase collection and recovery of post-use plastic," he said. "Together we must educate communities on the value of recycling plastics, develop robust end markets to secure demand for recycled materials and promote technologies that allow for higher-quality recycled materials. Braskem's founding membership in organizations such as The Recycling Partnership's Polypropylene Recycling Coalition, the Alliance to End Plastic Waste, and Cyclyx are only a few examples of how we are working together with others to address these challenges."
Leveraging Environmentally Responsible Transportation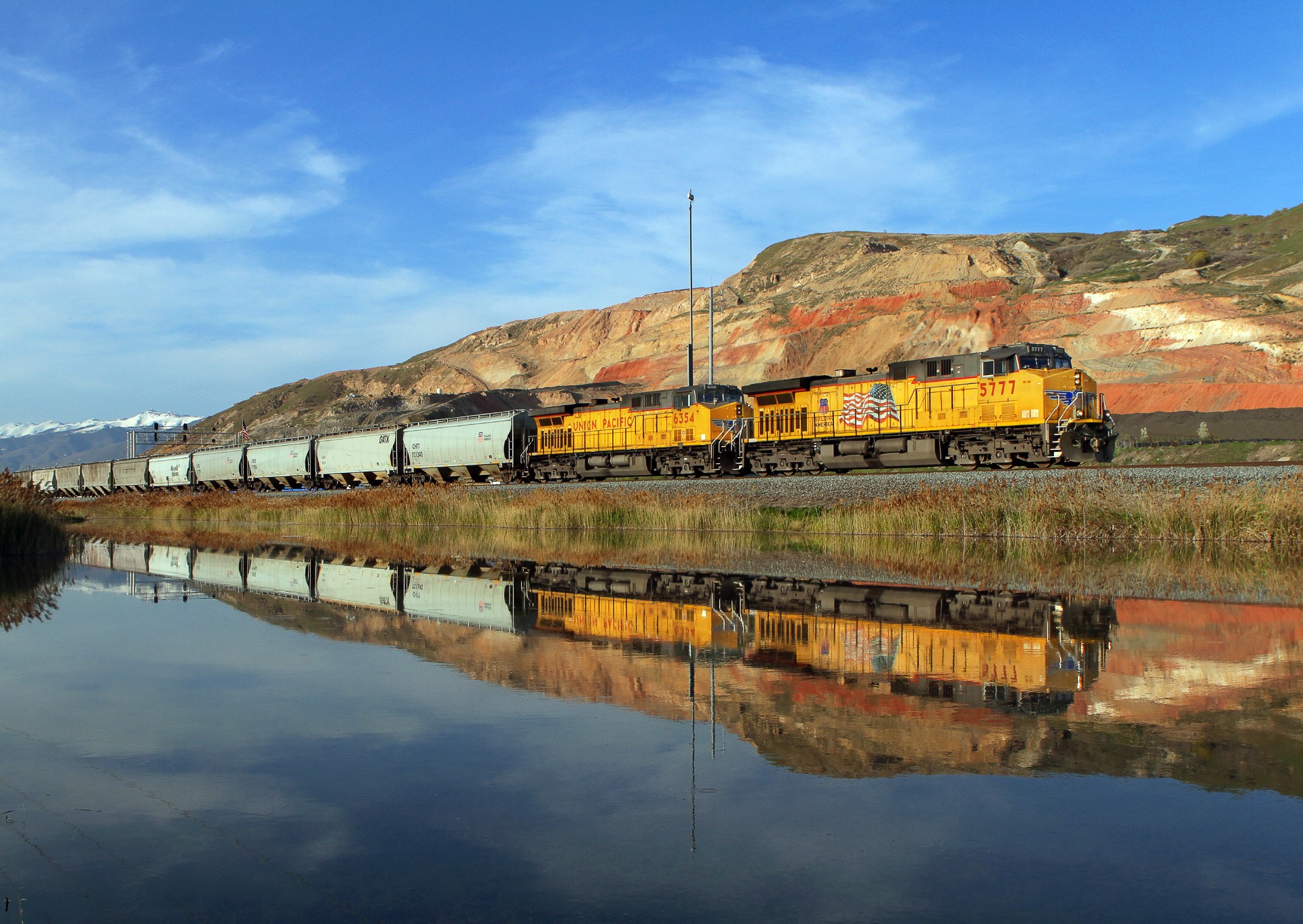 Dow and Braskem's transportation choices are environmentally minded as well. By shipping plastics via rail, they are utilizing the most environmentally responsible way to ship freight by land.
"Rail is a safe, reliable and sustainable mode that we take advantage of as much as possible," Faseler said. "Each shipping mode has its function/purpose in the order fulfillment process. Rail has an advantage over other modes where we see larger order volumes and longer distances. It has proven to be a highly reliable mode of transportation to destinations having the capability of receiving rail. Rail is an important part of Dow sustainability efforts due to the low emissions and positive carbon impact."
On average, railroads are three to four times more fuel efficient than trucks on a ton-mile basis. Railroads can move one ton of freight more than 480 miles on a single gallon of fuel, generating a carbon footprint up to 75% less than trucks.
This difference adds up. According to Union Pacific Railroad's Carbon Emission Estimator, if a company shipped 50,000 truckloads of plastics from Dallas, Texas, to Los Angeles, California, by train instead, it would reduce that company's carbon footprint by 79,330 metric tonnes.
This reduction in the carbon footprint would be equivalent to:
The carbon removed by 16,897 acres of U.S. forests
The carbon removed by 2,030,848 tree seedlings grown for 10 years
Greenhouse gas emissions avoided by recycling 27,607 tons of waste instead of sending it to the landfill.
According to the Association of American Railroads (AAR) Freight Railroads & Climate Change Report:
Railroads account for 40% of U.S. freight but only 2.1% of U.S. transportation-related greenhouse gas emissions
On a gross ton-miles per gallon basis, rail fuel efficiency in 2019 was up 82% since 1980 and up 17% since 2000.
If 10% of the freight shipped by the largest trucks were moved by rail instead, greenhouse gas emissions would fall by more than 17 million tons annually. That's the equivalent of removing 3.35 million cars from our highways or planting 260 million trees.
Railroads are doing their part to support sustainability, too, and are committed to addressing climate change. All seven Class I Railroads in North America are participating in the Science Based Targets Initiative (SBTi), an international collaboration focused on limiting global warming to less than two degrees Celsius, and continue to invest in sustainable technology. For instance, Union Pacific is improving freight car designs and leveraging fuel-efficient locomotives that reduce energy consumption, pollution, and greenhouse gas emissions, which means they're green and getting greener.
"Many of our clients receive material by rail. While the current recycled material market is smaller than virgin production, the market for recycled materials is growing," Inch said. "Many of our clients have recycled content goals, and with Braskem's growth in recycled materials we intend to scale up volumes over the next few years. Recyclers and producers with access to rail will allow for the efficient delivery of recycled materials as the transition to a circular economy continues."
As the volume of recycled plastic resin increases, it will be important for plastics producers to use an environmentally responsible way to ship it in order to effectively meet their sustainability targets. In order to scale up the recycling process, transporting by rail throughout the circular economy — from waste collecting, to recycling, manufacturing and consumer buying — will be essential to achieve the economies of scale. Currently, the global demand for recycled plastic resin is projected to be 77mm tons by 2030. That's the equivalent of 902,900 rail cars or 3.6 million trucks. Because rail magnifies carbon emission savings by up to 4 times, shipping these products by rail instead of truck presents a sizeable opportunity to reduce greenhouse gas emissions.
Building a Culture of Sustainability
On top of making progress toward their respective sustainability goals, Dow and Braskem also actively work toward building a culture of sustainability both within and outside of their organizations.
"Sustainability is infused throughout our company culture in how we make decisions, run our businesses and operations, and innovate new products," Faseler said. For example, Dow has sustainability leaders embedded within each business and function to proactively identify market- and customer-specific opportunities. Grassroot communities of practice have been formed around the world — groups that connect on Recycling, Sustainable Innovation, Circular Economy, Valuing Nature and more. And Dow's #PullingOurWeight environmental cleanups, which engage employees, customers, suppliers and communities in addressing plastic pollution, are the largest volunteer effort in Dow's history. "We are doing our part to help keep plastic waste out of the environment and support the transition to a circular economy for a cleaner environment and a better world," Faseler said.
Braskem is also doing its part to build a culture of sustainability. The company engages with the community through the company's Private Social Investment strategy, which is guided by four pillars: STEM Education, Circular Economy and Sustainability (CE&S), Diversity, Equity, and Inclusion (DE&I), and Health, Environment, and Safety (HES).
One such program is the Philadelphia Eagles Sustainability Partnership. This partnership includes the development of a recycling program for bottle caps and other plastic products as well as an online education platform for 30 schools in Philadelphia to teach students about career opportunities in Science, Technology, Engineering and Mathematics (STEM) that's inspiring the next generation of STEM leaders.
"Our Private Social Investments seek to maximize the positive social impact resulting from our performance, contributing to the sustainable development of the communities where we operate and society as a whole," Inch said. "We understand our role in society and seek to act as agents of transformation. We believe it is our duty to contribute to the development of regions where we operate, generating shared value and well-being to all. In this way, we seek to strengthen the relationship with the communities around our operations through dialogue and transparency."
Envisioning a Sustainable Future
Thanks to the work Dow and Braskem have done and will continue to do, a more sustainable future is possible, even in the face of what may seem like uphill battles.
"Challenges such as climate change, environmental waste, water scarcity and loss of biodiversity continue to worsen, and businesses are realizing that we need to do more to address them. In fact, sustainability promises to be the business disrupter of this decade," Faseler said. "We believe a sustainable future is attainable, but only if we all come together to drive forward science- and technology-based solutions to address global challenges."
Learn More
Do you want to learn more about how shipping by rail can accelerate your progress toward achieving your sustainability goals? Get in touch. Or, are you a plastics producer and want to see how your company fares when it comes to sustainability? Take our Sustainability Score Quiz.
Related Articles