Wind energy is the largest renewable energy source in the United States – and it is growing at a rapid pace. Over the last decade, wind power capacity in the U.S. has increased 15% each year, providing a clean, cost-effective and sustainable fuel source to hundreds of communities and businesses. In fact, at the end of 2019, the nation's wind power capacity reached nearly 106 megawatts. That's enough electricity to offset consumption of nearly 30 million average American homes, according to the U.S. Department of Energy's Office of Energy Efficiency and Renewable Energy (EERE).
Wind farm development and expansion have also been on the rise thanks to recent government tax incentives, where credits are made available to wind energy producers for turbines installed and operational within a specified time frame.

As more wind turbines pop up across the country, the demand for transportation to installation sites is greater than ever. But moving these enormous pieces of equipment is undoubtedly no simple feat. Luckily, railroads have what it takes to get the job done.

"We are seeing a significant increase in wind turbine rail shipments. Thanks to our vast routing options for oversized moves, flexible shipping approach and logistics expertise, we are well-equipped to meet the needs of wind shippers. And our team is proud to help support the growth of the wind energy market," said Emma Sethe, sales manager at Union Pacific.
Why Is Rail the Best Shipping Mode for Wind Turbines?
When it comes to transporting oversized, dimensional loads across long distances, trains are the safest and most efficient shipping mode. And when you think about the sheer size of wind turbines, rail couldn't be more ideal.
It's no secret – wind turbines are big. In fact, the EERE reports their blades average over 190 feet long, and turbine towers are typically around 295 feet tall — about the height of the Statue of Liberty. To safely and efficiently transport equipment that massive over long distances, it makes sense to use rail instead of truck – especially when just one wind blade is nearly the length of a football field.
To help put things into perspective, a Union Pacific train can carry as much freight as 300 trucks, helping to relieve congestion and reduce the strain on busy roads and highways. Plus, by transporting wind components by rail instead of truck, shippers can avoid the complex regulations for shipping oversized loads on public roadways (e.g., acquiring police escorts and/or special permits), which can vary from state to state.
In addition, rail is one of the most environmentally responsible transportation modes, and by utilizing rail for long hauls, wind turbine shippers are able to reduce their fuel costs and their environmental impact. On average, railroads are three to four times more fuel efficient than trucks on a ton-mile basis. For example, Union Pacific can move one ton of freight 444 miles on a single gallon of diesel fuel, generating a carbon footprint that is up to 75% less than trucks, according to the Association of American Railroads (AAR).
Many wind shippers, including DSV, a logistics company for global wind turbine manufacturer Vestas, are recognizing the many benefits rail has to offer.
Ethan Guggenheimer, procurement manager at DSV, said, "Rail is a key mode of the transportation program for DSV as it allows us to move large volumes of wind turbine components expeditiously and safely, while simultaneously keeping them out of the right-of-way for the general motoring public. In parallel, it allows us to reduce our carbon footprint."
Rail also plays a major role in the logistics strategy at Siemens Gamesa, a leading global supplier of wind power solutions.
Kenny Brady, Siemens Gamesa rail logistics coordinator, said, "Shipping wind turbines by rail is an important part of our logistics strategy. Rail shipments allow us to reduce overall transportation risks and, in some cases, improve cost. The ability to transport multiple components (blades, towers, etc.) per train on a fixed network allows us to reduce our footprint while also reducing the risk of damaging components, and it improves reliable deliveries to our customers."
How Do Railroads Ship Wind Turbine Components?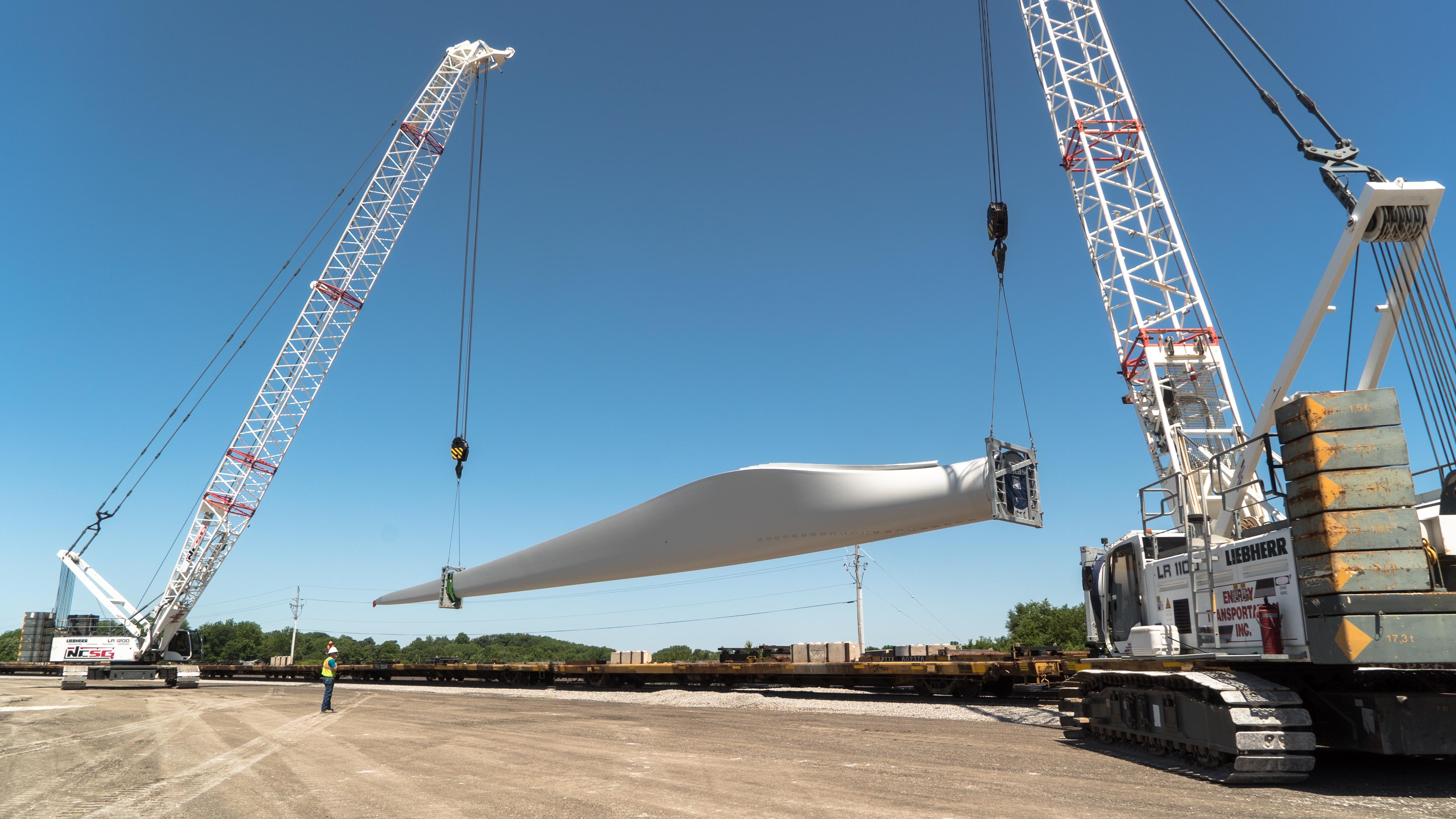 So, how do railroads do it? It starts with careful planning and a thorough evaluation of each shipment. Because of wind turbine components' size, product value and network impact, extensive preparation is critical. Loads like these of greater size and/or weight, known as "dimensional loads," differ from typical rail shipments as they demand extra attention and move as non-scheduled special trains. Clearance and mechanical teams meticulously analyze the dimensions and specifications of each shipment and identify the safest route from origin to destination. Planning teams carefully measure each loaded car on the train before it departs to ensure it can clear every turn or potential obstruction along its journey.

According to the EERE, most of the components of wind turbines installed in the U.S. are manufactured domestically, and there are more than 500 wind-related manufacturing facilities across the country. Even the largest wind turbine components can ship by rail, including the blades, towers, nacelle and hub – typically riding on flatcars. To ensure each component travels safely and damage free, turbine manufacturers supply the special fixtures (or "jewelry") used to secure the equipment to the rail car or truck.
What Are the Steps for Shipping Wind Turbines?
Railroads work with logistics partners, like Loup, to coordinate and closely monitor wind turbine shipments along their journey from origin to destination.
Wind turbine components typically move across a pre-cleared route via specialized rail service from the manufacturer to the nearest distribution center (a strategically located facility where freight is stored or transferred to truck). The shipment is closely monitored along its journey to ensure a smooth and secure transport.

When the shipment is ready to depart the distribution center, it will travel a short distance over the road to reach its final destination – a wind farm site.

Upon arrival at the installation site, wind turbine components are unloaded and prepped for assembly.
The Future of Wind by Rail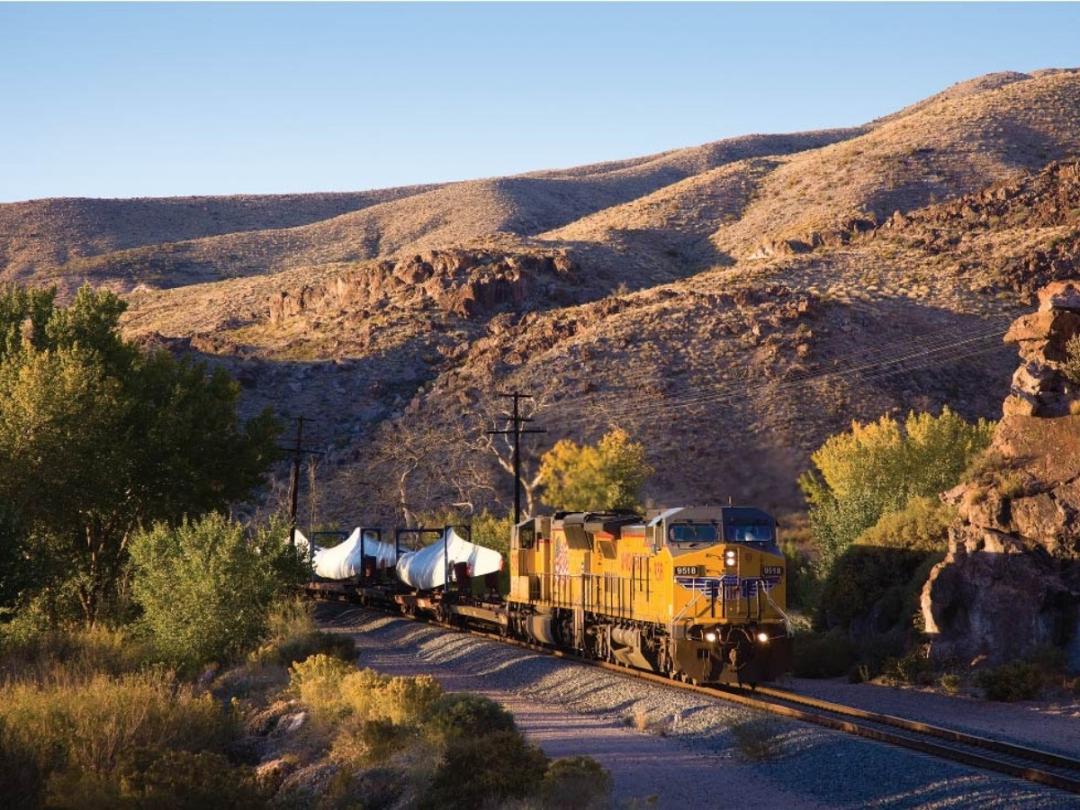 The wind energy market is continuing to grow rapidly as U.S. businesses seek out environmentally responsible, renewable sources of power. This means there is a good chance railroads will see a continued "windfall" of shipments in the future. According to a news release from IHS Markit, corporate procurement will account for about 20 percent of the country's utility scale renewable power additions in the next decade—far ahead of rest of the world. In 2020 alone, corporate procurement growth is expected to contribute nearly eight gigawatts of wind and solar installations, a 45% annual increase in installations.
Learn More
Rail is the perfect shipping option for oversized loads. Beyond wind turbine components, trains ship many other sizable items, including military equipment, heavy machinery and construction products.

Have an oversized shipment of your own that needs to be transported over a long distance? Looking for an efficient, reliable shipping option? Reach out to us, and we can put you in touch with a shipping expert. Or, learn more about shipping dimensional loads by rail here.
Related Articles
Watch the Video