Machinery and Dimensional Products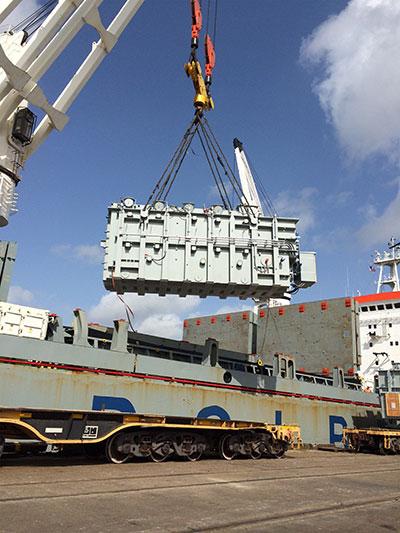 A dimensional load is different from a typical rail shipment due to its greater size or weight. Union Pacific defines a dimensional load as a load with one or more of the following characteristics:
Width greater than 11' 0"

Height greater than 17'-0" above the top of the rail

Loads that overhang the end of the rail car

Loads weighing more than 220,000 lbs net or requiring more than four axles
Resources for Shipping Dimensional Products
Prices and Other Charges
Freight Charges
See our Price & Transit Time Inquiry to obtain prices. Call 1-800-877-0513 for shipments weighing more than 499,999 pounds.
Special Train Charges
Special Train charges apply to any excessive dimensional shipment. Customers will pay special train charges of $125/rail mile, with a minimum charge of 200 miles, or $25,000, in addition to regular freight charges.
Purchase of Special Train services is required when a load meets any one of the following (but not limited to):
All loads 13' 2" or greater in actual width; 13' 0" on the Northern Region
Loads with speed restrictions due to weight (greater than 67,000 lbs. per axle) as determined by UP's Engineering department
Loads with a combined center of gravity 110" or greater ATR. Maximum allowed ATR is 114"
All loaded Schnabel cars
Loads requiring movement in corridors against the flow of traffic in directional-running territory in order to clear the route
Loads which measure less than 4 1/2" ATR (UP will not handle loads less than 2 3/4" ATR)
Any load or equipment with speed restriction less than 40 mph
Bolstered loads that exceeds 135' in length
Bolster and Overhang loads which have an effective width of 13' 0" or greater on a one degree curve
DSR can add special train
See UP 6004 (Sections 5 and 6) on our Terms and Conditions page for additional details.
Rider Charges
Rider charges (use of an accompanying attendant on a movement) are $40 per 100 miles. See UP 6004 (Section 5) on our Terms and Conditions page for additional details.
Heavy Duty Flat Car, Heavy Duty Detention and Demurrage Charges
Shipping heavy duty cars carries additional terms and charges related to equipment use. These charges are in addition to applicable demurrage charges. See our Terms and Conditions page for details on demurrage.
Get Started
Union Pacific is experienced in working with machinery and dimensional products to provide customized, comprehensive solutions to meet unique requirements. To get started, answer a few questions and a member of the machinery and equipment team will be in touch.