Choosing a transportation management system (TMS) is a major investment of your dollars and your time. How do you ensure you get it right? These six tips can help. (Don't miss the shareable video at the end!)
Tip 1: Know Your Current Technology Landscape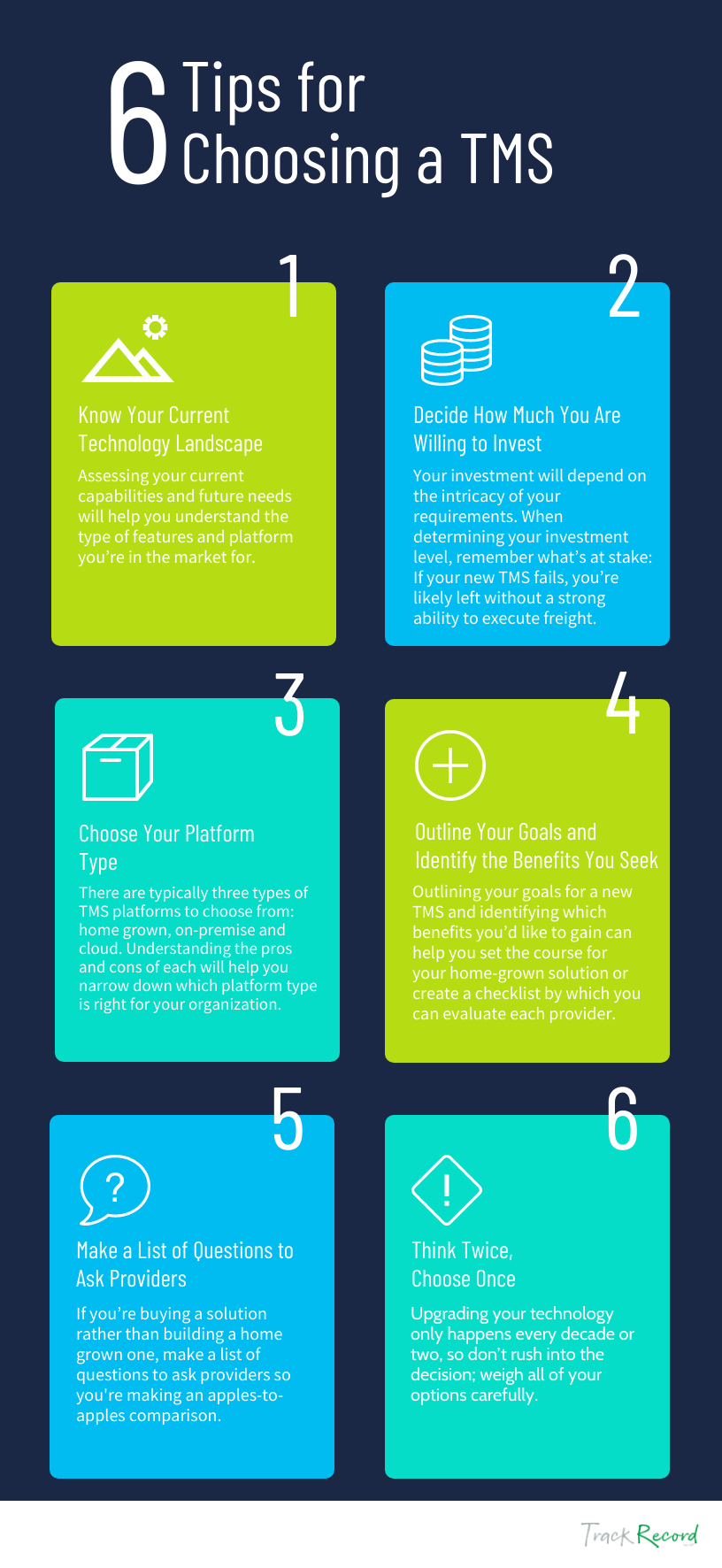 Before you investigate your TMS options, it's important to have a thorough understanding of what your current capabilities and systems are. Some questions to ask include:
How old are your current systems?
How sustainable are they today?
Is your system networked with other technology platforms, like a CRM sales tool or reporting platform?
What are the pain points and bright spots of your current system? What functionality would you like to keep, add or omit?
Assessing your current capabilities and future needs will help you understand the type of features and platform you're in the market for. Many TMS platforms act as a "one stop shop," offering you solutions for the TMS plus tertiary services like CRM sales opportunities and downstream reporting on metrics or outcomes. If your enterprise has already invested in these areas, you may not want to invest in such a robust solution.
Tip 2: Decide How Much You Are Willing to Invest
Another step to take before you begin evaluating specific platforms is to determine how much you are willing to invest in a new TMS. It may seem like a lot, but all said, your investment could total in the millions — that's not an uncommon figure for the type of purchase associated with a new TMS platform. That's because not only are you buying into the technology, you're also paying internal and/or external resources to implement that solution and roll it out to your end users.
Ultimately, your investment will depend on the level of intricacy of your system requirements and how critical it is to your business performance. When determining your investment level, remember what's at stake: If your new TMS fails, you're likely left without a strong ability to execute freight. So it's important to get it right the first time, and the cost to hire the right company and resources to do so often isn't cheap.
Tip 3: Choose Your Platform Type
In general, three types of TMS platforms exist: home grown, on-premise and cloud. Understanding the pros and cons of each will help you narrow down which platform type is right for your organization.
Home Grown
Home grown systems are custom-built for your company. In this model, your own IT team (or a contracted team) builds the system to your specifications. This means future upgrades will require a similar process of design/build/deploy by your internal IT team or contracted resources.
Pros:
A home grown system is customized to your business and how you execute your supply chain work.
If your technology is advanced or solves for challenges that your competitors can't tackle, a home grown TMS can be a competitive advantage.
A home grown TMS typically requires a one-time cost.
Since your organization owns the maintenance of the system, you determine the pace of enhancements or continued development.
Cons:
Because your system is highly customized, you may be missing out on process or industry best practices.
Custom also means there will be added challenges to integrating with any purchased technologies (like CRM or reporting), since your setup is unique to your company alone (think naming conventions, data management, etc.).
You'll also have to worry about upgrades. With technology's rapidly evolving landscape, to stay relevant you may need a small army working around the clock to keep your platform leading edge (if that's important to you).
Building your own system also comes with a significant failure risk. Building your own custom system requires significant confidence that your IT team will have the resources on hand to develop a solution that fits your business well and works as expected. If challenges arise in getting the solution to work, the pool of resources available to you for trouble shooting is slightly challenged compared to a company whose entire business is dedicated to making sure the TMS is working properly.
You may also have connectivity challenges when trying to integrate to others' TMS platforms through EDI/API integrations. Depending on the initial setup of your platform, the technology "friendliness" could dictate how easily a customer or supplier can integrate with your system.
On-Premise
An on-premise system is an off-the-shelf product you purchase from a TMS provider but host on-site. In this model, you may opt to have your IT team or an implementation team customize the system to meet your unique specifications. Future upgrades (when the originating TMS creator upgrades their platform) must be managed by your internal IT team or contracted resources. This is often a one-time cost, with perpetual maintenance at a pace defined by your company for enhancements or slight customization. You may see added costs for change management, user training or added customizations.
Pros:
When you buy an off-the-shelf product, you're leveraging an industry-vetted base platform that has been built on best practices.
Off-the-shelf software solutions tend to be stable, proven, and allow you to benchmark against other customers who use the platform and have shared their pain points and/or bright spots to prompt improvements.
Because the solution has already been used widely in your industry, your provider is likely to have a quick answer to solve your challenges compared to a home-grown solution.
Because it is hosted on site, you'll still have room to customize the platform to create your own competitive advantage.
Cons:
While you can customize your solution to a certain degree, it is likely to be limited at a certain point in order to upgrade your version seamlessly. Customizations may cause glitches that prevent successful upgrades.
IT resources will be needed to perform rigorous testing to validate that upgrades/enhancements don't "break" customizations that were made after first buying the software.
If it's important for your organization to stay leading edge, any disruption to upgraded functionality could put your organization in a challenging position.
Cloud
A cloud-based system is hosted off-site, and you purchase a subscription to use it. Customizations are not allowed, as you are accessing the same technology platform as everyone else. However, you may opt to have your IT team or an implementation team configure the platform (using flexible fields) to adapt to your unique specifications. Upgrades to cloud-based platforms typically happen more frequently than on-premise solutions, and enhancements are automatically applied to your platform. With a cloud-based platform, you typically pay a one-time implementation fee plus annual licensing costs. You might pay added fees for implementation expansion, end user training or change management.
Pros:
With the ability to quickly and easily adopt and accept technology enhancements, cloud-based systems tend to be highly sustainable.
With more users leveraging the same platform, your provider is likely to be able to solve any challenge quickly — even faster than with an on-premise solution.
You're investing in a provider that is stable, proven and confident enough in their product to allow all clients to participate in the same software environment.
Cons:
With a cloud-based solution, oftentimes you must bend your processes to fit the system.
This "configure vs. customize" situation can be a challenging concept for companies that are used to home grown or on-premise solutions.
It can take time to accept that the system's best practice is the new law of the land.
Rapid enhancements can be challenging for some organizations, as with each new release, the enterprise must evaluate how to incorporate the enhancements into their business practices and/or leverage their internal IT or contracted resource groups to perform the necessary configurations.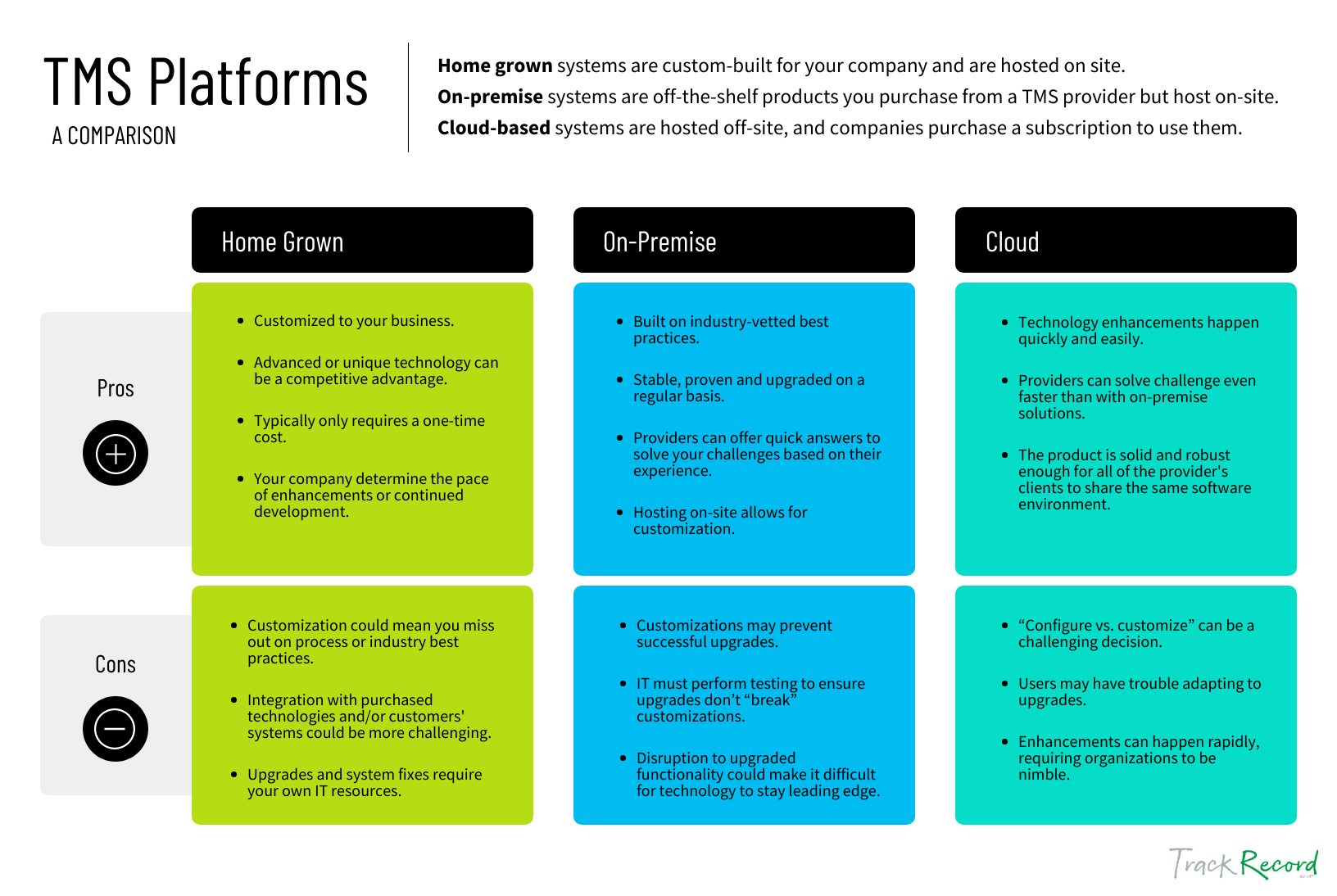 Tip 4: Outline Your Goals and Identify the Benefits You're Seeking to Gain
Outlining your goals for a new TMS and identifying which benefits you'd like to gain can help you set the course for your home-grown solution or create a checklist by which you can evaluate each provider.
Goals and benefits may include things like:
time savings
bottom-line savings
top line growth
improved visibility
transaction automation
integration with other systems you currently use for optimized efficiency
Do the providers you're considering meet your criteria? Can they help you achieve the goals you've identified? Do they offer the benefits you're looking for? Answering these questions can help you narrow down your list quickly.
Tip 5: Make a List of Questions to Ask Providers
If you're buying a solution rather than building a home grown one, a very important part of the process will be selecting the platform. When evaluating providers, you'll want to sure you're making an apples-to-apples comparison while also ensuring all of your needs will be met. To do so, make a list of questions you ask all of the TMS providers you're evaluating.
The questions you ask will be based on your unique needs and goals but can include things like:
Will this TMS work for the modes I use and type of freight I move?
How much time can we expect to save?
What is the total cost of ownership of your solution?
Are customizations available and if so, is there an associated fee?
What kind of ROI can we expect, and over what time period?
What steps are involved in the set up and how long does it take?
What other systems do you integrate with?
How do you handle updates? Are there costs associated with these updates?
How long have you been in business?
Can you provide case studies/success stories for companies similar to mine?
Can you provide a list of references I can contact?
What differentiates your company from your competitors?
Asking providers a robust list of questions will help you understand both their performance record as well as how they can be expected to perform for your company.
Tip 6: Think Twice, Choose Once
The opportunity to upgrade your company's technology only comes around once every decade or two, so it's important to think through all of your options and choose your platform carefully. Don't rush into the decision; weigh all of your options carefully.
If there are specific platforms you're considering, talk to as many of their customers as possible. Ask about their experience: What challenges have they had with the system? How has it helped their business? Are they happy with their investment? It's also helpful to visit a provider's user conference to learn about their technology roadmaps and emerging functionality. This also lets you network with their clients face to face.
Are There Other Options?
If you need help managing your transportation, a TMS isn't the only solution. Logistics companies can also step in and manage part or all of your supply chain. Get in touch if you'd like to learn more.
Related Articles
VIDEO: How to Choose a Transportation Management System