Much like a supply chain, a logistics manager's job is comprised of many moving parts. While that means you have a lot to manage, it also means you have some good leeway to make refinements. If you're looking to become a better shipping and logistics manager, try these 10 secrets to success; before you know it, you'll be the office hero.

1. Get the Right Transportation Management Technology
The Secret: If you're not using an effective transportation management system (TMS), finding one that meets your needs can yield major visibility — and savings. TMS software can help you monitor shipments, assess carrier performance, optimize routing and essentially provide end-to-end visibility. According to Logistics Management magazine, a TMS can reduce overall transportation costs by 30%.
Of course, most important is that your TMS meets your specific needs. You'll want to think about how it will be used, what benefits it should yield and whether it will scale to your company's needs as you grow.
In general, a TMS should help you manage:
Contracts
Shipment Visibility
Customer Notifications
Shipping Trends
Accounting Tasks
The Benefit: With technology on your side, you can operate a more fluid supply chain while improving the customer experience.

2. Find Other Ways to Automate
The Secret: In addition to managing transportation, software can also help you automate your workflow and manage things like:
Incoming goods
Retrieval of goods
Dispatch processing
Repackaging
The Benefit: Finding ways to automate the workflow can reduce workforce costs and improve inventory and order accuracy.

3. Start a Vendor Compliance Program
The Secret: The better your vendors are operating, the more fluid your supply chain will be. A vendor compliance program allows you to set expectations for your vendors, track their performance, and ensure they are meeting the goals you've set for them.
A vendor compliance program can help you:
Improve vendor performance
Identify and resolve problems that impact service
Reward top-performing suppliers and improve reliability
Reduce costs
Improve customer service
The Benefit: When you create a system to reward suppliers for their performance, it can be beneficial for you and for them.

4. Establish Alliances with Key Suppliers
The Secret: Once you have a vendor compliance program in place, you can use these consistent touchpoints to build a better relationship with your partners. Creating these strong alliances will encourage your suppliers to:
Be loyal to you and your company
Bring problems to the forefront so you can resolve them together
Identify ways to improve
Find opportunities for mutual growth
The Benefit: Bringing a vendor on board is the beginning of the relationship, not the end. Taking care to manage those relationships can truly pay off in loyalty, retention, efficiency and service.

5. Make Metrics Meaningful
The Secret: You probably have an endless supply of data associated with your supply chain. Now, more than ever, it's important to make careful choices about the metrics you report on. When selecting metrics, make sure they:
Actually help you measure performance. Forget about the noise and focus on what truly matters. This could include measurements like number of orders completed, order accuracy, on-time performance or cycle time.
Tell a story to your intended audience. What will your team care about? How about executives? Define your audience, then use your metrics to tell a story that will resonate with them and drive the desired behavior.
Follow specific standards. If two of the wrong item is shipped, is that one error or two? Making sure metrics are well defined will ensure consistency across reports.
The Benefit: When chosen wisely and reported accurately, metrics can be one of your most powerful tools to inspire change.

6. View Your Supply Chain as Circular, Not Linear
The Secret: In a linear supply chain, natural resources are used to manufacture products, which are then used/consumed and discarded, ultimately resulting in waste. In a circular supply chain, discarded materials are recycled and reused, in part replacing some of the natural resources consumed and thereby closing the supply chain loop. Taking into account what happens after your products are consumed and how you can reclaim raw materials from existing goods can yield several benefits:
Reduced materials costs
Better asset utilization
Reduced waste
Reduced impact on natural resources
The Benefit: As companies and consumers alike having a growing interest in balancing environmental, sustainability and costs, evolving toward a circular supply chain checks all three boxes.

7. Keep Up on Industry Trends
The Secret: Chances are you've taken a very close look at your internal processes to find opportunities for improvement, but have you thought about what others are doing? Looking beyond your supply chain can provide the inspiration you need to make positive changes — especially when you're out of ideas. To identify helpful trends, try these tactics:
Benchmark other companies. What are their processes? What are their best practices? What improvements have they made lately? Asking these questions, then considering how the answers can apply to your own supply chain can lead to some great ideas.
Follow industry trends. Read articles from industry sources like Supply Chain Digital, Logistics Management magazine, Inbound Logistics or Supply Chain Management Review, to name a few.
Join a professional organization. Networking with other shipping and logistics managers can yield an abundance of ideas for improvement.
The Benefit: Stepping outside of your four walls (whether physically or virtually) can lead you to new — and valuable — territory.

8. Ensure Logistics is a Key Piece of the Sales and Operations Planning Strategy (S&OP)
The Secret: Does your company develop a yearly operating plan that aligns all of the functional areas of your organization, like sales, manufacturing, procurement, etc.? Make sure you have a seat at that table. They'll be discussing things like:
Top-line goals
Bottom-line costs
How bottom-line costs support top-line goals
The Benefit: When you're in-the-know and aligned with the overarching strategy, it can help you save costs in some cases, mitigate costs in others and ultimately drive profit to the bottom line. Being present for the Sales and Operations Planning Strategy can also enhance the overall process and give the team greater certainty to hit goals — and make you look like a valuable team player while you're at it.

9. Make a Solid Backup Plan
The Secret: While it's probably a lot more fun to think about your supply chain performing at its best than it is to envision what happens when it totally breaks down, it's important to consider what you would do if the very worst happened. What if there were a strike, a natural disaster or another major shipping disruption and your customer's freight was stranded?
Making a contingency plan can help keep things moving. Start with these steps:
Put someone in charge. Identify the person who will carry out your emergency plan.
Identify all of the possible problems, then plan for them. Make a list of every potential disruption, from weather and system failures to chemical spills or even terrorist attacks. Once you know all of the scenarios you might have to deal with, make a plan for each.
Line up assistance before these scenarios occur. Talk to your carriers (or even new ones, if needed) and find out what options they offer to expedite shipments and help carry out your emergency plan.
Run a test. The only way to know if your plan will work is to run a test shipment. Then, if any glitches arise, adjust as needed.
Revisit your plan. Contingency plans aren't set in stone —you'll want to review your plans from time to time to make sure they're still relevant as customers, carriers, and regulations change.
The Benefit: When the worst happens, you'll do a lot less worrying and a lot more impressing your customers.

10. Leverage Social Responsibility as a Differentiator
The Secret: Sourcing and selling products and services based on more than just cost can help you stand out in the crowd. Practicing social responsibility demonstrates you're looking at the bigger picture, while also doing your part to be a good corporate citizen. When it comes to your supply chain, consider factors like:
Environmental concerns, like waste, sustainability and emissions
Impacts to the local community
Ethical business practices
Human rights
Safety
The Benefit: When you look beyond economics and consider social and ecological factors, too, it will result in true quality along the supply chain and a feather in your cap, too.
Have Questions?
Do you have more questions about becoming a better shipping and logistics manager? Get in touch and we'll be happy to answer them. Or, to read more tactics for improvement, browse these shipping and logistics tips.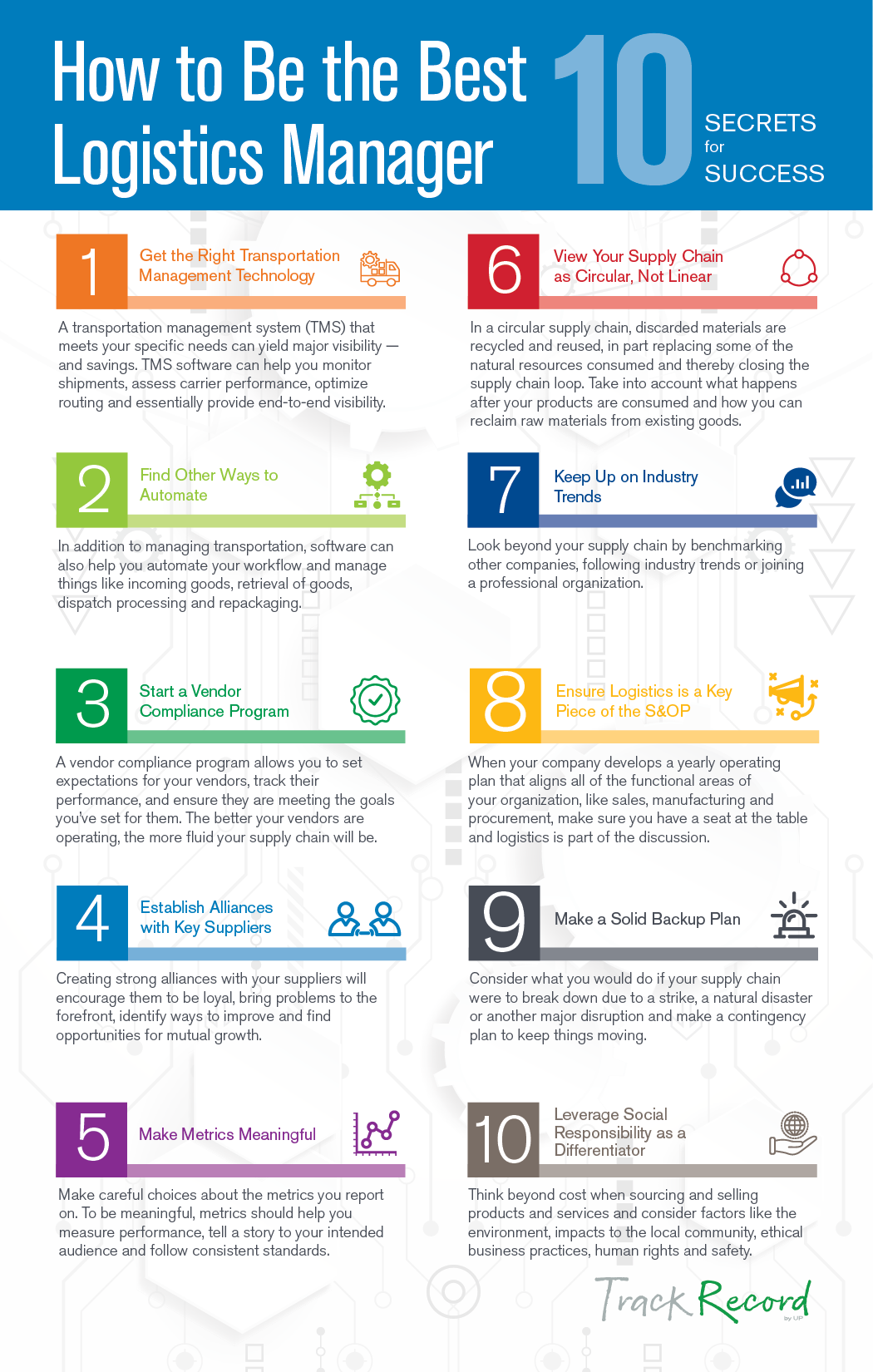 Related Articles: