When it comes to transportation, we've all heard terms like truckload, carload, wide loads and unload. But what about the term "transload"?
If you are interested in lowering transportation costs and leveraging the benefits of rail, transloading is definitely a word you need to add to your transportation vocabulary.
Transloading Defined
Transloading gives you the best of both worlds, combining economical rail transport with the flexibility of over-the-road trucking. In other words, your freight is transferred between truck and train along its journey from origin to destination. For example, a forklift may transfer palletized goods from a truck to a rail car, or a crane may lift heavy products, like steel beams, off a rail car and place them on a flatbed truck. Simply put, whatever you're shipping, products are unloaded from trucks onto trains or vice versa.
Transloading — Step by Step
Depending on whether your origin or destination has rail service, transloading can happen a few different ways, but here's a basic example:
Products are loaded onto a truck.
The truck transports the products to a transload facility.
At the transload facility, products are transferred to a rail car.
The product type determines how it is transferred (e.g., pump, crane or forklift) and to which type of rail car (e.g., tank car, flat car or boxcar).
If needed, products are transferred back to trucks for final delivery.
Why Transload?
For many, it makes perfect sense to shift their shipping solution from one mode to two with the help of transloading. Here's why:
No need to invest in track, warehouses for storage and transloading equipment
No track? No problem. Typically, shipping by rail is a more cost-effective shipping option. However, many shippers — or receivers — don't have tracks at their door. With transloading, it doesn't matter: all shippers and receivers can benefit from rail. And when you transload, forget about renting or investing in transloading equipment and warehouses for storage at your site. The transload facilities store and transfer your goods for you, saving you time and valuable transportation dollars.

Increase your market reach
When you transload your freight, you have access to an expansive rail network, allowing you to ship more affordably and reach a vast number of major markets throughout the U.S., Mexico and Canada. Depending on where you are shipping, you may also utilize transload facilities in a wide variety of locations. Some logistics companies, like Loup Logistics, have access to a network of transload facilities across North America and can connect you with transloaders, no matter where you're shipping. They have 95 facilities in Mexico alone, so it's safe to say wherever your business is, a transload facility isn't far away.

Ship across the border seamlessly
Wherever you do business, it's safe to say a transload facility isn't far away – even if you are looking to expand into Mexico. Loup Logistics has 95 transload facilities in Mexico alone. These facilities are outfitted with warehousing capacity and transloading equipment to bridge the gap between production sites and getting products prepped to travel by train to U.S. or Canadian ports.

Rely on shipping experts
If you aren't 100% confident in your shipping know-how, don't fret. Logistics companies with networks of transloading providers have already vetted those providers to provide safe, high-quality services to streamline your supply chain. You don't have to be a shipping expert. You can rely on the expertise of seasoned logistics professionals.

Ship more, spend less
A single rail car can carry the same amount of product as three to four truckloads — and trains are three to four times more fuel efficient than trucks. These efficiencies are passed to your transportation costs, allowing you to ship heavier loads farther while spending less.
Adapt as your business grows
Capacity is rarely an issue for railroads, so rail can accommodate even your largest loads — and will be ready to handle more as you expand your business.
What Products Can Be Transloaded?
Just about any product can be transloaded between trains and trucks – and back again. From lumber and metals to liquids, frozen foods and heavy machinery, transloading is a great shipping option for all kinds of goods.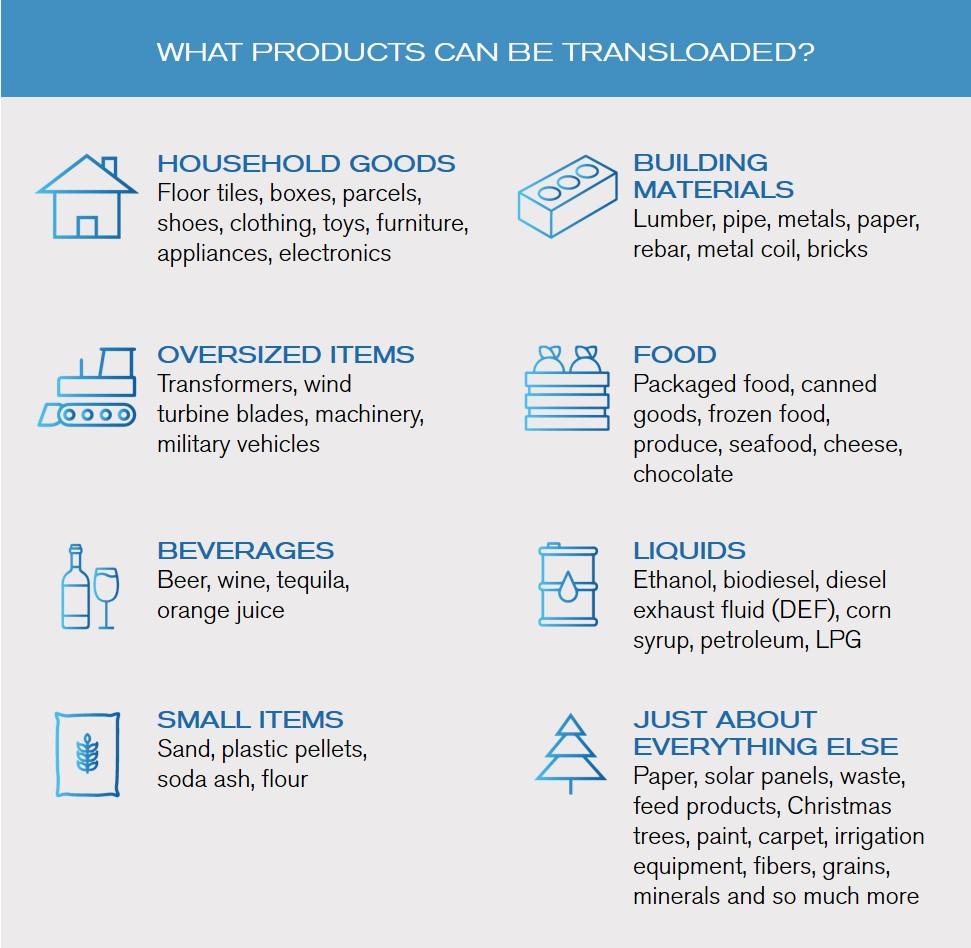 How Are Products Transloaded?
The way a product is transloaded depends on the product type. Take a look at transloading equipment, including forklifts, pumps and cranes.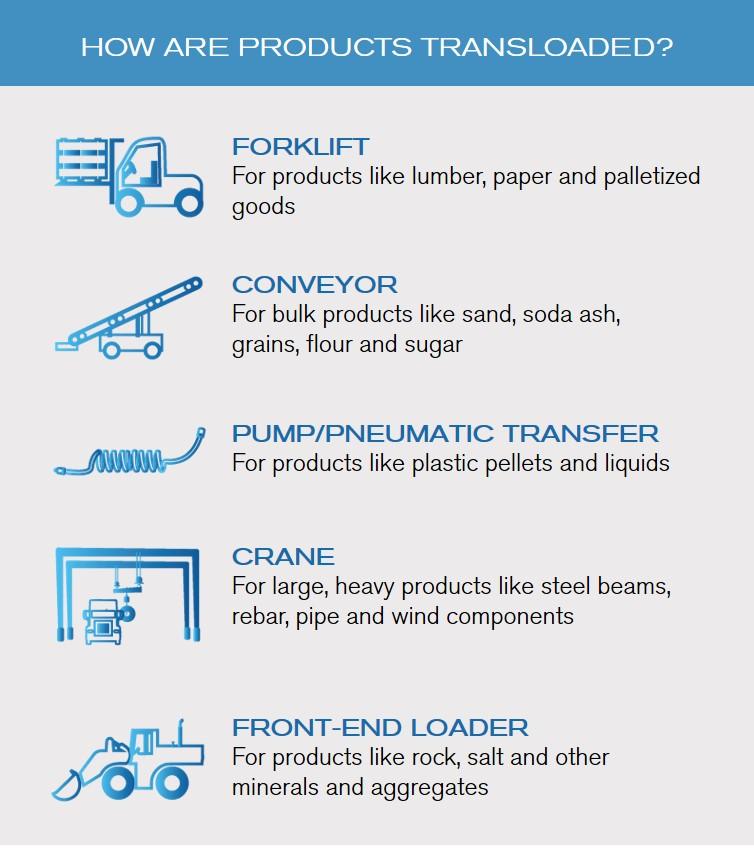 Is Transloading For You?
Could your business benefit from the best of rail and over-the-road transportation? Learn more about transloading and how it can work for you. Or, get in touch with us.

Related Articles: