Railroads support the nation in delivering critical resources to help ensure the health and safety of communities during COVID-19. From the medical supplies hospitals need to the cleaning products we use to disinfect our homes to the food we eat, check out our handy infographic for a rundown of the essential goods railroads are transporting to help fight the pandemic. Or view the detailed list of goods below.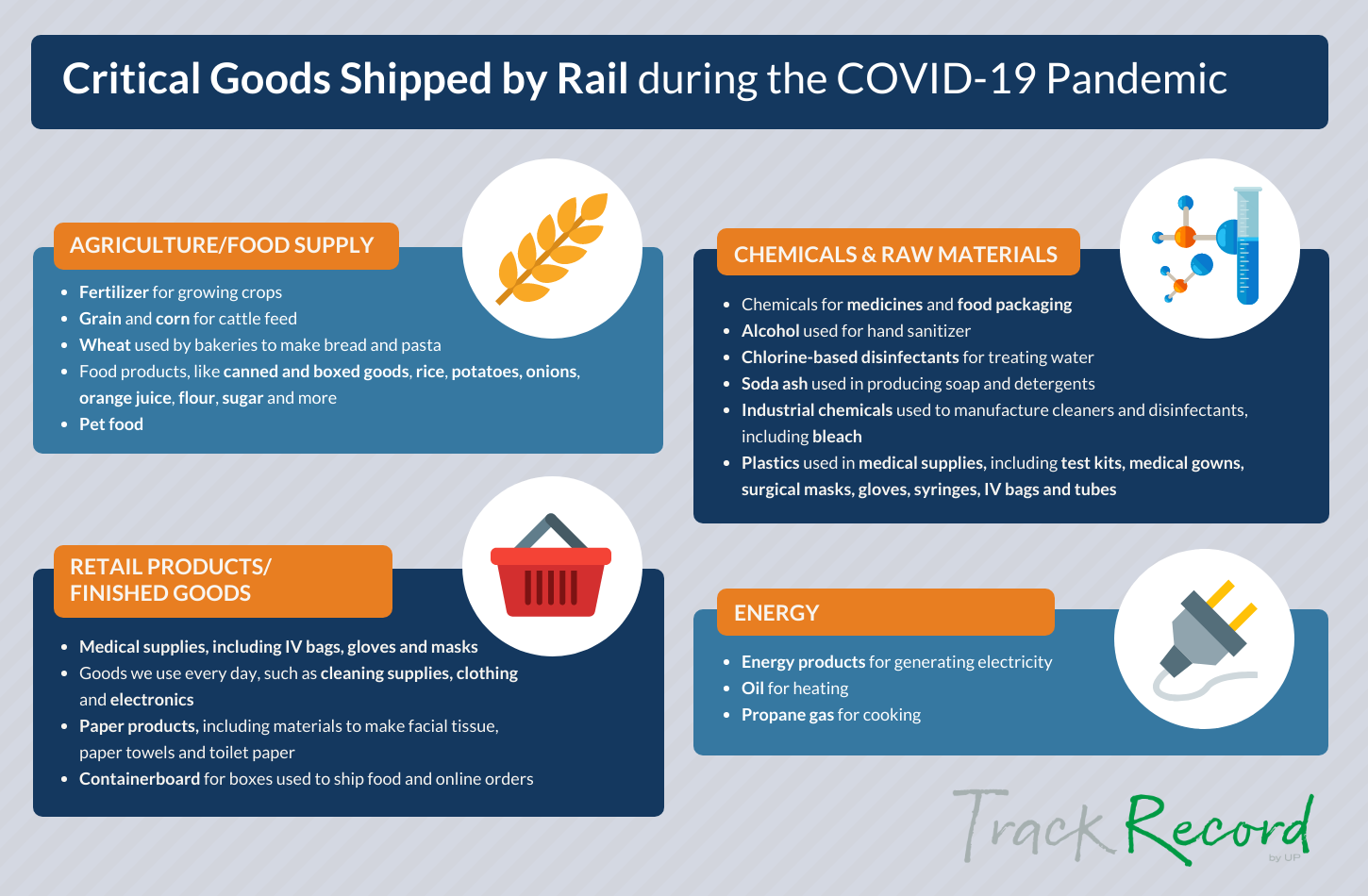 Critical goods shipped by rail during the COVID-19 pandemic include:
AG/FOOD SUPPLY
Fertilizer for growing crops
Grain and corn for cattle feed
Wheat used by bakeries to make bread and pasta
Food products, including canned and boxed goods, rice, potatoes, onions, orange juice, flour and sugar
Pet food
CHEMICALS and RAW MATERIALS
Chemicals for medicines and food packaging
Alcohol used for hand sanitizer
Chlorine-based disinfectants for treating water
Soda ash used in producing soap and detergents
Industrial chemicals used to manufacture cleaners and disinfectants, including bleach
Plastics used in medical supplies, including test kits, medical gowns, and components of surgical masks, gloves, syringes, IV bags and tubes
ENERGY
Energy products for generating electricity
Oil for heating and propane gas for cooking
RETAIL/FINISHED GOODS
Medical supplies, including IV bags, gloves and masks
Goods we use every day, such as cleaning supplies, clothing and electronics
Paper products, including the raw materials to make facial tissue, paper towels and toilet paper
Containerboard for boxes used to ship food and online orders
Learn More
To learn more about how rail can help transport your products, send us an email.

Related Articles