Railroads transport approximately 1.6 million carloads of food products in a typical year. While they ship a lot of nonperishable items, like canned and boxed foods, did you know railroads ship plenty of fresh and frozen foods, too?
Trains transport a wide variety of perishable items like potatoes (including frozen french fries), meat, poultry, fish, dairy products, onions, apples and fruit juice – to name a few. According to the Association of American Railroads (AAR), in any given year, railroads ship approximately 65,000 carloads of fresh fruits and vegetables and 74,000 carloads of meat and poultry products.
So, how do trains keep all of those food and beverage shipments cool? With the help of refrigerated rail cars (also known as "reefers"). Railroads, like Union Pacific, have been working to improve their fresh and frozen shipping services, adopting state-of-the-art technologies that enable food and beverage companies to transport perishable goods across long distances – even from coast to coast.
New and Improved Equipment for Refrigerated Shipments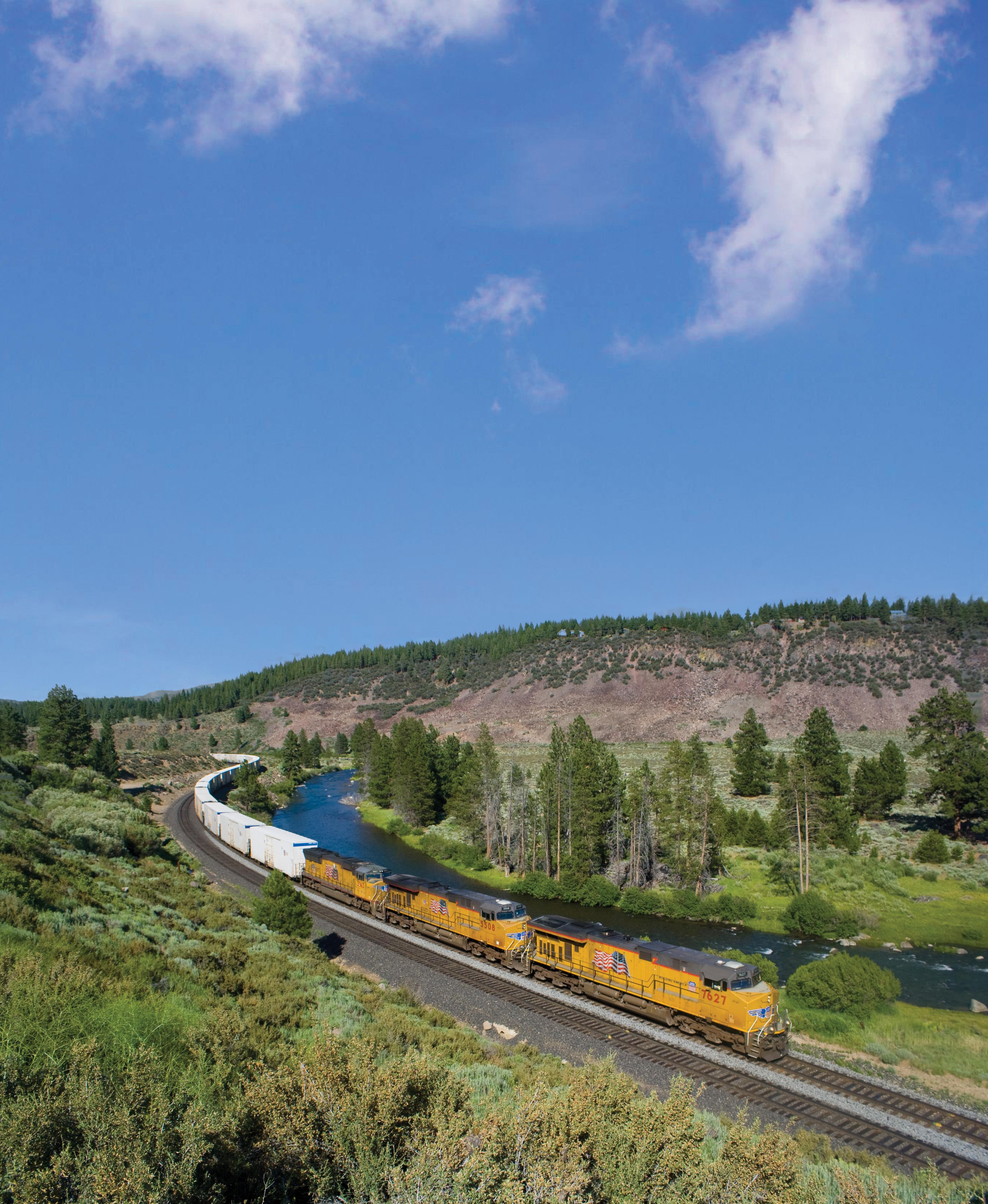 Union Pacific recently introduced an entire fleet of new and improved, 64-foot refrigerated boxcars to move cold, fresh and frozen foods – just as efficiently as truck. Louis Oborny, mechanical engineering manager at UP, was instrumental in designing, testing and optimizing the new reefer cars' performance.
"Our teams were focused on developing the best performing refrigerated boxcar in the industry. By benchmarking against existing refrigerated rail cars and truck trailers in the market and through extensive discussions with food shippers and industry experts, we were able to identify the car features that needed to be enhanced. Speaking and visiting with our customers really helped us understand what they were looking for in an ideal refrigerated shipping solution," Louis said.
After identifying the must-have features on food shippers' wish lists, it was time to begin the process of drafting a new car design and building a prototype car.
"We have an amazingly talented team that helped build the new reefer car from the ground up. From drafting the design to rolling up sleeves and actually constructing this car from scratch — all of it was done in house," added Louis.
The new reefer car design was developed by a small group of UP's own experts, including structural and welding engineers and drafters. Once a plan was on paper, the skilled team at UP's car shop in DeSoto, Missouri, got to work building the car — testing throughout the entire process to ensure the design was the best in the industry.
"We conducted numerous tests on the cars, analyzing and tweaking along the way to make sure we had perfected the overall thermal performance and the ability to maintain a consistent air temperature around the freight," Louis said.
After years of careful planning, designing and thorough testing, the new and improved refrigerated rail car was ready to be produced on a massive scale at a manufacturing facility. In 2019, the brand new cars began moving shipments and, for over a year now, have been successfully transporting fresh and frozen foods across Union Pacific's expansive network – delivering them to their destination damage free and at the proper temperature.
Union Pacific's Refrigerated Rail Car Features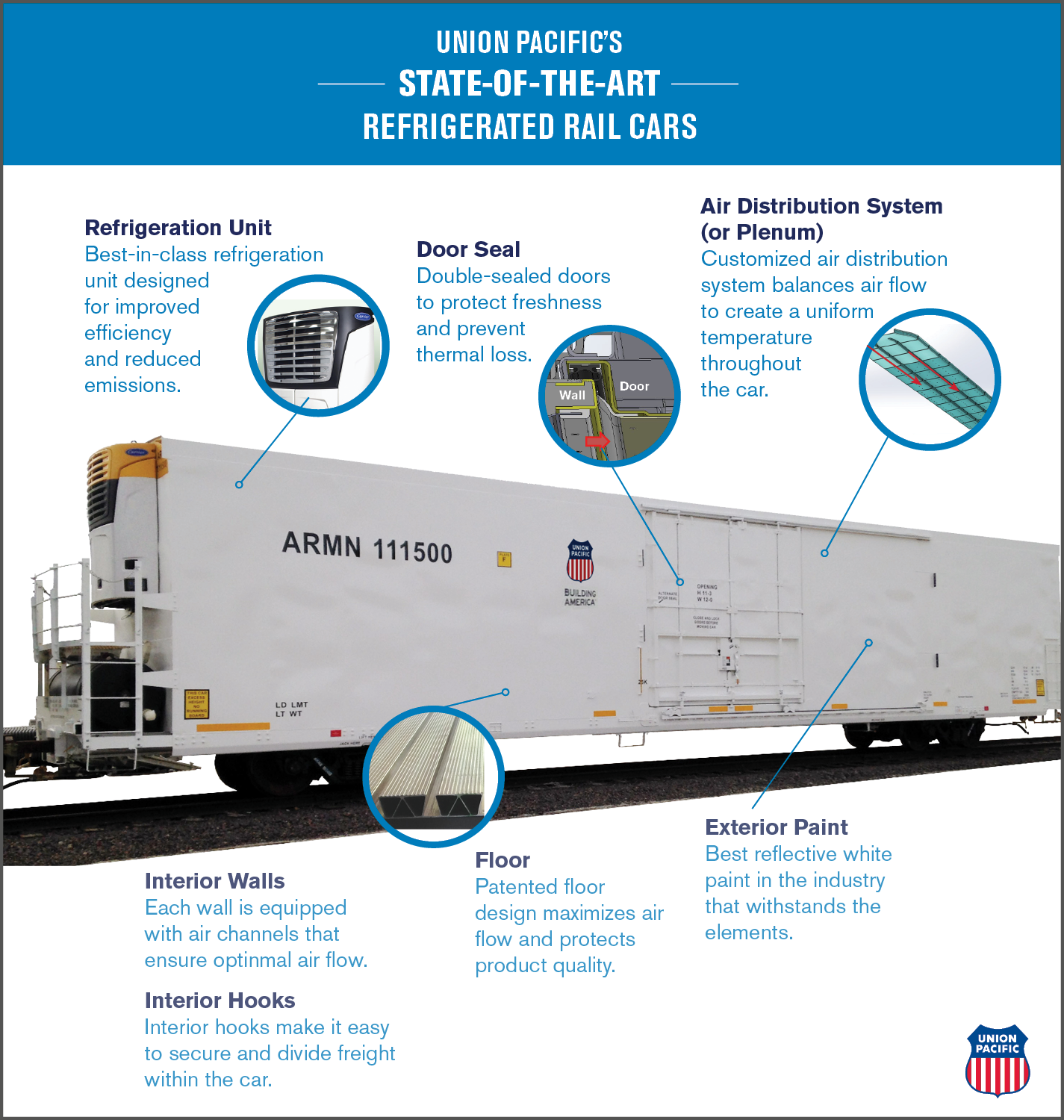 Take a look at some of UP's state-of-the-art refrigerated rail car's key features:
Exterior Paint
At first glance, you might think the color and design scheme of the new car is pretty basic, but there's a good reason why it is painted a clean, simple white. The color white was chosen because it reflects heat and minimizes sunray emittance. UP did extensive testing with multiple vendors to identify the best reflective white paint in the industry today. In addition, the exterior paint selected is one of the most durable – able to withstand the elements day in and day out.
Refrigeration Unit
At the heart of UP's rail car, is a best-in-class refrigeration unit designed with performance and efficiency in mind. To make things easier, the design team eliminated moving parts that often require extra attention, like belts, pulleys and mechanical compressors. Less mechanical components means less breakdowns, ultimately resulting in more efficiency.
Plus, this is the only true hybrid refrigeration unit on the market, which includes a plug-in for running on electricity instead of diesel when possible.
Air Distribution System (or Plenum)
The air distribution system is customized for optimal air flow. Designed with three air ducts in the ceiling, air is evenly distributed to every corner of the rail car to maintain a cool temperature no matter where freight is placed.
Interior Walls
Each wall is equipped with air channels that ensure optimal air flow, and the back wall captures exiting air from the plenum to generate continuous flow throughout the car and around the product.
Floor
Consisting of one continuous piece of aluminum, the floor is designed to evenly distribute forklift weight while maintaining adequate air flow. And it allows for easy clean up.
Door Seal
Maintaining a tight seal on the rail car door is critical to controlling a shipment's temperature. UP updated its seal design to include a second barrier that locks in cold air and prevents the creation of hot spots.
Interior Hooks
Interior hooks, designed for strap systems, make it easy to secure and divide freight within the car.
For a closer look at UP's new refrigerated rail cars, watch the video.
Benefits of Shipping Fresh and Frozen Food by Rail
A food shipper's dream, these top-performing rail cars are equipped to ship even the most temperature-sensitive, perishable food products over long distances for many years to come. And the advancements in refrigerated shipments doesn't stop there. UP is also using what they've learned to update the existing refrigerated cars in their fleet. They are retrofitting the cars with many of the same state-of-the-art features of the new cars, including the advanced air distribution system and aluminum floor.
Louis added, "Our refrigerated box cars will not only allow shippers to leverage all of the benefits and efficiencies of rail, but will enable them to maintain the shelf life of their products over long distances with peace of mind."
Why Choose Rail?
Beyond the advancements in technology that keep perishable goods at their optimal temperature, rail brings many more benefits to the table.
It's the greenest way to ship freight over land. On average, U.S freight railroads can move one ton of freight more than 470 miles on a single gallon of diesel fuel, generating a carbon footprint that is 75 percent less than trucks.
It's cost effective. Rail typically offers a lower cost per ton mile than truck.
You can ship almost anywhere. You can ship products by rail pretty much anywhere in North America. Between the major railroads in Canada, the United States and Mexico and smaller railroads in between, railroad tracks span the continent. Factor in ocean carriers and you can use rail to ship to virtually any destination worldwide. Rail is the most efficient way to ship long distances — but can also accommodate short-haul moves.
You can ship large volumes with ease. One rail car can carry the same amount of cargo as 3-4 trucks. So when you ship with rail, you're managing fewer shipments and gaining supply chain efficiencies. Not shipping that much? Sometimes railroads can handle "less-than-truckload" shipments.
You don't need tracks. Even if you or your customers don't have tracks, you can still take advantage of the safety, environmental and economic benefits of rail thanks to a process called transloading. If you need help connecting to rail or locating storage facilities for your shipments, logistics companies like Loup Logistics can help. Loup can also provide logistics visibility to your rail shipments.
Learn More
Interested in learning more about shipping fresh and frozen goods by rail? Get in touch.
Related Articles