In California's Sacramento Valley, hot days, cool nights, and moisture rich clay soil create the perfect growing conditions for rice. Farms in this region produce 20% of the nation's rice, helping make California the second-largest rice-growing state in the United States.
Each year, that rice yields 1.5 million tons of rice straw, a byproduct of harvested rice that must be removed to make way for the next season's crop. Traditionally, farmers burned their fields to dispose of the straw and make way for the next growing season. But in 1991, environmental concerns pushed the State of California to mandate farmers phase out of field burning. Farmers turned to field flooding — but that came with its own set of environmental issues, including wasting water and releasing methane into the air during the flooding process.
Two environmentally conscious Sacramento Valley rice farmers, Jerry Uhland and Jim Boyd, knew there had to be a better way. Their vision? Harvest the rice straw itself and use it to make a brand-new product. Wheat straw had been used to make particle board, so perhaps rice straw could be used the same way. Initial particle board trials were not successful, so they turned to another idea: making fiberboard. This idea landed, and sustainability startup CalPlant was born.
Today, CalPlant's 276-acre Sacramento Valley production site can convert 280,000 tons of agricultural waste into 150 million square feet of Eureka MDF sheets — making Uhland and Boyd's vision responsible for advancing sustainability in both the rice farming and MDF industries.
How Is Sustainable MDF Made?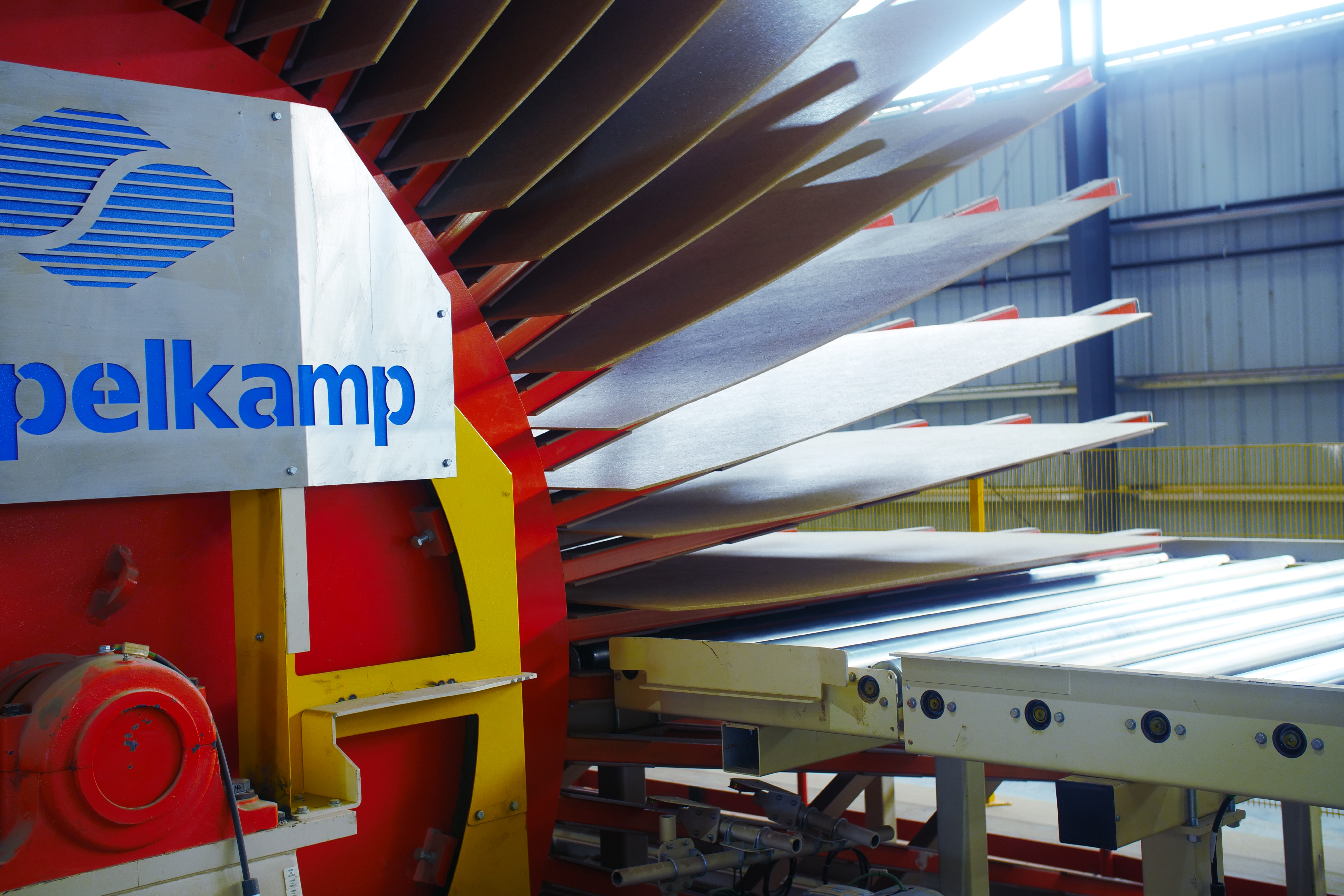 The process for making Eureka MDF starts in the rice fields, where straw is gathered into 1,100-pound bales and brought into CalPlant's manufacturing facility. From there, the rice straw undergoes a chopping and separating process, breaking it down to manufacture MDF.
"After that, CalPlant looks like a traditional MDF manufacturer," said Geri Freeman, CalPlant Chief Executive Officer. "During the process, CalPlant utilizes a state-of-the-art ContiRoll® Generation 9 Siempelkamp press to manufacture Eureka™ MDF to ensure the product's machinability and strength."
The result is the world's first no-added-formaldehyde rice straw-based medium density fiberboard (MDF). Eureka MDF is engineered to match the performance of traditional wood-based MDF in machinability, paintability and strength. This sustainable building material is used to make cabinets, furniture, doors, moulding, and more for residential and commercial use.
"Eureka MDF represents rice straw's transformation from a wasted natural byproduct into something of utility," Freeman said. "By using an annually renewable waste product, CalPlant is able to create something of value and functionality year after year."
The Environmental Benefits of Reclaiming Rice Straw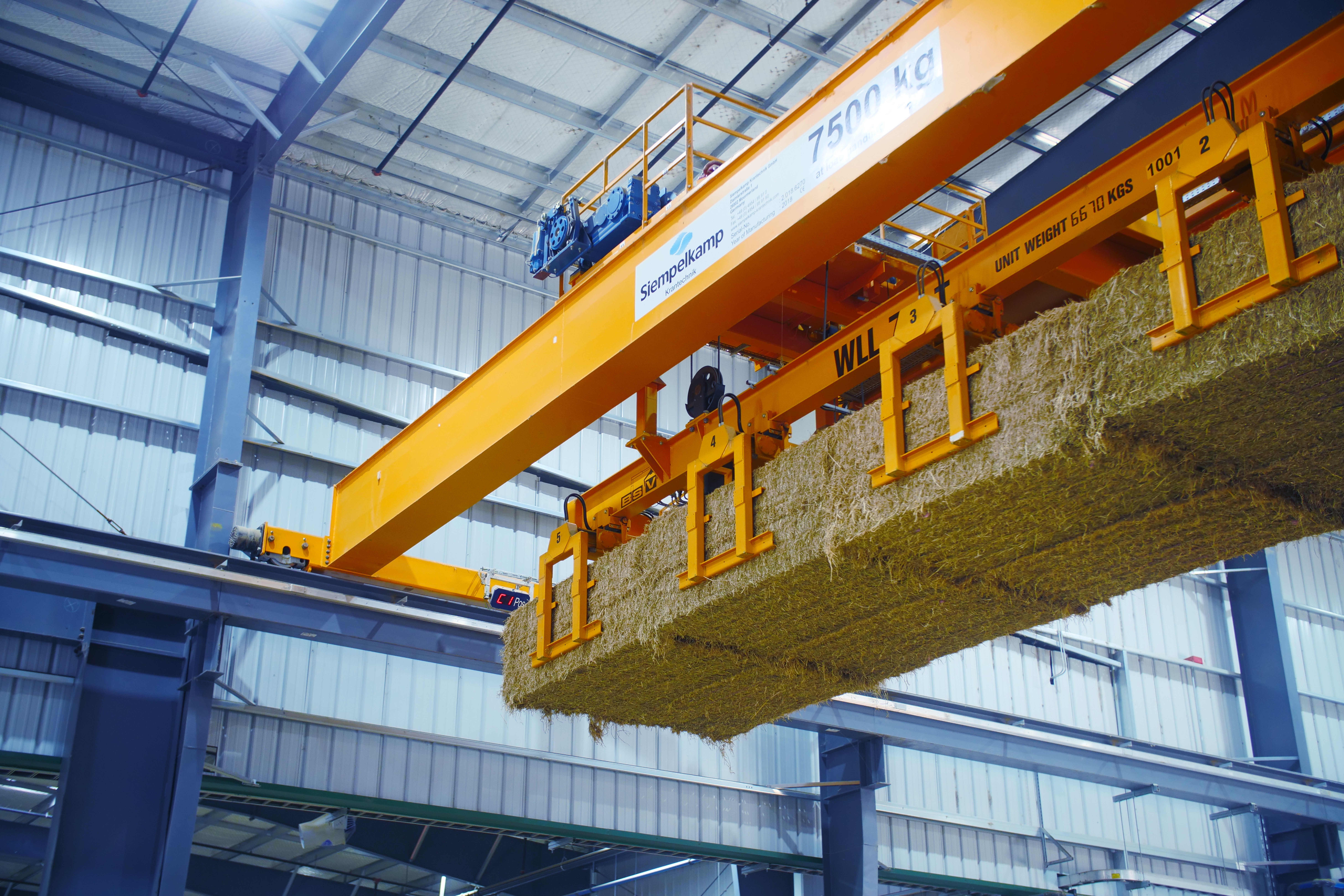 Recovering post-harvest rice straw has two key environmental benefits: it conserves water and reduces emissions.
"CalPlant is able to reclaim approximately 20% of the Sacramento Valley's rice straw waste, significantly reducing the levels of water that would have otherwise been diverted from regional waterways to flood the rice fields after harvest," Freeman said. "This reduction of field flooding also means lower methane emissions for the California rice farming industry."

Because Eureka MDF is created using a formaldehyde-free resin system, it doesn't negatively impact indoor air quality either.
CalPlant's sourcing model is also environmentally beneficial thanks to their strategically located plant in the heart of the rice farming community in Willows, California.
"All rice straw utilized by CalPlant is locally sourced within 25 miles of the plant, significantly decreasing the plant's sourcing impact on the planet," Freeman explained. "When you look at comparably sized, wood-based MDF plants, CalPlant has lower overall plant emissions thanks to its use of rice straw instead of wood fiber."
Rice farmers benefit as well by saving the time and effort to flood or bale their fields. CalPlant schedules balers and transports the bales to the company's mill so farmers don't have to worry about the logistics. If CalPlant didn't recover rice straw, it would be left in the fields to decompose over the winter months, releasing methane into the atmosphere.
Meanwhile, customers and end-users get an MDF product that is rooted in sustainability from beginning to end.
Leveraging Environmentally Responsible Transportation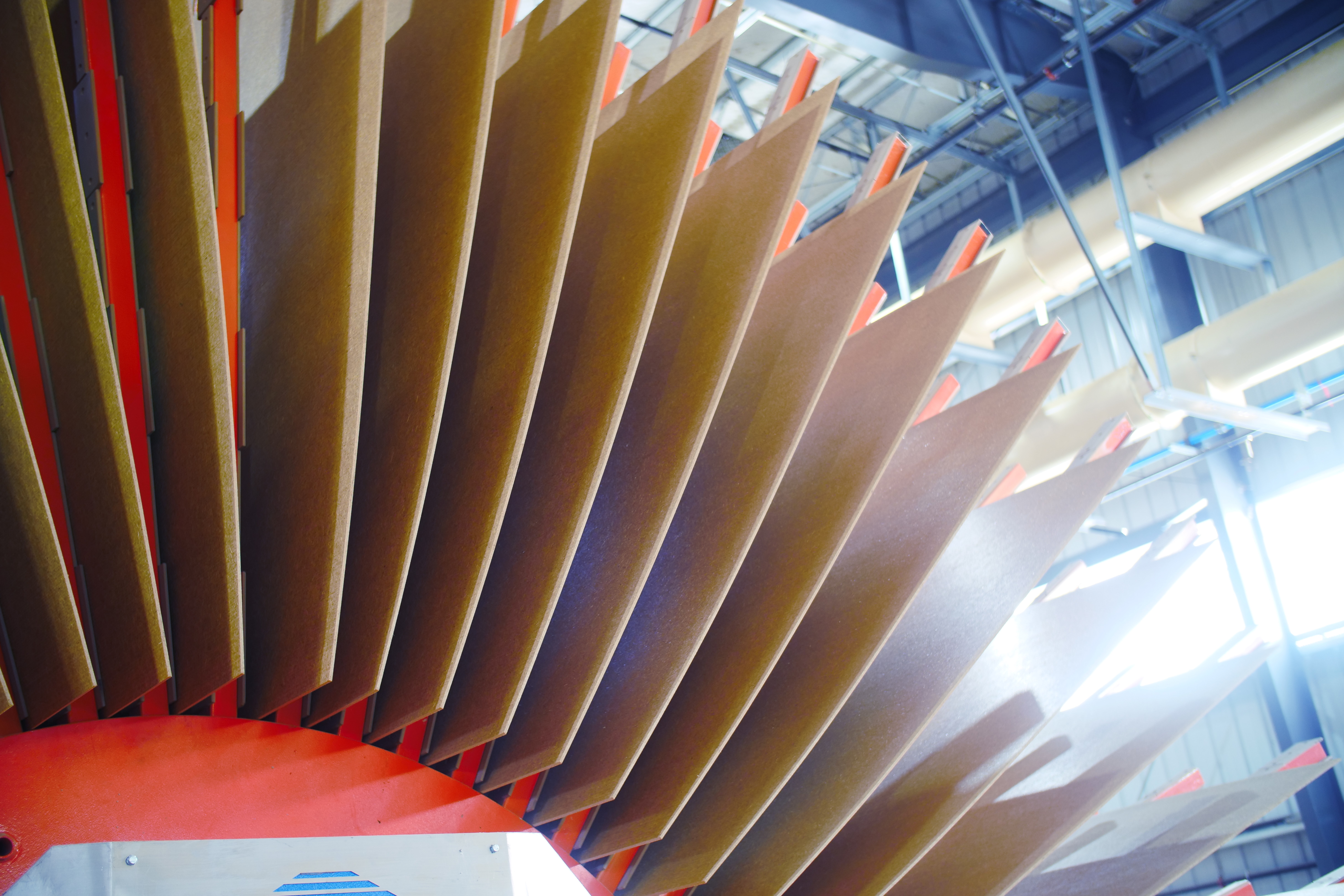 CalPlant's transportation strategy has its own environmental benefits. CalPlant uses trucks to make the short trip from farm to plant and another short trip to Hydra Reload Center, a transload facility in McClellan Park, California. From there, Eureka MDF ships by rail the rest of the way.
Keeping truck trips short and using rail for the majority of shipments reduces the company's environmental impact. That's because, on average, railroads are three to four times more fuel efficient than trucks on a ton-mile basis. Railroads can move one ton of freight more than 480 miles on a single gallon of fuel, generating a carbon footprint up to 75% less than trucks and making them the most fuel-efficient way to move freight over land.
In fact, if 10% of the freight shipped by the largest trucks were moved by rail instead, it would cut greenhouse gas emissions by more than 17 million tons each year — the equivalent of removing 3.35 million cars from our highways.
"Using an environmentally responsible shipping method fits perfectly with Eureka's roots in sustainability. We aim to make our product as sustainable as possible, from start to finish," Freeman said.
Shipping MDF by rail also affords CalPlant volume advantages.
"When shipping by rail, we can send the equivalent of four trucks on a rail car, which in turn provides benefits to both the customer and the environment. This allows us to ship more product at once and in a way that is less harmful to the environment than traditional truck shipping," Freeman said. "Rail shipping is a very efficient transportation method and with the added sustainability benefits, it is certainly a great solution for other companies to consider as they aim to reach their large end-use customers."
CalPlant is also able to reach more customers thanks to freight rail shipping.
""Many of our customers require our products to be shipped to distant locations. Shipping by rail allows us to reach a customer base that would not be accessible if we had utilized traditional truck shipping methods," Freeman said.
Continuing the Reclaimed Rice Straw Revolution
Although CalPlant already reclaims approximately 20% of California's rice straw, Freeman has a vision of her own to grow that percentage by increasing CalPlant's market share.
"As CalPlant continues to develop Eureka MDF and increase our manufacturing capabilities, we anticipate growing interest in the product, which will lead to increased shipments," she said. "In the future, we plan to strategically target specialty accounts in the Midwest and East, which will also be shipped by rail."
Learn More
To learn more about CalPlant and Eureka MDF, contact the company via phone or email. To learn more about shipping your freight by rail, answer a few questions and an expert will be in touch.
Related Articles