"Sustainability" is a word that has popped up in corporate conversations with increasing frequency.
Perhaps that's because consumer demand for sustainable products is on the rise: One report found that, in the last two years, the number of Gen X consumers who said they would be willing to spend an extra 10% or more for sustainable products rose from 34% to nearly 90%. A Harvard Business Review study shows products marked as sustainable grow 5.6 times faster than those that are not. And an Economist Intelligence Unit report commissioned by WWF showed a 71% rise in internet searches for sustainable goods over the past five years.
Sustainability concerns are also influencing the behavior of employees and job seekers. In a survey of 1,000 employees at large U.S. companies, 70% said they were more likely to choose to work at a company with a strong environmental agenda. Nearly 50% of all respondents and 75% of millennial workers would take a pay cut to work for a company that is environmentally responsible.
These sentiments and companies' own desires to be good corporate citizens are driving corporations to find ways to be more environmentally responsible. That's where Ecovyst comes in. Across the globe, the Ecovyst team uses chemistry-based technologies to help their customers address the increasing demand for high-performing sustainable solutions.
The company is walking the sustainability walk, too. In 2021, Ecovyst launched its Growing + Greening strategy, which lays the framework for the company's own sustainability efforts and outlines how Ecovyst is accelerating sustainable product innovation.
Sustainable Product Innovations
Ecovyst's development of specialty catalysts begins in the company's global research and development (R&D) facilities, where a structured and disciplined process takes ideas from inception to commercialization. This process involves scoping concepts, developing them, demonstrating and executing feasible concepts, and deploying catalysts for commercial use and value. Using the R&D team's in-depth product development and science capabilities, Ecovyst tailors and scales specialty catalysts to meet the changing demands of their customers and the marketplace.
The company also collaborates with other world-class scientists at Shell's technology centers through its Zeolyst Joint Venture to develop custom refining catalysts. This is done in close collaboration with their customers' research and development groups.
As part of its own sustainability commitments, Ecovyst has set goals for the percentage of R&D funds dedicated to sustainability. The company's innovation investment ratio in new sustainable products has gone from 60% in 2015 to 85% in 2021. Ecovyst plans to increase that to 90% in 2025 and 95% in 2030.
"As catalysts for positive change, our technologies play a critical role in the development of products that support sustainability efforts— propelling expansion and growth for our customers. It is our goal that our products and our ability to collaborate with our customers towards sustainable ends, will result in benefits not only to our customers but also to the planet," said Tom Schneberger, Ecovyst President.
These efforts result in solutions that help Ecovyst customers produce more sustainable products. A few examples:
Plastics Circularity: Developing catalyst solutions to facilitate a lower energy intensity in the recycling of mixed plastics.
Improved Fuel Economy: Enabling higher alkylation that is critical in production of higher octane and cleaner fuels.
Green Tires: Transforming biomass (plant-based material like wood, agricultural residues, and waste from industry, farms and households) into biofuels and synthetic rubber.
Renewable Energy: Transforming biomass into biofuels, which are renewable fuels that have a much lower carbon intensity than fossil fuels and can be used as a drop-in replacement, specifically for diesel in heavy-duty transport applications.
In addition to these efforts, Ecovyst and its subsidiaries, Ecoservices and Catalyst Technologies, have more innovative catalysts in the pipeline:
Chemical recycling of mixed plastics: Currently in the demonstration phase, this custom catalyst enables the chemical recycling of mixed plastics to close the plastics circularity loop.
Converting biomass into aviation fuel: This specialty catalyst is in the pre-commercial phase and converts biomass into aviation fuel to support the sustainability goals of the aviation industry.
Emissions Control: A new emissions control catalyst that meets tightening emissions regulations for heavy duty vehicles.
"As we design and develop new products, we aim to reduce health, safety, environmental, and social impacts throughout the product lifecycle, including packaging and distribution and end of life management," said Erin Bendig, Manager of Product Stewardship and Safety. "As part of this process, we also encourage our stakeholders to minimize their global environmental footprint either voluntarily or as required by regulation."
The Ecovyst Product Innovation Process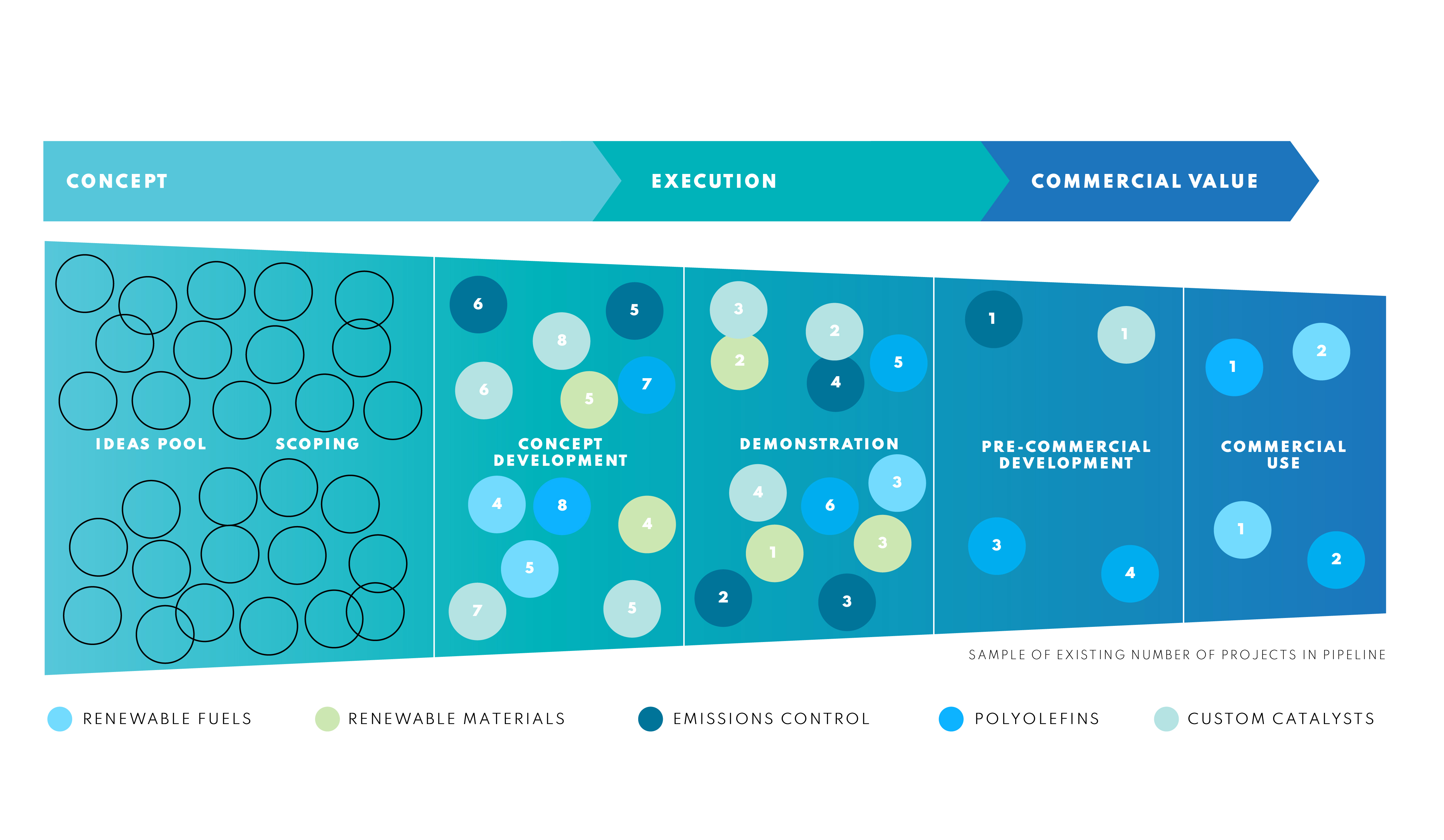 Greening Ecovyst Operations
While Ecovyst is helping customers find sustainable production and product solutions, the company has its own plans to reduce its environmental footprint.
Ecovyst has set aggressive goals across greenhouse gas (GHG) emissions, waste management, water management and product sustainability. The 2025 goals include:
Completing decarbonization plans and a 15% reduction of GHG Intensity (mtCO2e- /mt production) from the 2018 baseline.
Reduce hazardous waste by 40% and non-recyclable waste by 15%
Dedicating 90% of its R&D innovation investment linked to sustainability
Implementing ISO 50001 energy plans
One of the company's most significant sustainability impacts to date has been the reduction of hazardous waste. By the end of 2021, Ecovyst achieved its targeted 40% reduction in overall hazardous waste, meeting the company's 2025 goal early.
"As we look at end-of-life management, we seek to promote recycling and waste reduction efforts of our products, reducing our impacts to the environment, the community, and taxpayers with limited governmental involvement," Bending said.
Another way Ecovyst is greening its operations is making environmentally responsible transportation choices.
For instance, Ecovyst subsidiary Ecoservices receives used (or "spent") sulfuric acid from refineries by train, then ships regenerated acid to customers the same way. How does this play a role in sustainability? Railroads typically generate a carbon footprint up to 75% less than trucks because, on average, they are three to four times more fuel efficient. Trains can move one ton of freight more than 480 miles on a single gallon of fuel, making them an environmentally minded way to support the transportation portion of sulfuric acid's circular loop.
If more companies made rail their transportation mode of choice, it would significantly reduce the environmental footprint of their shipping needs. According to the Association of American Railroads (AAR) Freight Railroads & Climate Change Report, if 10% of the freight shipped by the largest trucks were moved by rail instead, greenhouse gas emissions would fall by more than 17 million tons annually. That's the equivalent of removing 3.35 million cars from our highways or planting 260 million trees.
Looking specifically at a commodity like sulfuric acid, according to Union Pacific Railroad's Carbon Emission Estimator, if a company shipped 3,000 truckloads of regenerated sulfuric acid from Chicago to Houston by train instead, it would reduce that company's carbon footprint by 3,580 metric tons.
This reduction in the carbon footprint would be equivalent to:
The carbon removed by 763 acres of U.S. forests
The carbon removed by 91,648 tree seedlings grown for 10 years
Greenhouse gas emissions avoided by recycling 1,246 tons of waste instead of sending it to the landfill.
Railroads are doing their part to support sustainability, too, and are committed to addressing climate change. All seven Class I Railroads in North America are participating in the Science Based Targets Initiative (SBTi), an international collaboration focused on limiting global warming to less than two degrees Celsius, and continue to invest in sustainable technology. For instance, Union Pacific is improving freight car designs and leveraging fuel-efficient locomotives that reduce energy consumption, pollution, and greenhouse gas emissions, which means they're green and getting greener.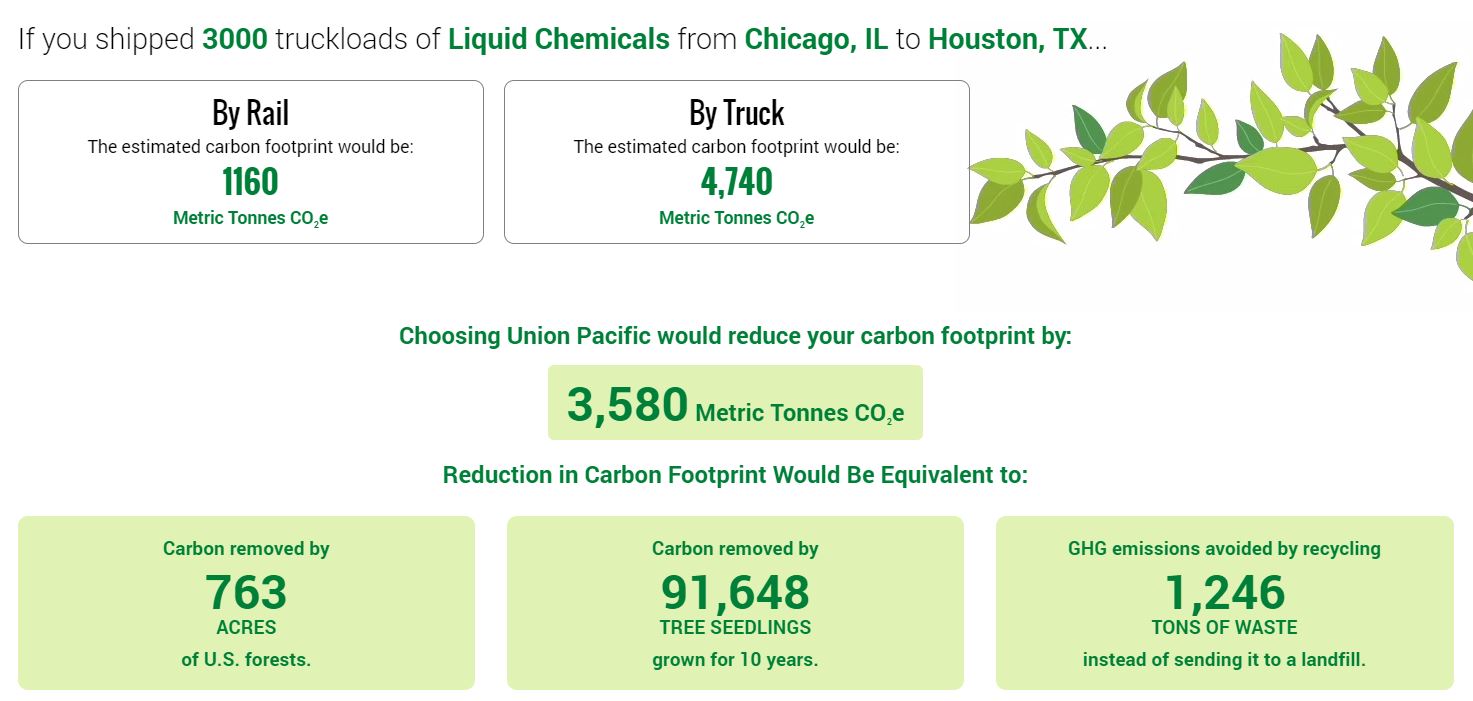 Accelerating Sustainability into the Future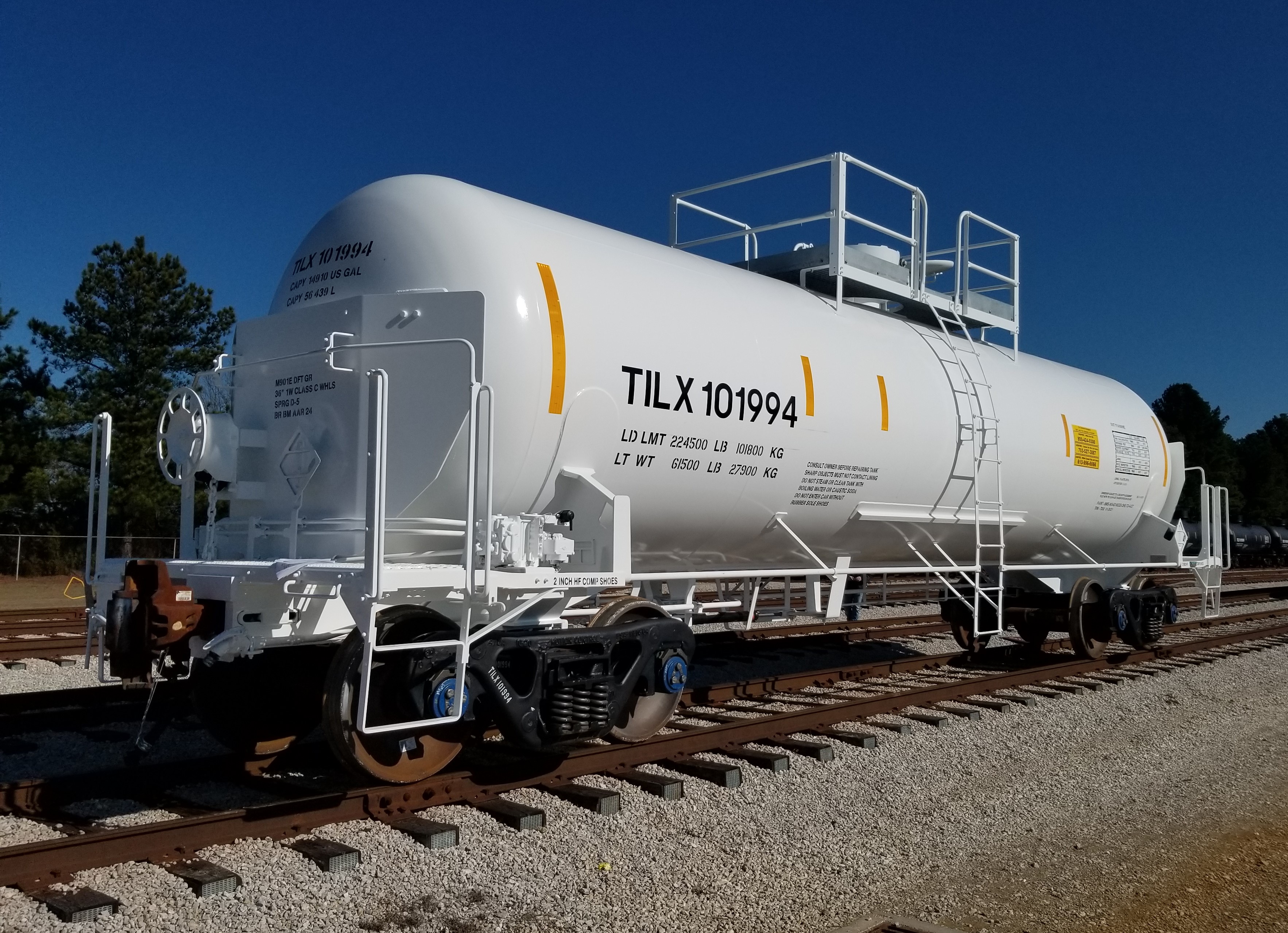 As Ecovyst looks ahead to a more sustainable future, the company acknowledges its importance and the big moves it will take to achieve it.
"Rapidly changing climate and societal expectations require that we take steps now to preserve the future for generations to come," said Ecovyst Chief Executive Officer Kurt Bitting. "These steps must go beyond incremental to genuinely transformational to have a meaningful and targeted impact."
Learn More
To learn more about Ecovyst, visit their website. To learn more about shipping your products by rail, answer a few questions and an expert will be in touch.
Related Articles