Rail Within Reach
Connecting Customers to Rail
Zero In On Your Union Pacific Focus Site
August 2019
Union Pacific has launched a Focus Site program featuring more than 25 shovel-ready sites on our rail network. Read more.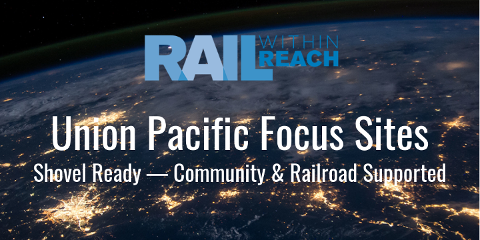 Have a question about Rail Within Reach? Contact us now:
Rail Within Reach Podcast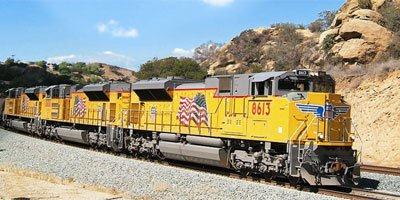 March 2019
Union Pacific took to the airwaves to discuss how rail works as it pertains to intermodal, industrial and commercial development. Read more.
Rail Within Reach: Sedalia, Missouri Case Study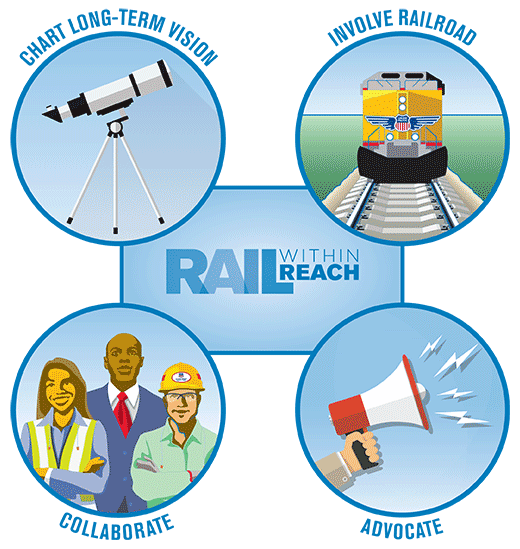 October 2018
Through synchronized efforts with Union Pacific, local utilities and other entities, Sedalia was successful in securing one of the largest business recruitment projects to Missouri in the past 10 years.
Learn from the key actions Sedalia took which will allow you to also put Rail Within Reach for your community. Read more.
Find the Best Rail Site for Your Business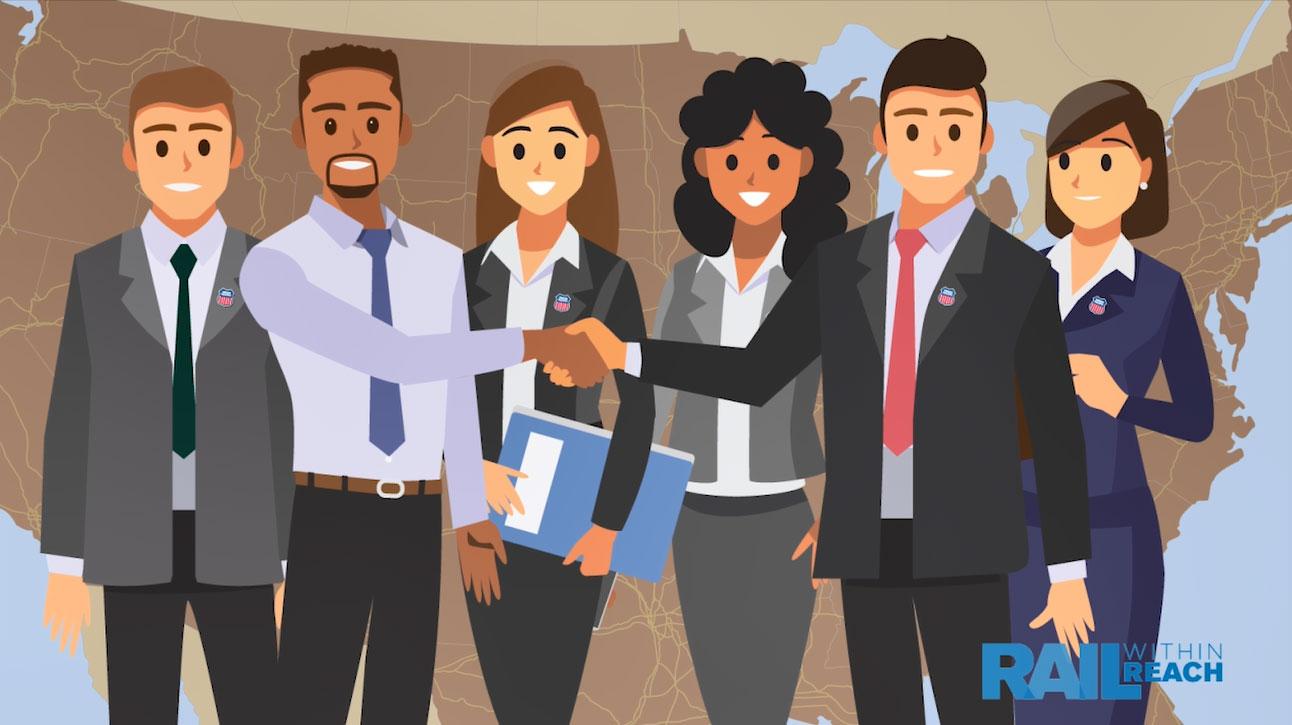 August 2018
Are you looking for an existing rail served property? Are you looking to build in an existing rail served industrial park? Or maybe you want to build from scratch?
With all the factors to consider when securing a location for your business, let our rail experts provide cost and time estimates for various locations. Read more.
Short Line Railroads: A Critical Connection for Union Pacific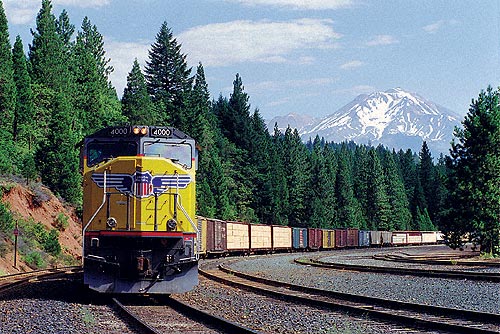 August 2018
Short line partners provide exceptional local train service to Union Pacific Railroad customers. It's an important part of our business — and they do it very well. Read more.
Unit Trains Ship 'Lots of Something' — Seamlessly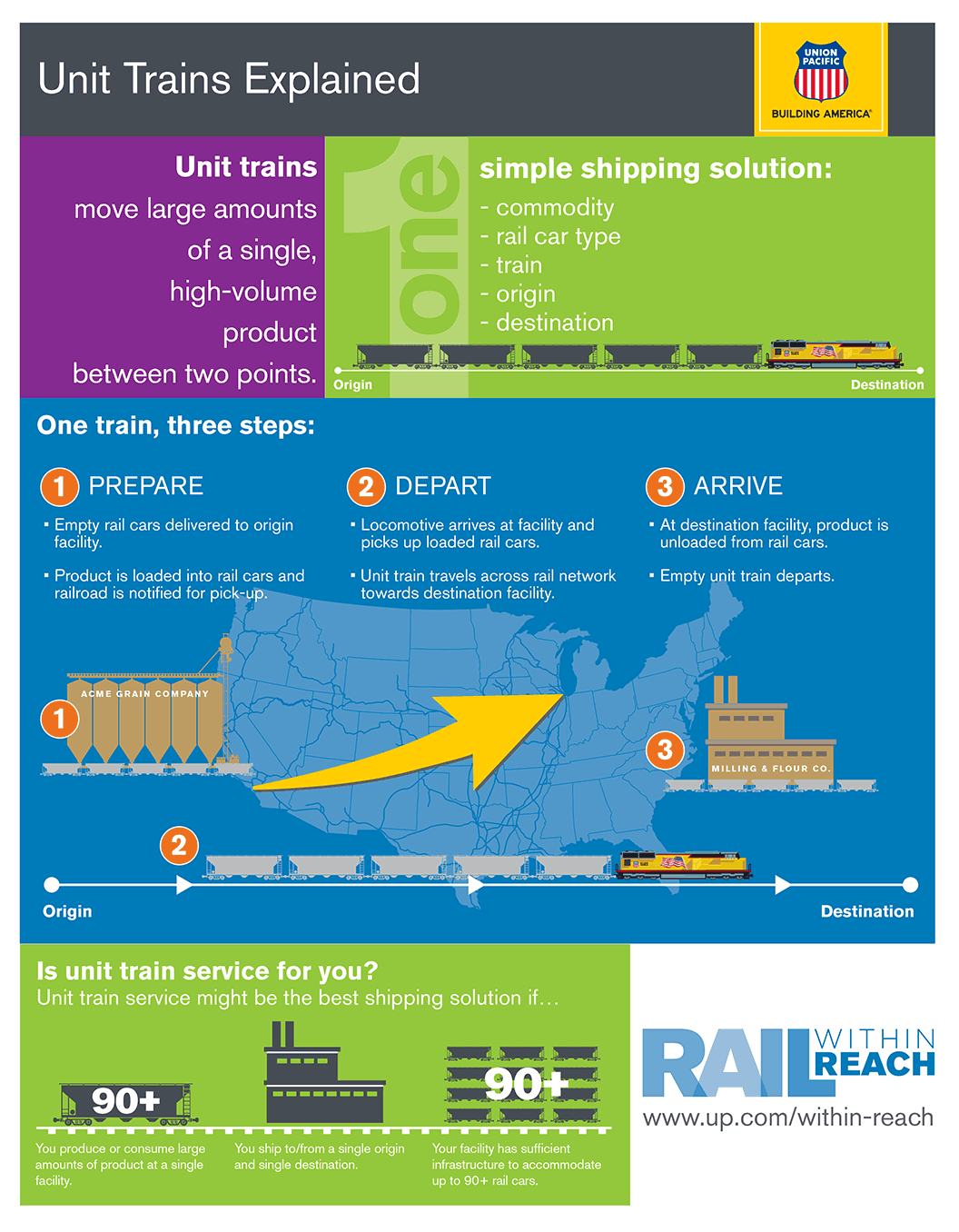 July 2018
Are you looking to ship bulk products by rail? Or maybe attract a company to your community that ships large amounts of a single, high-volume product between two points? Union Pacific's unit train service could be the right fit for your transportation needs. Read more.
How Manifest Service Works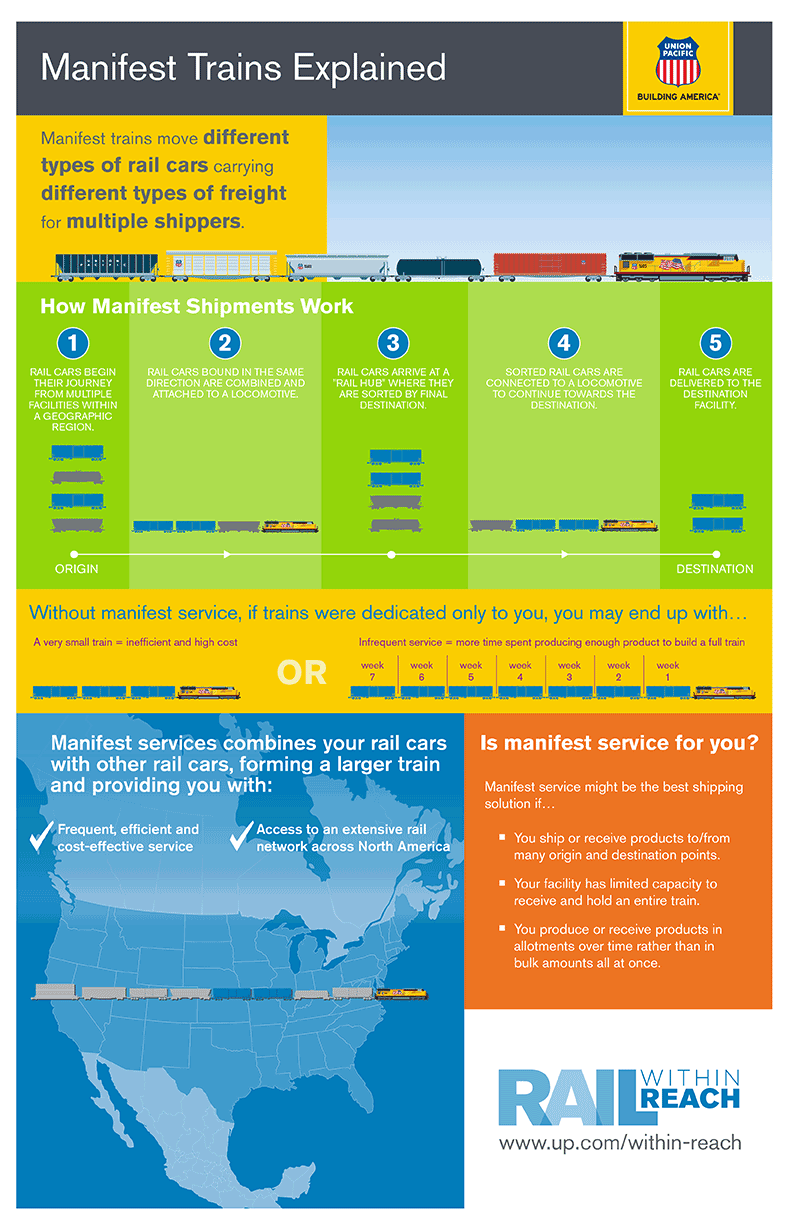 July 2018
Railroads use a hub and spoke model to transport goods all over North American. Discover if manifest service is the best option for your transportation needs. Read more.
Mega Sites Cleared for Rail Development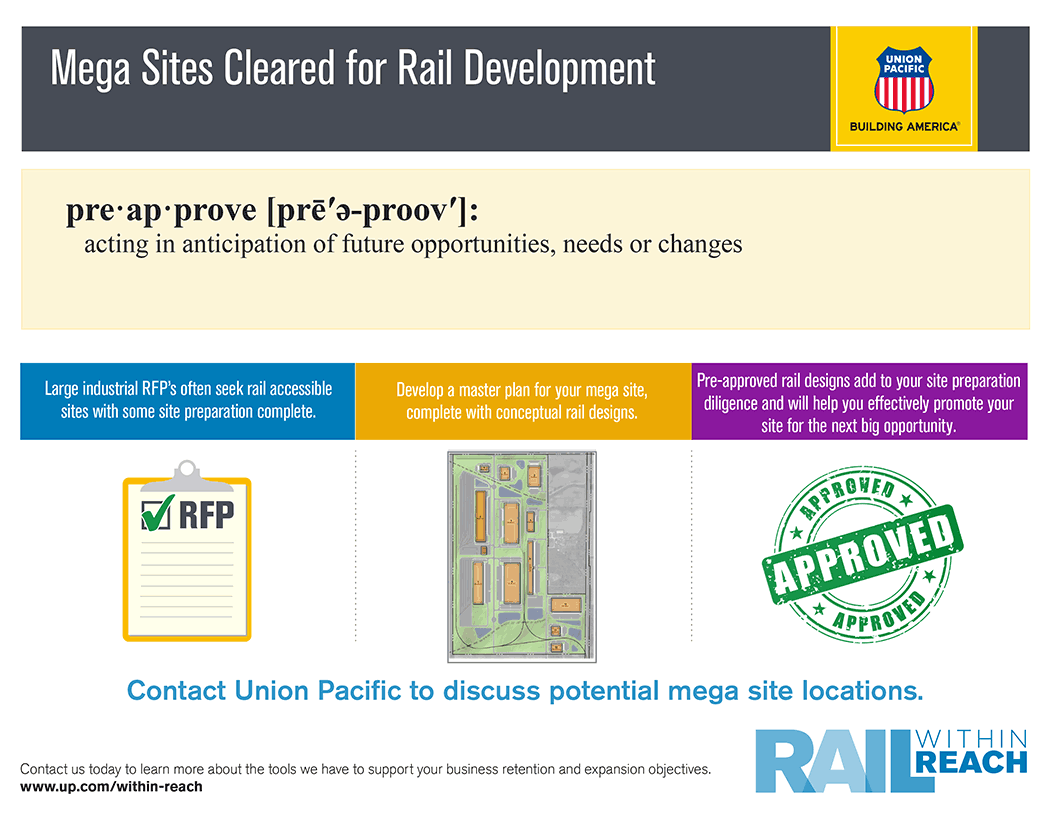 June 2018
Union Pacific can support you in the development of rail concepts, review and approval for large mega sites. By doing this in advance of the next large RFP that you receive, you will be better positioned for success. Read more.
Establish a Mini Industrial Park in Your Community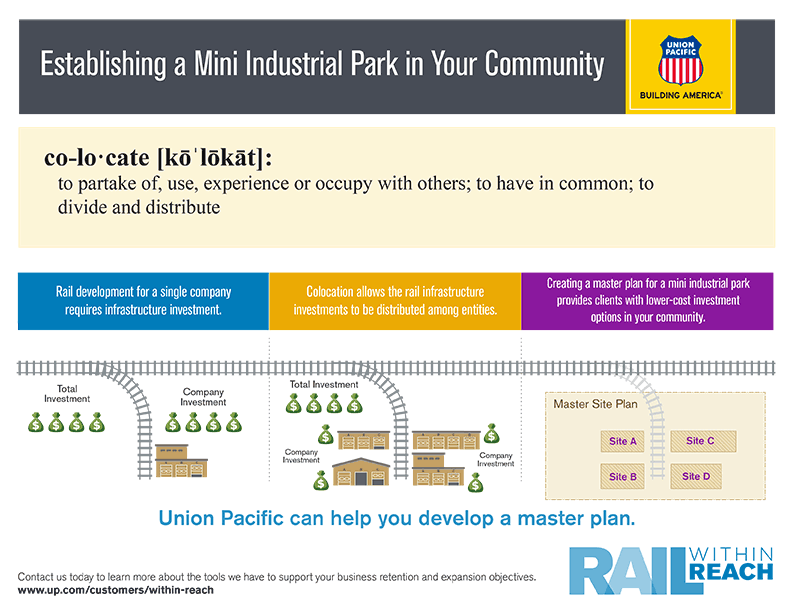 June 2018
Create a master plan for a mini industrial park to help prepare your community to attract new businesses. Read more.
Maximize the Value of Your Rail Served Property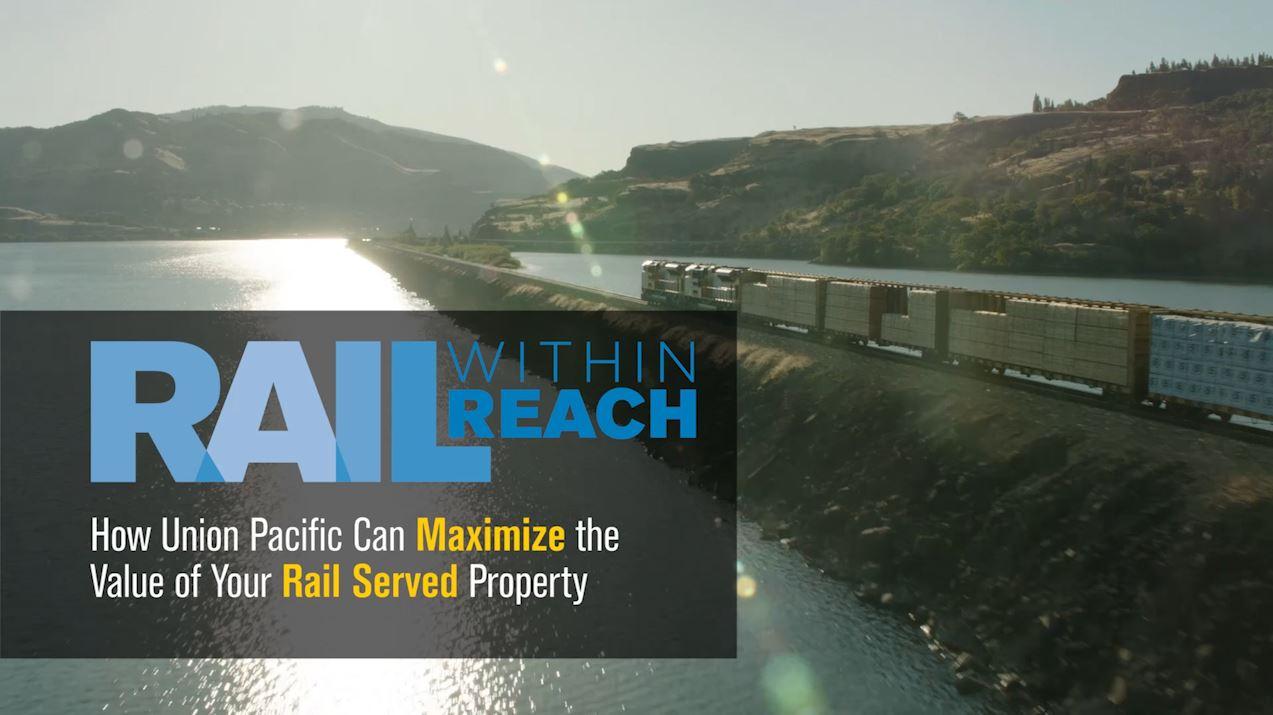 May 2018
Learn how Union Pacific's Rail Within Reach initiative can help you maximize the value of your property. Read more.
Optimize Your Assets Through Revitalization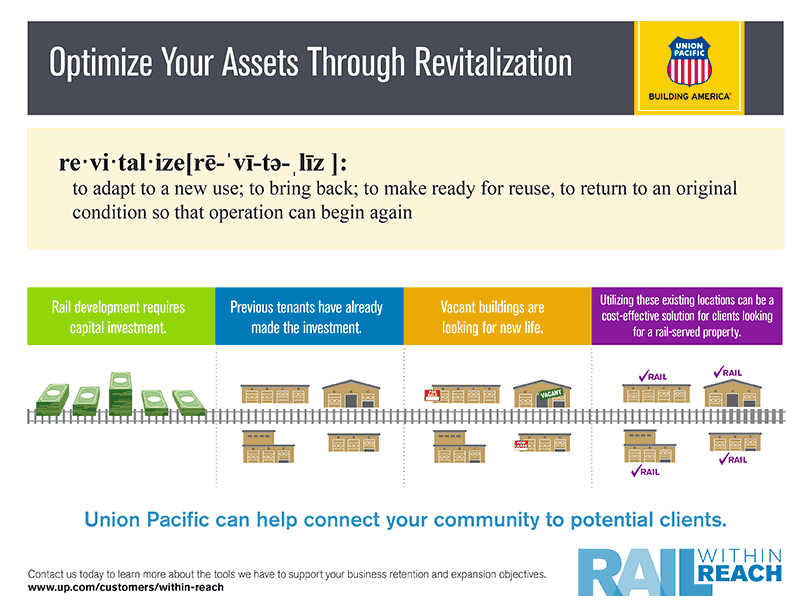 April 2018
Refurbish, reinvent, revitalize. Communities are restoring homes along main street USA and do-it-yourself experts are turning old mason jars into shabby-chic chandeliers. Read more.
The Four Types of Rail Operations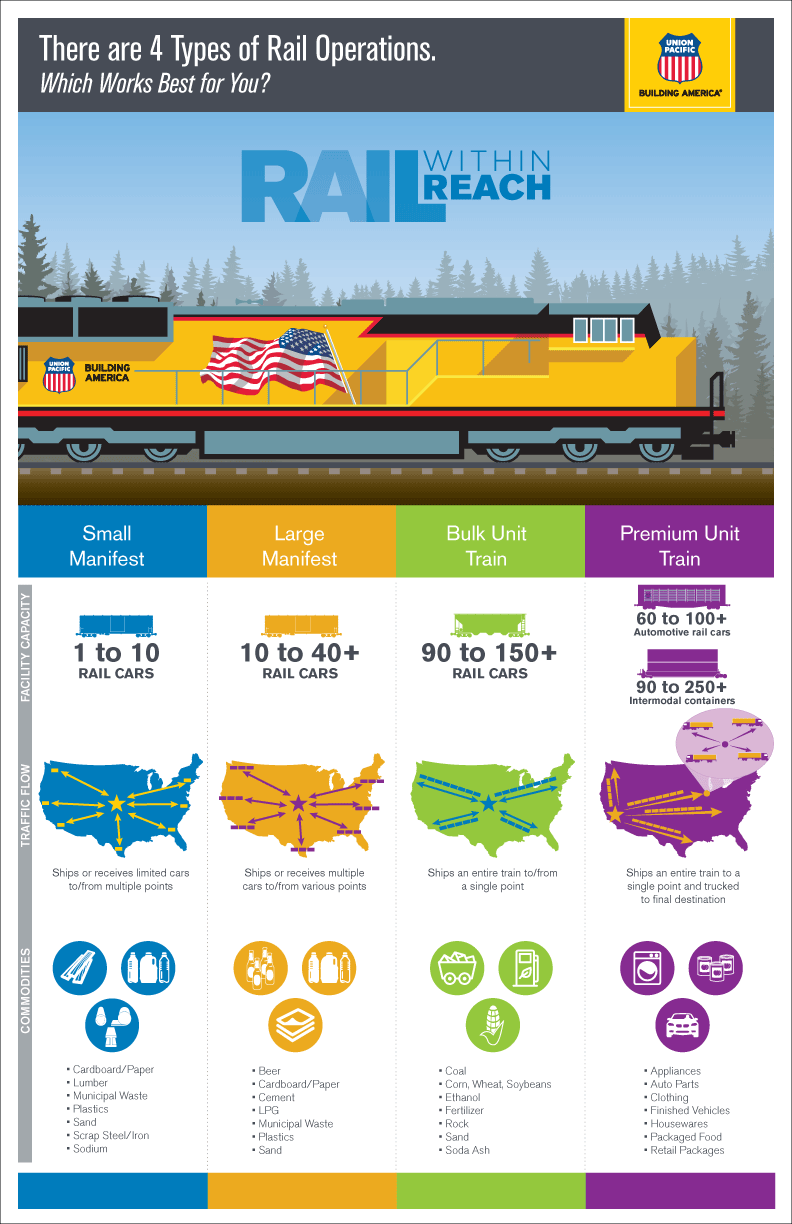 March 2018
Our Four Types of Rail Operations infographic shows you the difference between manifest, bulk and premium train service. Read more.
Connecting Companies to Rail Served Properties
February 2018
Are you looking to build or expand your (or a client's) business to a rail-served site? Or, are you looking for rail tenants to locate on your property? Our Rail Within Reach initiative is here to make the road ahead an easy one. This initiative will introduce you to new and existing resources which will help answer your questions and make connecting companies to rail served properties simpler. Read more.