Big Red Express
Big Red Express Kicks Off With Big Crowd in Columbus
June 28, 2014 15:51:07 CDT
Several hundred Husker fans dodged raindrops in downtown Columbus to welcome Union Pacific's Big Red Express to the first stop on the statewide whistle stop tour. Sixteen historic passenger cars from UP's Heritage Fleet departed Omaha in the morning, bringing coaches and administrators from the University of Nebraska-Lincoln.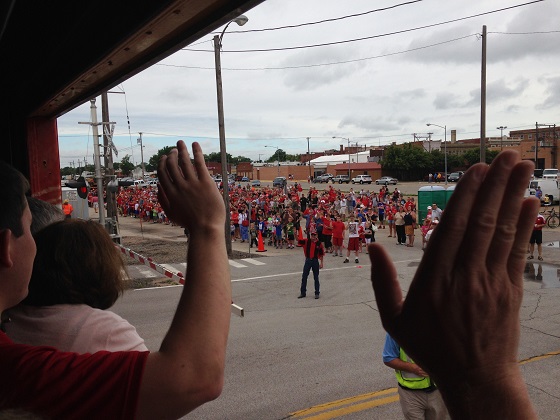 UP President and COO Lance Fritz greeted the crowd by reflecting on the heritage of Union Pacific and Columbus, beginning in 1866, when the main line was built. A second main line track was added in 1910. "Today, more than 50 trains per day travel on the rail line through Columbus," Fritz told the crowd. "In order for those trains to operate safely and efficiently, we invest in our track and structures. Union Pacific's capital investment in Nebraska between 2009 and 2013 was more than $1.2 billion, with nearly $238 million invested last year."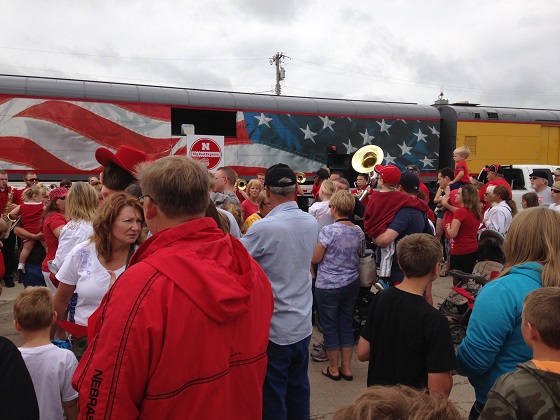 Fritz then introduced Diane Duren, a native of the Columbus area who now is Executive Vice President and Corporate Secretary of Union Pacific. "It is great to be home … even if it is just for an hour," said Duren. "Union Pacific's role in building America differentiates us. We are committed to meeting the challenge given to Union Pacific more than 150 years ago by Abraham Lincoln himself, to connect and support the United States of America."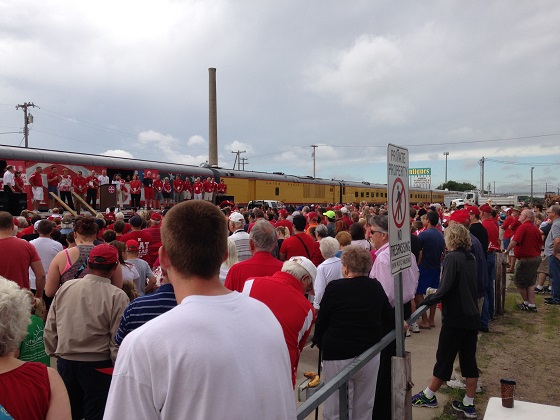 Along with Nebraska men's gymnastics coach Chuck Chmelka and women's golf coach Robin Krapfl, Fritz and Duren presented Columbus Mayor Michael Moser with a special proclamation which honors Columbus as a place of historical significance to both the railroad and University.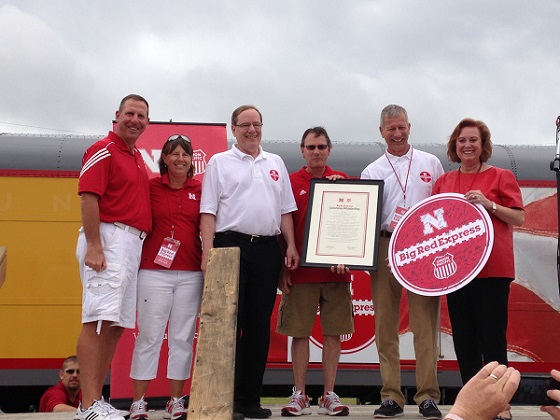 "We're proud to have the Union Pacific in the city of Columbus," Mayor Moser said. "We want to thank the Union Pacific for putting such a fine program together and the University for spending so many of their resources to come visit us today."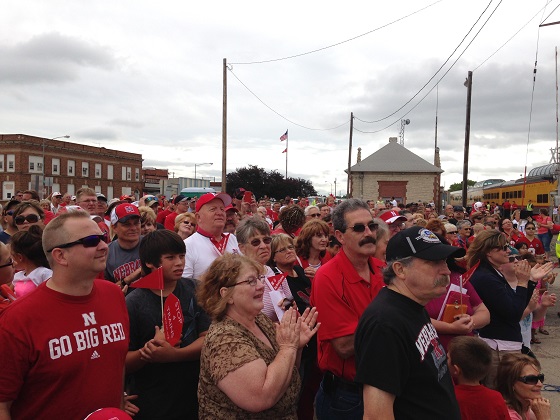 Pelini, men's basketball coach Tim Miles, and women's basketball coach Connie Yori addressed the fans, poking fun at each other and their rivals. "It's so awesome for UP to do this for us," Miles told the crowd.
Fans, coaches, and members of the UP crew had a chance to mingle and talk for a few minutes before the Express departed for Grand Island.