Big Red Express
Kearney Blue Welcomes UP Yellow and the Big Red Express
June 29, 2014 10:30:21 CDT
It was a kaladieoscope of Kearney blue, Union Pacific Armour Yellow, and Husker Big Red when the Big Red Express rolled into downtown Kearney. The Kearney High pep band seranaded the Nebraska pep band, wearing red, as they disembarked from UP's Heritage Fleet to being the third whistle stop on UP's Big Red Express.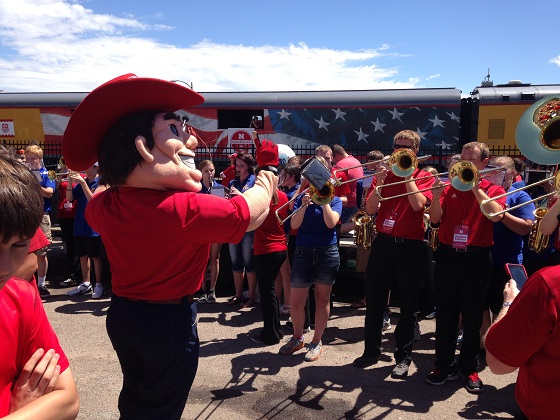 UP President and COO Lance Fritz greeted the crowd by reflecting on the heritage of Union Pacific and Kearney, beginning in 1866, when the main line was built. A second main line track was added in 1900 and the third main line was built in 1997. "Today, 110 trains per day travel on the rail line through Kearney," Fritz told the crowd.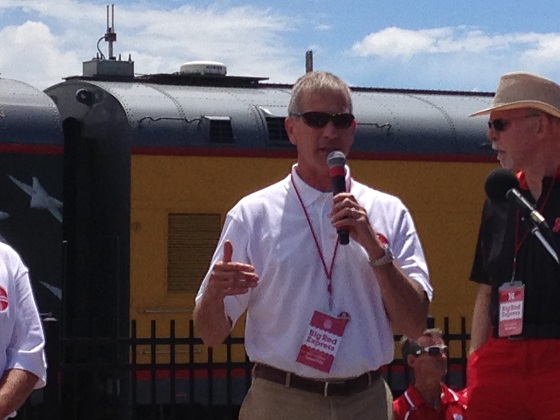 Fritz then introduced Diane Duren, Executive Vice President and Corporate Secretary of Union Pacific, who talked about UP's Heritage Fleet and its history in building America. "The Big Red Express is made up of 16 of our historical passenger cars – that are part of our 52-car heritage fleet. No other railroad in this country has retained their historical passenger equipment like Union Pacific. Each car is unique and chronicles a different chapter of Union Pacific's past."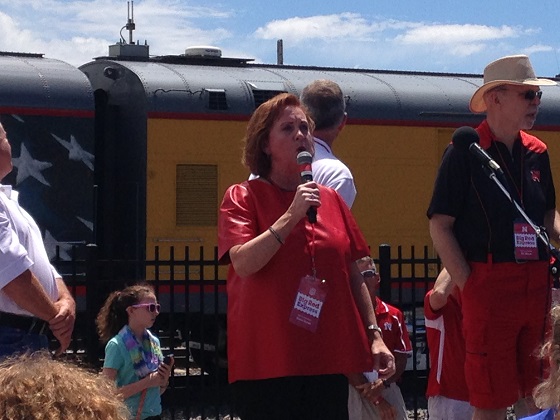 Along with Nebraska women's tennis coach Scott Jacobson and bowling coach Bill Straub, Fritz and Duren presented Kearney Mayor Stanley Clouse with a special proclamation which honors Kearney as a place of historical significance to both the railroad and university.
"On behalf of the citizens of Kearney, we're very pleased and privledged that you chose Kearney to stop by for a whistle stop, " Clouse told the fans. "Of course, we all now how valuable the Union Pacific is to our community."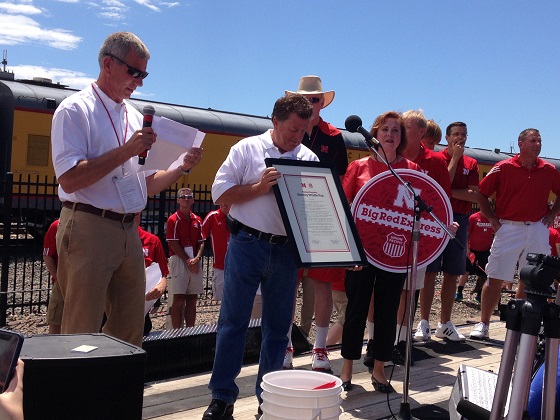 Nebraska men's basketball coach Tim Miles and football coach Bo Pelini addressed the crowd, joking with each other about their relationship with referees. Pelini turned serious at the end to reflect on "the values, the principles, the drive of the people of this state. That's what makes this (state) special."