Big Red Express
Grand Island Shines on the Big Red Express
June 28, 2014 20:22:58 CDT
The clouds gave way to bright sunshine as UP's Big Red Express pulled into Grand Island shortly after noon. A large crowd gathered trackside in downtown Grand Island made their presence known even before the sixteen cars from the Heritage Fleet pulled up to the Oak Street crossing. The pep band, cheerleaders, and coaches emerged from the historic UP dome lounges to the sounds of traditional Husker "Tunnel Walk" music by the Alan Parsons' Project.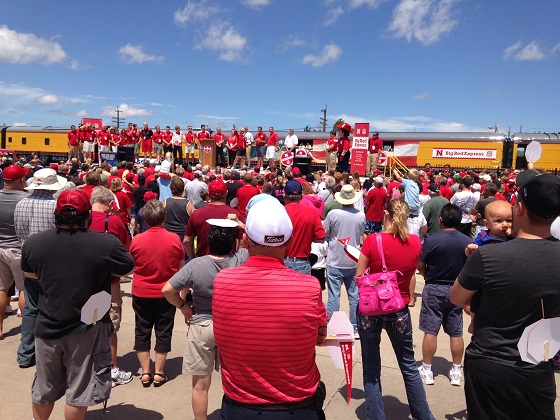 UP President and COO Lance Fritz greeted the crowd by reflecting on the heritage of Union Pacific and Grand Island, beginning in 1866, when the main line was built. A second main line track was added in 1900. "Today, more than 50 trains per day travel on the rail line through Grand Island," Fritz told the crowd. "Virtually every commodity crosses Union Pacific's Nebraska rails, products you used today - such as the car you drove here, the grain used to make the cereal you ate for breakfast and maybe even the Big Red clothes you're wearing!"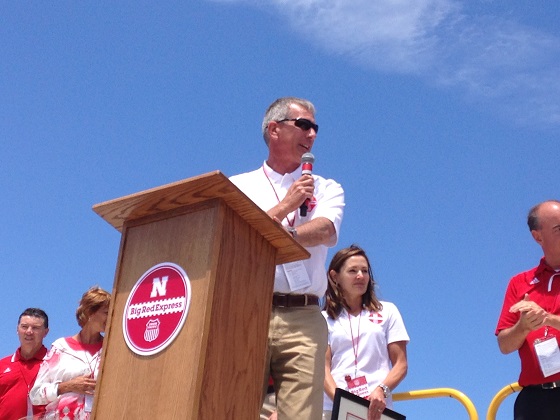 UP President and COO Lance Fritz
Fritz then introduced Diane Duren, Executive Vice President and Corporate Secretary of Union Pacific, who talked about UP's Heritage Fleet and its history in building America. "Union Pacific met the challenge in providing quality passenger service before the interstate highway system was built and train travel was the way to get cross the state or county."
Along with Nebraska cross country coach Dave Harris and men's tennis coach Kerry McDermott, Fritz and Duren presented Grand Island Mayor Mayor Jay Vavricek with a special proclamation which honors Grand Island as a place of historical significance to both the railroad and University.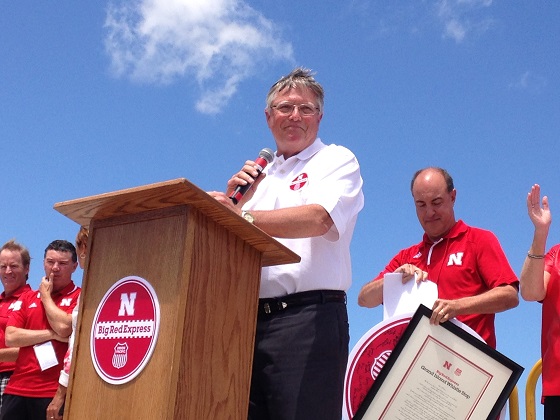 "Thank you for the opportunity for this whistle stop tour, " Vavricek told the fans. "Big Red is a part of everything we do, just like Union Pacific."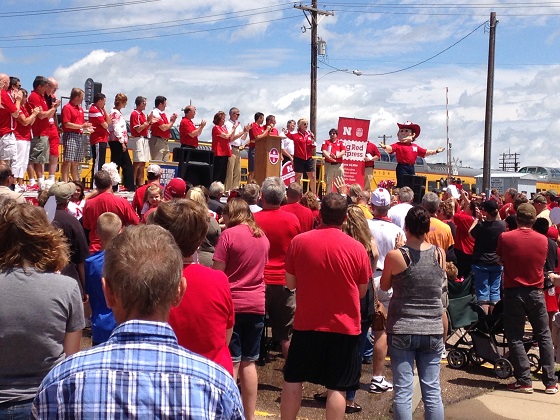 Softball coach Rhonda Revelle, women's basketball coach Connie Yori, men's basketball coach Tim Miles, and football coach Tim Miles had a good time talking to the fans. Pelini joked that Miles misunderstood the invitation, and thought he was going on the Polar Express.