Service Update from Kenny Rocker, EVP, Marketing & Sales
Announcement Number: CN2019-4
Categories: General Announcements
Posted Date: February 1, 2019
To Our Customers,
With four months of Unified Plan 2020 implementation under our belts and Phase 2 of implementation in full swing, I am pleased to report we are making positive progress with our new operating plan. I'd like to share that progress with you, as well as some of the other improvements you can look forward to as a Union Pacific customer.
Unified Plan 2020 Progress
Key metrics we follow to understand the effectiveness of Unified Plan 2020 include service reliability (car trip plan compliance), how fast cars are moving (velocity), the amount of time cars spend in yards (dwell) and how many cars are on our network (operating inventory). We are seeing improvements in all of these areas since September 2018:
Car trip plan compliance has improved by 14 percentage points
Freight car velocity is up 9%
Car dwell hours are down 15%
Operating inventory is down by 14%
We appreciate the way in which you, our customers, have collaborated with us on making changes to align with this new operating plan. So far, we've made more than 297 transportation plans (160 in Phase 1 and 137 so far in Phase 2) as part of Unified Plan 2020 implementation. We will continue to work collaboratively with you to manage rail car inventory and prevent accessorial charges. Shipment planning tools are also here to help, including "You Are Next" and "Scheduled for Today" notifications, which help your facility prepare for service, and our Shipment Management tool, which provides the visibility you need to track your shipments in real time.
Phase 3 planning, which covers the Northern California and Pacific Northwest service units, began this week. We will continue to be in close communication with you throughout the remaining implementation process so you are always informed in advance of service changes. As we continue implementation, I'm looking forward to reporting the positive outcomes I expect to see as a result.
Tariff Simplification
In addition to streamlining service, we've also taken significant steps toward simplifying our rules tariffs and circular publications. We've scoured more than 600 pages of those tariffs and circulars and removed duplicative and antiquated rules. The result is a streamlined, easier-to-read, 30-page General Terms and Conditions document that makes our tariff rules easier for you to navigate, use, read and understand. This document, UP 1000, will be effective on March 1, 2019.
As a result, Union Pacific will expire existing rules that are now redundant and replace them with the new and improved UP 1000 General Terms and Conditions. Existing public rate documents will remain in place and will be subject to UP 1000. Accessorial charges will continue to be governed by UP 6004, which includes new Unit Train Service Terms, and intermodal shipments will continue to be governed by the Master Intermodal Transportation Agreement (MITA).
Should you have any questions or concerns about these changes, your salesperson is here to help.
Streamlined Claims
We have also rolled out an online system to make it easier for you to file claims. The new online form allows you to submit a claim in just minutes, and you'll receive an instant email confirmation when we receive your claim. The new system also allows you to file and track claims 24/7, view, enter and respond to comments directly within the claim form and enjoy increased transparency throughout the claims process.
More to Come
Our goal is to move your freight more reliably and efficiently while improving your experience as a customer. I look forward to sharing our progress on all of these fronts as the year unfolds. As always, thank you for your business.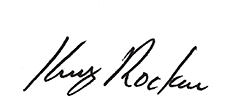 Kenny Rocker
Executive Vice President, Marketing & Sales