Justin Blumenfeld's love of trains and photography both go back to his early childhood. His first daycare was located near Metrolink's Chatsworth Station in Chatsworth, California, and when his dad dropped him off in the morning, they would stand together on the platform and watch the morning trains pull in. When his mom would pick him up at the end of the day, they'd wait for the evening Amtrak to arrive. Then, for his fifth birthday, Justin received his first camera. In time, the two hobbies merged, and Justin is now an avid rail photographer.
In early 2019, Justin took his talent online, launching "Justin Trackside" YouTube and Instagram channels featuring his videos and photos of trains, which include detailed captions even a veteran rail fan could learn from. In less than two years, Justin's Instagram following has exceeded 1,700 – quite an accomplishment, especially considering he is in the eighth grade.
Sharing a Love of Trains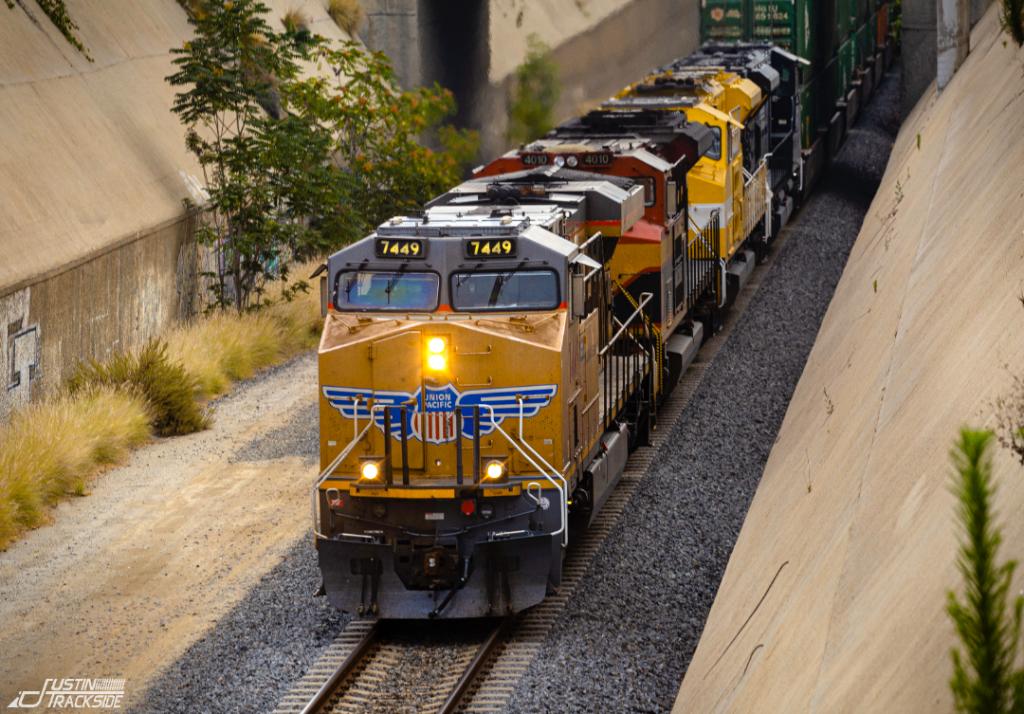 "Justin Trackside" was spurred on by two things: Justin's love of trains and his desire to share that joy with others. "While I enjoy seeing the trains in person, I like to get a photo or video to have something to look back on and to show others who aren't able to see them in real life," Justin said. "By sharing these pictures with them, it might make more people interested in seeing these big, beautiful machines and appreciating them the way I do."
Locomotives, in particular, catch Justin's attention. "I really enjoy hearing the different horns on the locomotives, and I also admire their size and power," he said. "I especially love the different designs and beautiful paint schemes that some of the units carry, notably the heritage and special interest engines that many railroads feature," he said. Justin said he spent more than nine months chasing down Union Pacific's heritage units to capture photos of all six. "I would say my favorite is the UP 1996 Southern Pacific Daylight scheme, as I live along a former Southern Pacific line and find that history personally meaningful," he said.
Trainspotting Trips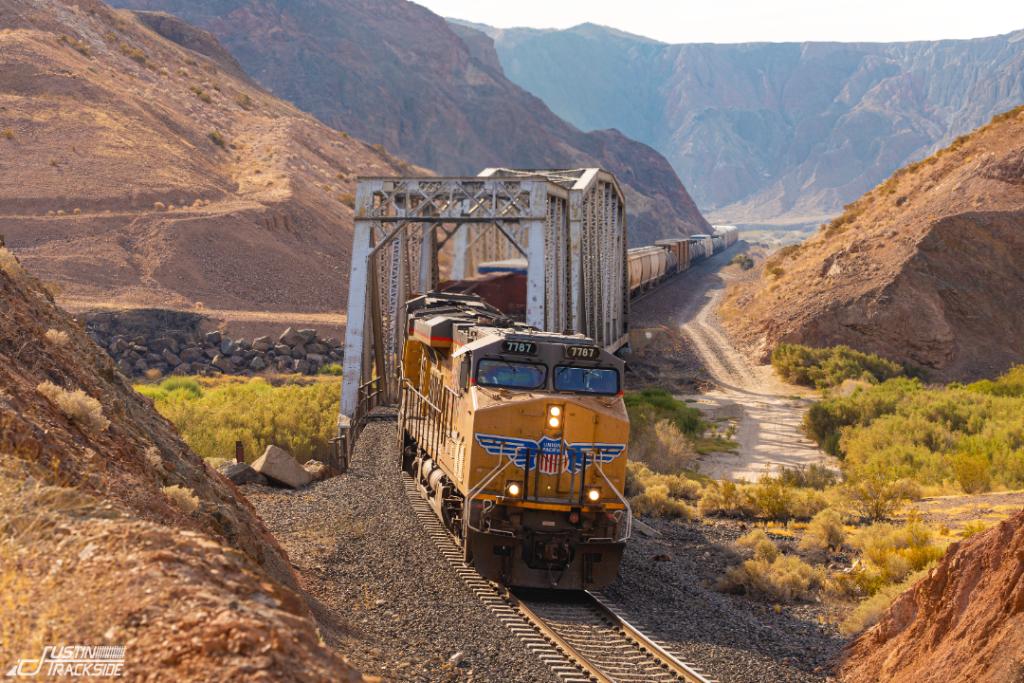 Many of Justin's photos are the product of day-long trainspotting trips in his home state of California, which happen courtesy of his supportive parents. Before heading out, Justin checks his sources: railroad radio communications on his scanner, the ATCS Monitor program on his computer and tips from his fellow rail fan friends. He grabs his Canon EOS 6D and, with the help of his parents, heads out to find trains (being sure to follow rail photography safety guidelines).
When he arrives at his destination, lighting and location are his first concerns. "I try to make sure I'm positioned on the sunlit side, and I try to visit many new spots to get a variety of different pictures and videos. Even when I do return to the same spot, I try my best to get a new angle so it looks different than before," he said. "My favorite locations to photograph trains are places with lots of trees and nice looking scenery. I also like to visit areas that get a large variety of passenger and freight traffic throughout the day to keep things interesting." Some of Justin's go-to spots include the Santa Susana, Tehachapi and Cajon Passes, as well as Mojave, Barstow and San Timoteo Canyon.
A recent trip took Justin and his family to Union Pacific's Cima Subdivision, which is located in the Mojave Desert between Yermo, California, and Las Vegas, Nevada. "We took our truck off-roading through Afton Canyon and sat by the tracks for hours in 110 degree heat to capture some beautiful photos of the freight trains making the high desert crossing," he said.
On another occasion, Justin and his mom followed a train powered by the UP 1111 "Powered by our People" locomotive from the Mexican border to West Colton Yard in Bloomington, California. "The chase lasted for five hours and was quite the adventure," Justin said.
Justin's trips capture historic moments, too. "I spent an entire night not long ago to catch the KRL 3600 Schnabel rail car transporting the Unit 1 reactor pressure vessel from the San Onofre Nuclear Power Plant," he explained. "This ended up being the last time this unique car would make a run before being decommissioned and scrapped."
In addition to lots of local trips, Justin has photographed trains in 15 states, his favorite of which were Texas, Missouri and New Jersey. "I eventually want to write a book about trains and the cool things I have seen on my adventures," Justin said.
Justin's Top Five Favorite Photos
When asked which photographs are his favorites, Justin shared these five and the stories behind how they came to be.
#1 Big Boy Sunrise
Yermo, California, October 9, 2019
"My family and I stayed overnight in Barstow so we could arrive early in the morning to take photos and be ready to chase the Big Boy back to West Colton Yard. This is one of my favorite photos because the lighting was perfect and allows you to see the great detail of the mighty 4014! While I have seen this engine sitting still before, it was so much more impressive seeing it riding the rails, hearing its powerful engine, and feeling the steam against my skin. When I was younger, I used to see the 4014 at the RailGiants Train Museum located at the Pomona Fairgrounds. To see it fully restored and running is quite a sight, and I was happy to be a part of that experience."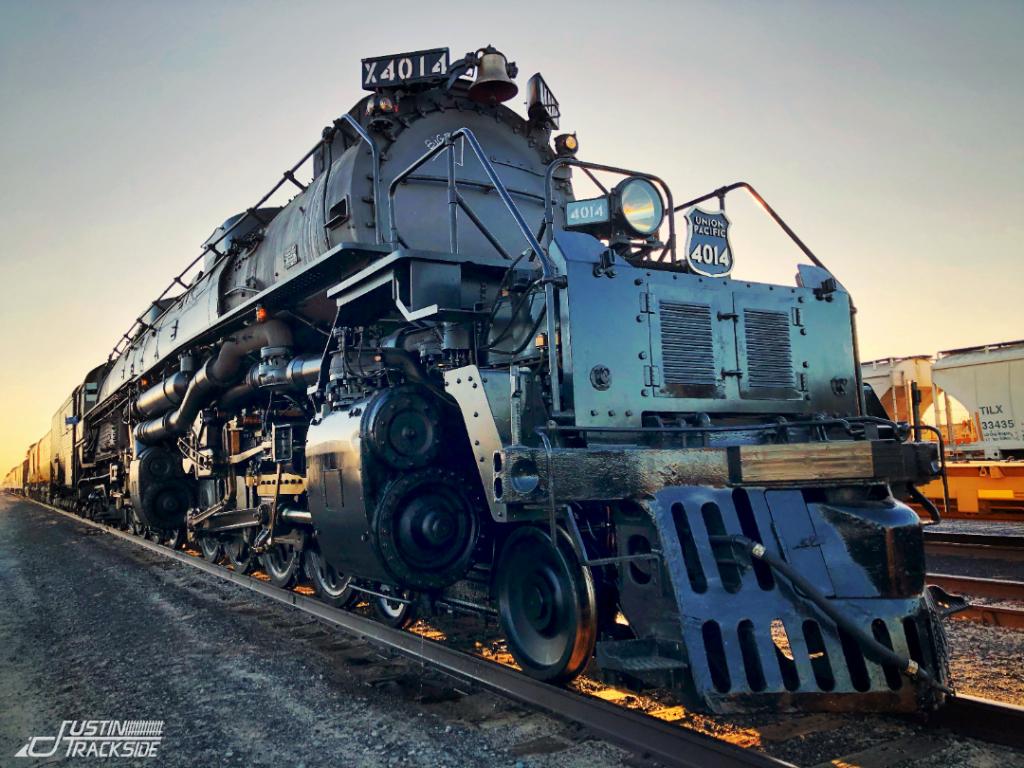 #2 Rounding the Bend
Near Tunnel 2 in Caliente, California, June 29, 2020
"This is one of my favorite photos because I really like the mountains in the background and I love the way the cars stand out against the scenery. This photo is also special to me because it includes UP 1111 (Powered by our People), which is a very beautiful engine to see. My mother and I drove about two hours to get to this location and after capturing it once, we chased it back toward Rosamond, California, so we could get some additional photos along the way. This was the third time I have been able to see UP 1111, but it is one of my favorite shots of this unit."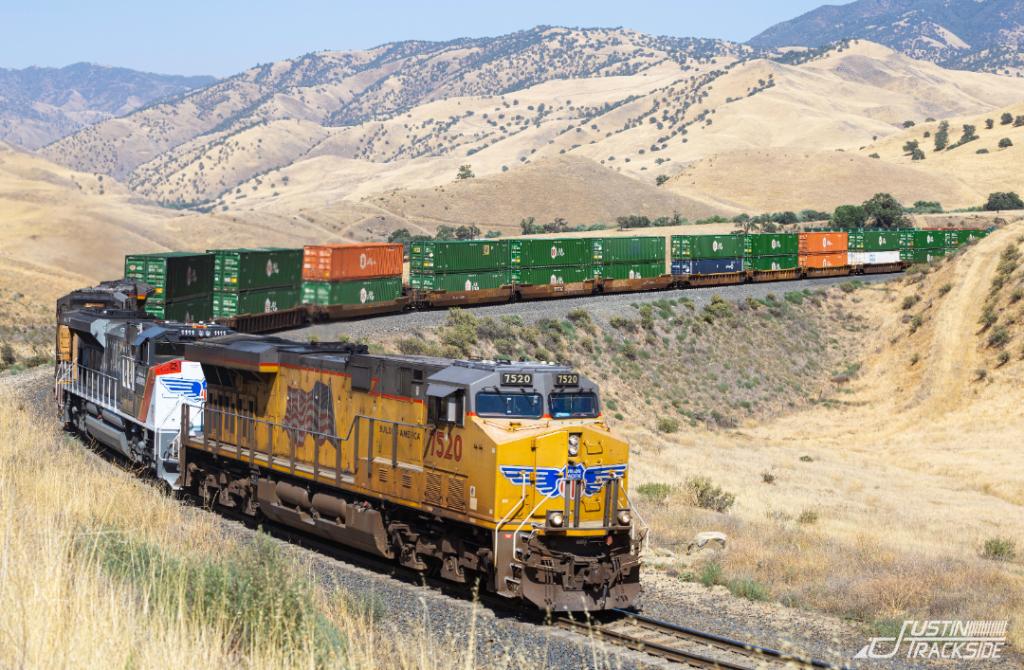 #3 Roseville Bound
Cajon Pass, May 9, 2020
"I had just finished a great day of railfanning at Cajon to celebrate National Train Day when I saw this consist out in the distance. We rushed back up Swarthout Canyon Road so I could set up and get this shot. The lead engine in this photo is an SD70AH-T4, which is one of my favorites. It is captured here leading the MWCRV, which travels between West Colton and Roseville, California. This is one of my favorite photos because the lead engine was very clean, so the yellow is really vibrant and looks nice against the different shades of green in the background. I also really like photographing trains as they are coming around curves because it allows you to really capture the depth of the shot."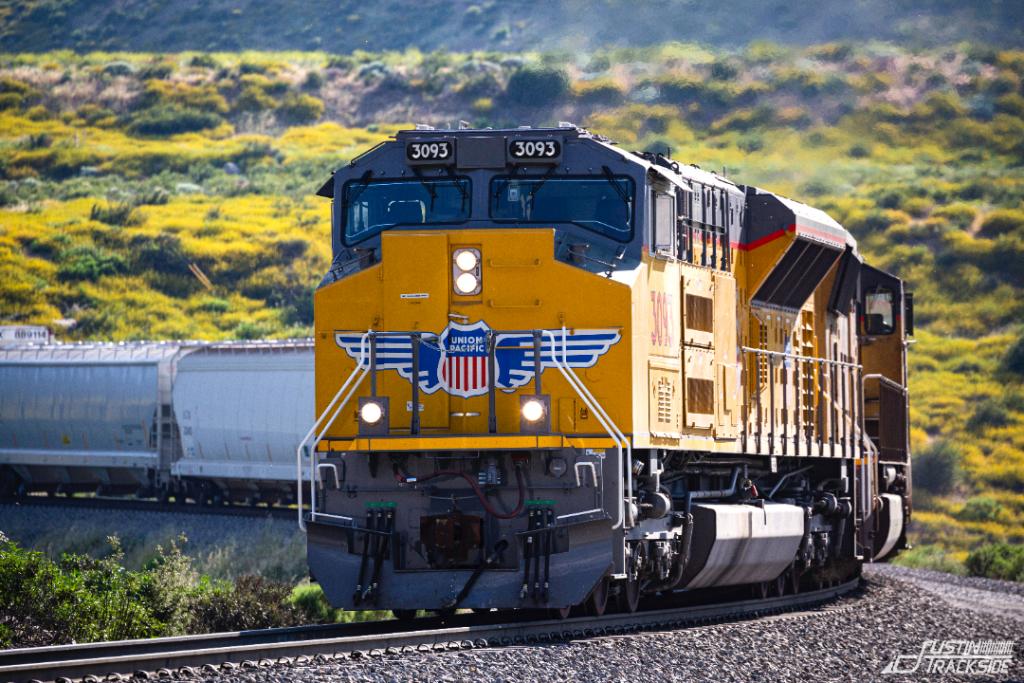 #4 OCS Speeds through Victorville
Victorville, California, Amtrak Station, May 8, 2020
"Victorville Station is located along the famous Route 66, and I often travel on that between my town, Barstow and Daggett while chasing trains through the Mojave Desert. I had to go a little over 100 miles from home on a very hot day in order to catch this special set. This is one of my favorite photos because the engine and special UP passenger cars are so shiny and bright and look fantastic against the blue sky and the brown and green hills behind them. It is always a treat to see an Officer Car Special."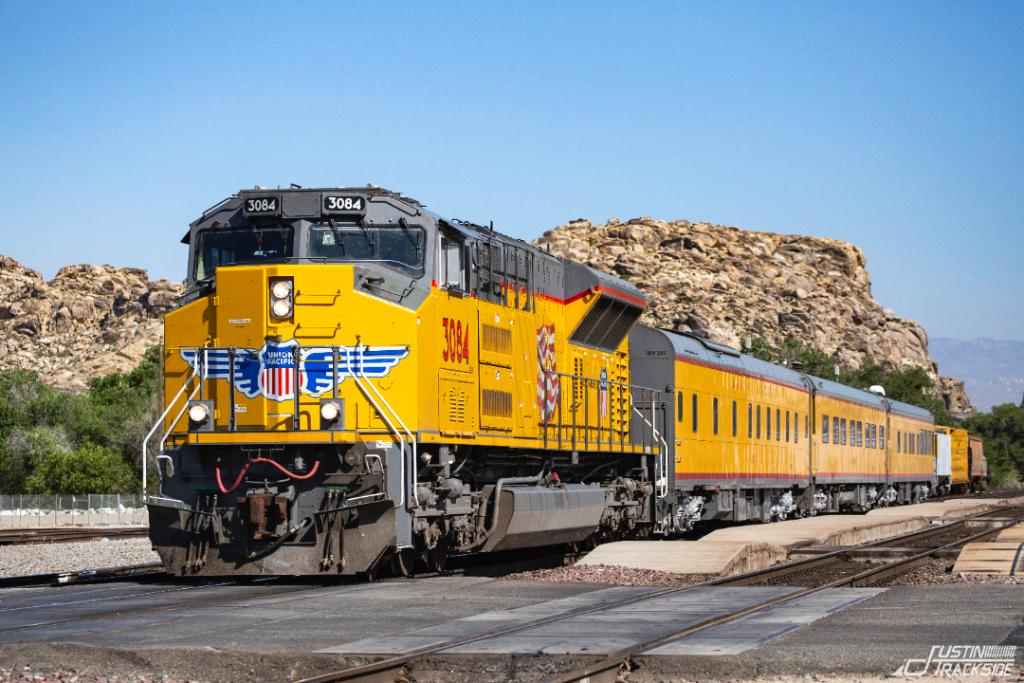 #5 Heritage Highballs the Trench
Alameda Corridor, May 22, 2019
"I had gone out to Long Beach to see this train, and I spotted it further down in the yard, but the lighting was not very good for a picture so I decided to leave for a bit and come back. When I arrived the second time, the train was already on the move, so I had to quickly head down the road and was able to get this shot through the fence of the bridge. This was my first time seeing Heritage Unit UP 1989. I've seen it one more time since then, but this is my favorite shot of it because it was leading. I think the overhead shot into the trench made the image very interesting. I also like the lighting of the shot with the shadows and the sunlight on the wall."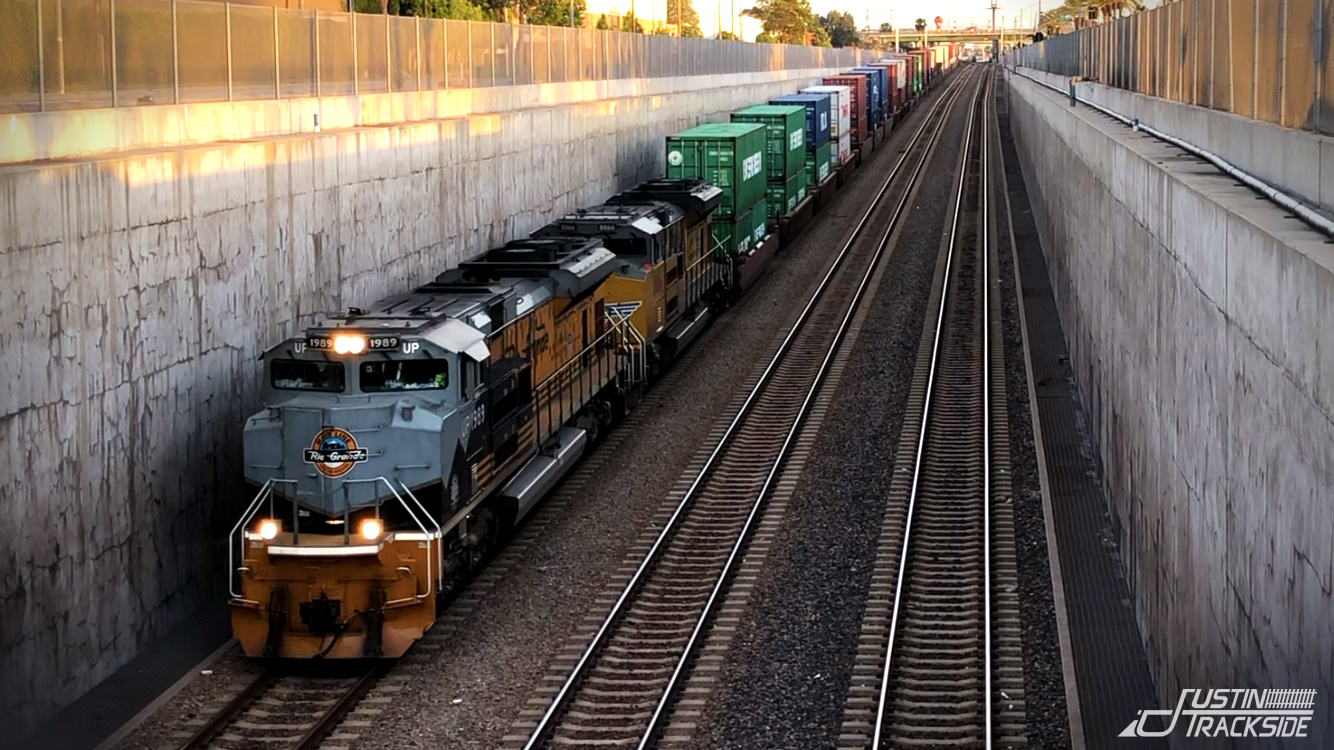 Non-Trackside Interests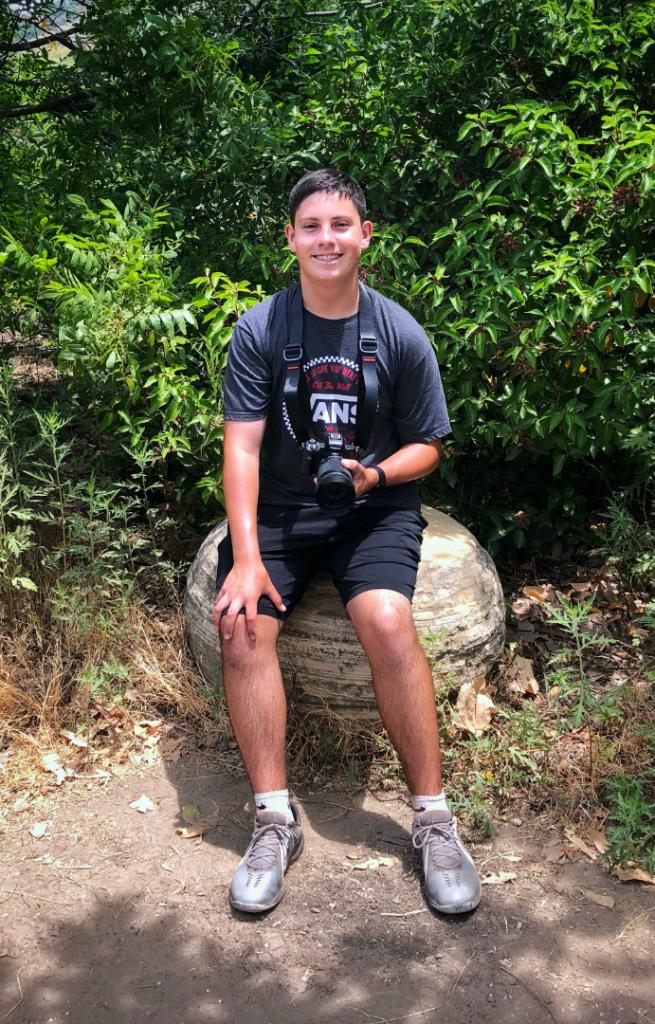 Although Justin's growing body of work on YouTube and Instagram might suggest rail photography takes up all of his time, his interests — and achievements — extend beyond those subjects. He's been a league bowler for five years, a sport that's taken him to the California State Championships twice already. For three years he was a competitive sprint kart racer, which earned him sponsorships from numerous companies. He is also a member of the American Coaster Enthusiasts (ACE), and has ridden 250 different roller coasters all across the United States.
Of course, he also has other train related hobbies, like running his N-Scale model railroad and taking long trips on passenger trains. "Some of my favorite routes are the Coast Starlight, Southwest Chief and the Acela, but I've also ridden the Sunset Limited, California Zephyr, Capitol Limited, and Pike's Peak Cog Railway, along with a number of other historic and excursion routes," he said.
A Future in Photography
While photography is just a hobby for right now (Justin is, after all, still in middle school) he doesn't plan to put down the camera any time soon. "While I'm not sure what I plan to do in the future, photography is definitely an activity I will continue for a long time, whether professionally or just as a hobby," he said. "I have always loved trains, and my Dad has been into photography his whole life, so he has helped me improve my skills and strive to get better. I would love to possibly make it a career at some point later on in my life."
Who Do You Follow?
Do you have a favorite rail photographer? Let us know!
Related Articles