If you've ever wished you could ship your products by rail – or if you're searching for ways to lower your transportation costs – transloading just might be your solution.
When products are transloaded, they're moved from trucks to rail cars, or vice versa. This gives shippers the flexibility of trucks to pick up and/or drop off shipments and the economic advantages of shipping by rail for the long haul in between. As a result, shippers can use rail to lower their transportation costs and leverage a greener shipping option, even if they (or their customers) don't have tracks at their facility.
If you want easy access to the benefits of rail, transloading may be your best shipping option. But how does it really work? Stu Towner, CEO of Jaguar Transport and Managing Partner for West Memphis Transload (WMT), sat down with us to provide an insider's look at transloading and share how his transload facility connects shippers with the most cost effective and sustainable shipping modes.
What Does a Transload Facility Look Like?
Every transload facility looks a little different, but in general, you'll probably see an industrial building (the transload terminal itself), railroad tracks, a paved area for trucks to pull in, indoor and/or outdoor storage, and equipment like cranes, forklifts, conveyors, pumps or cranes.
West Memphis Transload actually has two transload terminals: one that typically handles steel and wood products, coils, lumber and wood ties, and the other that serves as a bulk transfer facility for long steel products like tubing and piping.
On hand to transfer these products between trucks and trains are a 100k pound crane and two 36k pound forklifts — but WMT has ready access to additional equipment as needed to accommodate whatever customers are shipping, from grains, food products and starches, to rock and ag products, liquids, chemicals or plastics.
"We can transload basically anything a customer would be looking to have handled," WMT Managing Partner Stu Towner said. "Sometimes we have to set up operating practices and invest in different tools and machines to meet the needs of that commodity, but our team is experienced and can handle just about any product."
Although the terminals are where the actual transloading takes place, WMT is comprised of some other very important elements to facilitate the movement of products between trucks and trains. WMT has four railroad tracks with room for 70 rail cars, including a three-mile rail line that connects to Union Pacific rail service, where products can travel for the long haul. The company also has strategic partnerships with trucking companies to arrange for first- and last-mile delivery. If a customer needs storage, the facility offers 24 acres of outdoor storage, with another 100k square feet of indoor storage in development. And there is room to grow: another 2,500 acres of land surround the site, which are available for WMT to purchase and develop to meet customer needs.
Another feature unique to WMT is its proximity to the City of Memphis dock. WMT is located less than a mile from the City of Memphis dock, allowing them to transload products from trains to shuttle trucks that take them over to the dock to travel by barge. Or, the reverse is also possible – products can arrive to the dock via barge, and WMT can arrange for trucks to bring them over to their facility to be transloaded to rail. "We have a strategic relationship with the City that includes pre-established rates so we can provide a barge-to-shuttle-to-rail package to the customer," Towner said. "Water is the cheapest form of transportation on a per-ton basis; by having access to water at our site we are providing another low-cost solution to shippers and customers."
Beyond being less than a mile from the City of Memphis dock, WMT is strategically located for other reasons, too. Its home of West Memphis, Arkansas, sits directly across the Mississippi River from Memphis, Tennessee, making it part of the Memphis metro area. The WMT property is just three miles from highways I-40 and I-55, some of the most heavily traveled interstates in the country, for easy truck access. And of course its connection to Union Pacific tracks gives it access to Class I rail service.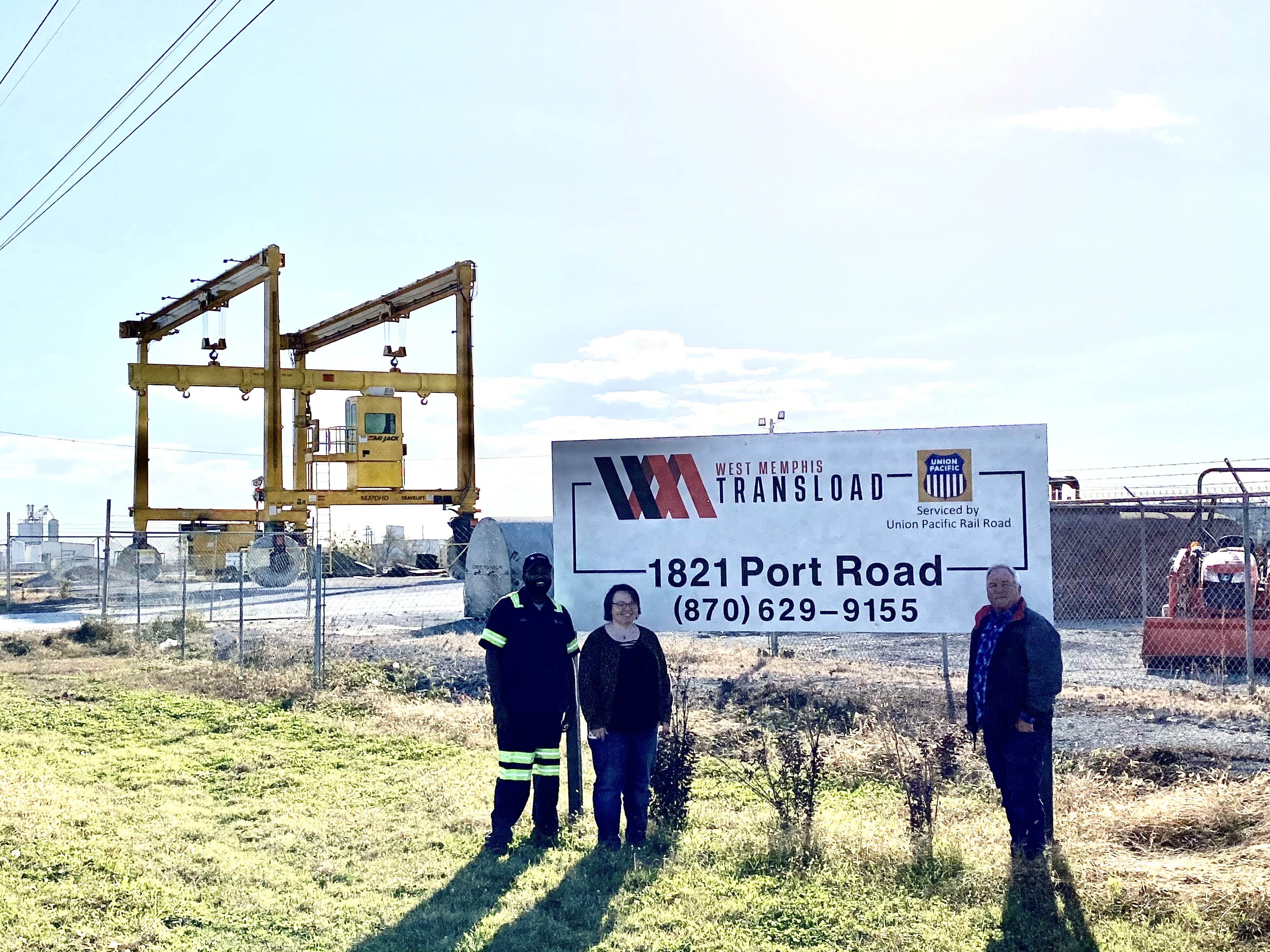 How Does Transloading Help Shippers?
The purpose of transloading is to transfer products between shipping modes so that shippers can access the most efficient and cost effective mode for their product. With access to rail for the long-haul portion of a shipment, companies can lower transportation costs and even reach new markets as a result.
Using transloading to create a better supply chain for customers is at the heart of what West Memphis Transload does. Although the tracks, equipment, storage and facilities are the physical properties that make up West Memphis Transload, there is another key part of their operation: their willingness to accommodate their customers. "If our customers have a need, we sit down and discuss what that need looks like and what it will take to handle the service they require," Towner said. "We're very willing to add additional services that we don't currently have and invest in our customers." Towner calls this "earning the right to grow with our customers" – and WMT has indeed grown to help customers themselves grow, too.
Lowering Transportation and Distribution Costs
For instance, WMT is in the process of building a 60k square-foot warehouse for a new customer (that's the size of a football field). Before finding WMT, the customer's manufacturing facility was in a weather-challenged location, and all product was shipped by truck. When they wanted to continue to meet their customers' needs while avoiding the recurring weather challenges that disrupted their business, WMT had a solution: they would build a warehouse on their property so the customer could have a Midwest distribution center that wasn't so far south that it was exposed to hurricanes, but wasn't too far north to experience frequent freezing events.
But beyond solving the customer's weather challenges, WMT did them one better: they helped improve their customers' profitability by lowering their transportation costs. Instead of trucking all of that product, WMT could now transload it to trains, allowing the customer to take advantage of the economics of rail. "We are investing the capital to build the warehouse and purchase the equipment needed to service the customer," Towner said. "And they're lowering their distribution costs by converting from truck to rail. We appreciate this opportunity to earn the right to grow with our customers."
Achieving Long-Term Value
WMT understands their customers' fluctuations in business, so they structure their own business to be agile and equipped to meet their immediate needs while also offering long-term value. Two key aspects of doing so are equipment and people.
WMT isn't shy about bringing on additional equipment as needed and ensuring they have staff to handle business fluctuations so they are prepared to meet customer needs.
"You have to be ready to perform when business picks up, so we invest in people. We cross-train our team to handle multiple commodities in a safe and efficient manner. Our strategy is to diversify business and look for other ways to cross utilize our team. Our team can handle a lot of diverse products safely and efficiently, and we're not afraid to expand our team." Towner said. "We also purchase and lease additional equipment to help during surge times. So when the customer needs us, we're available. We have people who know what they're doing and equipment to handle the business."
WMT's collaboration with their customers exemplifies the benefits of transloading: They give shippers access to more shipping options, infusing flexibility into their supply chains that ultimately helps them ship in a more cost effective way while effectively reaching customers, including new customers in distant markets.
"The culture of our organization is to not take things for granted and always focus on earning the right to grow with our people, customers, partners, and community," Towner said. "Our customers know we will do what we say we will do to help achieve long term value. We're very creative, so if there is a problem a customer has, we have a team who will find a way to 'yes' and find an effective solution for the customer."
Transloading Made Easy
While a transload solution may have several moving parts, WMT makes it easy for shippers. Packaging transportation solutions is a regular part of how WMT does business, so customers get a simple solution for their transportation needs. "We create a package deal for customers because we can provide the service it takes at the field level: we have the relationship with the trucking partner, administrative service to bill and order cars for the customer, and our relationship with Union Pacific," Towner said. "So if a customer says, 'I manufacture steel in Memphis but my customers are in Texas,' we can create a total package solution for that customer – and one that would be cheaper than trucking it all the way. We work with customers to find solutions that benefit their bottom line on existing business and enter new markets because we can provide a transportation solution that helps them be more competitive in those markets."
Transloading is a key part of the package, as it is the link between transportation modes, giving shippers flexibility to leverage the most beneficial transportation option. "Transloading gives our customers the ability to extend the logistics solution that they may not have," Towner said. "For instance, a lot of companies have manufacturing sites that lack direct rail access. They may have made that choice because they're located in the regional locations of their customers, so they are okay with manufacturing and distributing via truck in that area. But when they have a customer that requires a longer haul, using rail is more efficient. We provide them the avenue to get that product on rail."
Towner said without transloading, customers may be stuck with a less-than ideal transportation strategy. "If we didn't have a rail-based solution, customers would be beholden to a truck-only solution, which means they are limited to a costly solution or are limited to who they can provide their product to," he explained. "Instead, we save customers money because rail is a more affordable solution than truck for the long haul. We also help them expand their customer base in new markets in a safe and efficient manner."
If a company is facing logistics challenges, Towner said WMT isn't alone in creating solutions and filling in logistics gaps. "You don't have to hire someone full time to study your logistics needs," he said. "If you're in a location and don't have a lot of solutions, reach out to your railroad representative or look up transloaders online in your region and start a conversation. I'm pretty confident most transloaders would be happy to take the call and find a way to service your needs in an effective way. Most transloaders have that mentality."
Everybody Wins
Towner said that when you factor in infrastructure considerations and the environmental benefits of rail, it's not just the customer who wins. "You can fit three to four truckloads in a single rail car, so we are also doing a community service by reducing congestion on highways and improving safety by putting the product on rail," Towner said. "Because railroads take trucks off of highways, drivers face less congestion. That also means trucks aren't causing wear and tear on roadways that tax payers have to pay for."
Towner added that on average, trains can ship one ton of freight more than 470 miles on a single gallon of fuel, making it the most environmentally friendly way to ship freight by land. "Rail is the most efficient form of transportation for long haul by land, and it helps us as a country to be more sustainable," Towner said. "That's why we're passionate about our business. We love wins for customers, but when you think about it on a macro level, it's a win for everyone."
Everyone wins when it comes to safety, too. U.S. freight railroads have lower employee injury rates than most other major industries, including trucking — even lower than grocery stores. And, railroads have approximately 10% of the hazmat accidents trucks have, even though they have roughly equal hazmat ton-mileage. "When commodities are converted from truck to rail, there is a major safety impact," Towner explained. "This is a very important point to our team and a major reason why we are so passionate about our industry."
Learn More
Union Pacific's logistics subsidiary, Loup, specializes in door-to-door shipping and can help you use transloading as well as their strategically located railports to access the benefits of rail, wherever you're shipping. If you're ready to learn more about transloading, connecting to rail or WMT, get in touch.
Related Articles
Transloading Decoded
What Products Can Be Transloaded?
How Are Products Transloaded?
Three Ways to Connect With Rail -- And How to Make Them Happen
Intermodal vs. Transloading
Rail 101 FAQs