Even though most people have seen a train or two in their lives, most rail cars prevent us from seeing what's inside. So, you may be surprised to find out that trains can ship just about everything — from the food we eat, cars we drive and electricity to power our homes, schools and offices. But what does that mean in real life? These fun facts about what railroads ship paint the picture of how rail shipping contributes to our daily lives.
1. A Bar
The next time you meet up for happy hour, you may toast your friends with a beverage that shipped by rail. Railroads transport both finished beverages like wine, beer and tequila, and the products that make them, like wheat and barley — and a lot of them, at that:
Bottled tequila is shipped in boxcars. Just one of these rail cars weighs 90 tons — enough tequila to make 2.46 million margaritas!
You'll find about 96,000 bottles of beer in just one rail car! That's enough to buy a round for every fan at Wrigley Field and Yankee Stadium. Put another way, if a store sold 10 cases of beer per day out of that rail car, it would take them over a year to sell it all.
Barley, a key ingredient in beer, ships in covered hoppers. One of these rail cars carries enough barley to make 94,000 gallons of beer — the equivalent of over one million bottles!
2. A Farm and a Grocery Store
Although freight railroads don't ship live animals (or other living things for that matter), they do ship products that feed farm animals. They also ship products farms produce, like fruits, vegetables and grains, as well as the fertilizer to help them grow.
One rail car of corn shipped in a closed-top hopper can feed 160,000 chickens every day.
Railroads ship about 65,000 carloads of fresh fruits and vegetables each year.
One rail car can carry enough soybeans to make 415,000 pounds of tofu.
Railroads transport about 80,000 carloads of meat and poultry products in a typical year.
• Just one rail car can transport enough wheat to make 258,000 loaves of bread.
Altogether, railroads haul around 1.6 million carloads of grain and other farm products per year and another 1.6 million carloads of food products each year.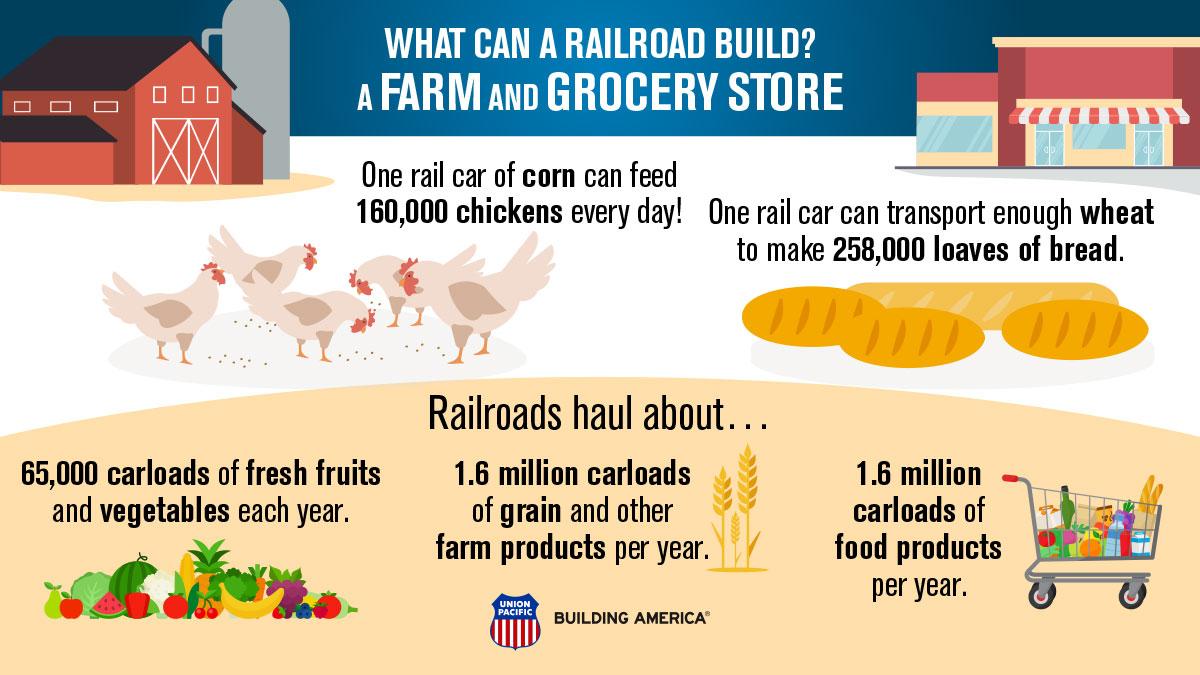 3. A Candy Shop
Beyond "good for you" food, railroads also ship the sweet stuff!
Each year, Union Pacific Railroad alone ships about 200 million pounds of chocolate. That's enough chocolate to give every person in the U.S. five snack-size chocolate bars on Halloween.
Union Pacific also ships the most important candy ingredient: sugar! Enough sugar, in fact, to give a million people a fun size candy pack every day.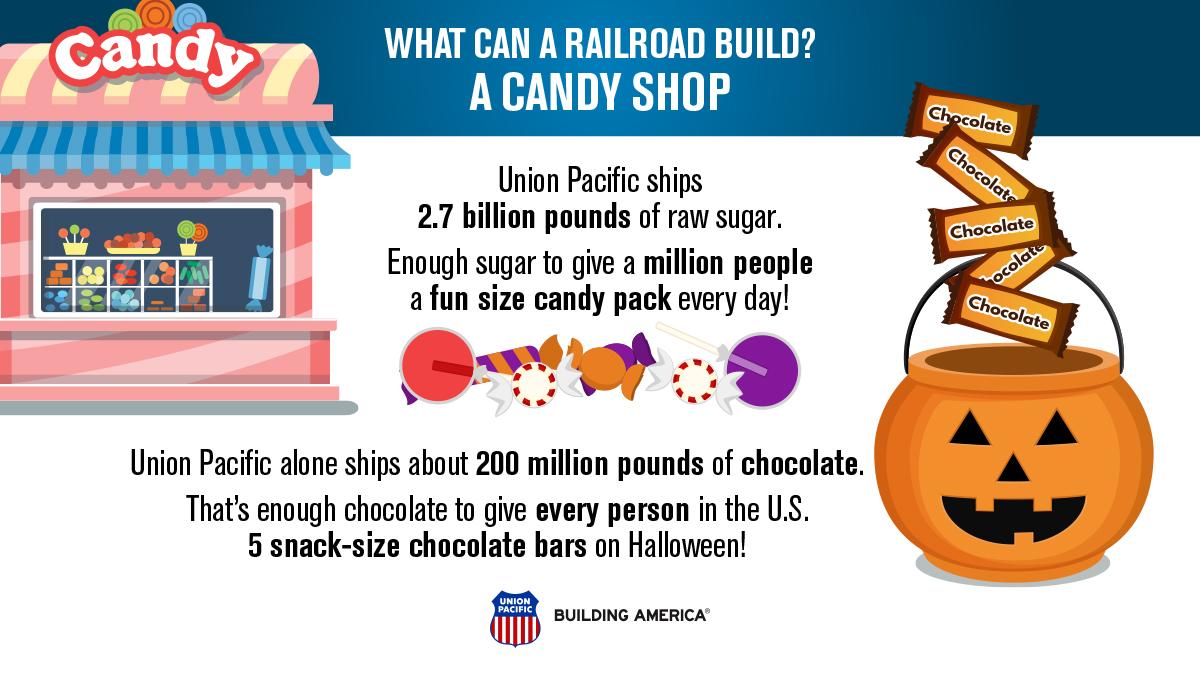 4. A Car Dealership
Cars, trucks, and SUVs all ship by rail, and so does fuel to power them.
Each year Union Pacific transports roughly 4.6 million new cars, trucks and SUVs.
Union Pacific ships enough gasoline and diesel to fill up about 30 million tanks per year!
Don't forget railroads ship ethanol, too. In 2018, those shipments totaled more than 377,000 carloads, which is about 67% of all U.S. ethanol production.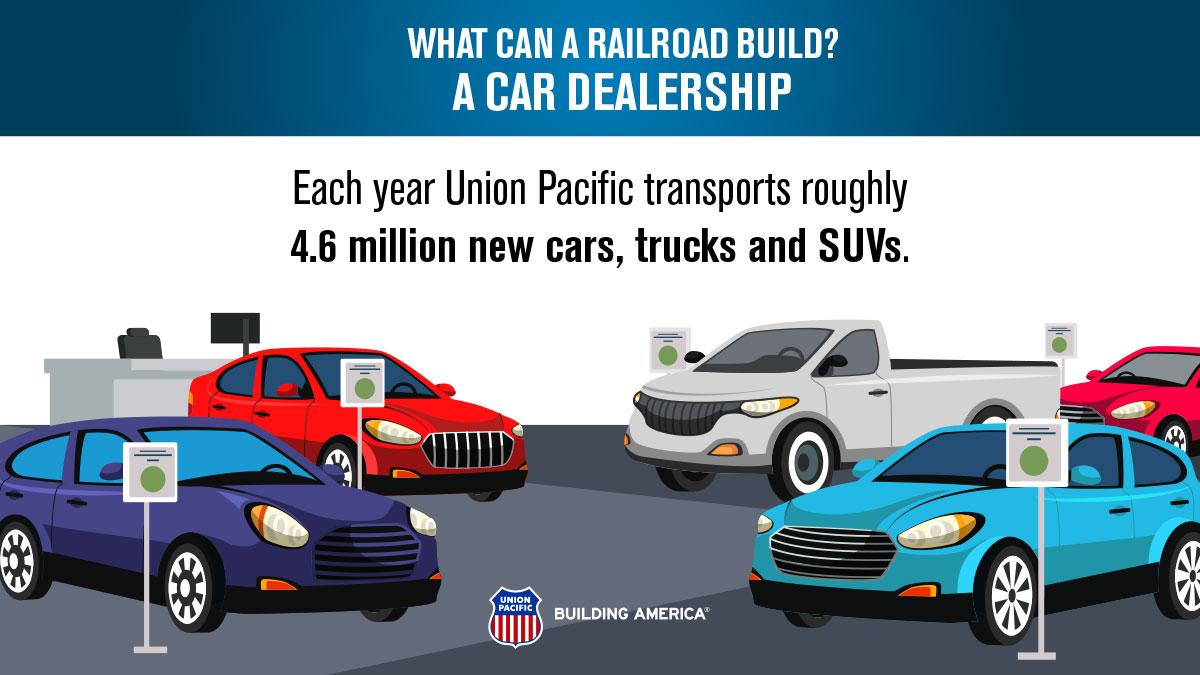 5. The Interstate
Railroads ship all sorts of construction products, including lumber, rebar, bricks, and roofing products, as well as cement and asphalt used to build roads.
In 2020, Union Pacific moved enough cement to construct approximately 2,100 miles of interstate.
While railroads transport products to make roads, they also help prevent damage to them. Rail cars can hold three to four truckloads of freight, so just one train can take more than 300 trucks off the road. The result is reduced congestion on already overcrowded highways, less wear and tear on bridges and roadways, and a lessened burden on the taxpayers who pay to fix the damage – not to mention up to 75% less greenhouse gas emissions!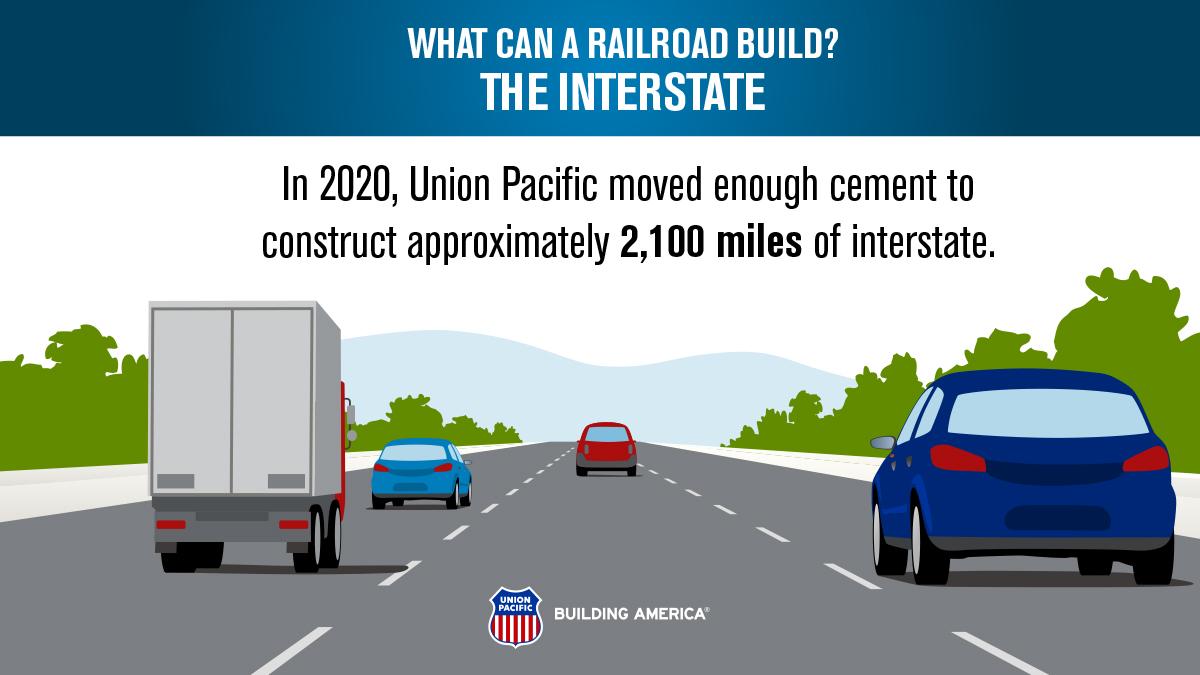 6. A House
Speaking of construction, just about everything that is used to build a home can ship by rail. And all of the things inside of that home, like furniture, appliances, clothes, toys, electronics, and more, move by train too.
One rail car can move enough lumber to build six or seven homes. In 2020, Union Pacific alone moved enough lumber to build more than 380,000 homes.
Roofing products, including shingles and the materials to make them like asphalt, roofing granules, slag, sand and fiberglass mat all ship by rail. In fact, a single rail car holds enough shingles to roof about 34 homes.
Railroads even ship the products used to power your home. Union Pacific ships about four million carloads of coal each year. Each one of those cars carries enough coal to power 21 homes for an entire year).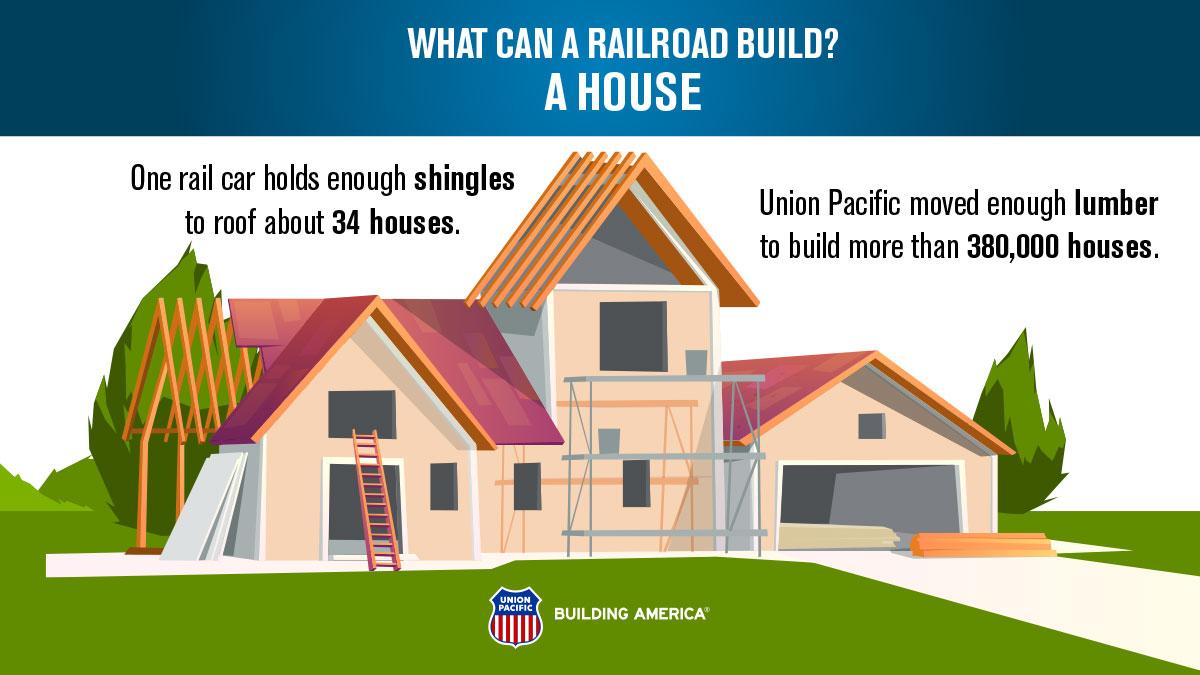 7. A Wind Farm
Have you seen the giant turbines that dot the countryside and generate power simply from wind? Railroads can ship all of those giant wind turbine components (and other oversized freight as well, like military vehicles and rocket boosters.
Wind turbine blades average over 190 feet long, and turbine towers are typically around 295 feet tall — about the height of the Statue of Liberty.
One wind blade is nearly the length of a football field.
In 2020, Union Pacific shipped a record number of wind components, totaling more than 18,000 carloads, and another 4,134 in 2021.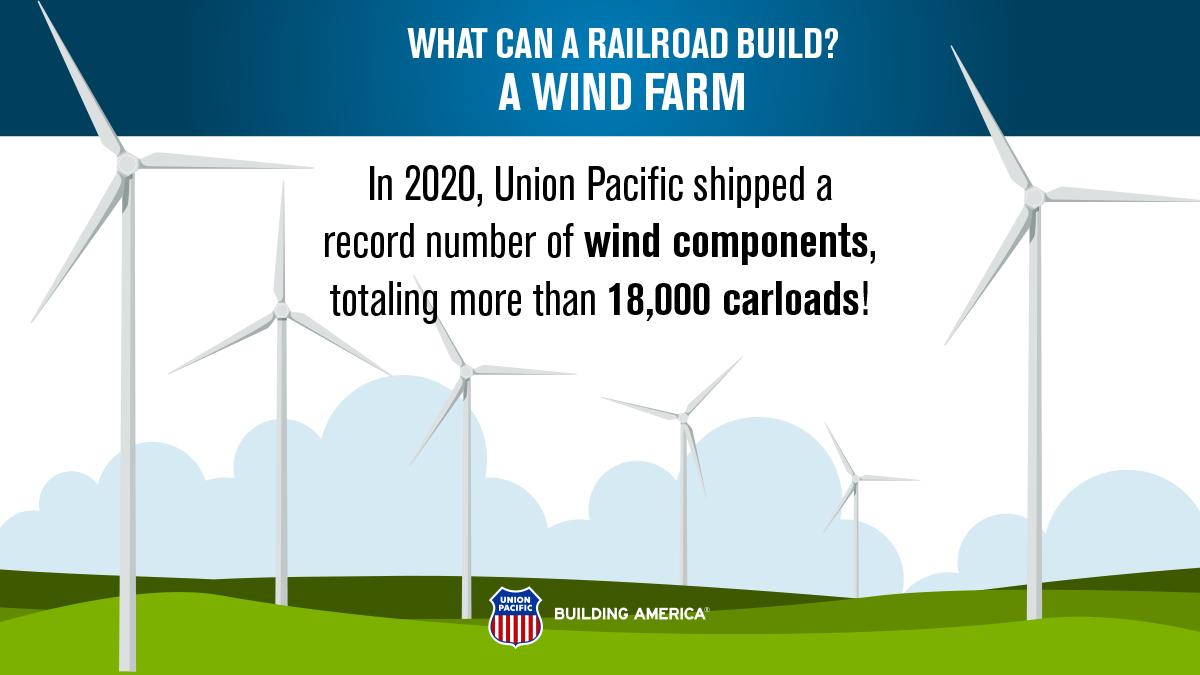 Learn More
These are only a few of the ways trains help deliver the lifestyle you're used to. To learn more about how to ship your products by train, answer a few questions and an expert will be in touch.
Related Articles