It's time to set the record straight: Some commonly held beliefs about the transportation industry simply aren't true. The good news? Knowing the difference between myth and reality can open up some options you may have never considered before. So let's take a reality check and debunk the five most common transportation myths.
Don't miss the "Five Transportation Myths Buster" video below!
Myth #1: "You can't use rail if you don't have tracks."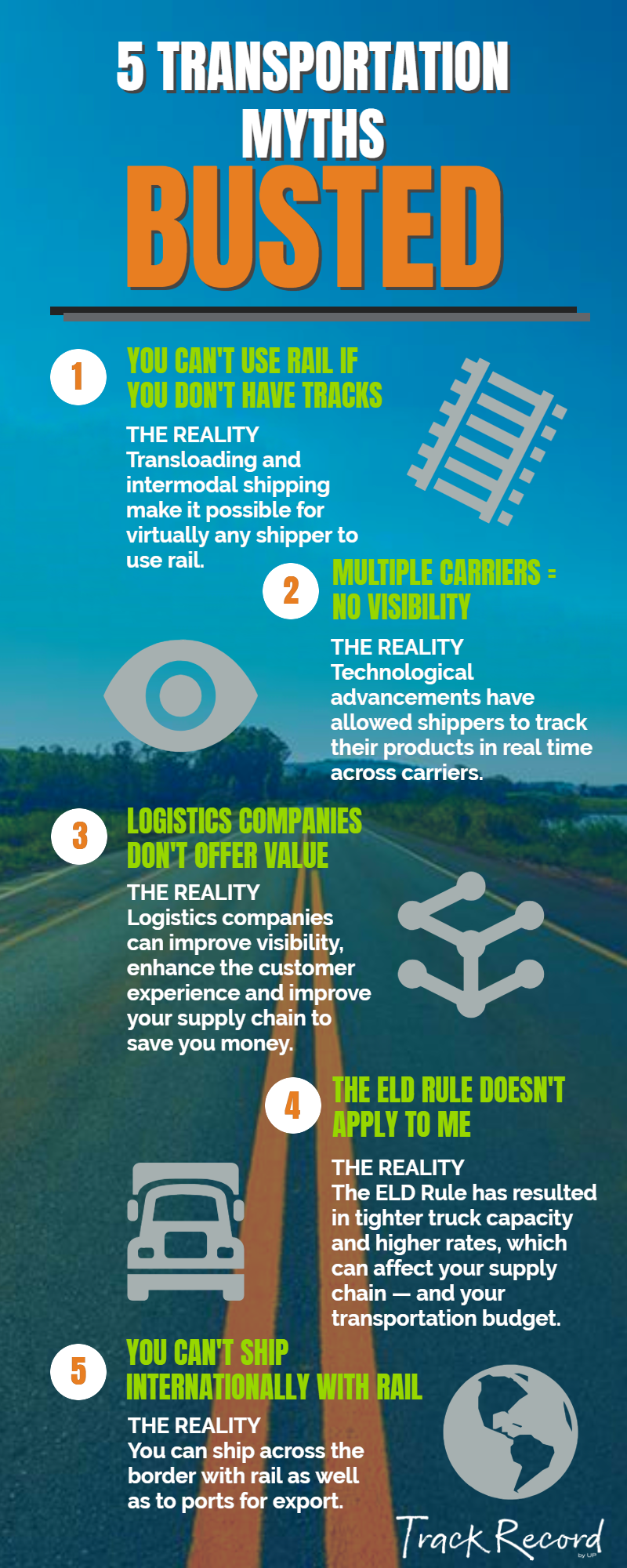 The myth: The shipper and receiver must have tracks at their door to use rail.
The reality: Sure, it makes sense that where there are trains, there must be tracks. But even if your origin or destination doesn't have tracks, you can still access them. Thanks to transloading and intermodal shipping, virtually any shipper or receiver can use rail. Both processes allow products to move seamlessly between trucks and trains so rail can become a part of your shipping strategy.
Why you should care: Railroads provide the safest, most fuel efficient and environmentally responsible mode of ground freight transportation. In fact, freight trains are three to four times more fuel efficient than trucks and generate a carbon footprint that is on average, 75 percent less than trucks. That means incorporating rail into your shipping strategy can yield tangible benefits for your company.
Learn more: 3 Ways to Connect With Rail — And How to Make Them Happen
Myth #2: "If I use multiple carriers, I lose visibility."
The myth: Using multiple carriers to ship goods means you have no way to track your products.
The reality: It's understandable that leveraging multiple carriers might cause some anxiety about losing visibility. But technological advancements have allowed shippers to track their products across carriers, whether that's a combination of trucking companies, railroads, or both. Logistics companies like Loup offer comprehensive visibility to allow you to track your products across carriers in real-time so you can anticipate their arrival to destination. In fact, Loup's ShipmentVision technology provides a single data source for information across rail carriers all in one place, making visibility a reality.
Why you should care: Using multiple carriers to ship goods can yield economic benefits without losing the control visibility provides. In short, you can realize the benefits of rail all while ensuring your supply chain continues to run smoothly.
Learn more: How to Get Visibility across Carriers
Myth #3: "Logistics companies don't really offer any value."
The myth: Logistics companies get paid to do what someone on your team could simply do themselves.
The reality: This myth is partially true. Logistics companies can take over tasks for you and/or your team — leaving you to focus on higher value work. But logistics companies can also offer much more than that. They can connect you with improved shipping visibility and lend their expertise to improve your supply chain's performance all while helping improve your customer experience by ensuring consistent delivery and safe product handling. And, they can use their extensive knowledge to help you net cost savings for your company and a positive ROI.
Why you should care: With positive improvements to your visibility, supply chain efficiency, reliability, customer experience and bottom line, it's worth taking a look.
Learn more: How a Logistics Company Can Solve Your Challenges
Myth #4: "The ELD rule has no effect on me or my transportation budget."
The myth: The Electronic Logging Device (ELD) rule, which requires motor carriers and drivers to maintain records of duty status to use electronic devices to record hours of service, only affects truckers and trucking companies.
The reality: While the ELD mandate was intended to promote safety on U.S. highways (which is great!), it has also had a ripple effect throughout supply chains. Because ELDs better enforce hours of service laws, truckers are spending less time on the road. The impact? Tighter truck capacity and higher rates. As a result of the rule, many shippers and receivers are considering rail to handle their long-haul shipping because of the available capacity and lower cost-per-ton rates.
Why you should care: The ELD rule's impact on capacity and truck rates means you may struggle to find truck availability – and when you do, you're going to pay more for it than you have in the past. As a result, you may need to find other options to ship products, like rail.
Learn more: How to Ship by Rail: Four FAQs
Myth #5: "You can't ship products internationally by rail."
The myth: If you ship using a U.S. rail carrier, products can only be transported to U.S. destinations.
The reality: Not only can you ship products by rail across the borders of North American countries, you can also use rail to transport products to ports where they are transferred to ships for export. Likewise, imports can arrive by ship and be transferred to rail for delivery within the U.S., Canada and Mexico.
Why you should care: Rail is a safe and economical way to ship large amounts of freight long distances. And when it comes to crossing the border, it can be a lot faster, easier, and more cost effective to ship by rail. As an added bonus, logistics companies like Loup can you navigate the complexities of your product crossing borders for import or export.
Learn More: How to Ship Internationally
Have Questions?
When myths get busted, that usually means there are a lot more questions to be answered. We're happy to help. Give us a shout and we'll connect you with an expert who can clear things up.
Related Articles: