Remember the train sets of your youth? With a simple repositioning of a couple pieces of plastic track, you could create a whole new path for your little locomotive. Unfortunately, with steel tracks and wood or concrete railroad ties, grown-up tracks are just a little more difficult to adjust. Because railroads operate on fixed networks it may seem like connecting to rail isn't an option for many freight shippers. Here's the good news: Shipping by rail can be an option for just about anyone. If you want to leverage rail for its safe, sustainable, and cost-effective qualities, check out these three options for connecting to rail service.
Don't miss the "3 Ways to Connect with Rail" video below!
Rail Service Option 1: Multi-Modal Shipping
If you take a peek out your facility's window and see nary a track in sight — or if there is an absence of tracks at the facilities to which you ship — you might want to consider going multi-modal.

What does that mean? Multi-modal means you use a combination of transportation modes, in this case, truck and rail, to move products from origin to destination. If your facility isn't rail served, trucks can pick up your products and they can be transferred to rail cars to travel the rest of the way. If the destination isn't rail served, products can be transferred back to trucks for final delivery.

There are two ways products are transferred between modes: transloading and intermodal.

Transloading
With transloading, products are unloaded from trucks and transferred to rail cars (and back again, if needed). Depending on the product type, this can happen in a number of ways: via forklift for palletized products, by pump for liquids, or by conveyor for sand, to name just a few ways to transload products. Just about everything you can ship by rail can be transloaded.
Intermodal
With intermodal, products are loaded into containers or trailers, which are lifted on to or off of trucks and trains. Unlike transloading, where products undergo a loading and unloading process, with intermodal, products typically stay in the same container all the way from origin to destination.

Although transloading and intermodal processes are slightly different, they have one thing in common: they both allow shippers to access rail, even if there aren't tracks at a shipment's origin and/or destination.

How to Access Transloading and Intermodal Services
Because transloading and intermodal rely on a quality network of truck and rail carriers, most shippers and receivers rely on an experienced logistics company to arrange their multi-modal transportation plans.

Our friends at Loup Logistics specialize in connecting shippers and receivers to rail via transloading and can provide a free quote: 800-303-4544 or info@shiploup.com. If you're looking for intermodal service, get in touch and we'll connect you with a representative from our intermodal team.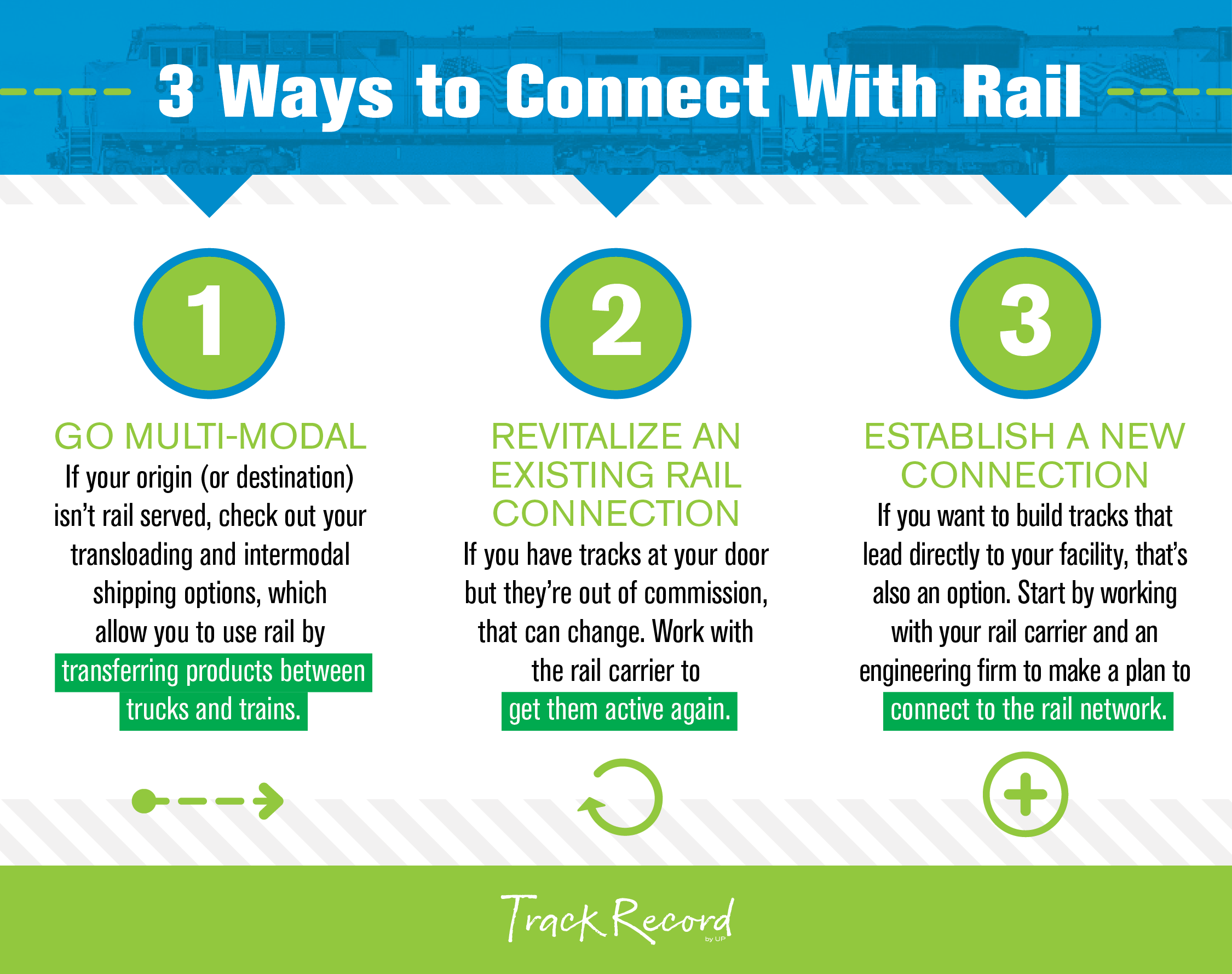 Rail Service Option 2: Revitalize an Existing Rail Connection
Sometimes the reason shippers and receivers don't use rail isn't because they don't have tracks – it's because those tracks simply aren't active. The good news is, that can change. If you want to use tracks that are currently not in use, follow these steps:
Check the track status. Contact the connecting rail carrier to see if the connection is active and in good working condition. If it's not, the rail carrier can help determine how much it would cost to bring it back into service. Tip: You can use the Serving Carrier Reciprocal Switch (SCRS) Search to identify the carrier. Or, get in touch and we can connect you with a member of our Economic and Industrial Development team for inside intel.

Make an agreement. Work with the rail carrier to get a track agreement in place — that's the contract you put in place to get service on your line.

Get onboard(ed). Get set up on the rail systems and receive price quotes from the rail carrier for the product you will ship/receive.
If you'd like guidance throughout the process, Union Pacific's Economic and Industrial Development team can help. Answer a few quick questions and a member of the team will be in touch.
Rail Service Option 3: Establish a New Connection
If you want a direct connection to rail, that's also an option. You can either find an existing rail-served site or take advantage of a development with pre-approved rail plans for a faster speed to market solution.
To establish rail infrastructure at an existing site, follow these steps:
Draw up the plans. Work with an engineering firm and the rail carrier to develop a basic plan of how you will connect to the rail network.

Get approval. Ask your rail carrier to review the plan. They'll provide approval or feedback on any concerns that need to be addressed.

Request construction quotes. Once your plan is approved and in place, get quotes for construction. Tip: In general, the longer the distance from the connection to the rail line and the busier the rail line you are connecting to, the more expensive the project.
When you're connecting to rail, you don't have to go it alone. Our Economic and Industrial Development team can guide you through this process and provide helpful tips along the way. Union Pacific's team of experts can provide guidance and rail project management for businesses wanting to build, expand, or find a rail-served site. Completing the AccessUP questionnaire is the first step to get connected. Union Pacific also offers the Site Solutions Tool, which allows users to search from nearly 500 sites to locate a rail-served business. For a quick speed to market solution, Union Pacific Focus Sites are premier large-scale development areas with pre-approved rail designs.
Rail: A Viable Option for Shipping Just About Everything
If you ever thought rail wasn't a viable transportation option, think again. Whether you invest in tracks at your facility, revitalize an existing connection or leverage multi-modal to make it happen, you can ship just about every commodity by rail (just no personal property, passengers, pets or other living things, please!). To learn more, get in touch.
Related Articles:
Video: Three Ways to Connect with Rail