In 1999, Honda released the first mass-produced hybrid-electric vehicle in the U.S. Although that model, the Honda Insight, may not ring a bell, the Toyota Prius that was released a year later made its mark on the market.
Since then, both hybrid and all-electric vehicles are no longer a novelty — and the market is growing. Here's what propelling the growth and what automakers are doing to meet the demand.
Electric Vehicle Legislation and Increased Consumer Interest
California has long been the epicenter for environmental legislation in the United States. In 1990, the California Air Resources Board (CARB) adopted the Zero Emission Vehicle (ZEV) Program as part of its Low Emission Vehicle regulation. This put into effect the most stringent exhaust regulations for light- and medium-duty vehicles at the time and was the first step in the state's efforts to achieve its long-term emission reduction goals.
Today, California's ZEV regulation requires auto manufacturers to produce a certain number of ZEVs and plug-in hybrids each year based on the total number of cars each manufacturer sells in California.
California's legislation has had a ripple effect: Ten other U.S. states have since adopted the ZEV regulation. And on August 5, 2021, President Biden signed an Executive Order that set a new target to make half of all new vehicles sold in 2030 zero-emission vehicles, including battery electric, plug-in hybrid electric or fuel cell electric vehicles.
While legislation is ushering in a wave of electric vehicles (EVs), consumer demand is also increasing. In 2020, EVs accounted for 2.4 percent of cars sold in the U.S., an increase of .7% from 2015. But EV sales are expected to accelerate to 11 percent by 2025 and to over 33 percent by 2030.
How Automakers Are Responding to the Growing Demand for EVs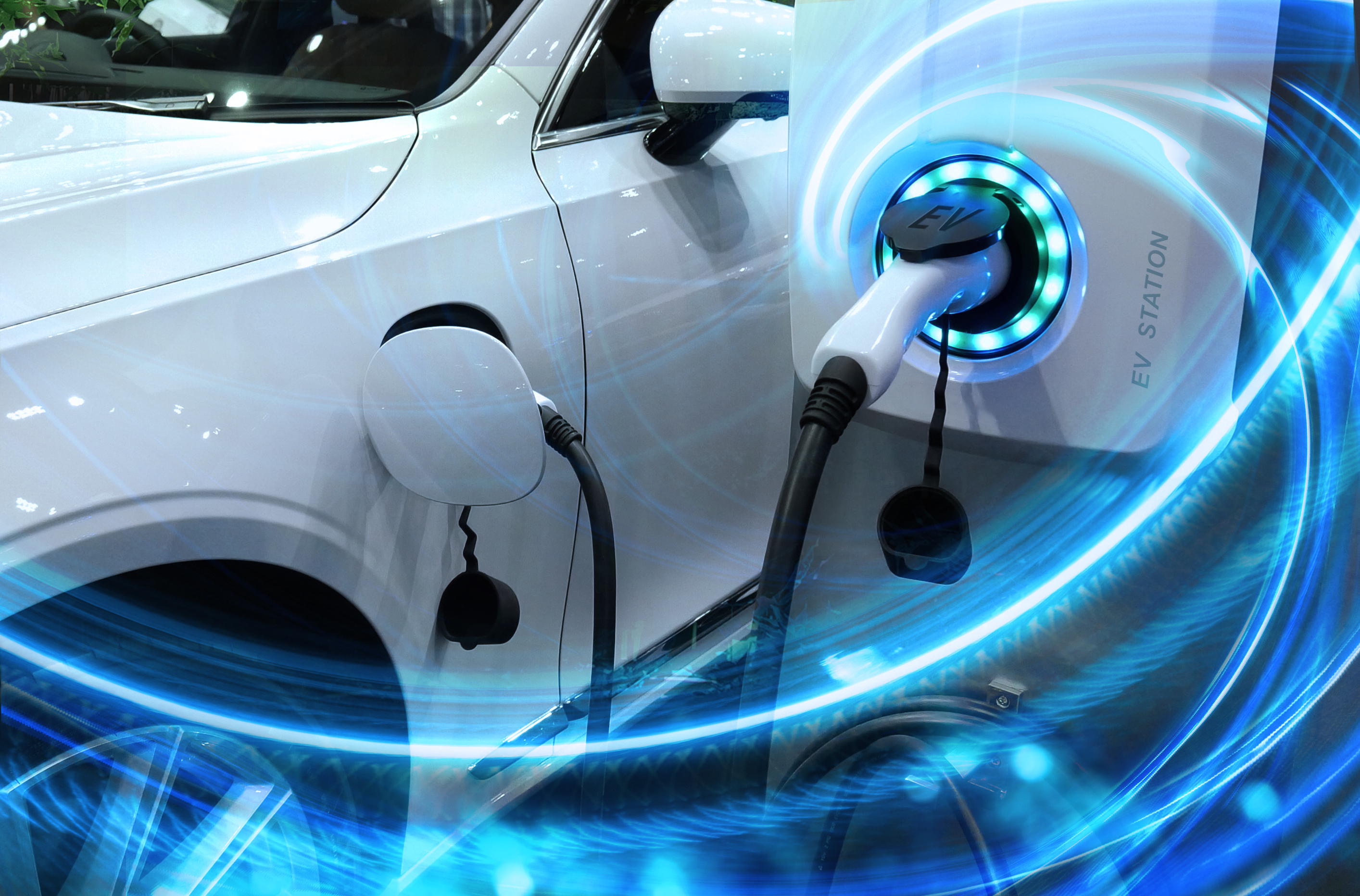 Between the state and federal ZEV regulations in play and the increased consumer interest in hybrid and electric vehicles, automakers are committing to increasing EV production. The following are OEM EV targets:
Audi — By 2025, Audi plans for battery-electric vehicles to comprise 35 percent of its sales globally, with 30 electrified models, 20 of which will be fully electric.
BMW — BMW plans to launch more than 10 battery electric vehicles over the next few years, which the company anticipates will boost hybrid and all-electric vehicle sales to 50 percent by 2030.
Mercedes-Benz — Beginning in 2025, all new Mercedes-Benz models will be electric-only, and by the end of the decade the company plans to be all-electric.
Ford — Ford is investing $22 billion in electrification through 2025 and anticipates 40 percent of its global sales will be EVs.
General Motors — GM plans to offer 30 new EVs globally by 2025, and by 2035 the company plans to sell ZEVs only.
Honda — Honda's North American sales targets for battery-electric and fuel cell electric vehicles are set for 40 percent by 2030, 80 percent by 2035 and 100 percent by 2040.
Hyundai — Hyundai Motor Group, which owns both Hyundai Motor Company and Kia Corporation, plans to invest $7.4 billion in producing EVs in the U.S. by 2025. Hyundai Motor and Kia will build American-made battery electric vehicles and the Hyundai Motor U.S. facility will begin EV production starting in 2022.
Mazda — By 2030, Mazda estimates 25 percent of its vehicles will be fully electric and all other models will be electrified in some form.
Nissan — By the early 2030s, Nissan plans for 100% of all-new vehicle offerings in key markets to be electrified.
Porsche — In the next five years, 50 percent of all new Porsche models will have an electric motor. By 2030, the company aims to increase that percentage to 80 percent.
Stellantis — Stellantis, the global automaker that is the result of a merger between PSA Group and Fiat Chrysler Automobiles (FCA), is targeting 70 percent of sales in Europe and 40 percent in the United States to be low-emission vehicles by 2030.
Subaru — Subaru plans to launch its first all-electric vehicle in 2022 and sell only electric vehicles by the first half of the 2030s.
Toyota — By 2030, Toyota plans for its battery-electric vehicles, fuel-cell electric vehicles, hybrids and plug-in hybrids to total 70 percent of Toyota and Lexus sales combined.
Volkswagen — Volkswagen originally set its 2030 EV target at 35 percent but recently raised it to 70 percent of European sales and 50 percent of sales in the U.S. and China.
Volvo — Volvo Cars plans for 50 percent of its sales volume to be fully electric by 2025.
The Supply Chain Evolution: How to Ship EVs and EV Parts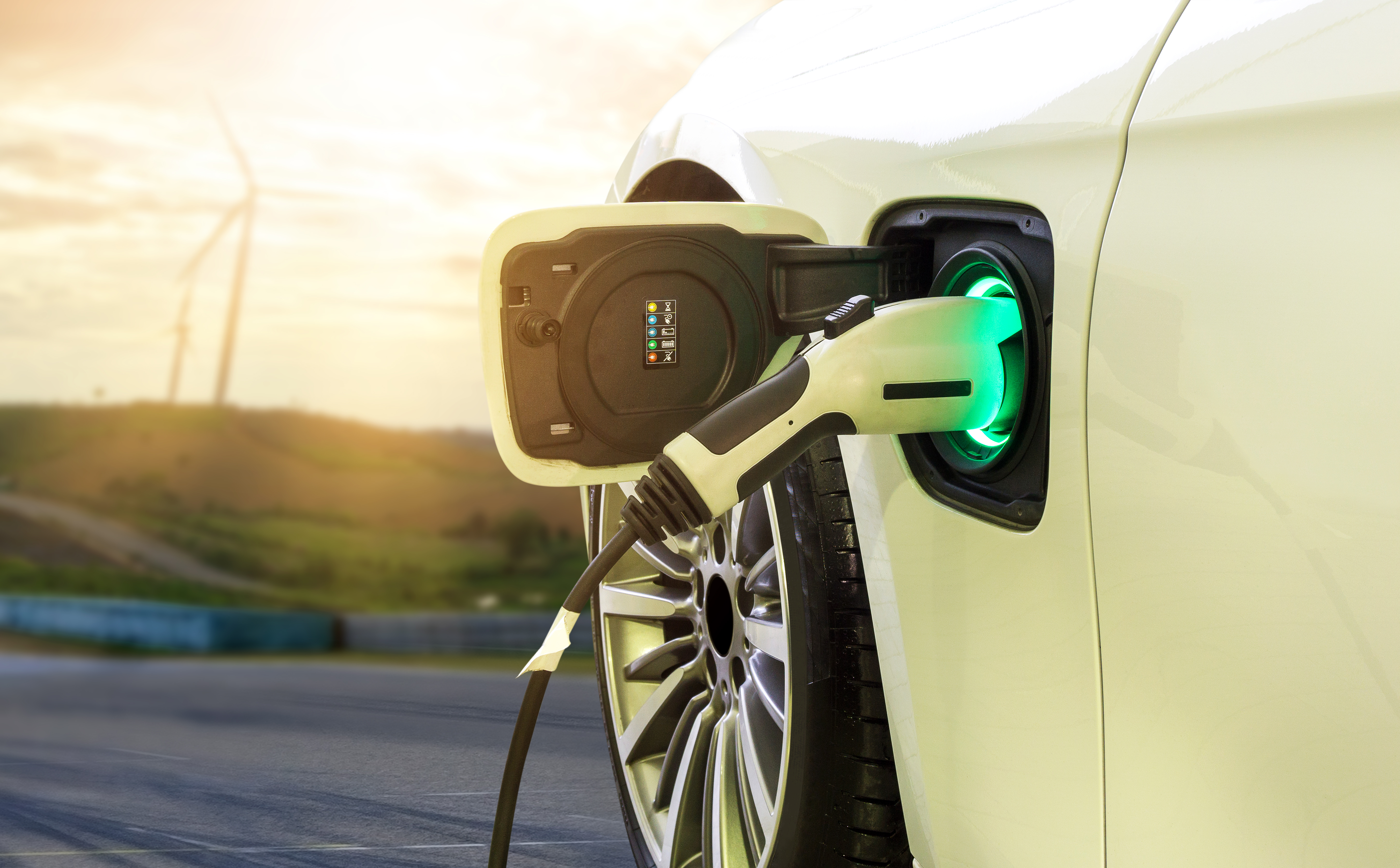 Introducing EVs to the lineup requires automakers to change their vehicle technology, which in turn can change the way their supply chains function. In some cases, EV batteries require OEMs to source materials from new suppliers that are located in new areas. In others, automakers are building new battery production facilities that add brand new stops along their supply chain. This will require their transportation partners to adapt to their new production models.
Whether it's the raw materials used to make EV batteries, parts, or the finished EVs themselves, railroads are helping manufacturers ship EVs and EV parts efficiently and affordably.
Batteries
The batteries that power EVs require supply chains of their own just to be produced.
Production starts with virgin materials like caustic soda and nitric acid.
These materials are then transported to mines where they're used in the lithium production process.
Lithium is then transported to U.S. processing facilities or to a port to be exported to be refined.
Battery production also requires materials like cobalt, graphite, nickel and manganese, all of which must also be shipped to the production facility.
Once the lithium is produced, it's shipped to the battery manufacturing plant, where EV batteries are made.
These finished batteries are then shipped to the OEM to be used in EV production.
Railroads are capable of shipping all these materials, and typically offer a lower cost per ton mile than trucks, especially over long distances. Once batteries reach the end of their lives, railroads can also transport them to recyclers.
Other EV Parts
Batteries aren't the only auto parts railroads can ship. Railroads can ship all kinds of automotive parts in boxcars and intermodal containers and have a history of meeting the lean manufacturing requirements automotive production facilities rely on.

For instance, as the premium auto parts rail carrier in North America, Union Pacific has an auto parts network that can ship auto parts throughout the United States, Mexico and Canada. Our express network between the U.S. and Mexico alone handles more than 200,000 Just-in-Time auto parts shipments per year.
Even if the parts manufacturer or production facility isn't rail served, railroads have solutions that allow parts to move seamlessly between trucks and trains so OEMs can benefit from the advantages of shipping by rail. Union Pacific offers truck to boxcar cross-dock and intermodal services that help shippers save at least 15-20 percent over truck even if they don't have tracks at the origin or destination.

With relationships with Class I and Mexican railroads, Union Pacific can adapt to the new routes needed for an evolving EV supply chain.
Finished Vehicles
Railroads have been shipping finished vehicles since the first Model-T rolled off the assembly line in the early 1900s. Today, approximately 70 percent of all new vehicles are shipped by rail.
When finished vehicles are shipped by rail, they're loaded into rail cars at auto ramps. After they've traveled by train to an auto ramp nearest their final destination, finished vehicles are unloaded from the rail car and onto a car hauler for delivery to a dealership.
When finished vehicles ship by rail, they're transported in auto racks. These rail cars are outfitted with metal "racks" inside that create levels that both maximize the shipping space and help vehicles ship damage free.
As the largest automotive rail carrier west of the Mississippi, Union Pacific has an extensive finished vehicle network that serves five vehicle assembly plants directly and connects to West Coast ports, Mexico gateways, and the Gulf of Mexico to accommodate both import and export shipments. Union Pacific's 40 vehicle distribution centers that are located in large metro areas, near auto manufacturing plants and major distribution centers for efficient shipping.
EVs are changing the model for how finished vehicles are shipped, too. Where traditionally finished vehicles are shipped to dealerships, some EV companies operate a direct-to-consumer delivery model. Union Pacific has adapted to this shift in the automotive market, too. Direct-to-consumer EV manufacturers have different requirements than traditional OEMs, including speed-to-market. Thanks to Precision Scheduled Railroading, which has improved the reliability and consistency of rail deliveries, Union Pacific has been successful in delivering EVs to the market faster, more efficiently and reliably.
Why Is Rail the Right Fit for Shipping EVs?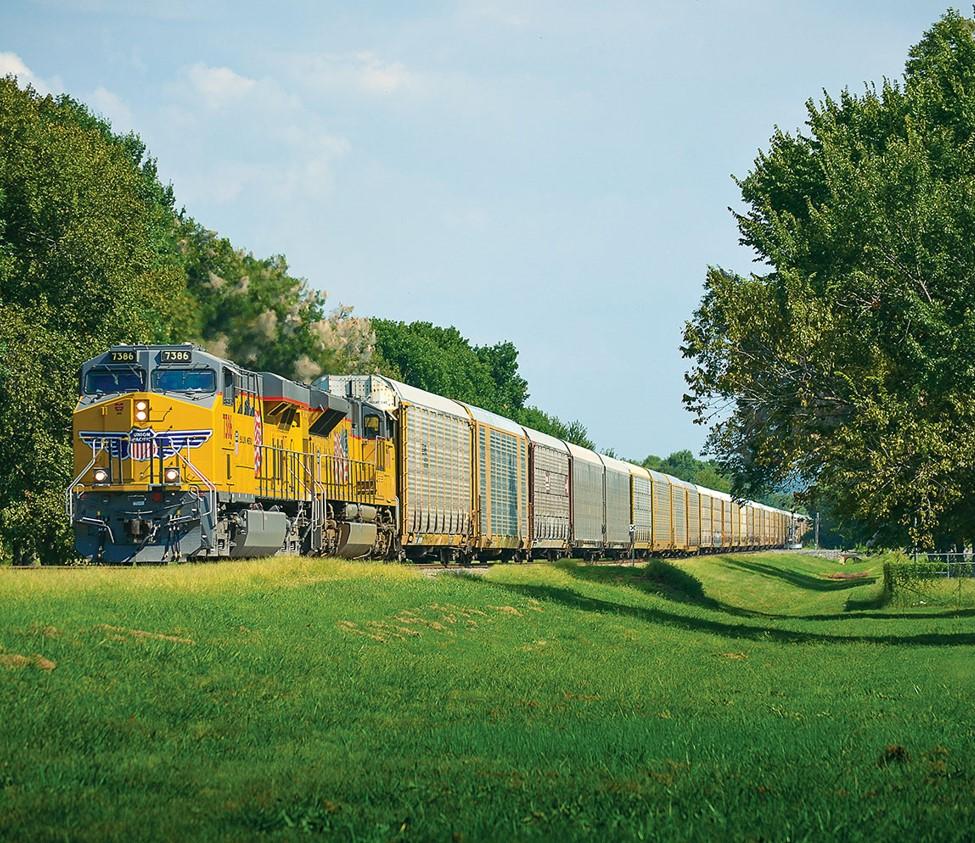 In addition to being adaptable to changing supply chain needs, rail is a smart choice for shipping EVs for several reasons:
Environmental Responsibility
On average, trains are three to four times more fuel efficient than trucks on a ton-mile basis and can move one ton of freight more than 480 miles on a single gallon of fuel. Because they are more fuel efficient, trains generate a carbon footprint up to 75% less than trucks.
For example, if the vehicles on 100 car haulers shipped by rail instead from Detroit to Los Angeles, choosing rail would reduce the carbon footprint by 150 metric tons. According to the Carbon Emission Estimator, this is equivalent to:
The carbon removed by 32 acres of U.S. forests
The carbon removed by 3,840 tree seedlings grown for 10 years
Greenhouse gas emissions avoided by recycling 52 tons of waste instead of sending it to the landfill
The impact is even larger for parts shipments. If 100 truckloads of auto parts traveling from Mexico City to Detroit were converted to intermodal rail shipments, it would reduce the carbon footprint by 170 metric tons, which is the equivalent of:
The carbon removed by 36 acres of U.S. forests
The carbon removed by 4,352 tree seedlings grown for 10 years
Greenhouse gas emissions avoided by recycling 59 tons of waste instead of sending it to the landfill
EVs are the most environmentally responsible car choice, so it only makes sense to use the most environmentally responsible shipping choice.
Reduced Highway Congestion
Every autorack of EVs shipped by rail removes an average of 1.2 trucks from the highway. In 2020, Union Pacific's EV shipments took nearly 9,600 trucks off the nation's congested highways.
Supply Chain Expertise
Whether an automaker is establishing a new supply chain or simply seeking to reduce operational costs and improve efficiencies, railroads can serve as a supply chain consultant, not just a transportation provider. Railroads can provide shipping options that help EV makers meet both their cost and operational needs.
Costs
The icing on the cake is costs. Railroads typically offer a lower cost per ton mile than trucks. For OEMs investing R&D dollars in EV technology, choosing rail is one way to reduce production costs.
Learn More
As the demand for EVs continues to grow, it's important for automakers to put a transportation plan in place now so they're ready to serve future market demands. To learn more about shipping finished vehicles or auto parts by rail, answer a few questions and we'll put you in touch with an expert.
Related Articles