New Vehicles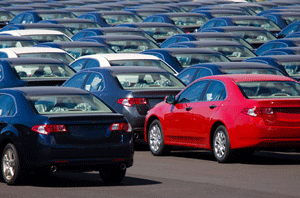 Union Pacific is the largest automotive carrier west of the Mississippi River and operates or accesses more than 40 distribution centers. Union Pacific's extensive franchise directly serves five vehicle assembly plants and connects to West Coast ports, Mexico gateways, and the Gulf of Mexico to accommodate both import and export shipments.
Approximately 70 percent of all new vehicles use rail for delivery, with UP handling more than 70 percent of the western U.S. rail automotive market share.
Union Pacific's multi-level fleet is the largest in the rail industry. Additionally we have the expertise to coordinate truck service from one of our vehicle distribution facilities to the local dealer. During transit, you will have complete vehicle visibility with our Web-enabled tracking technology.
Union Pacific Strengths
Over 70 years of experience shipping automobiles
Premier U.S. rail carrier for vehicles and production auto parts
Operates or accesses more than 40 distribution centers
Directly serves five vehicle assembly plants
Access to seven West Coast ports and the Gulf of Mexico
Serves all six major gateways to Mexico
Experienced leader in cross-border auto parts shipments
Largest contributor to the national multi-level fleet
Innovation that supports dynamic customer needs