After remaining idle for months due to the COVID-19 pandemic, most major U.S. auto manufacturers opened their doors in May to resume production. While getting back to pre-pandemic levels may take a while, auto manufacturing is back, albeit at a slower pace with a strict eye on safety and sanitization.
As auto production ramps back up, let's take a look at how new cars are transported from plant to dealership and, in many cases these days, directly to your home — in mint condition, sanitized and ready to drive.
A New Car's Journey
Let's take a look at a brand new car's journey and how it arrives safely at a dealership in mint condition, ready for you to take it for a spin.
1. Fresh off the Assembly Line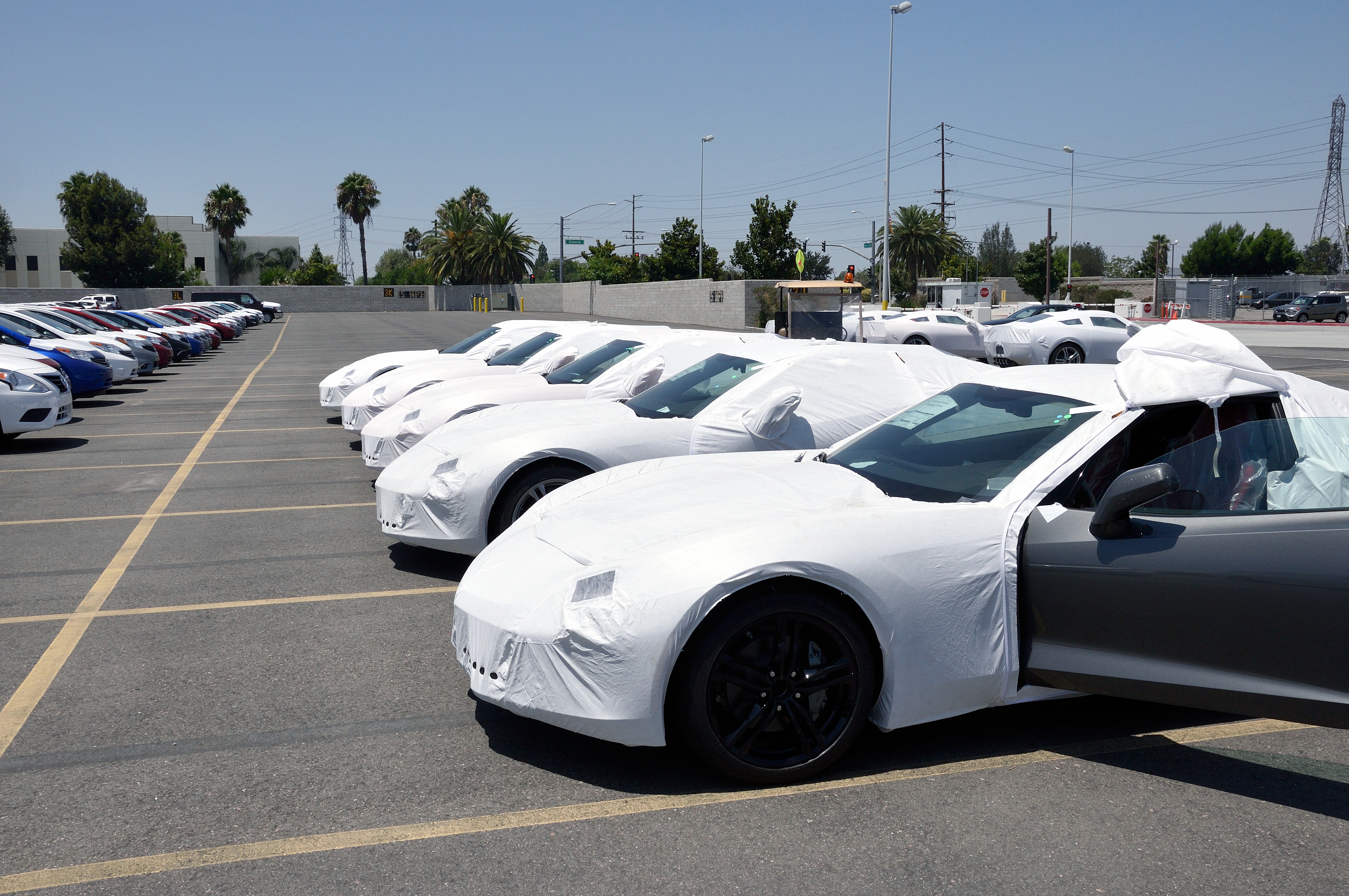 Once a car rolls off the assembly line at the manufacturing plant, there is a good chance it goes through one final inspection and on to "vehicle processing" — otherwise known as installation of upgraded options, like technology, safety features and special additions, like splash guards and "underglow" lighting. Vehicle processing typically takes place at the beginning of the car's journey, but sometimes it is completed later on in the transportation process on its way to the dealership.

In an effort to avoid potential damage, some vehicles are even wrapped in protective material called "wrap guard" to protect them and prevent scratches along the way. After the final touches are in place, the car is ready to begin its journey to the dealership.

Insider's Note: Many auto manufacturing plants may look a little bit different these days due to new safety precautions put in place to help prevent the spread of COVID-19. Automakers are doing everything they can to keep their workers safe, including doing temperature checks, spreading out individual work areas, requiring face shields and gloves, installing transparent curtains, introducing sanitization stations throughout the workplace and adjusting schedules to ensure employees are social distancing.
2. Over the Ocean
Just like in the U.S., production is slowly making a comeback overseas. If the car happened to be manufactured at a plant outside of North America, it most likely would travel by ocean liner to a port in the U.S. These vessels are typically built to carry up to 8,500 vehicles at once and are chartered by automakers to deliver their vehicles to ports, usually on the East and West Coasts. Many of these ships are considered "ro-ro" ships, with ramps that allow cars to easily roll on and roll off the vessel for easy loading and unloading, and consist of several decks to fit as many cars as possible.
3. Back on Land at the U.S. Port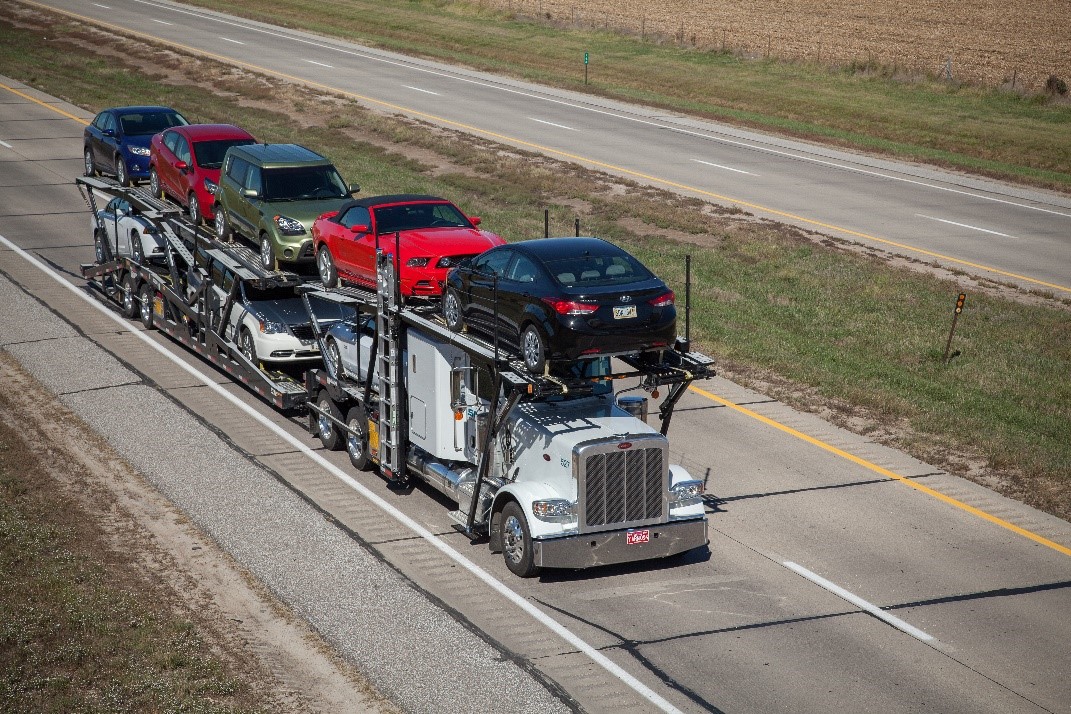 Upon arrival at the U.S. port, cars are unloaded from the cargo ship and placed in a storage lot to await pickup by a car hauler, a type of trailer or semi-trailer built to transport passenger vehicles. Typically, they can hold up to nine cars at once. Once the car is loaded onto a car hauler, depending on the distance it needs to travel, the vehicle could be delivered directly to the dealership — or it could be delivered to an auto ramp for a long-distance haul over rail.
4. At the Railroad Auto Ramp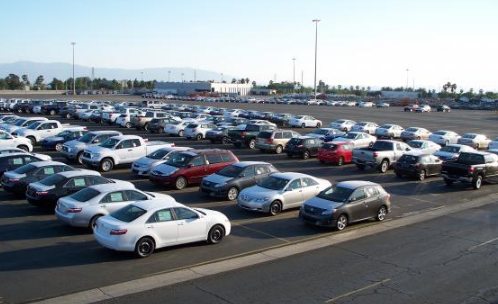 If your car has a long distance to travel from the U.S. plant where it was manufactured or the port in which it was received, it most likely will be delivered to an automotive facility managed by a railroad to continue its journey to the dealership. Most railroads' auto ramps are located in large metro areas, near auto manufacturing plants and major distribution centers. For example, Union Pacific operates or accesses more than 40 vehicle distribution centers across its network.
You might be surprised to learn that shipping new vehicles by rail is pretty common. According to the American Association of Railroads (better known as the AAR), each year, freight rail moves nearly 75% of the new cars and light trucks purchased in the U.S. Plus, they serve most of the 70-plus automobile manufacturing plants across North America, including those in Georgia, Illinois, Indiana, Ohio and Texas.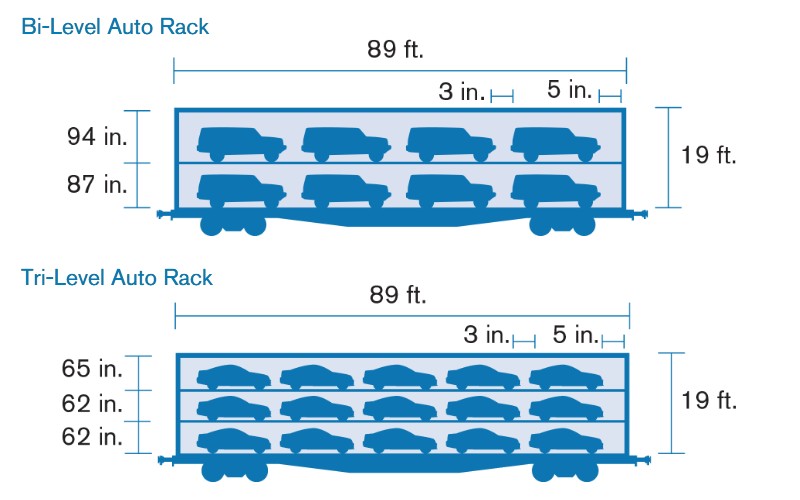 Once your car has arrived at a railroad's auto ramp, it will be loaded onto an automotive rail car or "auto rack." These are either bi-level or tri-level cars. Bi-level rail cars generally hold 8-10 units and are used for larger vehicles, like trucks, minivans and SUVs. Tri-level rail cars hold up to 15 passenger vehicles at a time.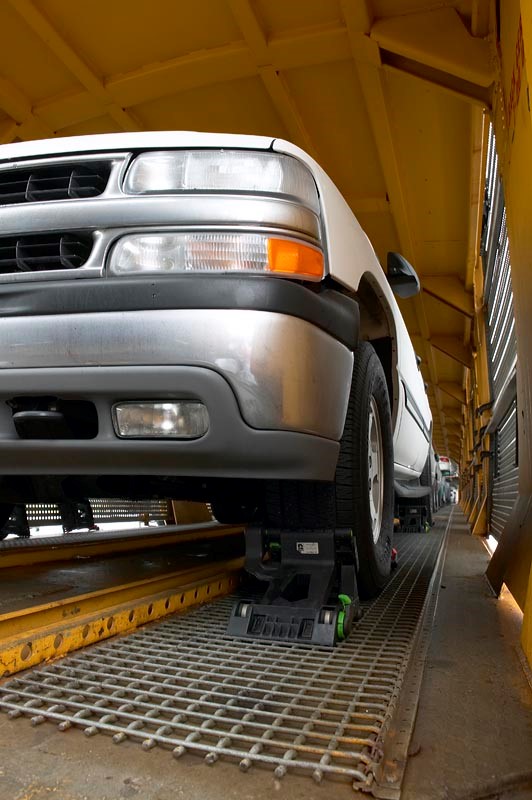 Vehicles are loaded onto and off of auto racks by portable ramps, which allow vehicles to be driven onto or off the rail car. And keeping safety in mind, cars are loaded at a very slow speed to ensure they remain damage free.
Once a vehicle is loaded onto a rail car, auto ramp professionals secure each wheel to the rail car with special straps or chocks to keep it securely in place during transit. As a result of the COVID-19 pandemic, these professionals also wear masks as a safety precaution.
5. Getting to the Dealership
Upon arrival at an auto ramp near its final destination, the new car is then unloaded from the rail car and parked in an assigned bay at a storage lot. Typically, another car hauler will then pick up the vehicle with others heading to the same car dealership. At this point, the car most likely has only 25 miles or less on the odometer, thanks to a possible quick spin or two at the factory and from moving the car up and down loading ramps and in and out of bays at storage lots.

After the car has safely arrived and is unloaded at your local dealership, it is inspected one last time to ensure there are no scratches, dings or dents. Once the vehicle is deemed damage free and is thoroughly washed and detailed, it is ready to sell.

Insider's Note: The COVID-19 pandemic is significantly impacting how auto dealerships currently do business. Once a car is deemed ready to sell, in addition to hitting the sales floor or lot, it most likely will be featured on the dealer's website where prospective buyers can view photos, check out and compare car features and schedule a test drive (in many cases the car is brought directly to the customer's home). Many car dealers are offering other touchless interactions, like live video calls and electronic signatures to seal the deal. Many dealerships may also sanitize vehicles when they are received, and again before delivery to the customer. If a vehicle is test-driven or handled, it may also be sanitized afterward, so the final owner receives a completely sanitized vehicle.
The Secrets to Staying Damage Free
With so many changes of possession along a brand new vehicle's journey (or "chain of custody") from origin to destination, keeping the car in pristine condition is critical at each and every step. At every change of possession, the car is inspected for any damage and the party in possession is ultimately responsible for reporting any damage and coordinating repairs with the manufacturer.

Luckily, shippers who utilize rail can rely on the AAR for established guidelines, loading diagrams and resources for safe securement in transit. The automotive industry and AAR work closely together to design, develop and continuously improve the way vehicles are shipped.

As always, it is important to consult with the railroad before shipping any product to ensure it is properly loaded, secured and meets AAR requirements.
Learn More
Interested in learning more about shipping autos by rail? Drop us a line.
Related Articles: