In railroading towns across Union Pacific's 23-state network, our employees supported local families in need of cheer this holiday season. In the spotlight today are railroaders showing community pride in Gretna, Nebraska; Omaha, Nebraska; Houston, Texas; and North Platte, Nebraska.
Subscribe to
Inside Track
Learn more about Union Pacific employee's Sharing the Spirit kindness in Council Bluffs, Iowa, and Omaha; three Nebraska cities: North Platte, Bellevue and Lincoln; UPVETS Chapter in Houston, Texas; and Adopt-A-Family efforts in De Soto, Fort Worth and Omaha.
Employee-led Holly Jolly Christmas Project Gains Local Fame
Three UP employees met while organizing the Law Department's Adopt-A-Family drive and decided to take Christmas by the tree after realizing their 'adopted' family didn't have one of their own.
"A few years ago, I was decorating the house with my husband, Electronic Technician Jason Slaughter, when we realized we had an extra tree," said Angie Slaughter, senior specialist-Risk Management, Law. "We offered it up on Facebook, asking if anyone needed one, and were overwhelmed by the response. There were so many families in need.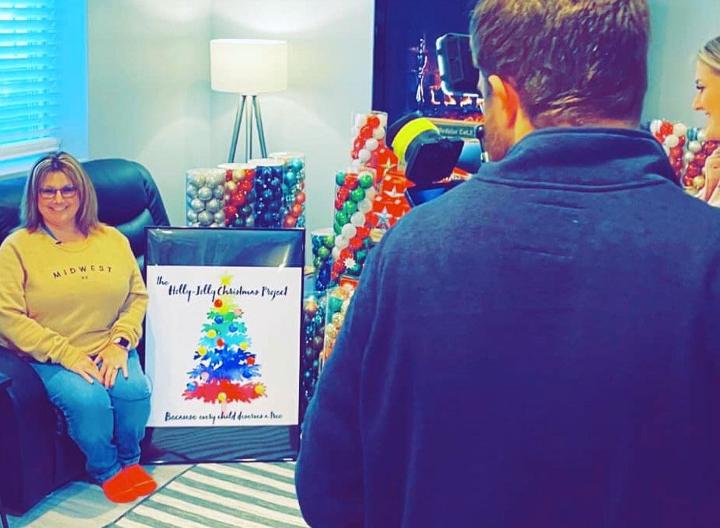 "This year, we decided to do something about it by creating the Holly Jolly Christmas Project."
Together with Mary McClarnon, manager-Risk Management, Law, and Brittne Queck, manager-Training Delivery, Workforce Resources, the trio began doing community outreach to fundraise for the cause.
"We were thrilled to team up with KETV, KMTV and The Daily Nonpareil to raise interest and celebrate a cause we are so passionate about," Slaughter said. "We then partnered with local elementary school guidance counselors to identify families in need at 10 Gretna, Papillion and Omaha schools.
"There are all these awesome organizations out there offering assistance and toys, but I don't know of any that actually offer trees. So we said, 'Let's give this a shot.'"
In 25 days, the trio fundraised more than $2,500 to purchase 55 Christmas tree kits. Each kit provides a family with a 4-or 6-foot tree, 50-piece ornament set, hooks and a tree topper.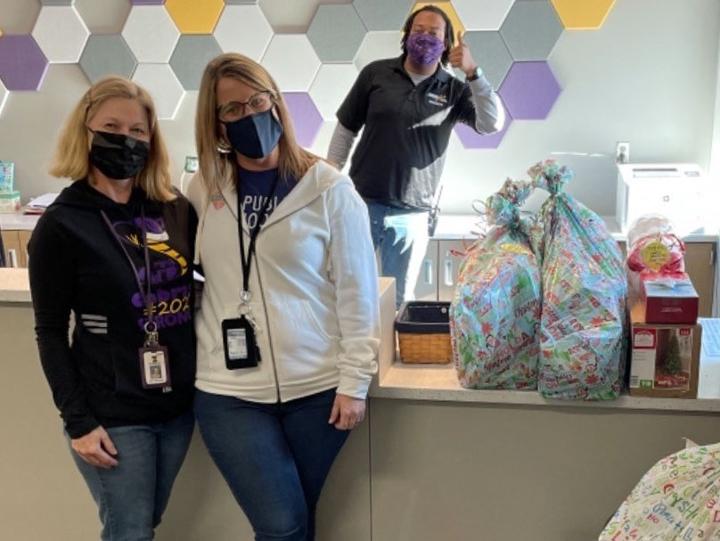 "Donations arrived from friends, family members and other generous donors, such as people we've reached when handing out flyers or who watched the local news," Queck said.
The Holly Jolly Christmas Project looked around the community to find supporters – and they found them. The group found gently used trees using the Nextdoor app, received donations over GoFundMe and Venmo, and partnered with Walmart to direct a 10% discount.
"The best part about the project is that it's a gift that keeps giving," McClarnon said. "The families will be able to put the tree away and pull it back out next year, allowing us to connect with new community members each and every year."
Omaha CONAH Chapter Enriches Bluebird Cultural Initiative Families
This December, Omaha's CONAH chapter sponsored two families with a combined 10 children, in partnership with the Bluebird Cultural Initiative. The initiative provides programming to enrich the public's understanding of the history and cultural traditions of the Native American people of the Great Plains.
"The generosity of Union Pacific's employees was incredible and very heartwarming," said Robert Hirst, manager, Marketing and Sales.
CONAH collected more than 60 presents for their pint-sized recipients. Gift items fell into two categories: necessity items – like socks, shoes, underwear and clothes; as well as wish list items – like slime, pop its, Legos, bikes and tablets.
One of the best things about the holidays? The food.
Each family received Hy-Vee gift cards to help make mealtime a little easier.
"We were happy to help those two families have a memorable Christmas," Hirst said.
The Council of Native American Heritage, CONAH, is a Union Pacific employee resource group focused on the development, recruitment, retention and professional growth of employees of Native and Non-Native American heritage.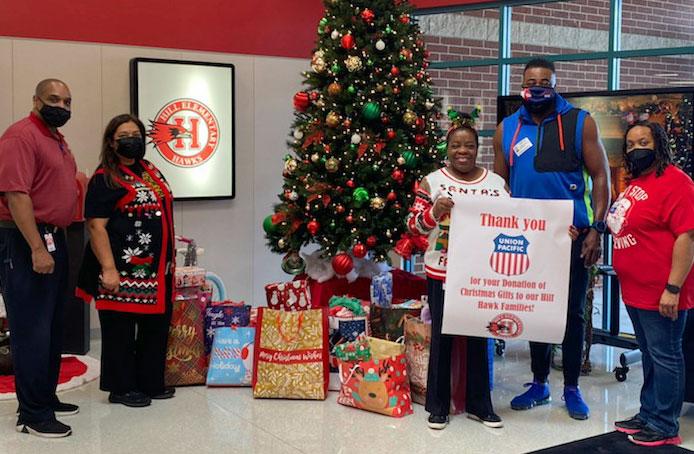 Houston BEN Chapter: Busy Bee's Complete Bike and Adopt-A-Family Drives
Houston's Black Employee Network (BEN) Chapter completed two drives this December to uplift their local community.
"We partnered with local school administrators to adopt four families from Hill Elementary," said Erica Ben, senior paralegal, Law. "Our chapter collected an assortment of gifts for each family including athletic equipment, Legos, video games and clothing."
Houston's BEN Chapter also reignited their annual bike drive to help kids of all ages peddle their way to a happy, healthy and active childhood.
"Our chapter collected 18 bikes from railroaders at Englewood Yard, Settegast and Spring," Ben said. "We were excited to make Christmas a little more special for the children in the communities we serve."
BEN's mission is to work with Union Pacific to recruit, retain and advance diversity, with a key focus on the careers of Black employees by promoting and facilitating both personal and professional growth, and by working toward an awareness of diversity issues.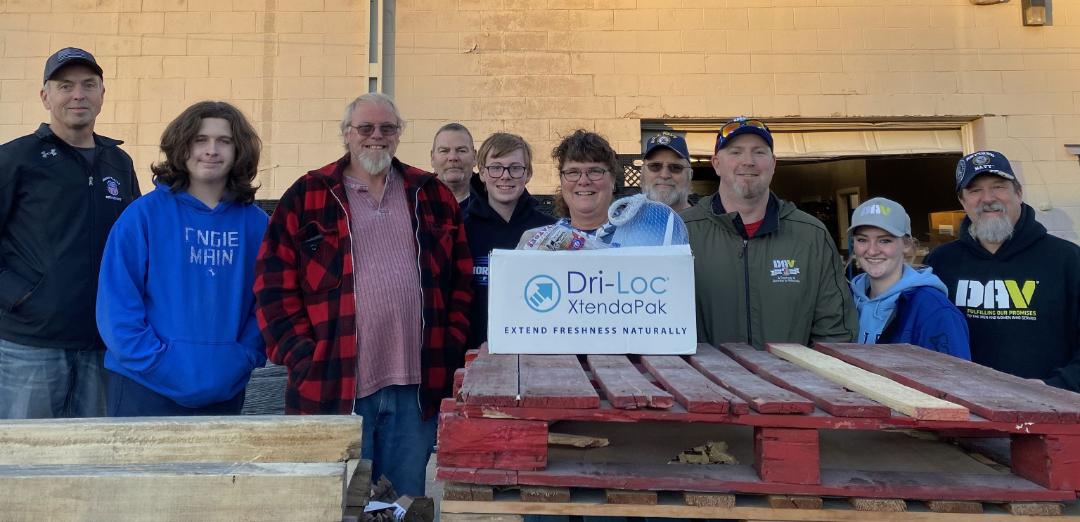 Remembering Our Service Members: North Platte UPVETS Chapter Brings Joy to Veterans
UPVETS' North Platte chapter teamed up with its local Disabled American Veterans chapter to make the holiday season a little brighter.
"This time of year can be hard for veterans," said Brook Baker, machinist, Mechanical, and commander, North Platte chapter, Disabled American Veterans. "We want to let them know that someone is there, if they need anything."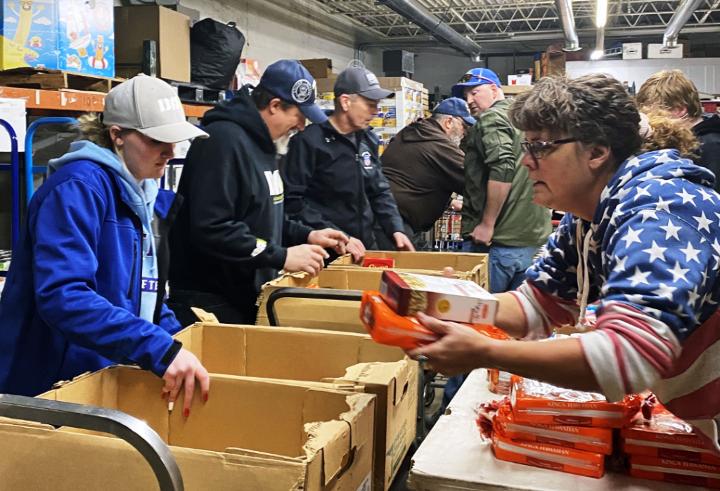 Disabled American Veterans nominated community members in need. Then, volunteers from both groups assembled 25 holiday meal baskets filled with turkey and all the trimmings to make the season festive. Meal baskets contained favorites like turkey, potatoes, vegetables, yams, marshmallows, pumpkin pie and whipped topping.
"It was an honor to partner with our local brothers and sisters and bring Christmas cheer to veterans and their families," said Mike Werlinger, manager-Locomotive Maintenance, Mechanical.
Many of Union Pacific's UPVETS members also hold leadership roles in North Platte's Disabled American Veterans group.
"It was a win – win situation for both community groups," said Jim Miller, machinist, Mechanical, and vice president, North Platte chapter, UPVETS. "By consolidating efforts to achieve a common goal, we were better able to serve our veterans, their families and the community."
UPVETS works to recruit, develop and retain military veterans and interested employees at UP through engagement in the company and community.