Did you know that, although the transportation sector is the largest contributor of greenhouse gas (GHG) emissions in the United States, railroads contribute just 2% of those emissions, even though they move 40% of U.S. freight. As the most fuel-efficient way to move freight over land, freight rail is ahead of other surface transportation modes when it comes to limiting its carbon footprint.
Nevertheless, railroads remain committed to reducing their emissions and play an important role in reducing the transportation sector's emissions. Thanks to technology, operational improvements and equipment modernizations, U.S. freight railroads consumed 790 million fewer gallons of fuel in 2021 alone.
Burning less fuel is directly associated with lowered GHG emissions. In 2021, railroads emitted nearly nine million fewer tons of carbon dioxide than they would have if their fuel efficiency had remained constant since 2000.
What actions are railroads taking to address climate change? Union Pacific's Climate Action Plan details the steps one railroad has taken to reduce GHG emissions and work toward net-zero operations.
Climate Action Plan Goals
Union Pacific released its first Climate Action Plan in 2021, setting the stage for changes to come with a science-based target: reduce absolute Scope 1 and 2 greenhouse gas (GHG) emissions by 26% by 2030 from a 2018 baseline.
In 2022, Union Pacific reaffirmed its commitment to reach net-zero GHG emissions by joining the Business Ambition for 1.5°C, an alliance of more than 3,000 companies pledging to take bold action to limit global warming to 1.5°C. As part of that pledge, the company committed to the Science Based Targets Initiative (SBTi) to revalidate their short-term target in line with the 1.5°C global warming scenario and develop a long-term, science-based target to reach net zero GHG emissions by 2050.
Since the release of its Climate Action Plan, Union Pacific has taken significant steps toward reaching these goals, including reducing fuel consumption, using low-carbon fuels, modernizing locomotives, and purchasing battery electric locomotives.
Reduced Fuel Consumption
Union Pacific employs technology and operational efficiencies to improve fuel efficiency and reduce fuel consumption.
For example, Energy Management System (EMS) uses a sort of "cruise control" for trains to save fuel. In 2022, the railroad expanded EMS use to roughly 75% of its active locomotive fleet. In doing so, the company reduced fuel consumption by more than 11 million gallons in 2021 compared to 2020 and is setting new records in fuel consumption efficiency.
Modernized Locomotives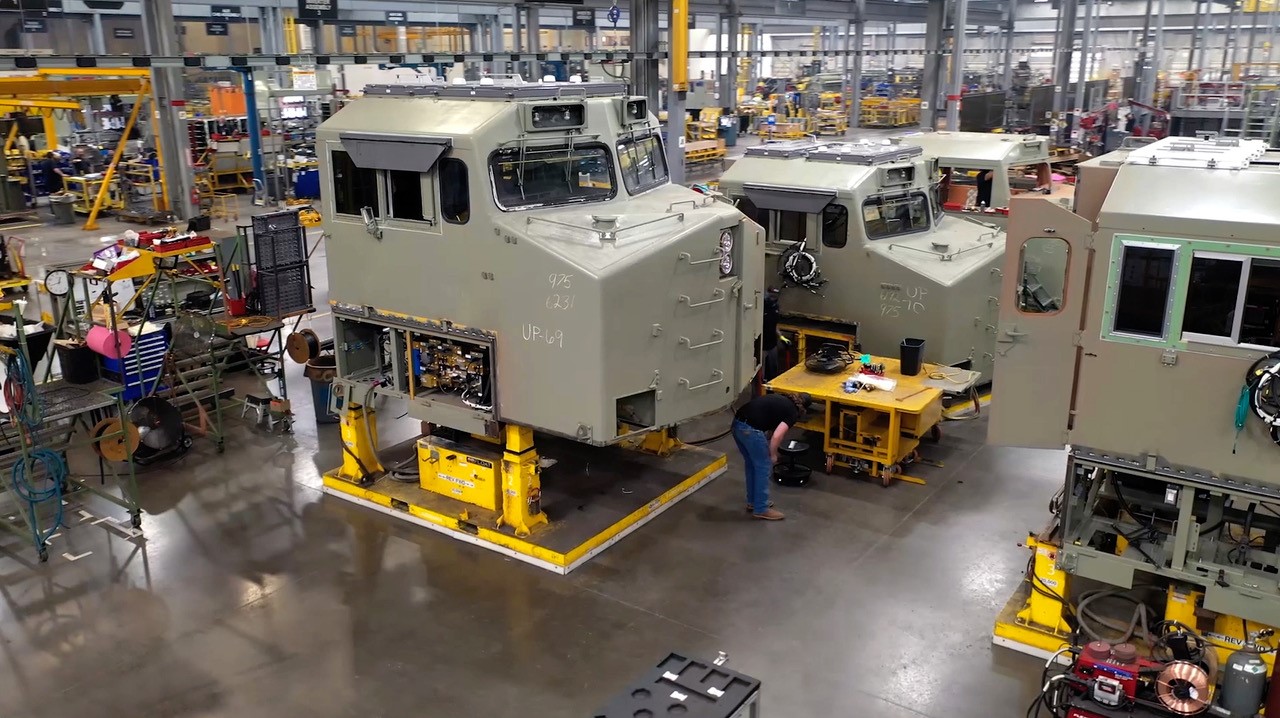 In 2021, Union Pacific upgraded 120 older locomotives, which can make each unit up to 5% more fuel efficient and may reduce emissions by approximately 53%.
The work to modernize locomotives continued in 2022 when the company announced the largest-ever investment in modernized locomotives in rail industry history: a $1 billion investment to upgrade 600 locomotives between 2023 and 2025.
These modernizations should reduce approximately 350 tons of carbon emitted per locomotive per year, and the total 600-locomotive order will realize approximately 210,000 tons in annual emission reductions.
Battery Electric Locomotives
In early 2022, Union Pacific announced another investment that will serve to reduce GHG emissions: plans to purchase North America's largest carrier-owned fleet of battery-electric locomotives.
The new battery-electric locomotives will be used for rail yard operations, but Union Pacific plans to work with locomotive manufacturers during this test phase to evaluate the potential of using battery-electric locomotives for long-haul shipments.
Low-Carbon Fuels
Using low-carbon fuels like biodiesel and renewable diesel, which burn cleaner and are made from renewable resources, is another way to reduce the railroad's emissions. Over the last three years, Union Pacific has increased its use of low-carbon fuels from 2.2% of total diesel consumed in 2020 to more than 4.0% today.
By 2025 the company plans to increase this percentage to 10% and will drive it to 20% by 2030.
Is the Climate Action Plan Working?
As a result of these efforts, Union Pacific's emissions intensity continues to decrease. Since the 2018 baseline year, Union Pacific has reduced GHG emissions by 18.4%. Although the company has gained ground on the emissions front, there is always more to be done. Union Pacific will continue taking responsible actions to meet the company's current and future goals.
What Can Shippers Do?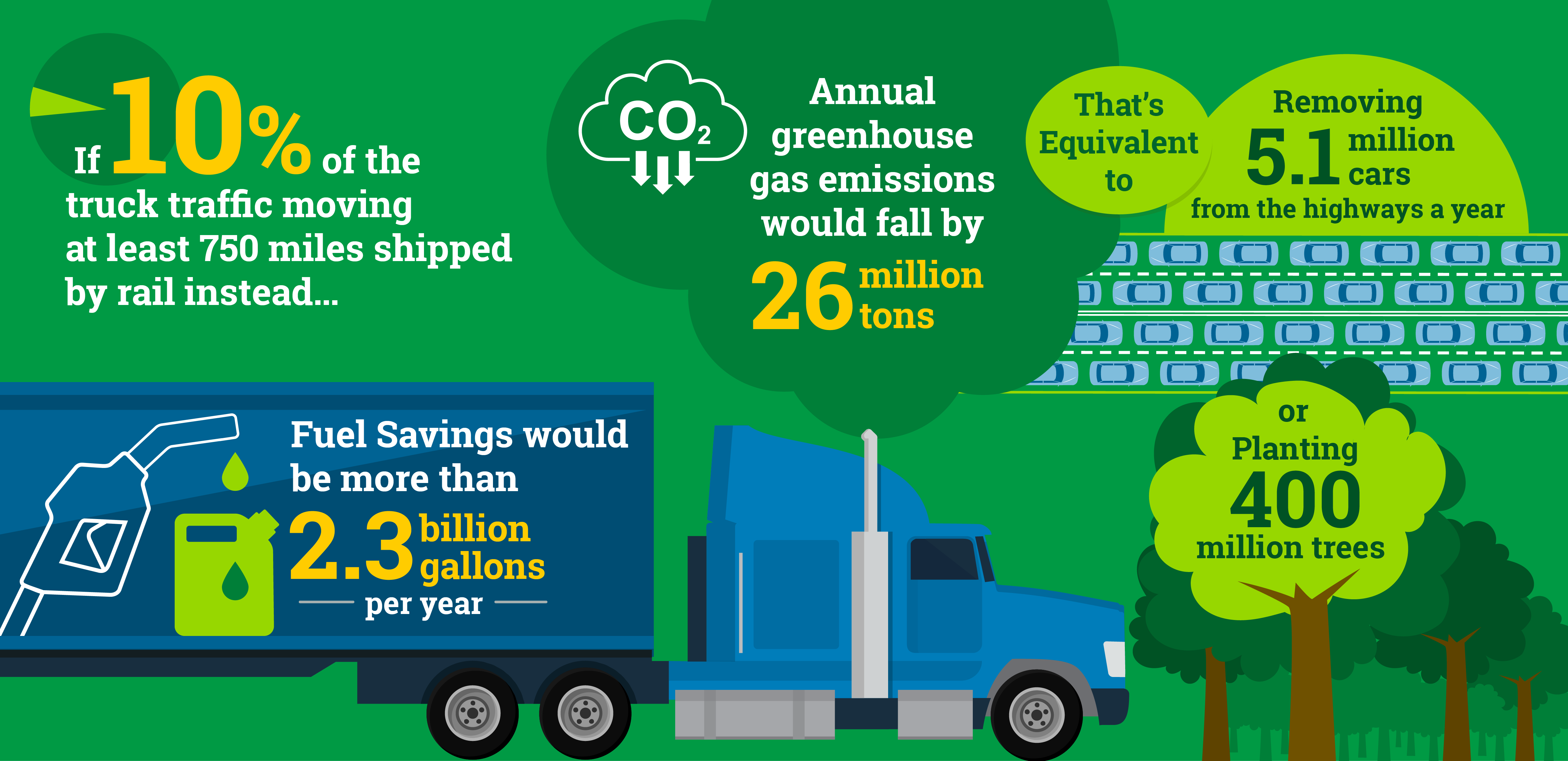 Companies that require freight shipping can play a part in addressing climate change by moving more freight by rail.
Trains are 3 to 4 times more fuel efficient than trucks. That translates to a 75% decrease in greenhouse gas emissions if products that currently ship by truck ship by rail instead.
Here's what that could look like: If 25% of the truck traffic moving at least 750 miles traveled by rail instead, annual greenhouse gas emissions would fall by approximately 13.1 million tons; if 50% of the truck traffic moving at least 750 miles went by rail instead, greenhouse gas emissions would fall by approximately 26.2 million tons.
The transportation mode you choose makes a real difference.
"Union Pacific is part of the solution for addressing climate change by reducing greenhouse gas emissions. We are taking thoughtful and deliberate steps to reduce our climate impact and are making real progress towards achieving our 2030 goals and net-zero ambition," said Beth Whited, Executive Vice President-Sustainability & Strategy & CHRO. "But we can't do it alone. We are engaging both sides of our value chain suppliers and customers – to work together to help our environment."
Learn More
If you'd like to learn more about shipping freight by rail and reducing your company's carbon footprint, answer a few questions and an expert will be in touch.
Related Articles