Before a tractor begins digging at a construction site, a combine harvests crops at a farm, or a gas turbine propels an airplane, they have made a journey that starts at the manufacturer and ends at a destination several states or hundreds of miles away. These types of machinery aren't small, and they certainly aren't light. So how do you ship them?
One of the best ways to ship machinery is by train, especially when the machinery is large and heavy. Rail cars are built to hold very heavy loads, and one rail car can typically hold 3-4 times as much freight as a truck.
Keep reading to get a guide to rail shipping for heavy machinery.
What Types of Machinery Can Ship by Rail?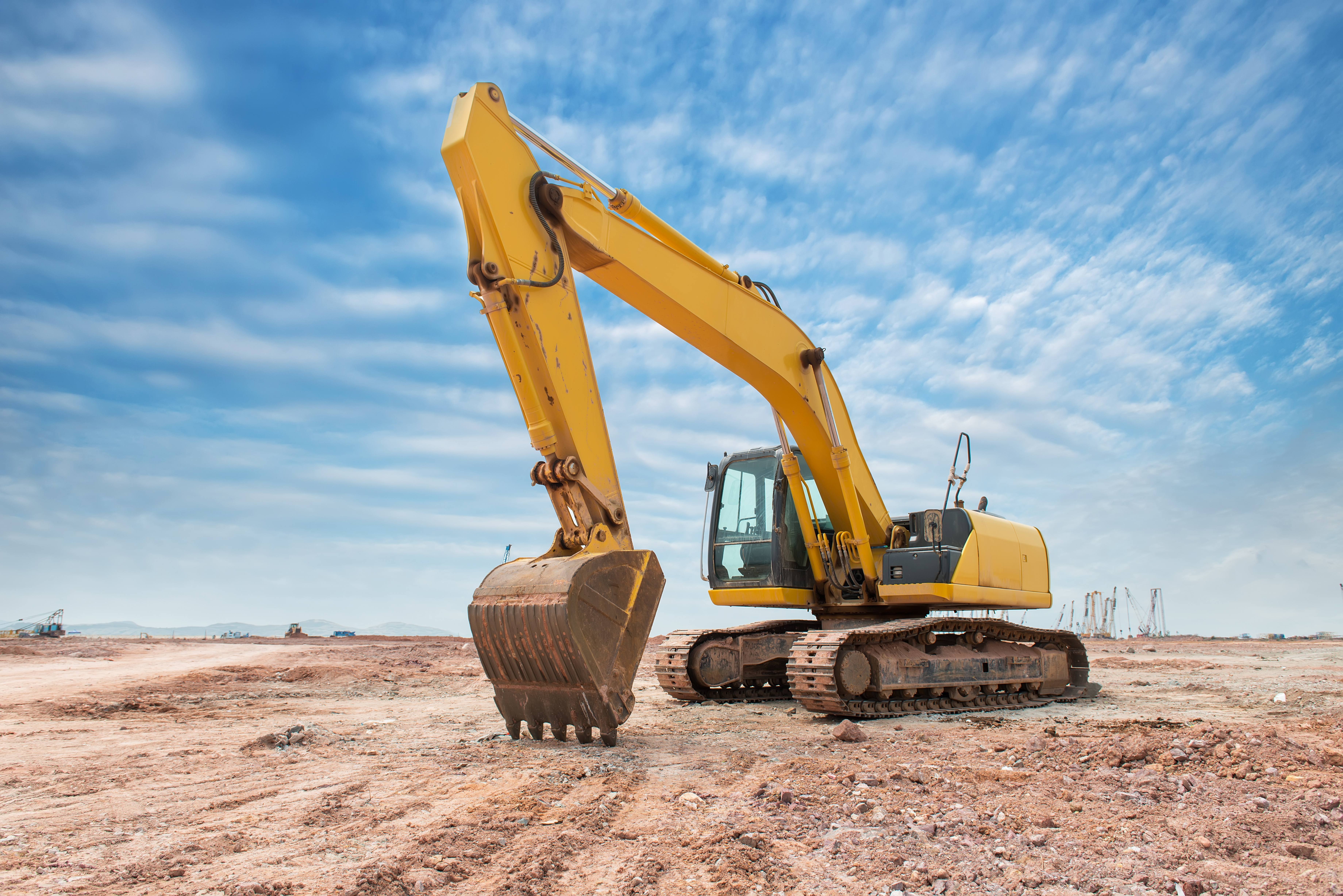 Rail shipping can be used for many different kinds of machinery, including agricultural equipment, construction equipment, and equipment used in the commercial, utility and industrial sectors. A few specific types of machinery that ship by rail include:
Articulated trucks
Backhoes
Balers
Boilers
Bulldozers
Combines
Compactors
Crawler dozers
Dump trucks
Earth movers
Excavators
Field cultivators
Forklifts
Front End Loaders
Gas turbines
Generators
Graders
Loaders
Material handlers
Mining shovels
Mowers
Mulchers
Pavers
Planers
Planters
Reactor vessels
Skid Steers
Skid-steer loaders
Snowplows
Spreaders
Telehandlers
Tractors
Transformers
Water turbines
Please note: Freight railroads handle business-to-business (B2B) shipments and do not ship personal property.
How Does Machinery Ship by Rail?
The rail shipping process for machinery includes loading it onto heavy duty flatcars or chained flatcars. Flatcars have a flat, horizontal floor that is mounted on a pair of trucks. Flatcars are open to the elements — they do not have sides or a roof like other rail cars — which makes it easier to accommodate freight shipments of varying shapes and sizes. Flatcars also offer several ways to secure freight, including stakes and tie-down points. The versatility of flatcars makes them ideal for unconventional shipments, including heavy machinery.
Is Machinery Considered a Dimensional Load?
A "dimensional load" refers to freight that is larger or heavier than a typical shipment. Machinery would be considered a dimensional load when the dimensions are:
Wider than 11 feet
Taller than 17 feet above the top of the track
Longer than a rail car
Heavier than more than 220,000 pounds (110 tons)
Because dimensional loads are often determined by their size, they are also referred to as "high-wide shipments."
Tip: Learn how to ship dimensional freight.
What Is the Best Way to Ship Machinery: Trucks or Trains?
Trucks and trains each have their advantages for shipping heavy machinery. Choosing between the two will depend on the needs of the company shipping or receiving machinery.
Volume: Typically, trucks can only haul one piece of machinery at a time, whereas two usually fit on a flatcar. One train can pull dozens of flatcars, allowing it to haul over 100 pieces of machinery at a time.
Speed: Trucks travel at an average speed of 50 mph, offering quick delivery for short to medium distances. Most people think trucks are always faster than trains, but transit times for rail and over-the-road truck shipping can be similar, especially over long distances. The reason is that trucks can experience delays related to traffic and construction, and truck drivers must obey federal Hours of Service regulations that cap the number of driving hours and mandate rest periods. Train crews also have limits on the number of hours they can work, but when their time is up, another crew takes over so that trains can operate around the clock.
Shipping Cost: Railroads usually have a lower cost per ton mile (the cost of moving one ton of freight one mile) than trucks. Trains can ship hundreds of pieces of machinery at a time, making them a more cost-effective way to ship machinery safely and efficiently. How much does it cost to ship machinery by rail? Get a quote here.
Environmental Impact: Trains generate a carbon footprint up to 75% less than trucks, making them the most environmentally responsible way to ship freight by land. This makes trains an ideal transportation mode for those seeking to lower their carbon footprint and reduce GHG emissions. If 25% of the truck traffic moving at least 750 miles was shipped by rail instead, annual greenhouse gas emissions would fall by approximately 13.1 million tons.
How to Ship Machinery by Train Without Railroad Tracks
If rail is a good fit for your machinery shipments but trains don't service the origin and/or destination, transloading can give you the ability to ship machinery by rail.
When machinery is transloaded, it is moved from trucks to flatcars or vice versa, giving machinery shippers the cost and environmental advantages of rail shipping with the flexibility of over-the-road trucking for the first and/or last mile.
Tip: A logistics company like Loup Logistics can arrange transloading for you so you get the benefits of rail and seamless door-to-door shipping. To see your options, search for transload facilities.
What Is the Most Sustainable Way to Ship Machinery?
Trains are the most environmentally responsible way to ship freight by land, and that includes machinery shipping. On average, railroads move one ton of freight nearly 500 miles per gallon of fuel, making them four times more fuel efficient than trucks. Because trains are more fuel efficient, shipping machinery by train instead of truck reduces GHG emissions by up to 75%.
Shipping machinery by rail instead of by truck adds up. According to research performed by the Association of American Railroads, if 25% of the truck traffic moving at least 750 miles traveled by rail instead, annual greenhouse gas emissions would fall by approximately 13.1 million tons. If 50% of the truck traffic moving at least 750 miles went by rail instead, greenhouse gas emissions would fall by approximately 26.2 million tons.
Questions to Ask Before Shipping Machinery by Rail
If you are interested in shipping machinery, agricultural equipment, construction equipment or other machinery by train, the railroad will want to know the following information:
Where are you shipping from? Where are you shipping to? Answering these questions will help the railroad understand the length of the trip and whether one railroad can handle the entire shipment or if other rail carriers will need to be involved in the machinery shipping process.
Are there railroad tracks at the origin or destination? If the origin or destination is not rail served, it's not a dealbreaker. Railroads work with logistics consultants and partners to design solutions to give machinery shippers access to rail shipping.
What is the size of the machinery you are shipping? Railroads will need to know the height, width, length, and weight of the machinery you are shipping to determine if the shipment qualifies as a dimensional load. This will also help them understand how many pieces can fit on one flatcar.
How many pieces of equipment do you need to ship? Railroads will ask how much machinery you are shipping so they can determine how many flatcars will be needed for the shipment.
Tip: When shipping machinery by rail, your shipment will go through a clearance process to make sure it can travel safely through tunnels, under bridges, and other low-clearance points along the route. This process takes about 8-10 weeks, so starting it early will reduce the amount of time it takes to get your machinery on the rails.
How Much Does It Cost to Ship Machinery by Rail?
The railroad cost to ship machinery will depend on the size of the shipment and travel distance. In general, rail shipping has a lower cost-per-ton mile (the cost to ship one ton of freight one mile) than truck shipping.
To learn how much it costs to ship farm equipment, construction equipment, and other heavy machinery by rail, get a quote.
How Do I Get a Freight Rate for Shipping Machinery?
Getting a freight rate for shipping machinery is as easy as answering a few questions. Complete this brief form and a freight shipping expert will be in touch to provide you a machinery shipping quote.
Learn More
To learn more about how railroads can support your changing supply chain needs and reduce your company's carbon footprint, answer a few questions and an expert will be in touch.
Related Articles