Just south of the Sequoia National Forest and just north of Los Angeles sits the small California town of Tehachapi. Named for the surrounding Tehachapi Mountains, the city and surrounding area is home to about 34,000 residents. Tehachapi may not be the most well-known California city, but if you're a rail fan, you probably know the name.
That's because winding through the scenic Tehachapi pass is the Tehachapi Loop, a .73 mile section of railroad track that literally forms a circular loop, allowing the track to rise at a steady two percent grade. With a tunnel at the base of the loop and another track that passes above it at the other end, any train longer than 4,000 feet will pass over itself. It's an engineering feat and a rare sight to see, making it must-see viewing for rail fans.
Trained on that track are live streaming cameras. Those are thanks to Tehachapi Live Train Cams, a family-run operation founded by Cheryl Butters and her husband Mike, and operated with technical assistance from Cheryl's brother, Robert, and a dozen or so other volunteers who operate the cameras and moderate chat rooms. It's these cameras, which live stream the footage on YouTube for all to see, that put Tehachapi on the map for rail fans worldwide.
A Suite of Streaming Sites Built by a Community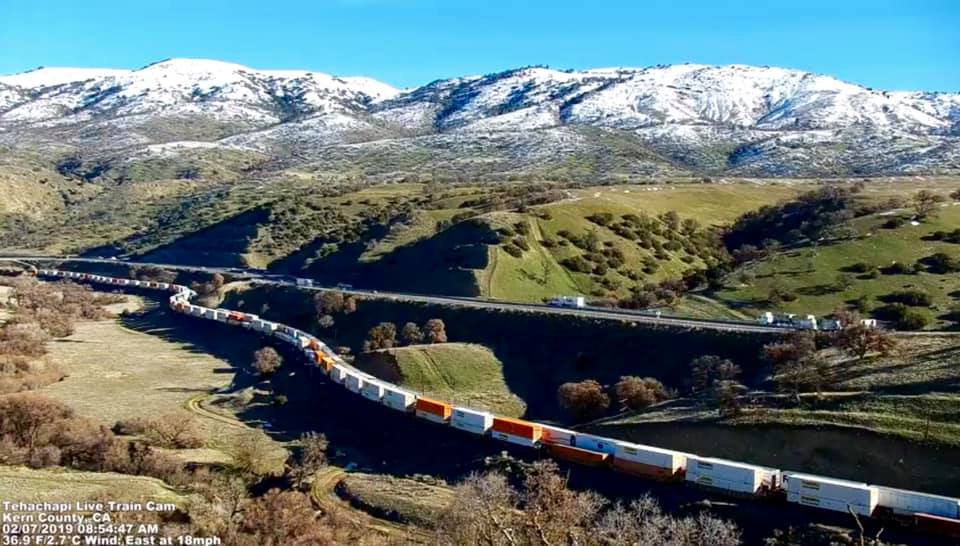 Back in August 2017, Cheryl and Mike bought a house that is a rail fan's dream: the backyard has a scenic overlook consisting of almost a mile view of railroad tracks, allowing them to watch trains moving through the Tehachapi Pass from their back windows.
The view was too good not to share. Mike's family members are rail fans, too, but since they live a few hours away, casually stopping by to see the trains wasn't an option. Cheryl and Mike had a solution: put up a camera and live stream it for their viewing pleasure. But then something unexpected happened: other people started tuning in. "The easiest way to do it was to put it on YouTube, and then other people started watching and it just grew," Cheryl said. "We just had a cheap camera out there for our family to be able to watch it and people would come on that we didn't know. Then, someone suggested, 'Hey let's all chip in and get a better cam.' And that's how it all started."
That first camera, West Cable, went live in February 2018 and was upgraded with the help of viewers soon thereafter. It's located on the west side of Cable in Tehachapi, about 6 miles east of the Tehachapi Loop, 35 miles east of Bakersfield and 20 miles west of Mojave.
Cheryl and Mike were having fun with their new project, but they didn't have any intention of putting up another camera. That is, until they got to talking with a neighbor, who was involved with the Tehachapi Depot Railroad Museum and suggested they approach the Museum about putting up a camera; the Museum agreed.
The Depot camera went live on YouTube on September 23, 2018, streaming footage from the Tehachapi Depot Railroad Museum, located at 101 West Tehachapi Boulevard – or in railroad terms, at MP361. When camera operators (more familiarly known as "cam ops") aren't zooming or panning to catch the best views of passing trains, the camera defaults to a view of the crossing gates looking east.
With the West Cable and Depot cameras up and running, people wanted more — and they specifically wanted a camera that showed the famous Tehachapi Loop. Cheryl and Mike didn't think it was possible, but they started researching who owned property in the area and found a location to mount the camera. Once again, viewers generously pitched in for the equipment and on November 23, 2019, their third camera went live.
The Loop camera is mounted approximately three-quarters of a mile from the Tehachapi Loop hilltop, offering a gorgeous panorama of the Loop and surrounding areas. "There is so much to see on the Loop cam," Cheryl said. "It's not just the Loop; you can see Tunnel 9, you can see Tunnel 10, you can see the Burton curve. You can see Woodford and the bridge. You really can see so much."
Together, the three Tehachapi Live Train Cams (TLTC) allow viewers to follow trains through the Tehachapi pass, with the Loop camera being the northernmost, then West Cable and Depot dotting the map as trains travel southward.
Expanding to New Territory with Mobile Cams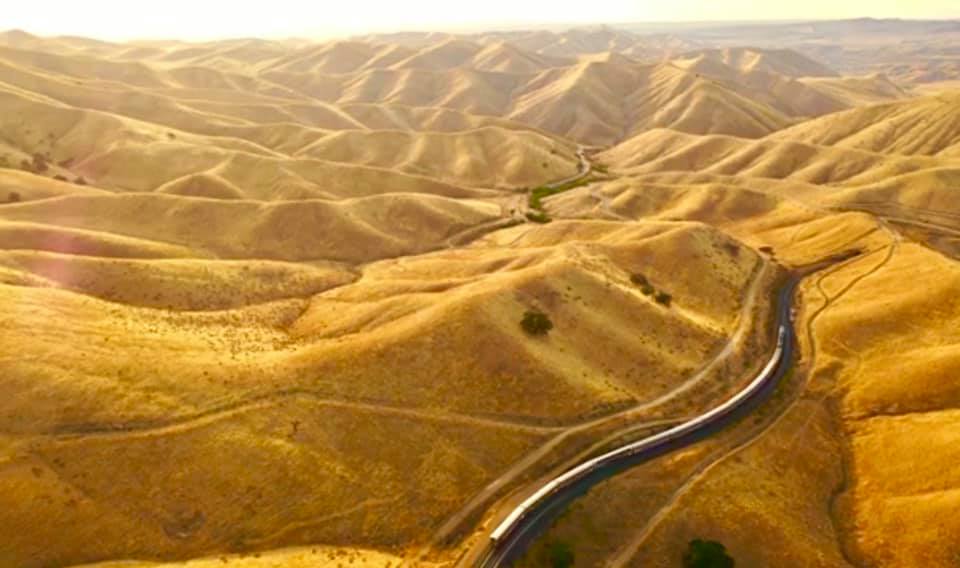 While West Cable, Tehachapi Depot Railroad Museum and Tehachapi Loop are the primary cameras streaming on YouTube, Cheryl and Mike capture special footage with other cameras, too.
The first is a GoPro the couple takes on their trips to walk the tracks (staying a safe distance from them and following railroad safety guidelines, of course). "We've walked from Bealville to Cliff, to Caliente, to the tunnels, and we've walked from West Cable down the tracks to the Depot Museum, as well as to various signals and bridges," Cheryl said.
And then there's Benji, the TLTC 4K live streaming drone. "Benji is AWESOME!" Cheryl said. "Benji has gone places we just can't get to or we can't see well from where we can get to. He gets about 25 minutes of flight time on each battery and we have three, so I will just bring him in and do a battery swap if we need him up longer." Like all of the other cameras, Benji was purchased thanks to donations from the TLTC community. "Benji has been probably one of the best things we have purchased as a TLTC group," Cheryl said.
Benji offers a unique vantage point of trains, like this one pulled by a UP heritage unit, as well as the beautiful hillsides of Tehachapi.
Building More than Live Streams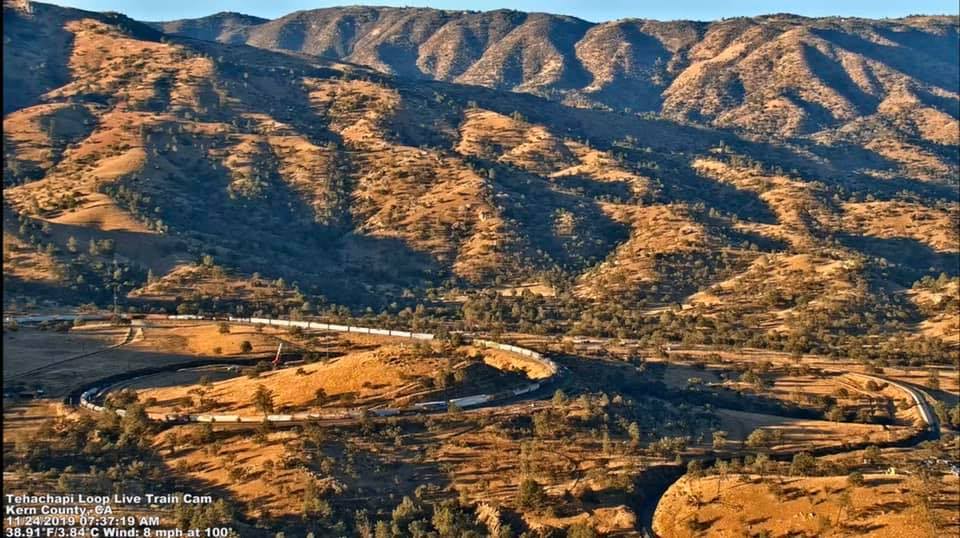 Although the Tehachapi Live Train Cam community has been instrumental in purchasing cameras and making TLTC what it is today, the group of rail fans has also formed important bonds. As fans watch the live streams, they can take part in a live chat, too, allowing them to form friendships. "Everyone knows each other," Cheryl explained. "For instance, we have a retired firefighter who is on the chat and is recovering from cancer. One morning, he didn't get on with us like he always does. We thought that was really unusual. He hadn't said anything the day before about having plans or not being able to be on in the morning. So a bunch of us started calling around, calling the hospital and trying to reach his kids. We eventually found him in the hospital, and he had had a heart attack. Fortunately he is fine now, but it's a perfect example of the little community we've created. It really is like a family."
Cheryl and Mike even get gifts from viewers. One created a TLTC logo, and another sent a hat featuring said logo. Some fans send each other gifts, too. For instance, two of the moderators share a love of trains but have an ongoing debate about which type of coffee is best. It's a friendly rivalry that often plays out on the chat. "They joke around about that a lot, so one of them sent the other a coffee mug with the Tehachapi Live Train Cam logo on it and then the back said something like, 'French roast, the coffee choice of Tehachapi Live Train Cams," Cheryl said.
Welcoming Rail Fans to Tehachapi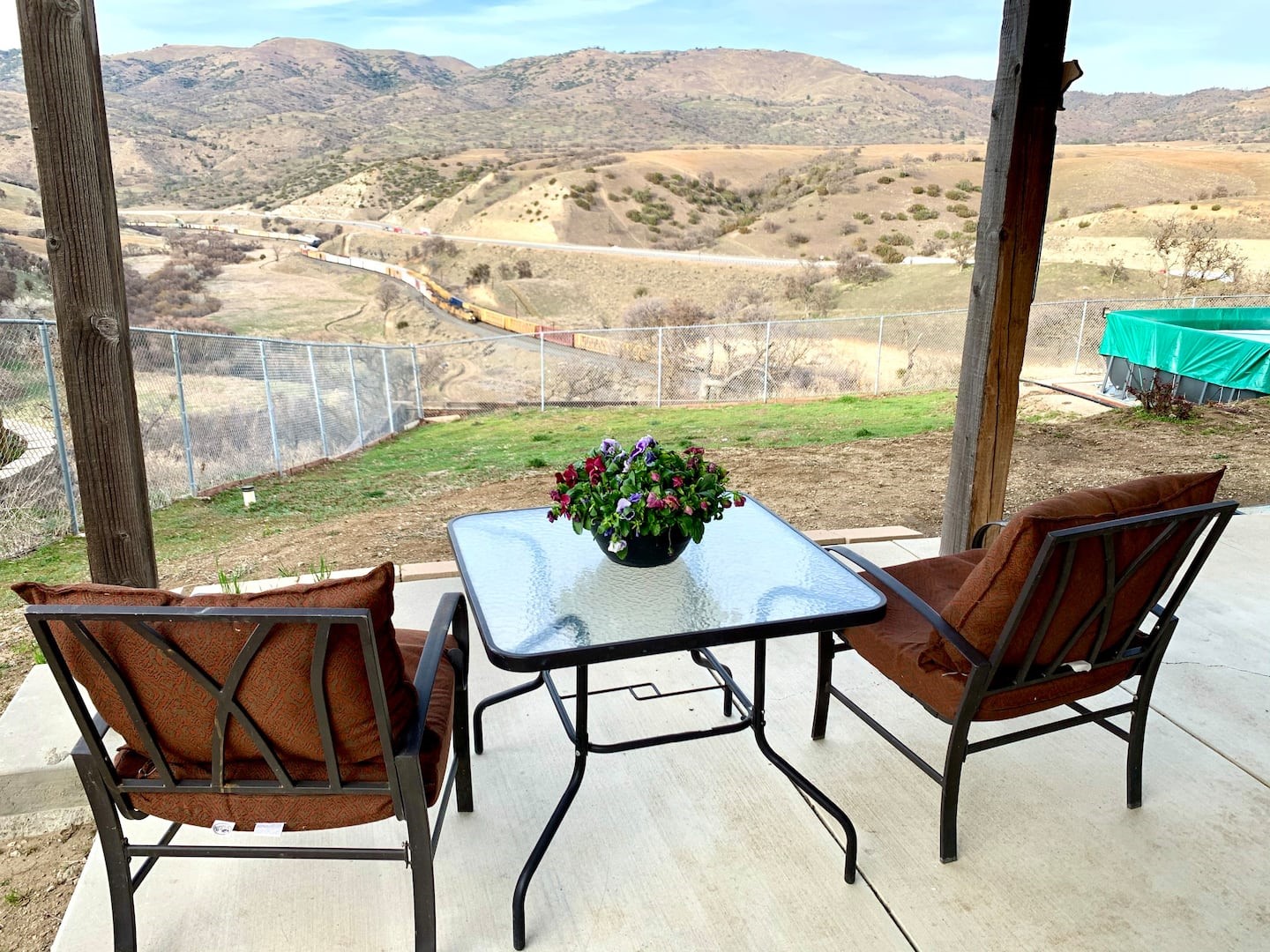 Tehachapi Live Trains Cams have brought the Mountain community into the homes of people far beyond California. Now, people can visit Tehachapi and stay at the very site of the West Cable cam: Recently, Cheryl and Mike opened Tehachapi Bed and Trains, an Airbnb that offers the same view as the West Cable cam, but in person, and in comfort. "It's like your own private train watching platform," Cheryl said. "You can even sit up in bed and see it."
Tehachapi Bed and Trains is a five-minute drive to downtown Tehachapi, where the Museum is located, along with several restaurants and gift shops, offering rail fans a unique tourist experience.
Everybody Plays a Part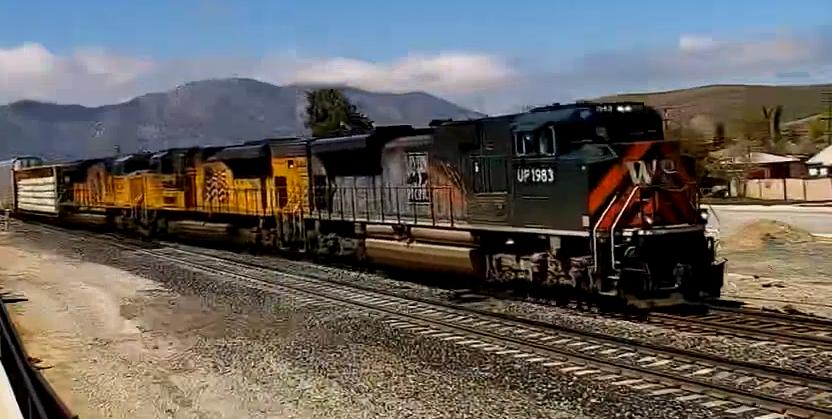 Next up for Tehachapi Live Train Cams is the installation of a camera in Mojave, for which the TLTC community raised funds. "Everybody plays a part, even the people that we never get to meet, because everyone donates toward putting up new cams. We're all part of the same team," Cheryl said. "I can't emphasize the importance of the mods enough — without them, we simply couldn't do this. They are the heart and soul of TLTC and make it what it is today."
Even though TLTC inspired the opening of a new Air BnB, which is separate from TLTC, Cheryl and Mike never intended to make money from the cams — it started as a hobby that has grown thanks to the generosity and enthusiasm of the community. All donations from TLTC are used toward maintaining operations and expanding the number of cams through the Tehachapi Pass – there is no financial gain for Cheryl and Mike, and that's important to them. "It's not a business for us; we just do it for a hobby," Cheryl said. "If it was a business, it wouldn't be fun. We just want to bring this part of the railroad to people worldwide for free."
Learn More
This is the third article in our live train cam series. Don't miss our first two installments: Virtual Railfan and Railstream!
Where is your favorite place to watch trains? Let us know.
Related Articles