Twinkling lights cast a festive glow as wet, fluffy snowflakes – the kind begging to be turned into a snowman – flutter to the ground. Inside, the fire is crackling, glasses are filled with egg nog and children plead to open "just one gift," as they anticipate Santa's arrival. It's a scene often captured in Thomas Kinkade paintings and in countless movies. At the heart of each good old fashioned family celebration is the Christmas tree.
Subscribe to
Inside Track
More than 99 million homes, or roughly 77 percent of all American households, displayed a Christmas tree in 2015, according to Nielsen research collected for the American Christmas Tree Association. The big question is: Fake or real?
In Corvallis, Oregon, just 85 miles south of Portland and home of Oregon State University, sits some of the lushest and most inspiring scenery imaginable: 8,500 acres of land owned by Holiday Tree Farms, Inc., a 61-year-old family-owned business and the state's largest tree supplier. In addition to the visual feast created by countless rows of evergreens is the intoxicating aroma. Picture a candle store in December, but on steroids. You can see and smell the Christmas spirit and it all starts long before American families carve their Thanksgiving turkeys.
Holiday Tree Farms will harvest and deliver close to a million of the 5.2 million Christmas trees in Oregon this year. North Carolina ranks a distant second in total number of harvested trees. Of those in Oregon, 95 percent are destined for homes outside the state. In fact, half will go to California.
"Trees are among the top 15 commodities exported from Oregon," said Bryan Ostlund, executive director of the Pacific Northwest Christmas Tree Association. "We also work with many trading partners outside the continental U.S., such as Vietnam, Japan, Mexico, Peru and several Caribbean countries."
According to Ostlund, this year's harvest has an estimated farm gate value, or net value after marketing costs are subtracted, of $90 to $100 million. For an industry dependant on its products' freshness, rail is a critical piece in the logistics plan.
In the midst of millions of Christmas trees, you'd expect to find hundreds of workers (and there are), but at Holiday Tree Farms, one of Santa's helpers is there, too. Mark Arkills, senior production manager, is more than six feet tall with rosy cheeks, a gleam in his eye, white hair and a beard. He chuckles when he admits more than one person has asked if he's Santa.
From the Farm to Home Depot
"I think it's the belly," Arkills said.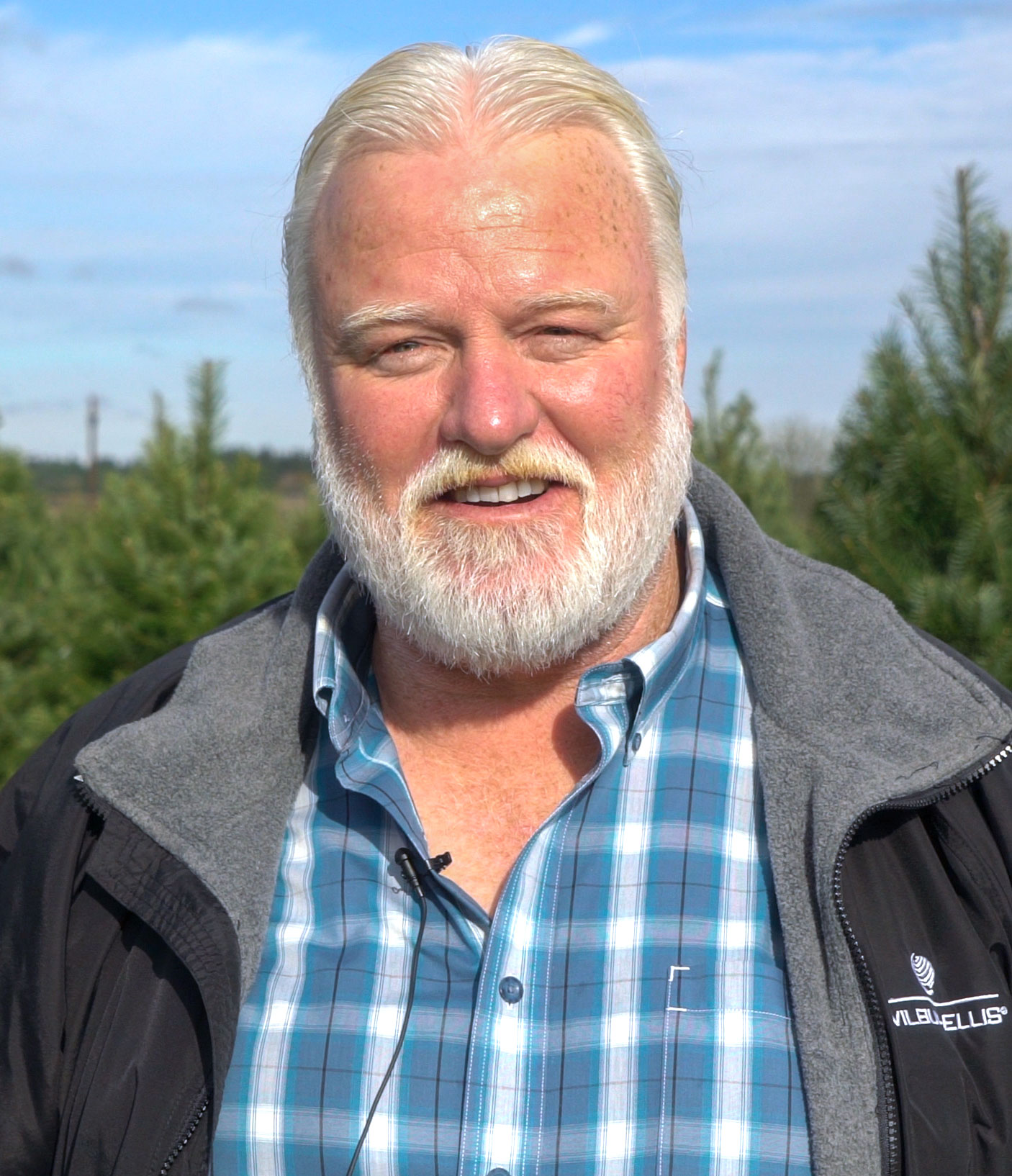 Arkills has been part of Holiday Tree Farms for 32 years, holding every job from cutting trees to now controlling the harvest. He's responsible for deciding how many trees to cut and which ones. According to Arkills, it takes seven to eight years to grow a roughly 6-foot-tall tree, and careful planning goes into every stage.
Hal Schudel and Paul Goodmonson created Holiday Tree Farms in 1955, and became the first to plant Christmas trees in rows, just like any other crop. Today, seeds - most collected from the wild - are grown in nurseries for about two years.
"One of the great strides I've seen is the evolving genetics of trees," Arkills said. "A top complaint about real trees is the weight and the inconvenience getting it into the house. Thanks to decades of research and testing, we're now growing a lighter tree."
Oregon's wet, cool climate is perfect for the next growing phase. Once planted in the field – about 40,000 a day – trees are left alone for roughly two years. At that point, workers "basil prune" each one, shaping the bottom by hand so it will eventually fit into a tree stand. They also begin shearing the sides with a long machete, creating the perfect cone-like shape. Shearing happens every year, until the tree meets Arkills' needs for harvest. It's at this point that the serene landscape is overrun by noise.
The growl of chainsaws can be heard as employees move through rows of trees cutting the stump of every tree marked with a bread tag. One worker will cut roughly 2,500 a day. They're followed by a crew of "slingers," who bundle the trees in piles of 12 to 16 and ready them to be airlifted out of the field.
At this point, the whirl of helicopter blades takes over. Up to five helicopters can be operational at once, picking up the bundled trees and dropping them into big yellow trucks with an open top, hundreds of feet away.
"We try to keep the helicopter to one minute per load; any more than that and it's cheaper to build a rock road," Arkills said.
Trucks drive to a mixing yard and dump trees into piles. The trees are shaken to extricate loose needles and debris, baled, string-tied and stacked by size and species: Douglas, Noble, Grand and Nordman Firs. Each is then carried to an elevator and loaded one by one into a large steel or aluminum box called an intermodal container. Steel containers are lined with cardboard to prevent trees from overheating. Trees also are packed with ice. The container is trucked to Union Pacific's rail yard in Portland and within a few days, it's ready to be unloaded and transported to big box retailers.
Christmas in California
"The beauty of intermodal is the flexibility and on-time deliveries," Arkills said. "Stores have their crews on stand-by to unload, and Union Pacific gives us 24 hours notice prior to arrival; we pick up the containers from the yard and get them to the store on time."
In an area best known for palm trees, that's an impressive undertaking. Hundreds of containers, holding 550 to 750 trees apiece depending on their size, are destined for Northern and Southern California. The containers will be taken to retailers as is or sold wholesale to groups, such as the Boy Scouts of America.
Jeff Larcom is a third generation co-owner of Holiday Tree Farms, and oversees unloading in Los Angeles. For him, talking about the trees' origin and seeing customers and families return year after year is the most rewarding part of his job.
"A lot of times, they have an idea of the kind of tree they're looking for," Larcom said. "But really, it's an emotional connection to a tree that grabs their eye, and usually the whole family gets behind it. It's really exciting to watch."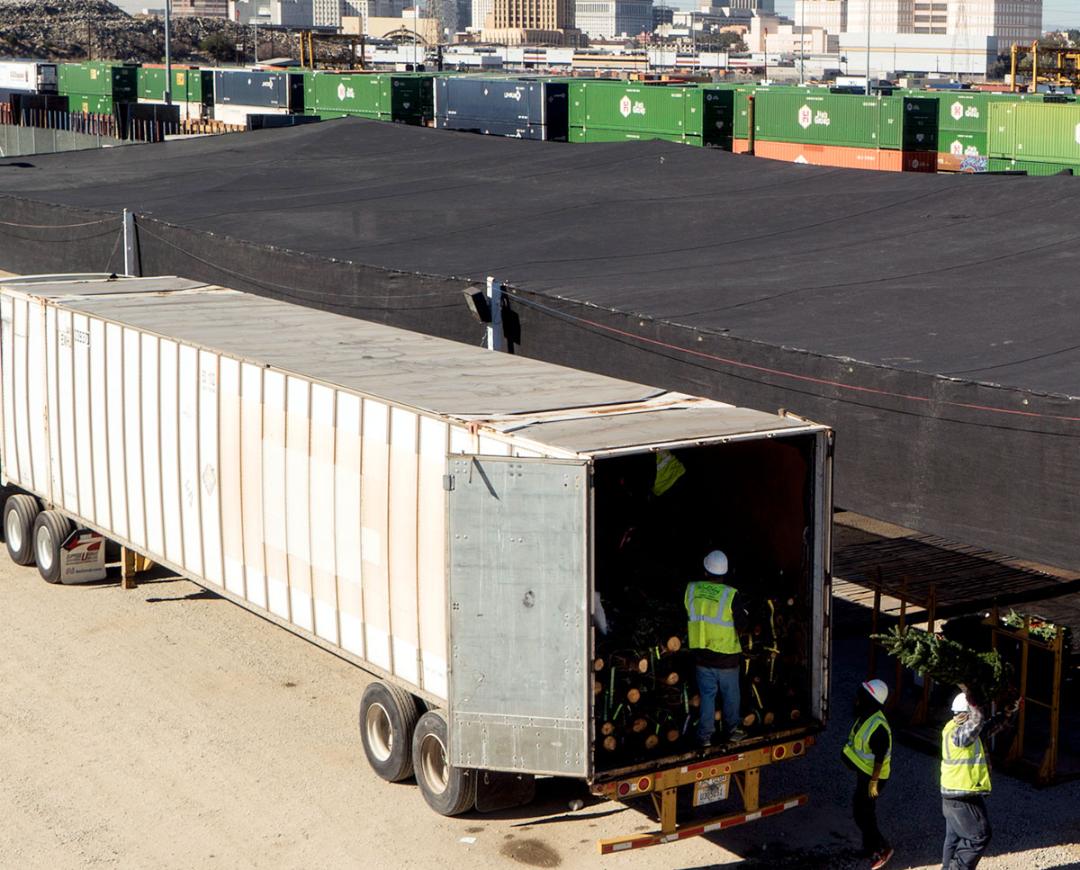 Known as the Porsche of Christmas trees, the Noble Fir is the company's most popular variety, because of its color, smell and strong branches for holding ornaments. According to Larcom, the Douglas Fir and Nordman Fir, which originated in Turkey and Russia, respectively, also are big sellers. This year, an average Noble will cost families about $50.
"The smell of them brings in a different environment to L.A., just the Christmas spirit," said Elias Lopez, Holiday Tree Farms' California Branch Manager. "Everybody acts a little different when the trees are around."
Larcom and his team are most often asked whether the trees are cut from a forest. He enjoys the opportunity to share Holiday Tree Farms' history and how the farm helps the environment.
"Trees are a great sustainable, renewable resource that works well with Oregon's streams and waterways, as well as with the animals on the farm," Larcom said.
While growing, trees produce oxygen and sequester carbon, and once Christmas is over, they can be mulched and used in gardens and playgrounds or to stabilize river banks for fish habitats.
Santa's Vacation
The weekend before Thanksgiving, more than 63,000 trees were shipped from the Corvallis farm. As they arrive in Los Angeles and elsewhere, Arkills and the hundreds of workers who make the harvest successful will enjoy a break.
"There's something about Christmas trees and working the harvest that gets in your blood," Arkills said. "It's an intense nine to 10 weeks, but once it's over you can relax."
For Arkills, that means fishing in Alaska with his wife. Larcom will arrive home in time to spend Christmas Day with his family. But the rest is short-lived, as the New Year rings, planning for the next season begins.