American rail fans had the rare opportunity to view the eye-catching 43-foot Golden Spike Monument on the move during a recent whistle stop tour visiting several towns along Union Pacific Railroad's historic transcontinental route.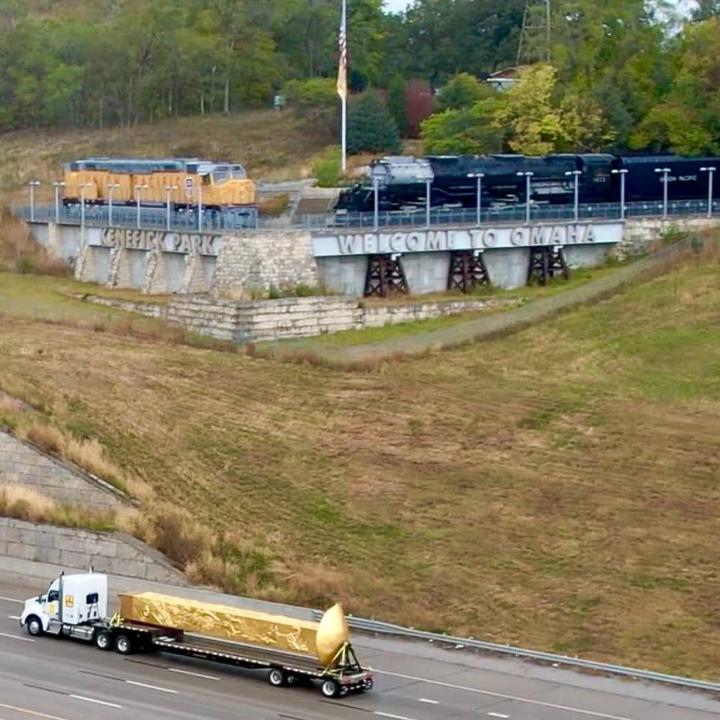 The state of Utah and the Golden Spike Foundation commissioned Douwe Blumberg in 2021 to create the public art piece as part of the 150th anniversary celebration of the transcontinental railroad's completion. Finished in September, the monument departed the artist's studio in Lexington, Kentucky, for a Driving of the Spike tour en route to its home in Utah.
"Union Pacific was proud to support this project through our Community Ties Giving Program," said Nathan Anderson, senior director-Public Affairs. "Although we also would have loved to transport the monument by rail, it just did not work operationally."
The gold-leafed railroad spike features reliefs celebrating the power and diversity of those whose labor and sacrifices contributed to creating the transcontinental railroad.
"It was thrilling to see the monument's design concept and execution evolve," Anderson said. "It's a great opportunity to put an exclamation point on our 2019 celebration of the Great Race to Promontory."
The monument will embark on a second tour in spring 2024 before it's permanently displayed at Golden Spike Park at Reeder Ranch in Brigham City, Utah.