New high-speed rail service that allows passenger trains to travel up to 110 mph between Chicago and St. Louis got a key assist from one of the nation's largest freight train operators – Union Pacific Railroad.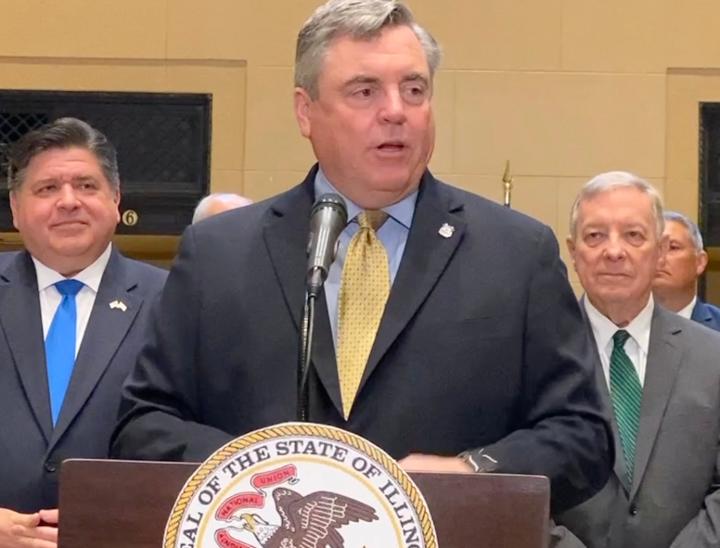 Union Pacific worked closely on the 25-year project with the Illinois Department of Transportation (IDOT), the lead agency that spearheaded the nearly $2 billion effort that culminates June 26 with a ribbon-cutting ceremony and the first 110 mph public train schedule on this route.
The project was a mammoth undertaking that required Union Pacific's Engineering teams to develop new technologies to safely accommodate fast-moving passenger trains and freight trains on the same system.
It also marks a key milestone in the relationship between freight and passenger train interests and underscores what can be accomplished when the two work together. Since the early 1970s, as railroads began to specialize in freight services, there has been inherent tension between the two. This project is a shining example of how both can co-exist and benefit from public-private partnerships and investments in rail infrastructure.
"The Illinois Department of Transportation oversaw the project, with Union Pacific as the primary partner," said Scott Speegle, Passenger Rail and Transit Communications Manager for IDOT. "We view Union Pacific as a very important partner in this and other rail projects."
Subscribe to
Inside Track
The new passenger speed limit, which goes into effect on Amtrak's Lincoln Service, shaves approximately 15 minutes from the route's existing 90 mph runtimes and 30 minutes from its initial 79 mph schedule. Passenger trains can now run at 110 miles per hour on more than 180 miles of Union Pacific's 242-mile portion of the Chicago-St. Louis route but will be required to slow down as they enter and exit certain urban areas and one area of the route with significant curvature.
The project started approximately 25 years ago but kicked into high gear in 2010 after IDOT received $1.66 billion in federal funding, primarily through an American Recovery and Reinvestment Act grant.
The large-scale undertaking required rehabilitating 262 miles of mainline track, constructing more than 50 miles of second mainline track, upgrading 212 grade crossings and rebuilding or replacing 200 bridge structures and culverts.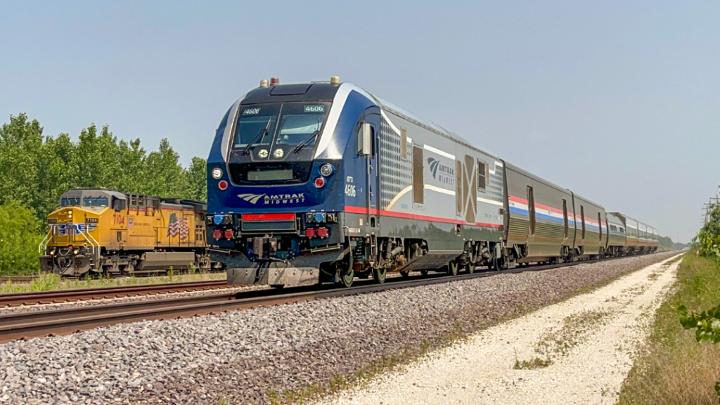 "The most unique thing about this project is that we tried to find a way to successfully run freight trains that are going 60 mph and passenger trains going 110 miles per hour on the same track," said Mark Bristol, general director – Interline Operations for Union Pacific. "It's like having an RV and a Ferrari on the same road."
To make it happen, Union Pacific's Engineering team had to pioneer new technologies, including upgrading positive train control (PTC) technology to accommodate 110 mph trains. PTC technology, which helps to ensure trains remain separated, was previously designed for trains operated at up to 90 mph.
The team also implemented a new communications-based crossing system, allowing passenger trains to communicate with railroad crossing signals by wireless radio further in advance, giving trains more time to slow or stop, should some hazard at the crossing be detected.
It can take a train traveling at 110 mph almost 2 miles to stop.
"This allows faster trains to activate the crossings further in advance and earlier than they would with a conventional system," said Greg Richardson, general director – Operating Technologies. "The crossings - in turn - report back to the train whether they are working properly or whether a highway vehicle has been detected in the crossing or other hazards."
Project leaders overcame several challenges along the way. The upgraded PTC technology, for example, had to be tested by Union Pacific and Amtrak and was the first of the type commonly utilized by freight railroads to be certified for 110 mph operation by the Federal Railroad Administration. The project also involved negotiations with leaders in several municipalities to build tracks and crossings that would provide optimal safety for residents and passengers on the faster trains.
"At the end of the day, we successfully completed a project in the spirit of a true partnership," said John Jerome, general director – Track Programs, who was involved in the project since 2010. "Everybody worked as a team — IDOT, the municipalities, the state and the FRA — and we pulled together in the same direction. We all had the same goals, and we all shared the same positive, solution-oriented attitude."
The project is not quite complete, however. A 10-mile stretch of second mainline track located between Elwood and Braidwood, Illinois, is still under construction. It is expected to be done by 2026.
For additional information on the new schedule or to purchase tickets, visit amtrak.com/midwest.