Colleagues, today is exciting in every way. As I return to Union Pacific, I want to thank Lance Fritz for his leadership and tremendous work setting us up for continued success. I am proud to follow him and honored to kick off this next chapter for our legendary company.
Note: On his first day as CEO, Jim wrote the following note to the entire Union Pacific team.
My vision and focus are clear: Safety, Service and Operational Excellence will equal Growth. Together, we will achieve the best safety record in the industry, be known for superior service grounded in operational excellence – and because of these things – we will achieve growth.
I know you have made many sacrifices on your own UP journeys – and that the road ahead won't be an easy one – but I have every confidence we have the people, capabilities and tools to win. I personally understand what it will take for us to succeed and grow.
From a very young age, I learned the importance of grit. I know railroading firsthand. I began my career as a union brakeman and advanced to serving as a conductor, locomotive engineer, trainmaster and superintendent. I spent many nights away from home, with an unpredictable schedule, in unrelenting weather and extreme conditions. I worked beside men and women who changed the way I see the world, and who changed my life. My wife Karen and our two children were on that journey with me.
When I advanced into management and held roles across Operations and Marketing, I learned what it means to understand and meet customer needs and expectations. That understanding served me well in leadership roles as a senior vice president across the U.S. and Canadian regions at CN.
I became the executive vice president and chief operating officer and learned the principles of Precision Scheduled Railroading from several great mentors. I brought those learnings from the CN to UP – and learned even more.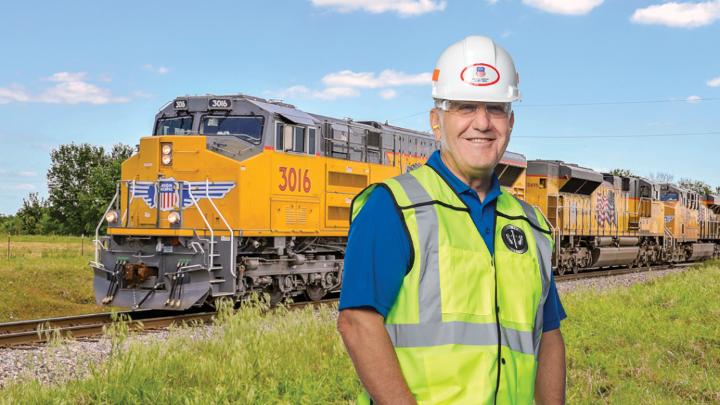 During my time at UP as COO, I learned what it takes to implement change – and how hard change can be. I also saw how bright, resilient and honorable this organization is. I benefited from your courage to do something we hadn't done before, and your sacrifices to become leaner, fitter and more resilient for all of our stakeholders.
In this new role as CEO, I know you have many questions about what will happen and how it will impact you. I share some of those questions, and I will learn a lot from you as I travel the system. What I can tell you is that we will become the safest railroad in the world. I can tell you we will improve our service product, and we will become more efficient and more reliable – for ourselves, our customers, our communities and our shareholders.
Subscribe to
Inside Track
What I can also tell you is that you can count on me to be frank, thoughtful, nimble and resilient. I won't mince words when the truth must be spoken. I will ask a lot of you – and I will demand even more from myself.
Thank you for all you have done for this great company – and for all that you will do. I am looking forward to what we will accomplish together.
Jim