For Melissa White, zero injuries isn't a nice-to-have or a lofty goal to aim for, it's a realistic expectation that starts and ends with each day, and every employee.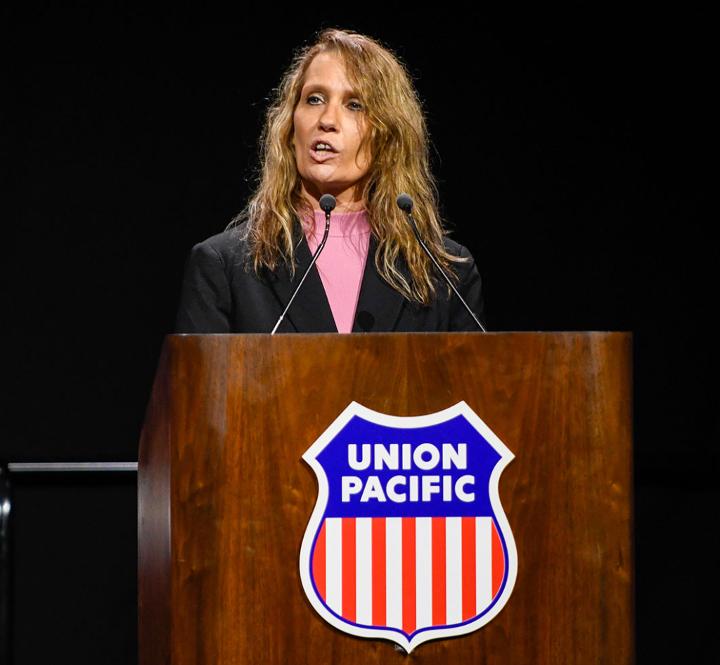 The North Platte, Nebraska, Total Safety Culture (TSC) coordinator hammers away at this message, both in the literal and figurative sense. On one recent, icy February morning, she and her team were tightening outside floor mats to help prevent slips, trips and falls.
"Mission Zero is possible," White said. "We have parts of our service unit that have been injury free for over a year, so it can be achieved by all of us. We have to continue checking each risk to make sure it's taken care of so everyone goes home safe."
White and her team regularly meet with new hires, borrow-outs and experienced craft professionals to address potential concerns. This type of proactive outreach is effective, but can sometimes result in extraordinary measures, like adding balloons and glitter to Bailey Yard's most run-through switch.
It's a move that might seem odd to some, but as White recounts, it's not crazy if it works. The switch hasn't tallied a single human-factor derailment in over a year.
"The biggest reason I'm in Safety is not only because of my family at home, it's also because of my family here," White said. "We work with these people all the time. If something happens to them, it's not just their family that hurts – it's all of us that hurt, too."
In 2021, there were 22 reportable injuries in North Platte.
In 2022, there were seven, a 68% decrease year over year and a new record for the Great Plains Service Unit.
"She's not just there to check a box," said Joe Books, yardperson and fellow TSC teammate. "She's in this position because she truly cares about people and their safety."
TSC connects management with craft employees to enhance safety through training programs, observations and feedback.
Those that know White best credit the improved metrics and No. 1 safety ranking in the Northern Region to her approachability, open-mindedness and active listening skills.
Subscribe to
Inside Track
"There's a lot more cohesiveness now," said Jerry Ochoa, senior manager-Train Operations. "When you have a team collectively spearheading safety, it works well for everyone."
Ryan Long, superintendent-Train Operations, echoed that sentiment, adding that safety is essential to protecting employees, customers and communities.
"Everyone is committed to continuously improving our performance," Long said. "Whether it be person, environment or behavior, she and her crew are on top of it."
For her efforts, White has been recognized with Union Pacific's highest individual honor, the 2022 J.C. Kenefick Safety Award.
Since its inception in 1986, the award – named for former Union Pacific Chairman and CEO John C. Kenefick – honors employees who have demonstrated outstanding on-the-job safety achievements.
"It means everything, because all we strive to do out here is safety," White said. "It makes me want to try harder and do even more."
2022 J.C. Kenefick Safety Award finalists:
Tracy Jones, electrician, Roseville, California
Lenson Riggs, Jr., brakeperson, Houston, Texas