It takes a lot of digging and research to find a time when someone from Jeff Maxfield's family wasn't working for the railroad. In fact, the manager-Field Operations Support's family collectively boasts more than 400 years of railroad service throughout five generations.
"It's kind of amazing to think five generations of us have worked for the railroad," said Maxfield, who is headquartered in Denver to provide support for Transportation managers throughout the Great Plains Service Unit.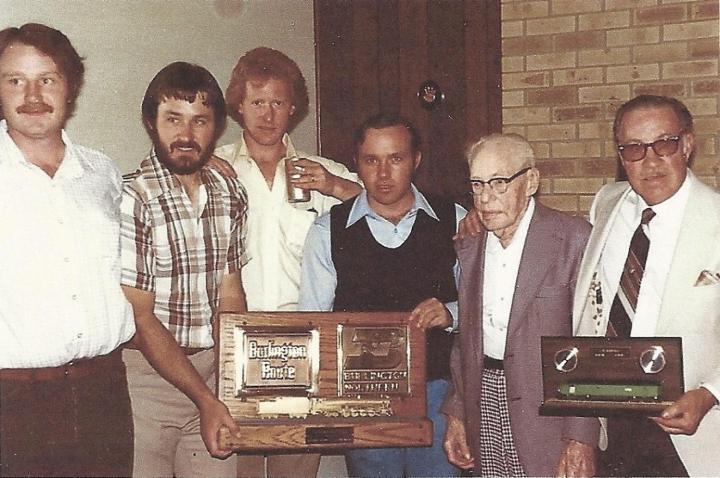 His great-great-grandfather, August Swanson, was the first to work for the railroad - in 1897, he joined Chicago Burlington & Quincy Railroad (CB&Q) in Wray, Colorado. He had more than 40 years of service when he retired. August's son, Walter, followed and worked 25 years on a local Maintenance of Way section.
In 1916, Jeff's great-grandfather, Floyd Maxfield, joined CB&Q in Denver as a locomotive engineer and retired in 1959. Floyd's son, Wilbur, who is Jeff's grandfather, started working with CB&Q in 1936 as a locomotive engineer and retired in 1982. Floyd and Wilbur operated the Pioneer Zephyr, the first Zephyr train.
Wilbur's brother, Vern Maxfield, and brother-in-law, Pete Palmer, worked for Denver & Rio Grande Western Railroad — a Union Pacific predecessor railroad — as locomotive engineers out of Denver. They both served 40 years.
Jeff's uncle, Danny Maxfield, started working for the railroad as a conductor in 1969. Danny's son, Jason Maxfield — who is Jeff's cousin — started his railroad career in 2002. Jason has been a yard controller, dispatcher, chief dispatcher and then became a terminal manager. He now works as a dispatcher in Fort Worth, Texas.
"Everyone from my family now is retired from the railroad, except for Jason and me," Jeff said.
Jeff's father, Fred, and Fred's brother, Gary, both worked for the Rio Grande as locomotive engineers and had a combined 66 years of railroad service. Another one of Jeff's uncles, Tom, worked for CB&Q for 33 years as a conductor/switchperson.
Subscribe to
Inside Track
Jeff's second cousin, David, also worked for both the Rio Grande and Amtrak for a combined 35 years in the railroad industry.
Prior to beginning his own railroad career, Jeff earned two associate degrees in 2000 from Red Rocks Community College in software development and web design. He worked about a year in that industry before hiring on with the railroad and says, "the rest is history."
"I've enjoyed this career," Jeff said. "The railroad has provided a great life for me and my family."