MaryAnn Hennessy and her three daughters – Brandy Lloyd, Tiffany Mace, and Lindsey Stoddard have more in common than being family members and train crew professionals who work for Union Pacific Railroad. The women also share a rich railroad history that extends back through five generations of Hennessys.
William Maurice Hennessy, the sister's great-great-grandfather, started the family tradition in about the 1930's, as a section lead for the Minneapolis, St. Paul and Sault Ste. Marie Railroad, later known as the Soo Line, and the Milwaukee Road.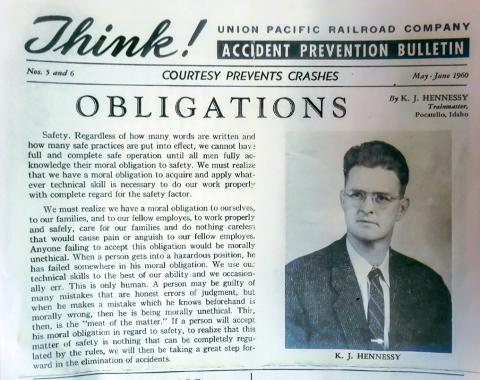 His son, Maurice William Hennessy, then worked for Western Union before becoming a railroad telegraph operator between 1930 and 1940. His son, Kenneth Hennessy, joined Union Pacific as a telegraph operator during World War II. His wife, Alice, also worked as a telegraph operator. Kenneth went on to become a train dispatcher and at the end of his 40-year railroad career as special assistant to the vice president of Operations.
In all, eight of Alice and Kenneth's nine children went on to work for a railroad at various points, including MaryAnn, who is a locomotive engineer in Pocatello, Idaho.
Fourth Generation
Prior to joining Union Pacific in 1998 as a conductor, MaryAnn Hennessy recalls serving up hot dogs at UP Family Days in the '70s. She also remembers the first time she stepped aboard a locomotive at age 16. She was hooked immediately.
Hennessy said a commitment to safety, confidence and professionalism have been keys to her success.
"Growing up in a railroad family, including seven older brothers who'd worked for the railroad, safety was instilled as part of our everyday life," said Hennessy, sharing an entry from the May-June 1960 edition of Union Pacific's Accident Prevention Bulletin called Think!, where her father, Kenneth wrote, "We must realize that we have a moral obligation to acquire and apply whatever technical skill is necessary to do our work properly with complete regard for the safety factor."
Fifth Generation
When MaryAnn's daughters, Brandy Lloyd, Tiffany Mace and Lindsey Stoddard began expressing interest in railroading, many of their Hennessy family members encouraged them to apply.
Brandy Lloyd, locomotive engineer, joined Union Pacific in 2006, and lived in Colorado and Idaho over her 15-plus-year Union Pacific career.
Subscribe to
Inside Track
"I've had both of my sisters as trainees and worked with my mom when I was in training," Brandy said. "I've been in the cab with all of them, and I know they can do their jobs well."
Brandy said it's helped her support her family, which includes two grown sons, Anthony and Ethan, and a 3-year-old daughter, Abigail. But Brandy isn't the only one in the Lloyd family with railroad roots; her husband, Jeremy, and father-in-law also worked in the industry.
In 2007, Tiffany Mace joined Union Pacific as a Nampa, Idaho, brake person, showing her children that with hard work – railroad opportunities abound. Tiffany has three children: Brooklyn, 18; Alexis, 13; and Roxanne, 11. Tiffany is now a locomotive engineer.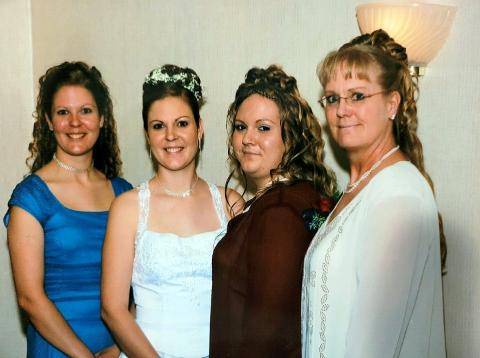 "Railroading is unlike anything I've ever done," Tiffany said, noting she particularly enjoys when people find out she operates the locomotives. Tiffany also appreciates her railroading heritage.
"I'm proud to be doing what they did," she said. "Five generations and three generations of women is incredible."
Lindsey Stoddard, joined Union Pacific in 2013 and currently works as foreperson in Pocatello safely assembling produce- and grain-filled train consists bound for North Platte, Neb. She enjoys having the opportunity to move freight with her mom and sisters — giving them the occasional chance to enjoy a meal together on the road.
"When somebody tells me I can't do it, I'm like, 'wanna bet,''' Lindsey said, "If Journey or one of her cousins joins UP some day, they may hear the same phrase she's heard uttered for years:
"Pocatello team members see us and say, 'There's a Hennessy.'"
Union Pacific is currently hiring for train crew employees across the rail network. In Minnesota, Iowa, Nebraska and Wyoming, there are hiring incentives up to $50,000. In addition to operating crafts, Union Pacific also offers career opportunities in customer service, finance, logistics, sales, marketing, supply chain and tech, among other areas.
Union Pacific offers a competitive salary and benefits, as well as a free college education through the University of Nebraska at Omaha, which offers online degree options. Apply now at UP.jobs.