A new $8.5 million pedestrian bridge in Salt Lake City that was built with the help of Union Pacific Railroad provides high school students, runners and pedestrians a safe way to cross five sets of railroad tracks.
Union Pacific partnered with Salt Lake City, the Utah Transit Authority, and the Utah Department of Transportation to fund the bridge that crosses both freight and passenger rail tracks: three Union Pacific tracks and two Utah Transit Authority tracks.
The pedestrian bridge is located two blocks west of West High School and provides a safe crossing for students and residents on both sides of the track, as well as connecting east and west Salt Lake City.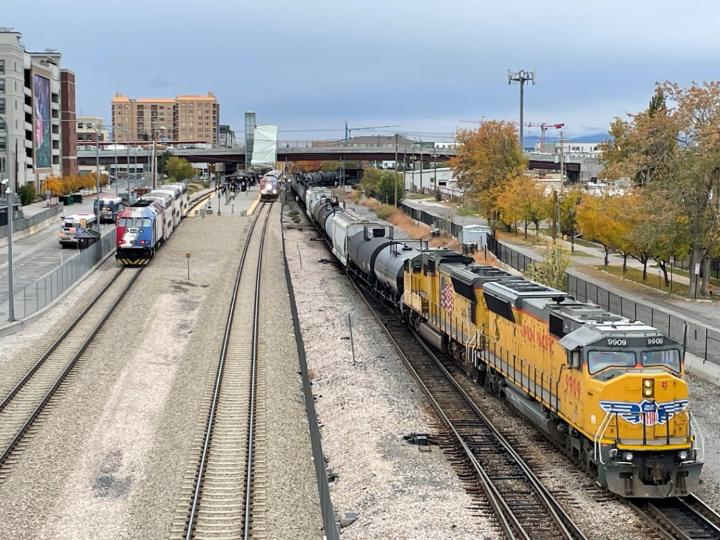 "Union Pacific is proud of the hard work and the collaborative effort that went into getting this project off the drawing board and into construction," said Nathan Anderson, Senior Director of Public Affairs for Union Pacific Railroad. "This new pedestrian bridge makes it safer and easier for students and residents to cross this busy junction while ensuring both freight and passenger rail transportation can continue to serve the area."
Numerous city and school officials praised the project at the bridge's grand opening in October, saying it will not only enhance safety in Salt Lake City, but it will hopefully encourage more people to walk and bike.
The project began several years ago and involved multiple agencies, including state, regional and municipal governments. Actual construction of the bridge began in 2021, and despite delays due to supply chain shortages, the pedestrian crossing opened this fall.
The 200-foot-long bridge includes two large-scale elevators – one on each side of the overpass - that has room to transport bicycles.
Subscribe to
Inside Track
The construction of the pedestrian bridge is a testament to the power of collaboration and community-focused solutions. Union Pacific's commitment to safety, demonstrated through community projects like these in addition to partnerships like Safe Kids Worldwide, reflects the railway's dedication to protecting the well-being of those living in the communities it serves.