Union Pacific's steam team finally is getting down to the bones of UP No. 4014, the 'Big Boy.' The locomotive's big steel front engine bed has been exposed and has a glossy new coat of black paint.
Subscribe to
Inside Track
"It's not physically as big as a semi truck, but it weighs just as much," said Ed Dickens, who heads the Union Pacific steam team. "It's probably six feet tall, 10 feet wide and weighs nearly 45 tons. It's a huge piece of steel."
The frames of modern American steam locomotives were cast out of high-quality steel. "After we've completely cleaned the casting, we quickly painted it to prevent it from rusting," Dickens said. "This is the only opportunity we'll get to paint it, when it's completely disassembled. This isn't just a quick fluff and buff, this is a massive ground-up restoration."
The frame has dozens of brackets for lubricators, air and steam lines. Think of it like the back bone or the core skeleton of the locomotive. The center portion of the casting was made hollow to allow lines to pass through to the back of the locomotive. Locomotive No. 4014 is articulated, so the steam and air piping has to be flexible at the articulation joint between the two engine beds.
Over the years, much of the piping deep inside the Big Boy sat hidden beneath layers of impacted cinders and dirt resulting in a rotted mess. Cleaning and replacing these internal parts is only possible once the locomotive is completely taken apart. All Big Boy's old, rotten pipes were removed and replaced. "We've custom formed and bent long runs of piping to eliminate as many connections as possible through a process called steam fitting. Some have large, beautiful sweeping curves," Dickens said. "Probably 90 percent of the locomotive's air and steam piping will be new when we finish, it's a work of art."
The team acquired special pipe bending machinery to make it happen. "Why mess around with a part that's got over a million miles on it," Dickens said, "when we have the ability to machine a new component and fabricate it just as they did in the 1940s?"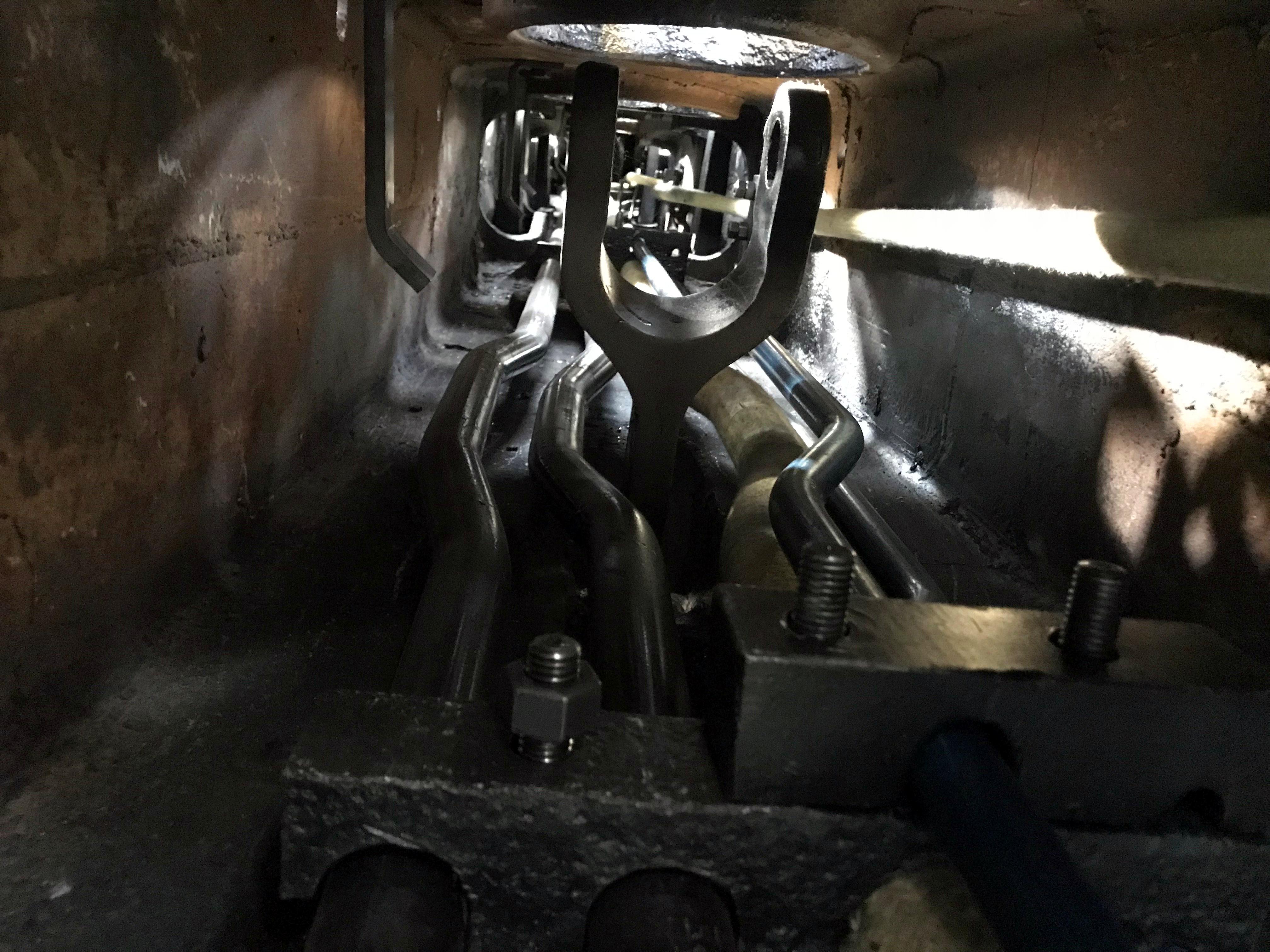 The project is broken into several phases, Dickens said. The team is on track to finish in time for the locomotive to participate alongside locomotive No. 844 in Union Pacific's 2019 Golden Spike celebrations. Because the team is so completely focused on restoring the Big Boy this year, No. 844 will only have one excursion in 2018: Cheyenne Frontier Days in late July.
"We're excited to see everybody out on that one trip," Dickens said. "We sincerely appreciate everyone's understanding for only having one trip this year. We want to make sure we can get the Big Boy ready."
Dickens is looking forward to 2019, and is encouraged by the support the team has received over the past several years.
"We're the ones turning the wrenches and making the parts, but we can't do anything without everyone back in Omaha," he said. "From our partners in supply to corporate relations, we are all working together to get this monumental job done. When we finish, UP is going to have the world's most beautiful steam locomotive. I can't wait."