Have you ever held a cast iron skillet? It's hard to imagine repairing or replacing something made out of such heavy, durable material. However, after more than 70 years of wear and tear on locomotive No. 844's turret valves made of an even stronger metal – cast steel – the Union Pacific steam team is doing just that.
"We've started working through all the valves and piping – basically everything steam and water flow through," said Austin Barker, foreman general – Heritage Fleet Operations. "We're replacing bolts, studs, re-machining and lapping the lower portion of the valves (the valve seating surfaces) and replacing many old, worn internal components. We're making sure everything is still sound metal and repairing anything that isn't."
In general, components created back in the steam locomotive era are really heavy duty, just like a cast iron skillet. However, it's natural for components to need to be rebuilt – especially when steam and water are involved.
"We're talking about something that's five decades beyond the end of its projected service life," said Ed Dickens, senior manager of Heritage Fleet Operations. "A piece that's made of cast steel or bronze, like a blow down valve -- the valves that discharge the water out of the boiler to help eliminate sludge and contaminants – gets corroded over time."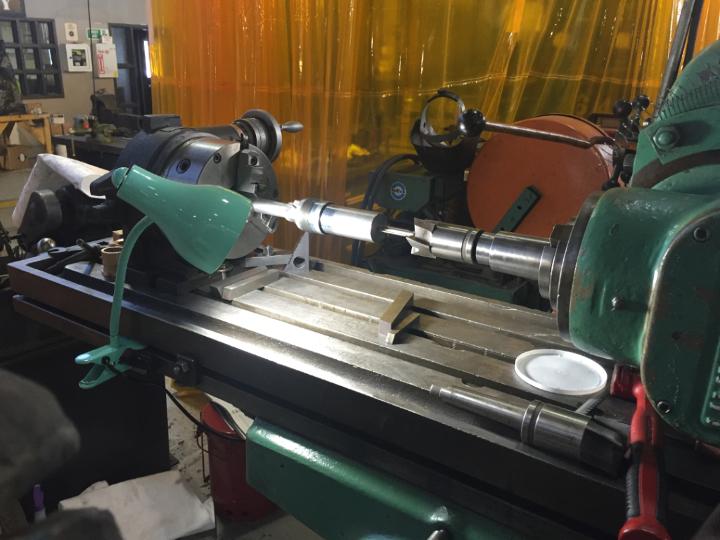 To rebuild these parts, the team refurbished a 1940s-era horizontal mill and added a special set-up to rebuild all the valves for the UP fleet steam locomotives.
Some of the shop's machines, including the horizontal mill, hadn't been used in several decades, so the crew cleaned them up and made a few repairs and adjustments. They also came up with an innovative way to more accurately repair each blow down valve: a special fixture designed and fabricated in the shop that clamps and cuts each piece precisely. "What used to be a painstaking process that took days, now takes hours," Dickens said. "There are numerous blow down valves that need to be rebuilt. And while we're making parts for 844, we're making additional pieces for the Big Boy, locomotive No. 4014, and the Challenger, locomotive No. 3985."
The team also is hard at work carefully inspecting the locomotive's turret valves. "Turret valves supply the steam to all the locomotive appliances, like the injectors, air pumps, dynamo, (the steam-powered electricity generator) and the water pump," Barker said. "These valves regulate the steam supply for everything that operates on steam."
Turret valves are the locomotive's main shut off valve. They are mounted on top of the boiler, just in front of the cab. They're not visible because they're covered with a heavy sheet metal casing called a turret casing.
"We're making sure that these valves are all in serviceable condition," Barker said. "All of these valves need to be inspected at frequent intervals each year because they're the only shut-off valves for the locomotive appliances. If one of the valves were to not close completely, then you've got 425 degree high pressure steam flowing to that component with no way to shut it off. Imagine blowing a hole in your sink and being unable to turn off the water to your house. You might as well get your swimming trunks on!"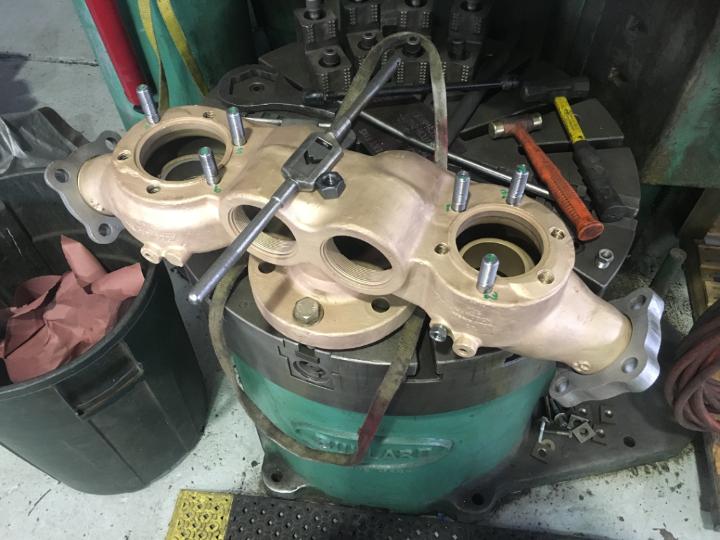 Unlike your blood pressure, which you work to keep low, high pressure is what keeps a locomotive alive. "If there are a lot of leaks, the locomotive will become less efficient," he said. "Over time, it accelerates the wear of a lot of components."
As the crew wraps up work on assembling the firebox and the boiler, they're looking forward to moving into the final large-scale reassembly process. Dickens says No. 844 will return to operation mid-2016.
"The work we've done has been very high-quality, so many of these components won't need to be addressed again for many years," he said. "Austin's got 30 years or more left in his railroad career – if he has to revisit this process, it will be closer to the end of his tenure."
The steam team is also just getting started on renewing No. 844's running boards and cab deck - the boards that run along the outside of the locomotive.
"They will be made out of an all-new material that will be riveted together, painted and reassembled," Dickens said. "There's a lot of new steel going back on these locomotives!"