A new visual aid is being standardized across Union Pacific Railroad's 23-state system, supporting the railroad's goal to be the best in safety and ensure all employees go home safe.
Subscribe to
Inside Track
Switch targets – indicators that tell train crews whether trains will be guided, or switched, from one track to another – are being modernized with new color-based, arrowed targets to help reduce the potential for human-factor train derailments.
"Through our travels around the network, we noticed many yards used different switch targets," said Kevin Andersen, senior director, Safety. "While employees should always look at switch points to verify the route is properly lined, standardizing this visual cue will help employees – whether seasoned or new – see the same target in all locations."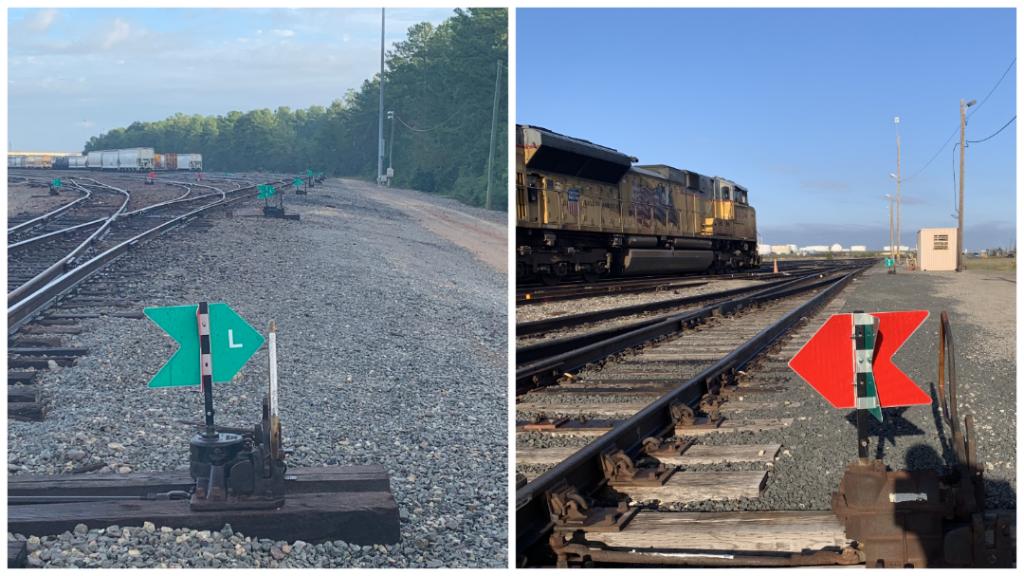 Rollout began at yards with critical leads, where derailments could potentially severely impact operations and delay cars from processing through that location.
"This visual aid, along with other changes underway, will help reduce potential injuries and rail equipment incidents like derailments," Andersen said. "It will be a continuous effort over the next couple years to standardize these switch targets."
In Salem, Illinois, the yard's 34 new switch targets are receiving positive feedback. The green-red targets are mounted on switch stands within the yard's 14 tracks, the longest of which is about 10,000 feet.
"Our train crews like them a lot better, as they're bigger and more visible," said Joshua Cooper, manager-Train Operations, who notes Salem is the home terminal for approximately 150 Transportation team members, including conductors and locomotive engineers. "They serve as a great visual cue, helping crews easily identify if they're lined up for their current route or if their switch is lined against them."