Union Pacific Railroad and Shell are joining forces to accelerate the decarbonization of rail transportation. The companies signed a Memorandum of Understanding that allows exploration and testing of several initiatives designed to help Union Pacific achieve its goal to reduce greenhouse gas (GHG) emissions 26% by 2030 and, ultimately, reach net zero by 2050. The initiatives would also contribute to Shell achieving its target to become a net zero energy business by 2050.
Subscribe to
Inside Track
The companies have a decades-long history, serving as major suppliers for one another and believe there is an opportunity for future growth as new markets and projects emerge throughout the energy transition.
"We're thrilled to kick off an exciting new phase in our relationship, one that explores research and development, and pushes us to try things that could have a meaningful impact on Union Pacific's efforts to further reduce GHG emissions," said Beth Whited, executive vice president – Sustainability and Strategy, Union Pacific. "While rail is already one of the most environmentally responsible ways to move freight, locomotive technology needs to evolve and we need partners, like Shell, who can help the entire industry think about the future in new ways."
"We know that it will take collaboration across the value chain to unleash the opportunities that could decarbonize the railway locomotive and its operations," said Carlos Maurer, executive vice president – Sectors and Decarbonization, Shell. "This new relationship with Union Pacific has potential to unlock some unique synergies in low carbon product development. We are excited to see what new solutions emerge that could decarbonize the railroad sector."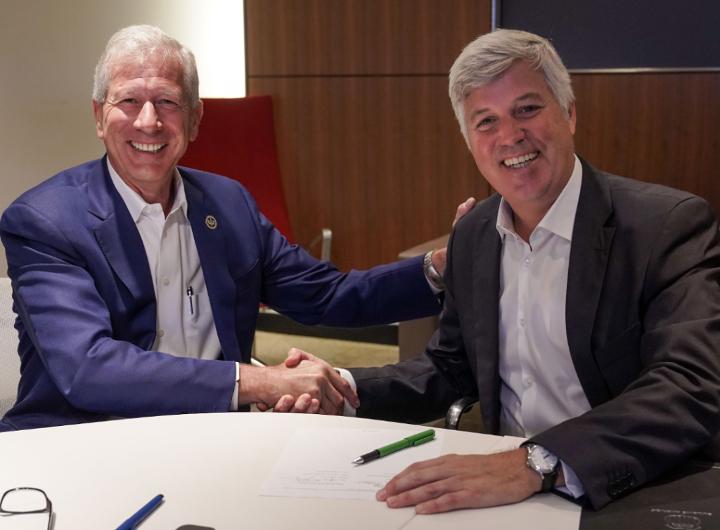 Union Pacific and Shell have identified several opportunities to further explore together, including:
Increasing bio- and renewable fuel blend use in locomotives.
Leveraging renewable energy for fleet vehicles and facilities.
Recycling used rail ties into bio feedstocks.
Researching alternate locomotive propulsion systems.
Piloting Shell's Remote Sense Oil Performance Monitoring technology to explore engine efficiency.
Additional information about Union Pacific's ongoing efforts to reduce its carbon footprint are available in its Climate Action Plan. More information about Shell's approach to Sectoral Decarbonization is available on Shell.com.