There's a new sound of sustainability in Utah, and it's not what you would expect. The familiar drone of leaf blowers is getting an electric makeover.
Subscribe to
Inside Track
Thanks to a trailblazing partnership between Union Pacific Railroad and the Utah Clean Air Partnership (UCAIR), the fight against air pollution is being recharged — one leaf blower at a time.
This game-changing initiative promotes the switch from conventional fuel-powered leaf blowers to their environmentally responsible electric variants.
According to the Utah Department of Environmental Quality, using a gas leaf blower for one hour is similar in emissions to driving a car 727 miles – that's the equivalent of driving from Union Pacific's yard in Ogden, Utah, to Disneyland in California. This is partly because many of the engines that power small, inexpensive lawn equipment lack proper emission controls.
Combine that with Utah's geography, marked by enclosed valleys and mountain barriers, and residents have unique air quality challenges. These increase during winter and summer months when weather inversions and stagnant conditions trap pollutants close to the ground.
Yet, amid the quest to pinpoint major industrial culprits, it's often overlooked that everyday yard tools, particularly leaf blowers, contribute a significant share to air pollutants.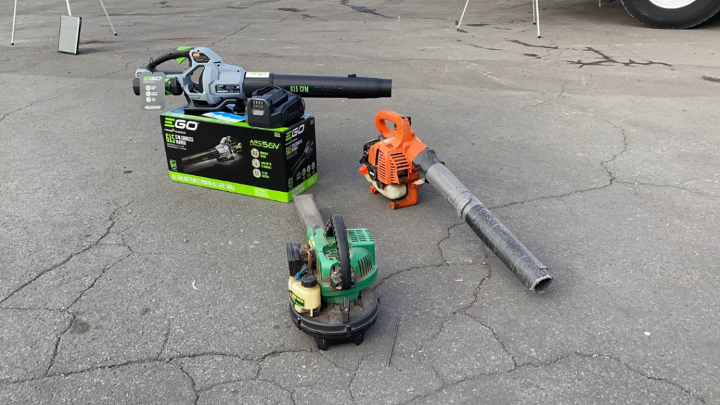 "Every switch to an electric leaf blower is a step forward for Utah's air quality," said Kim Frost, Executive Director at UCAIR. "With Union Pacific's generous support, we're making strides in securing a healthier, cleaner future for our communities."
Union Pacific has committed $375,000 over the next three years through its Community Ties Giving Program. This commitment empowers communities from Salt Lake City to Weber to adopt greener practices and a better living environment.
The collaboration between UCAIR and Union Pacific is the railroad's first-ever regional partnership in the environmental space, setting a new standard for corporate engagement in air quality initiatives.
"We're proud to lead the way in forging this historic partnership," said Thad Call, general director-Sustainability. "We're dedicated to driving positive change for Utah's air and beyond."
UCAIR has a track record of producing tangible results. The nonprofit has funded projects that annually cut over 60 tons of emissions. A remarkable 94% of those engaged are now clued-in on how to personally contribute to a cleaner Utah.
"At Union Pacific, our tracks lead to more than just destinations — they pave the path to a brighter tomorrow," said Nathan Anderson, senior director-Public Affairs. "By championing sustainable practices, we aim to support vibrant communities across the region as we work to reduce our own carbon footprint."
Environmental Sustainability is one of the key giving priorities for the railroad's Community Ties Giving Program, which helped fund this regional partnership project.