It was nearly two years ago, in May of 2021, that Union Pacific conductor Robert Gatton had an idea.
Union Pacific had just announced the maiden launch of its new "We are ONE" Employee Resource Group (ERG) Commemorative Locomotive, numbered UP 1979 in honor of the year the Black Employee Network ERG, its first ERG, was formed.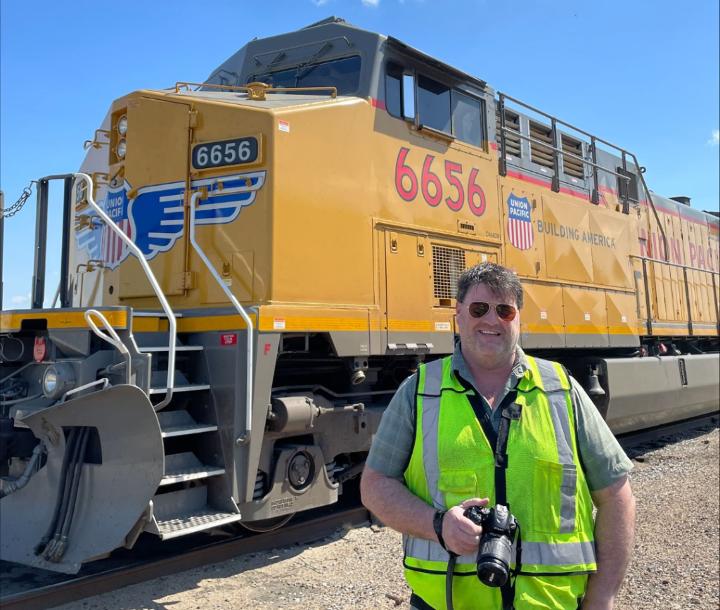 The locomotive's message of diversity and unity captured Gatton's imagination and sparked this Kansas-based conductor's creativity.
"As soon as I saw a picture of UP 1979, I thought we've got to get this engine down to Wichita," said Gatton, an amateur photographer. "And I knew exactly how and where I wanted to photograph this locomotive and showcase its powerful message."
For nearly 30 years, Gatton has been taking photos of railroad depots and trains as a hobby. He likes to find interesting ways to photograph trains next to bridges, tunnels or landscapes. His photo of UP 1982 Missouri Pacific heritage engine is featured in this year's Union Pacific calendar for the month of June.
When he saw UP 1979 in 2021, Gatton saw an opportunity for an impactful photo. He decided he wanted to photograph it in front of a larger-than-life mural created by Colombian street artist GLeo, which depicts people of color in various sizes and positions on a grain elevator in Wichita.
Subscribe to
Inside Track
"I thought the mural's message of bringing together African American and Latino communities complements what Union Pacific is about — everyone working together and getting along," Gatton said.
Figuring out a way to get the locomotive to Wichita was no small feat. Gatton worked with the local management team from Topeka, Herington and Wichita to coordinate getting the locomotive into the city to take the photo.
In March, Gatton's vision became a reality. UP 1979 stopped in Wichita for about three days en route from North Platte to Herington, Kansas. During those three days, Gatton worked with the local team to get the locomotive positioned in front of the mural.
He had about 45 minutes to get the perfect shot, trying different angles, lights and shooting from different positions. The end result was just what he had hoped for nearly two years earlier, when he had the original idea.
"It was mind blowing – even better than I thought it would be," Gatton said. "It's a great message – what it represents – and it's a great picture, if I do say so myself."