Union Pacific Food Network

A Fresh Way to Think About Shipping
When food is your business, a fast, reliable shipping solution is a must.
No matter how you ship your products today, whether by rail, by truck or a combination of the two, rely on Union Pacific's Food Network--a portfolio of transportation solutions dedicated to serving the food and beverage industry.

The Food Network Advantage
Dedicated to the food and beverage industry
We ship fresh fruits and vegetables, beer, wine, frozen foods, dairy products, canned goods, bulk products, packaged goods and much more.
Reliable shipping schedules
We ensure your products arrive quickly and consistently--at a budget-friendly cost, helping you save valuable transportation dollars and deliver food at its freshest.
Access to key markets
We reach more food shippers than any other railroad, connecting major production and consumption markets across North America. We operate from all major West Coast and Gulf Coast ports to eastern gateways, connect with Canada's rail systems and are the only railroad serving all six major Mexico gateways.
Confirmed capacity
With access to the largest refrigerated boxcar fleet in the industry, equipment is available when you are ready to ship. Refrigerated boxcars are GPS-monitored and temperature-controlled. Boxcars and covered hoppers are available for dry, packaged and bulk goods.

Shipping Solutions with Your Business in Mind
Union Pacific offers a portfolio of innovative transportation solutions to meet your unique shipping needs. Download Food Network service flyers to learn more:

Food Train Service - Premium, expedited service exclusively dedicated to shipping food and beverage products from coast to coast
Cold Connect - Customized solutions for the food and beverage supply chain -- multi-modal, door-to-door solutions, refrigerated distribution facilities and real-time inventory control. For more information, visit upcoldconnect.com.
Manifest Train Service - Efficient, safe and cost-competitive way to ship a wide variety of food and beverage products across North America
Intermodal Service - Fast, reliable service that combines the flexibility of truck with the efficiency of rail
Loup - A one-stop shop that combines truck, rail and logistics for shippers that do not have access to rail

New Opportunities for Distribution, Warehousing and Manufacturing
Learn more about new sites available for distribution, warehousing and manufacturing developments in key food and beverage industry locations:


Consider Rail
Rail is the safest, most fuel efficient and environmentally responsible way to ship your products.
Safety is Union Pacific's top priority. We continuously look for new ways to enhance the safety and security of the customers we serve and the products they ship.
Rail is four times more fuel efficient than truck with one Union Pacific rail car able to hold up to four times the freight of a single truck.
We make sustainability a priority, developing new technologies to reduce emissions and working smarter to minimize our environmental impact. One train can carry as much freight as 300 trucks.

Contact Us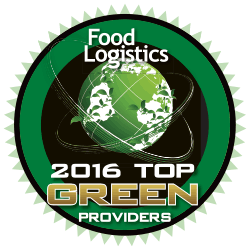 No Rail? No problem. Even if you have never shipped by rail, our experts will customize a shipping solution to suit your business. To learn more, email us at upfoodnetwork@up.com.